The Best Wireless Outdoor Home Security Cameras of 2023
Capture everything happening in and around your home, and keep your loved ones safe with these fantastic home security cameras!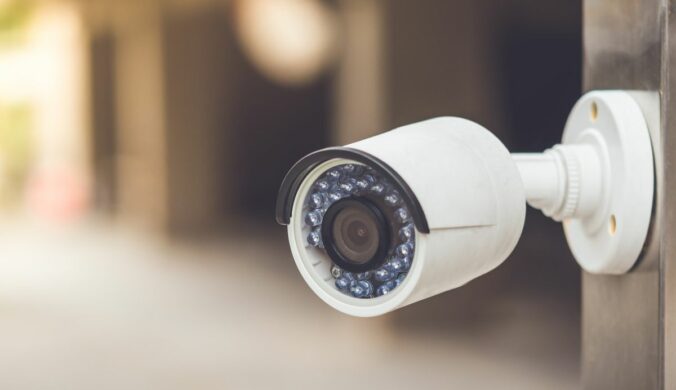 Safety is one of the top things we strive to achieve as humans, and the importance of security measures and precautions cannot be stressed enough. One of the integral parts of our lives that we can make this possible, and control to some extent, is in our homes.
Picket fences and secured gates are a great place to start, but safety doesn't end there. What happens when someone can break down these defenses and gain access to your property?
That's why security cameras are so important. These small devices go a long way in reinforcing our security by capturing clear and uncut footage of happenings in and around our homes. This way, you get live visuals and potential evidence of anything going on at your home, regardless of where you are. We have selected the best home security cameras that prioritize the safety of you and your household.
How We Picked
Camera Quality

The main objective of these devices is to deliver clear, usable footage. Therefore, camera quality is one of the most important factors to consider when selecting a home security camera.

Recording Capabilities

Do you desire visual and audio recordings, black and white or colored footage, or even a playback feature? Whatever your needs are, you should be able to find a device that meets most of the sought-after recording capabilities.

Power and Battery Life

Whether it's corded or battery-powered, your future home security device should have excellent power functionalities that allow it to capture every important moment without dying out too quickly.

Cost-Effectiveness

You should be able to afford to keep your home and loved ones secure at all times. The selected devices offer top-quality features at decent price ranges, suitable for different budgets.
Our Top Picks
Our Top Pick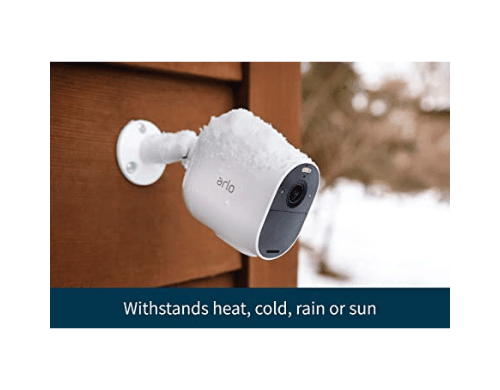 The best video quality you will ever find, offering all the security features you will ever need.
The Arlo Pro 4 Spotlight Camera makes a chart-topping entry at the number one spot on our list thanks to its unbeatable features. This device offers clear 2K resolution video footage that includes full-duplex audio and crisp colored night vision. It is super easy to set up and will be up and running in no time, giving you a wide-angled view of any part of your home. To top it off, this camera offers fully-compatible smart home options by connecting easily with Alexa, Google, Assistant, IFTTT, and multiple other smart options.
Capture crisp video footage and get all the right features at a reasonable price.
Our Runner-Up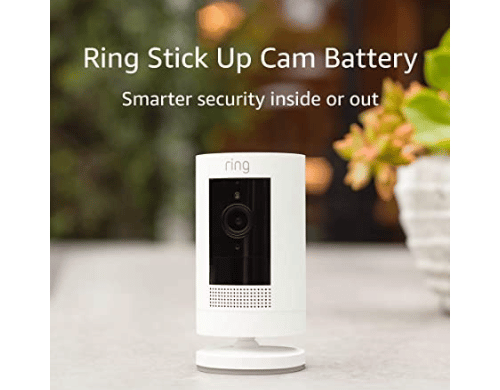 Scare off intruders, without moving an inch with this powerful option from Ring.
We love a simple device that gets the job done, and our runner-up fits the bill seamlessly. The Stick Up Cam Battery by Ring is a 1080p HD resolution video camera that captures a clear day or night with a two-way audio system. This motion-detecting device is battery-powered and requires no hub for WiFi operation. It works with Alexa and IFTTT voice commands and even has a built-in siren to scare intruders away.
Quickly and easily secure your home with this battery-powered functional option from Ring.
Most Cost-Effective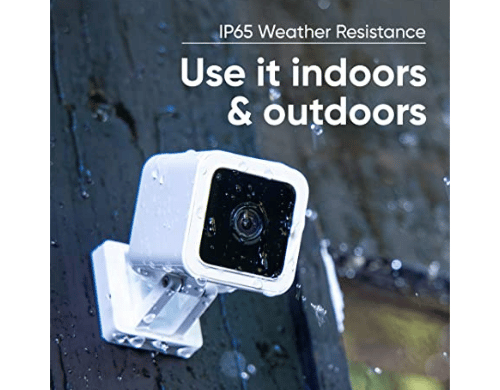 The most affordable, yet highly functional home security camera on the market today.
This device offers all the right stuff — crisp HD footage, local storage, night vision, voice control, full-duplex audio, and so much more — for under $50! It is compact, easy to set up, and is a great fit both indoors and outdoors. Although this camera is not battery-powered, that might be a reasonable price to pay for its powerful functionality.
All the right features at the most affordable price with this pocket-friendly option from Wyze.
Everything We Recommend
Our Top Pick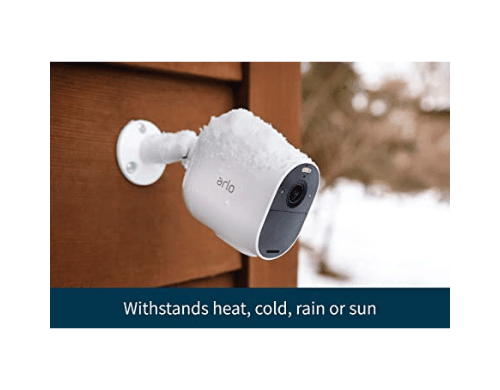 The best video quality you will ever find, offering all the security features you will ever need.
$239.97
Our Runner-Up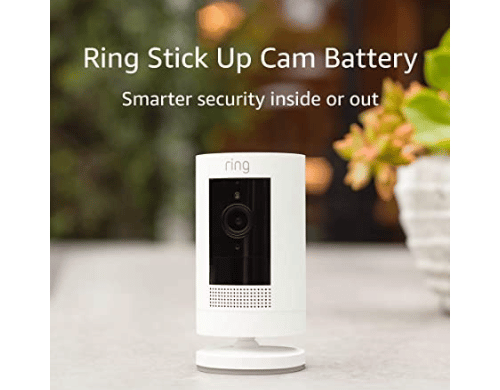 Scare off intruders, without moving an inch with this powerful option from Ring.
$69.99
Most Cost-Effective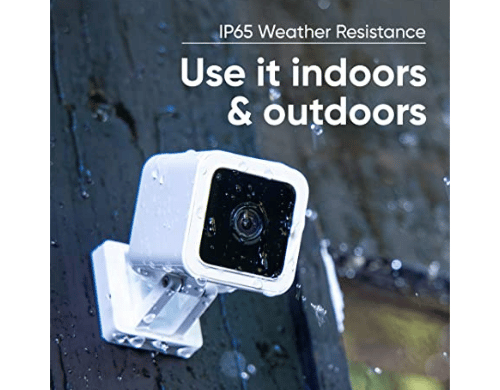 The most affordable, yet highly functional home security camera on the market today.
$34.99
Who This Is For
These products are for anyone who takes their safety and security seriously and doesn't compromise when it comes to protecting their homes, loved ones, and property. Security cameras are for individuals looking to beef up the safety of their homes by taking extra cautionary measures.
Do I need a security camera?
Contrary to public opinion, security cameras aren't designed for just people living in criminally-prone neighborhoods or as an afterthought for those who have once been victims of unjust incidents at their homes. Security cameras were made to be a preventive safety precaution. These devices capture everything going on within and around your home so that, in the case of any break-ins, theft, or danger, you not only have proof of evidence but also some form of an alarm system. Therefore, the short answer to this question is yes. Owning a security camera is a necessary step toward the safety of yourself, your property, your family, and all your guests.
Where is the best place to have an outdoor security camera?
Now that you've decided to get security cameras for your home, the next item on your train of thought will be where to install these devices. Before we get into that, we must first emphasize that, just like your eyes, one camera cannot capture everything. That is why it is veWeatherproofinghave multiple cameras as opposed to just one or two, to fully secure all parts of your home.
With that being said, the rule of thumb for installing these devices is to make sure you secure all entryways around your home. This means that, aside from your front door, your back, and side doors should also be covered, alongside your garage and driveway, as these parts of your home often hold valuables like your vehicles, tools, and other important gear. Other great places to mount your security cameras are in open spaces surrounding your house that can be easily accessed from surrounding fences or streets, such as your backyard and front yard. When installing these devices, ensure their fields of view aren't capturing any footage from neighboring compounds or any content that may be considered an invasion of privacy.
Why You Should Trust Us
More than anything, we understand the importance of safety and enabling precautionary security measures. With safety in mind, we have carried out thorough research and tests to ensure we find the best security cameras on the market that make the safety of your property and family their top priority.
How We Picked
We did all the thinking so that all you'd have to do is pick your choice. Here are all the must-have features we know your future home security camera cannot do without.
Camera Quality
Of course, the most important feature of these devices will make it to the top of our list. Camera quality refers to the video and audio production of a camera. The lens's resolution determines how clear the footage produced on it will be, and the higher this number, the better the picture quality. Therefore, cameras with HD quality — 720p, 1080p, etc. — produce lower quality footage than those with 2K or 4K resolution. Likewise, the audio system of a camera determines its sound quality and functionality. A one-way security camera only allows you to hear audio from the recordings, whereas a two-way/full-duplex system allows you to hear from and speak through the camera. For example, being able to tell the delivery man to leave your package at the front door.
Night Vision
Studies show that crime happens more at night than during the day. Once you get a camera with the solid recording quality, the next thing you'd want to do is make sure your device can see just as clearly in the nighttime. Security cameras have night vision capabilities thanks to different kinds of apertures, lenses, spotlights, and sensors. This helps them see just as brightly in the nighttime, thereby producing crisp-colored footage.
Power and battery life
The most convenient types of home security cameras are removable battery-powered devices because they can easily be recharged when needed and installed wherever you like. On the other hand, wired cameras need to be installed somewhat close to being installed relatively close to a power source so that they are constantly up and running. The best battery-powered security cameras last a significantly long time and will only need to be recharged once every three to six months. It also shouldn't take too long for said batteries to be all charged up, as the average charging time for a well-functioning camera battery is five to ten hours. With wired devices, once these devices are plugged in, they operate for as long as they are in good condition. However, their pitfall is that they turn off once there's a power outage or no electrical issues.
Connectivity to WiFi and/or Bluetooth
If there is one thing we are spoiled by in this day and age, it's the ability to connect to devices at our convenience, and facilities like WiFi and Bluetooth make this a breeze. Thanks to technological advancements, our household security cameras also have a variety of connectivity options and allow us to connect via WiFi and sometimes Bluetooth as well. Some security cameras require you to have an additional hub in order to connect using WiFi, but all our selected products don't need additional tools or costs. Connect, operate, and upload recordings at ease.
Storage type
There are two major ways security cameras store footage — internally and externally. Some devices store your recordings locally for a short period of time in in-built storage systems, while other devices allow you to use an SD card to keep a larger volume of footage. On the other hand, some devices only let you store recordings on the cloud via certain manufacturer software. In most cases, you would have to subscribe to these platforms to gain monthly/yearly access to this additional storage that is oftentimes available on the cloud for only a certain period of time.
Durability and reliability
Your future home security device should be able to stand a reasonable test of time and should be reliable even in the most strenuous conditions. A durable device is made of premium weatherproof/waterproof materials that can withstand extreme weather conditions, from heat to rain to even snow. Because these are outdoor security tools, they need to be consistently productive in a wide range of conditions so that you can always depend on their protection. The durable and reliable nature of our chosen security cameras gives you the best value for money by staying useful for years to come.
Notifications
We all hate seeing unnecessary notifications pop up on our screens. Not only do they take up space, but they also have a unique way of raising our anxiety levels for no reason. Intuitive security cameras are programmed to show you only what you need to know and what's important for your safety. These devices are usually connected to smartphone apps that are able to provide intelligent alerts under certain conditions, like motion sensing. Some of them even take it a step further by being able to differentiate between people/animals/vehicles/packages and give you detailed notifications based on such identifications, although this is oftentimes a paid feature through software subscriptions.
Sensors
How can a security camera tell the difference between an animal and a vehicle, or see so clearly at night to tell when there's an intruder, or be able to tell when something moves within its field of view motion range, or better yet, remember a visitor's face or identity? These and more all happen thanks to the use of sensors! Sensors are utilities used to fine-tune the intuition of security cameras and also make them more alert. A device with the right sensors and programming truly is a force to be reckoned with.
Care and Maintenance
Security cameras are more of a "set it and forget it'' purchase, requiring little to no maintenance after that. You don't need to routinely clean these devices but you can give them a wipe/dust down every time you need to take them out to recharge or swap batteries. With that being said, there are, however, some important steps to take when setting up your security camera.
Pick a careful location. Earlier in this article, we discussed important outdoor areas of your house that need to be safeguarded by cameras. Once you have decided where you're placing them, make sure they are as "incognito" as possible, and out of reach from possible intruders.
Mount/install your device. As we have established, these devices are usually very straightforward to install and require little to no tools thanks to their magnetic/screw-in stands.
Ensure your camera is well secured and practically immovable before proceeding to the other steps.
Set up storage and viewing angles either through mobile software or by inserting physical SD cards if need be. Use your device's app to test your live recordings and ensure you are capturing what you really need. Manufacturers' have detailed instructions on how their individual cameras can be set up.
All you need to do now is sit back, relax, and let your camera do its job