The Best Rear Bike Rack for 2023
These rear bike racks are easily the best way to efficiently transport essentials while riding, so why not get yourself one today?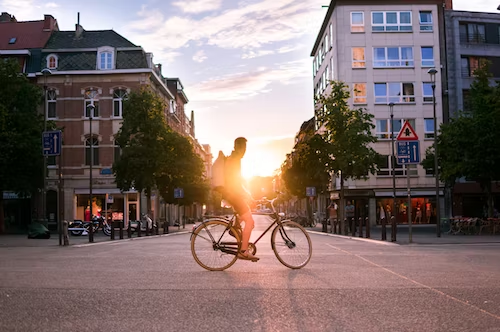 Adding a bike rack to your bike allows you to comfortably transport almost anything. When loaded, racks add significant weight to the bike, making side-to-side shaking appear strange. However, you should get used to it quickly. With a good rear bike rack, you can now take the weight of the load off your shoulders, prevent back strain, and ride around comfortably.
What is the best bike rack available today? We tested numerous brands to provide you with the best choices possible. Below are our recommendations for the best rear bike racks.
How We Picked
Material

Understanding the various materials used to construct the back bike rack is critical. Aluminum racks are lightweight but not robust. Steel racks are both sturdy and hefty. Titanium racks are an excellent choice since they are lightweight and long-lasting. However, they are very expensive.


Capacity

Check the rack's maximum weight capacity. You don't want to buy a rack that will collapse under the weight of your items. Most racks are designed to support roughly 20 kg. However, you may find ones that can support the higher weight.

Easy to Install

Several sizes and types of rear bike racks are available on the market. Before committing to a purchase, make sure you know the dimensions of your rear bike. For a more convenient and sturdy attachment, choose a rear bike rack that is appropriate for the size of your bike.

Cost-Effectiveness

Cost is important. Make sure you know how much you can and are ready to spend because this will decide the sort of rear bike rack you get.
Our Top Picks
Our Top Pick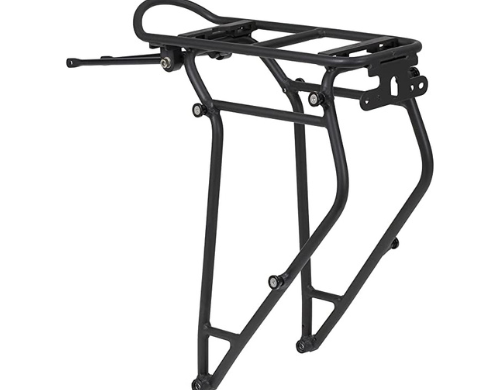 This robust bike rack has a maximum load capacity of 66 pounds.
If you are on your way to work, to the grocery store, or anywhere else in the world, ORTLIEB Rack offers the perfect solution. Its compatibility with all ORTLIEB attachment systems makes it a unique all-purpose bike rack. The rack, which is equipped with simple mounting parts for the QL3 and QL3.1 systems, also allows you to connect all ORTLIEB bags straight to your bike without the need for any extra modification.
It is suitable for bicycles with 26 and 28-inch wheels.
Our Runner-Up
It is tailored to accommodate frames that lack rack eyelets.
For bikes without dedicated mounts, the Blackburn Expedition 1 Disc rack uses special rear quick-release skewers to handle the weight and P-clamps for the top mounts. Regardless of whether disc brakes are mounted inside or outside the rear triangle, there is room to accommodate them at the lower mounts.
The EX-1 has a simple, versatile, and solid design and it's constructed with aircraft-grade aluminum.
Most Cost-Effective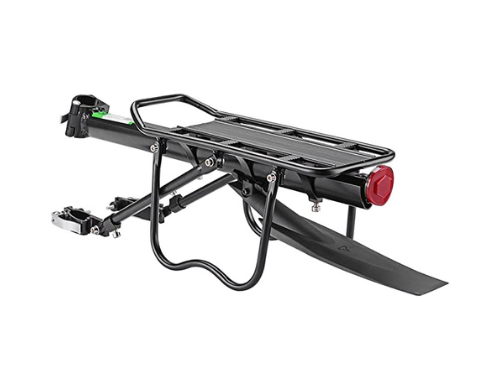 It is compatible with panniers, backpacks, and baskets.
The fender behind the seat protects your bag or panniers from rain or mud on the journey, keeping your bike dryer and cleaner. When not in use, this rear fender can be removed. It fits mountain bike frames measuring 26 to 29 inches.
The red reflector improves visibility and safety while cycling at night.
Everything We Recommend
Our Top Pick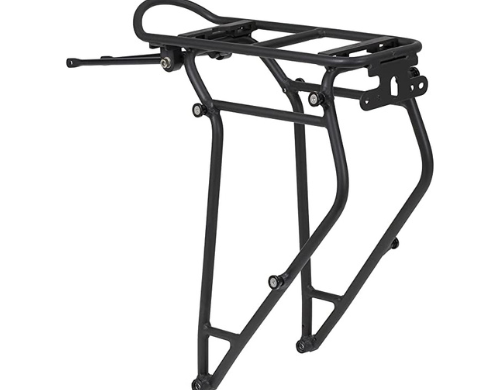 This robust bike rack has a maximum load capacity of 66 pounds.
Our Runner-Up
It is tailored to accommodate frames that lack rack eyelets.
$60.00
Most Cost-Effective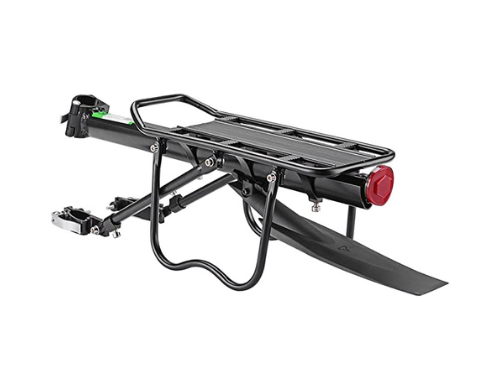 It is compatible with panniers, backpacks, and baskets.
$43.99
Who This Is For
These racks are ideal for just about anyone looking to add a carrier to the rear of their bicycle. Although front baskets and racks/backpacks can be useful, the rear rack is the simplest and most practical way to transport items while riding a bicycle. You'll need a solid rear bike rack if you want to commute, travel, do errands, or tote items in any other way on your bicycle.
Rear bike rack vs. front – what's more suitable?
There are many types of racks, but the most common is fitted at the back of the bike. The rear is probably more convenient if you're carrying a heavy load. Consider taking both to distribute the weight evenly, with the greatest weight in the back and some in the front for easier handling.
If the rear wheel is loaded, the weight will be close to or aft of the rear wheel, which makes the bike easier to push and carry. You should avoid using a front rack as it can affect your bike's steering.
Is it worth splurging on?
The cornerstone of any effective carrying-stuff-on-your-bike configuration is a sturdy rear rack. You could use it to connect additional parts to your bike and take a cumbersome load off your back. A rack offers a solid structure for holding items on your bicycle.
In favorable weather, items can be fastened straight to the rack without needing a cover. You can easily attach bags such as rack trunks and panniers to the rear rack in case of foul weather or if you want to hold loose items together.
Why You Should Trust Us
We constantly strive to give objective editorials written by our journalists and writers. We take pleasure in guaranteeing that none of our editorial material is sponsored.
How We Picked
Material
Rear bike racks are usually made from a variety of materials. These include racks made from aluminum, steel, cromoly, and titanium. Aluminum racks are less strong, lighter, and unable to be repaired if they break. Racks made of cromoly are sturdy, resilient, and light. Steel racks are bulky but more resilient and repairable. Although titanium racks are more costly, they are lightweight and resistant to corrosion.
Capacity
It's vital to consider how much stuff you want to carry while making this purchase because rear bike racks come in various sizes and designs. A long rack with adequate capacity to hold all the items you wish to transport is recommended.
Easy to install
It should be simple to install the rear bike rack. There should be a minimum number of adjustments and tools required. The lighter the rack, the easier it is to install. Additionally, if a large rack is cumbersome to maneuver, you could leave it attached to your bike, adding to its weight and making pedaling more difficult.
Design and style
The design of the bike rack is entirely subjective. There are rear bike racks that include fenders, reflectors, panniers, and simple metal racks with no extras. Select a rack that suits your tastes and preferences.
Size
Since it is not cost-effective to purchase a huge rack if you only want to use it once, choose racks that are simple to load and unload if you just plan to carry one item at a time.
Weight
Many racks have a maximum weight recommendation. The look and quality of the rack you're using will determine this. Since titanium racks are generally strong, they can accommodate luggage weighing up to 45 pounds. The weights are listed on product pages.
Durability
Choose bike racks that are strong and offer sustainable solutions. Racks made of steel, titanium, or cromoly are among the strongest in the game, unlike other racks that, after prolonged usage, could start to crack and lose paint.
Price
Bike racks come in a wide range of prices, so anyone can find something to suit their needs. However, it is important to remember that the bike rack's cost does not make it superior to a less expensive option. By researching various brands and models, you can decide which brand and model is the best value for your money.
Care and Maintenance
Rear bike racks should be hand cleaned with a light detergent. Dish soap is also effective. You should never wash your bicycle rack in an automated car wash! The rack should be cleaned the same way you would a bike, rinsed with hot water and soap, then dried with a towel.
Before mounting it, wipe off the bike at all areas where the rack will come into contact. Any fine grit, pollen, or other microscopic, invisible particles can be removed with a clean cloth. This little gesture will provide a pleasant fit for your bikes and a better fit for the rack.
You should store the rack off the ground, or at least on its side, to avoid dust on the garage floor. Keeping your bike rack in a dry and secure location is critical when it isn't in use. This will help to keep it safe from the elements. To keep metal from rusting or corroding, apply a tiny quantity of oil to all moving components. A little drop in all your locks and pivot points on the rack will assist in keeping them clean and moving as they should.