The Best Duct Tape for 2023
The best duct tapes for a quick yet strong patch.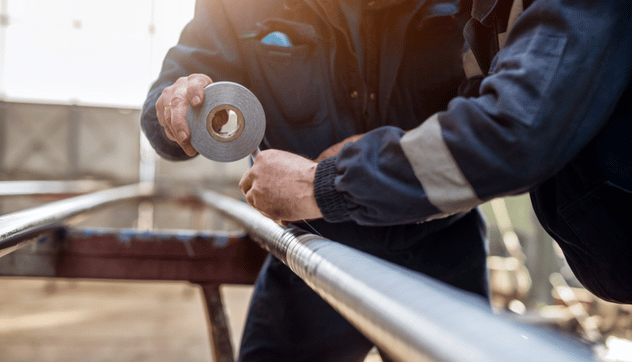 Duct tape is one of those items that should be in everyone's toolbox because it has no close substitute. It's a versatile, long-lasting, and inexpensive way of fixing just about anything. Duct tape can be easily torn by hand, making it useful to creatives and DIY enthusiasts. Therefore, if there is something broken that needs a quick patch, you are going to need duct tape that not only has a strong hold but is also durable.
Many people have duct tape on hand, and you're probably wondering what the best duct tape on the market is. We'll go over different types of duct tape and what to look for when selecting one, so you can decide which is best for you.
How We Picked
Strength

The tensile strength of standard duct tape ranges from 20 to 40 pounds. Furthermore, the strength is usually influenced by how the tape is woven. As a result, we chose tightly woven duct tape with dependable strength.


Durability

The durability of any duct tape will undoubtedly be affected by the strength, type of adhesive used, and heat-resistance. A tightly woven tape with a thick rubber adhesive keeps anything patched together for a reasonable amount of time.


Type of Adhesive

The type of adhesive used determines the strength of any duct tape. Because of its excellent adhesion properties, rubber is the most commonly used type of adhesive.


Price

Considering that duct tape is a quick fix, it is usually not expensive. We reviewed duct tape that is not only strong and durable but also well-priced.

Who This Is For
This is for anyone looking to get duct tape that can be used on multiple surfaces for any kind of work. In this review, we present strong, durable, and price-conscious duct tape.
Duct vs gaffer tape
The first major difference between the two tapes is the construction material. While gaffer tape is made from cotton cloth, duct tape is usually made from vinyl or plastic. When it comes to usage, duct tape is more suitable for repairing things or taping them permanently. On the other hand, gaffer tape is more suitable for semi-permanent taping that leaves little to no adhesive residue. If you want a tape that gives you a strong hold to fix or patch something for a long time, duct tape is the choice for you.
Does the type of manufacturing process affect quality?
Considering that we have different qualities of duct tape, the type of manufacturing process and quality of material used have a direct effect on the overall quality of duct tape. We reviewed duct tape, generally made from good-grade polyethylene, rubber glue, and cloth for a strong and durable hold.
Why You Should Trust Us
We gathered a lot of useful information regarding the duct tapes before we finally made our picks. We make sure that we deliver high-quality duct tape at the right price for you.
How We Picked
Before making our recommendations for duct tapes, we select them based on certain criteria; only the items that passed or fulfilled our criteria can then be recommended. This is how we chose the duct tapes for you.
First, we selected only the duct tapes with excellent tape strength. We understand that these duct tapes are meant to do tough jobs, and we want these tapes to deliver a stronghold for you. Overall, our picks are general-purpose duct tape, with a single exception of one tape that is also capable of being used for professional or heavier use. Our picked duct tape is indeed strong, durable, and flexible, but it is also still easy to use and easy to tear using a hand or a scissor for a neater and more precise tape. The picked tapes also have a sufficient amount of thickness. This is because thicker duct tape is harder to tear or cut. We also presented you with tapes available in different sizes, so you can have the freedom to decide. This is especially important if you need it for purposes like DIY creations or decorating a room. For your comfort, we also considered both smooth and textured duct tape. And last but not least, we also pay attention to the price. We give you price-conscious duct tapes that provide the best quality without a high price tag.
You already know how we have picked the duct tapes in this recommendation for you. Without further ado, let's get to know our top picks below.
Care and Maintenance
After you get your duct tape, it's nice to have a tip or two regarding how to properly use and store your duct tape.
Even though duct tape is mainly designed as something that you can easily tear with your hands, it's also recommended that you utilize a pair of scissors. Using a scissor to unwind the duct tape can give you neater and more organized duct tape for use. Also, keep in mind that some duct tapes cannot be torn by bare hands.
If you want the duct tapes to last, make sure to store them in a dry place and at room temperature. Also, avoid direct contact with sunlight as it may damage the tape.
Sources and Research