The Best Chopsticks of 2023
Eat your favorite Asian cuisine the right way with the most reliable, and overall best, chopsticks available on the market!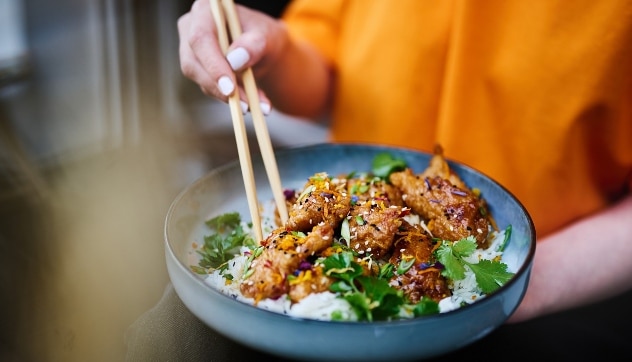 Have you ever been so captivated by a TV show or movie where people use chopsticks to eat, that you went out and purchased a set for yourself? Then, a week later, you throw them out in frustration because you cannot seem to get the hang of it. Chances are you got the wrong ones. Buying the right pair of chopsticks is just as important as properly using them.
In many regions of Asia, chopsticks have long been a standard at food tables. They have just recently become popular in many contemporary restaurants, particularly in authentic Asian restaurants around the world. Interestingly, some people use them not only for eating but also for cooking and other culinary tasks.
Chopsticks differ in style from country to country. For instance, Chinese chopsticks are long, thick, and have tapered ends, but Korean ones are usually made of metal and have sharp tapers. Japanese ones, on the other hand, are typically short and pointed.
Everything We Recommend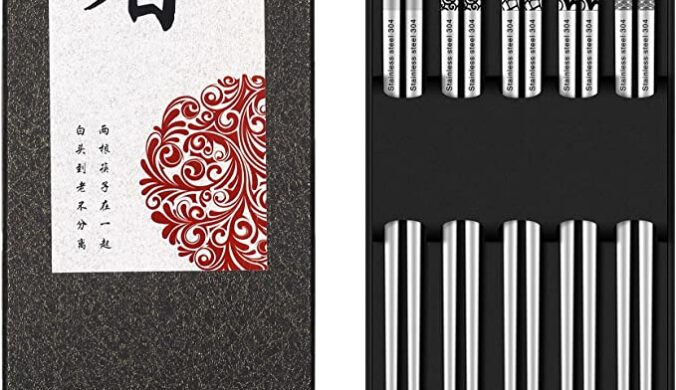 1. Best Product
Greatamzor Metal Chopsticks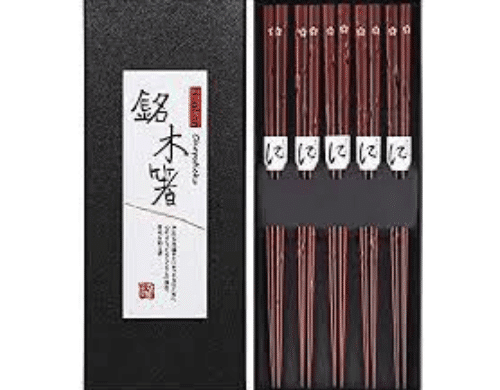 2. Runner Up
HuaLan Chopstick Set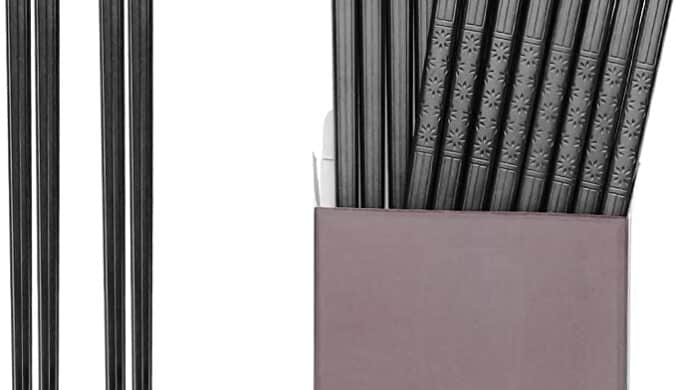 3. Cost Effective
HIWARE Fiberglass Chopsticks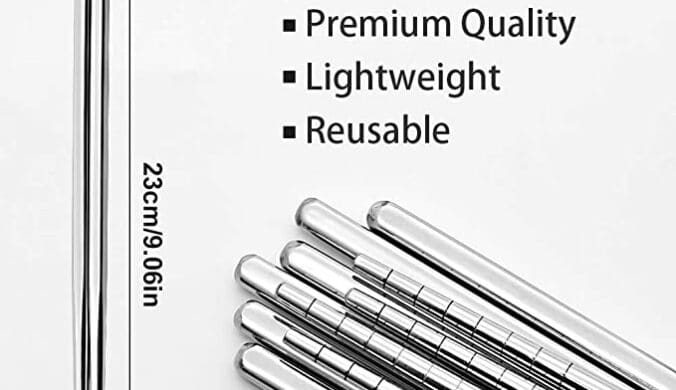 4. Almost Made the Cut
Muyos Stainless Steel Chopsticks
Who This Is For
If you love Asian food or want to have an authentic Asian experience, then you should get some chopsticks. It may sound absurd, but chopsticks make a tremendous difference while enjoying a bowl of noodles or having some sushi.
Like other silverware, chopsticks are ideal for everyone, including children. Contrary to popular belief, eating with chopsticks does not require an exceptionally high level of competency. Even beginners can rapidly become proficient.
Besides eating, chopsticks are utilized in many other ways. They can stir food while cooking, such as soup, or add delicate garnishes to a dessert. Even after they grow old and become unfit for eating, you can use them as a substitute for popsicle sticks.
Comparing chopsticks to using a fork
Unless you are from an Asian country, you probably have never used chopsticks other than for the occasional takeout or at an Asian restaurant. Asian culture, especially Asian cuisine, has recently found popularity in the West.
This is where the age-old argument over whether to eat with chopsticks or a fork arises. While both utensils perform many of the same tasks, they are quite dissimilar.
When using chopsticks, you have to take smaller bites, as they can only hold a small portion of food at a time. This guarantees that you are eating slowly, which is beneficial to your health and often makes you feel fuller even after eating a little.
Aside from the health benefits, some individuals believe that eating with a chopstick rather than a fork is more convenient. The reason is that you do not have to use your entire hand, only your fingers.
While using chopsticks to eat is customary in Asian countries, many people outside of Asia find it difficult. Before you ultimately master it, it may take you a few tries. Because of this, some people choose forks rather than deal with the hassle of learning how to use a new utensil.
In conclusion, while both are great utensils, it all comes down to your personal preference. Even if you feel confident using forks, you should at least attempt using chopsticks once.
Why You Should Trust Us
Unfortunately, many products on the internet promise so much but only a few live up to the hype. This makes it challenging to buy items like a good set of chopsticks.
Based on our rigorous market research, reading through dozens of reviews, evaluating the functionality of each product, and examining general customer feedback, we carefully put together the following list of chopsticks.
How We Picked
Finding the best products among so many available on the market is a huge task. The best product should preferably be of the highest quality, enduring, and functional. As such, we took into account a variety of factors.
Material
There are many decent materials to choose from. Wood and bamboo are the most common materials. Both look great, but if they are exposed to heat for a long time, they may start to distort. Since we use them for either eating or cooking, and both involve hot objects, this means that they are often less durable than some of the other options available.
Plastic like fiberglass is another incredibly durable choice. Although some plastic options may not have the most elegant designs, they are often dishwasher-safe and last a long time. Stainless steel is another good option.
Size
Similar to designs, chopsticks have an endless variety of sizes and shapes. The right size depends on your particular needs. Whether you prefer longer chopsticks for better reachability or shorter chopsticks for more convenience, is up to you.
Handle and length
Other than the length, chopsticks also have different handle shapes. Square chopsticks do not roll off tables but are a little awkward to grasp. Round ones are comfortable to hold but glide off flat surfaces. To strike a balance between the two, shapes like a hexagon or an octagon are also available.
Tip shape
The tip is also available in various thicknesses. The thicker the tip, the more food you can scoop into your mouth at once, but again, the shape of the handle and the thickness of the tip you choose is all up to your preference and what feels most comfortable to you. Some chopsticks also have textured or carved ends to provide a better grip.
Cost
For a pair of chopsticks, you do not need to go overboard or spend a fortune. A decent pair should not cost much. Another reason not to spend too much money on chopsticks is that they will eventually deform, bend, or need to be changed, regardless of how high the quality is.
How We Picked
Material

A variety of affordable materials, including plastic, lacquered wood, and unfinished wood, make excellent chopsticks. If you are looking for something finer and sturdier, then metals such as stainless steel are a good option.

Handle and Tip Shape

The two most common shapes of chopsticks are square and round. Some are a blend of the two, and to improve grip, some may occasionally have carvings or patterning.


Design

Every Asian country has its distinctive chopstick design. You might observe that some are shorter or thinner than others. This depends on the place they originate from and the intended use.


Cost

The price of the chopstick depends on its design, material, and shape. No matter what your budget is, you can always find a decent pair of chopsticks.
Care and Maintenance
Maintaining and keeping your chopsticks clean is essential for ensuring their longevity. If your chopsticks are not dishwasher safe, clean them with hot water and soap. To dry, wipe gently with a soft cloth. Keep them dry and out of the sun, ideally in a drawer or utensil box.
Change chopsticks every six months or so. If you use them frequently, you should also sterilize them once a week. This thoroughly cleans them and eliminates all the bacteria on them.
To sterilize, soak them in lukewarm soapy water for two minutes and meticulously clean them. If you are using wooden chopsticks, soak them for no longer than 30 seconds.
Sources and Research