The Best Dog Nail Grinder for 2023
Grinders are a better alternative to clippers, especially if your dog has big claws, so why settle for less than the best dog nail grinders?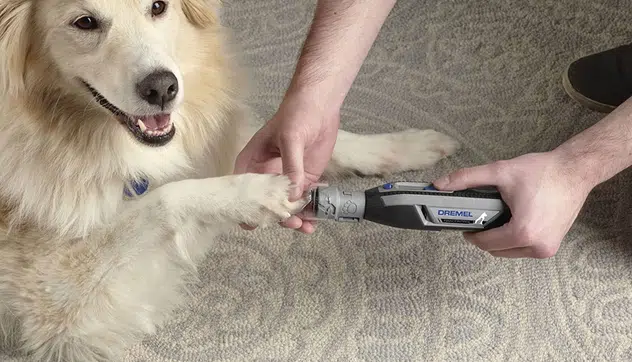 Going above and beyond to make sure that your dog is content and healthy is one quality of a proud pet owner. It's true that taking care of your dog is often easier said than done. One of the most important considerations is their individual grooming requirements, including nail length. The best dog nail grinders will make at-home manicures quick and easy, whether you're in between trips to the local pet spa or you're ready to fly solo when it comes to trims.
Nail grinders are an excellent alternative method for trimming your dog's nails if they detest nail clippers. Dog nail grinders function similarly to a high-powered nail file, using friction to trim down and structure your dog's nails.
How We Picked
Noise and Minimal Vibration

While in use, some of these nail grinders make some noise. Models with low-pitched or softer-sounding gears are a great choice, especially when dealing with aggressive dogs. In addition, gradually acclimate your dog to the sound and vibration of the grinder.

Effectiveness

Unlike clippers, nail grinders gradually file down nails, reducing the risk of nips and cuts. To be effective on different dogs, a good nail grinder should include a variety of attachments and adjustable speed settings. However, it is important to take into account the size and sensitivity of the dog's nails.

Comfort

The comfort of your dog during grooming depends on the design of the grinder, the noise level, and the speed settings. To keep the dog comfortable, we chose grinders with a comfortable grip, a relatively quiet operation, and gentle speed settings. Furthermore, using a grinder with a guide to control the angle of clipping can help make the dog more comfortable.


Cost-Effectiveness

While a grinder must be efficient, quiet, and comfortable, it must also be reasonably priced. We chose the best dog nail grinders that are both effective and affordable for users of all budgets.
Our Top Picks
Best Pick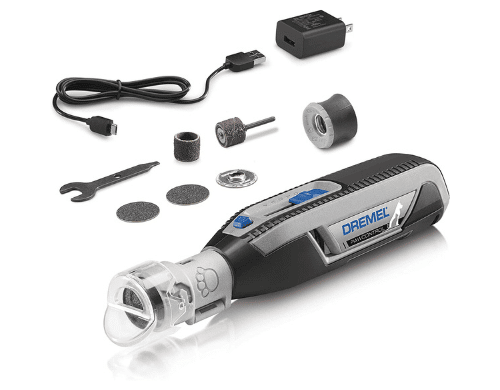 It has a plastic and rubberized shell that is comfortable to hold and less likely to slouch out of your hand while in use.
It has a 45-degree paw guide for the best nail trimming angle and dust collection, lowering the risk of injuring your pet by clipping the claws too short.
The Dremel PawControl Dog Nail Grinder and Trimmer Kit includes the Dremel PawControl 7760 4V Li-on battery-powered pet nail groomer, nine attachments, a USB charging cable, and a power adaptor. Its various attachments make it ideal for use with various dog breeds and nail lengths.
Rnner Up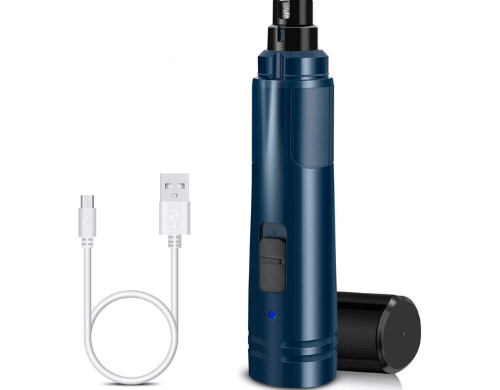 It employs an innovative motor; not only is the power sufficient, but so is the vibration and noise.
It has three ports to accommodate small, medium, and large pets. Simply select the appropriate port and speed based on your pet's size and nail toughness.
The innovative motor that powers this LED dog nail trimmer runs at ultra-high speeds, ensuring quick, effective, and professional grinding. To help calm pets, the new superior motor produces very little noise and vibration.
Most Cost-Effective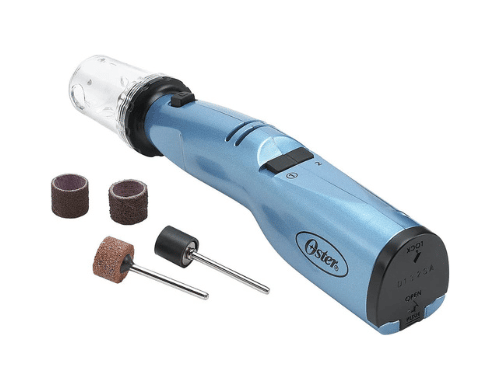 It provides very clean and tidy trimmings for people with less feisty dogs.
This grinder comes with all the accessories needed to effectively trim your pet's nails.
It comes with everything you need to effectively trim and shape your pet's nails and has a powerful 2-speed design that works on all cat and dog breeds. This trimmer has a very ergonomic design, making it perfect for beginners. It's also extremely sheer and sturdy when in use, ensuring that your pet has the best grooming experience possible.
Everything We Recommend
Best Pick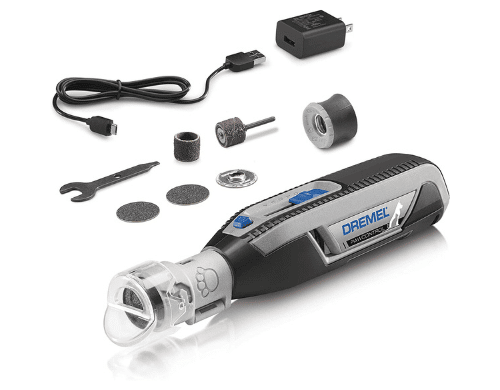 It has a plastic and rubberized shell that is comfortable to hold and less likely to slouch out of your hand while in use.
$59.95
Runner Up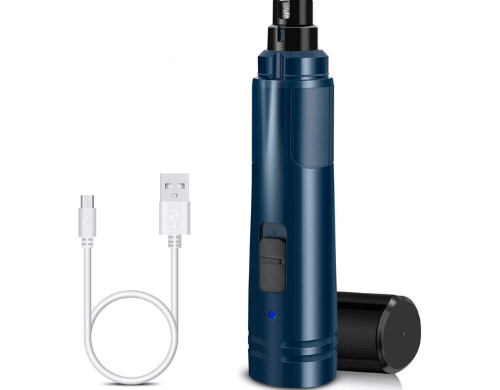 It employs an innovative motor; not only is the power sufficient, but so is the vibration and noise.
Most Cost-Effective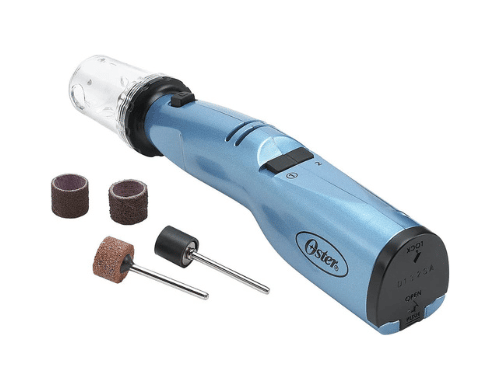 It provides very clean and tidy trimmings for people with less feisty dogs.
$28.55
Who This Is For
This review is useful for dog owners who prioritize the health and cleanliness of their pets. Such owners are passionate about keeping their dogs' nails short for the well-being of both the dog and those who interact with it.
What is a nail grinder?
A nail grinder is a tool used to trim and shape a dog's nails. It has a sanding head that rotates quickly to help file down a dog's nails. Nail grinders help reduce the risk of injury to the quick (sensitive part of the nail) and provide a smoother finish on the nail.
Grinders vs. nail clippers
The best dog nail grinders are used to file the nails while clippers are used to cut the nails of a dog. Although both tools are ideal for grooming dog nails, grinders are a better choice.  The reason is that clippers are not accurate and one may cut deep into a dog's nails, thereby causing them pain, which may lead to the dog biting or hurting the groomer.
Why You Should Trust Us
Many high-quality ail grinders have overwhelming features and this can make it difficult for you to choose the right one. As such, we've taken it upon ourselves to filter through the noise and identify the best nail grinders on the market. Good dog nail grinders will not only give the smoothest shapes but will also be comfortable in your hand, produce less noise, and still be affordable and user-friendly.
How We Picked
It's not easy to find the best dog nail grinder, especially with such a broad and intimidating range available online. To make the process easier, we scoured previous customer experiences with all types of nail grinders and accumulated their opinions on the usage of the grinders.
Noise (quieter the better)
Considering all the information gathered, we checked the market and looked for grinders that produce less noise with little vibration during use. The loud grinder scared the dogs, making them feisty and distrustful.
Comfort
We also considered grinders that provided comfort not only for the dog but also for the user. Because grinding or filing nails takes longer than clipping them, we chose designs that are light and easy to grab; hence, comfort for the user and the dog. Additionally, we looked for nail grinders that were easy to use and trimmed effectively. This came easily since most of the products have user manuals.
Device power
Lastly, we considered power requirements. Cordless grinders need charging while the ones with cords are used while hooked up to a power source. We picked nail grinders that are easily chargeable and those that stay charged for long hours. With these, we are confident that these are the best nail grinders for your grooming needs.
Care and Maintenance
How to avoid hitting nerves
It can be difficult to know when to stop trimming. If you go too far, you risk injuring your pet. As a rule of thumb, grinding away the pointed tip until the nail appears relatively straight is sufficient. Getting to know how far you can cut a dog's black nails can be difficult because the dark color makes it difficult to detect the pink quickly. Examine the underside of the nail instead. Locate the point near the tip of the nail where it divides into a triangle with two outer 'walls.' Trimming is safe up to that point.
Grinding nails on an anxious dog
Although it might seem impossible to train a fearful dog to tolerate nail trimming, there are easy steps you can take. First, accustom your dog to seeing nail grinders. Once your dog becomes more at ease, begin teaching them to be comfortable having their paws touched. This step's primary objective is to teach your dog to accept contact from the grinders.
When your dog is totally at ease and relaxed, call them over and sit down on the floor with them. Place the grinders on the floor and begin touching your dog's paw with one hand while opening and closing the grinders with the other. This exercise will acquaint the dog with the process, and with time, the grooming process will become routine.
How to clear and clean
Use an old toothbrush or a clipper cleaning brush to remove the dust from the housing of the nail grinder. After removing the external dust, remove the safety cap and use your brush to clean around the moving parts of the nail grinder. If the stone has any surface dust, you can also dust it off. Clean the grinding stone with an eraser or piece of cloth after clearing as much dust as you can. Lastly, start your nail grinder, and as it spins, gently tap the grinding stone with an eraser or cloth to clear away any debris.
How and where to safely store
These tools are delicate; remember to store them away from children and even pets. Also, avoid storing them in cool and damp places to avoid rusting of metallic components.