The Best Platform Bed Frames Under $300 for 2023
Elevate your bedroom with these trendy yet budget-friendly platform bed frames.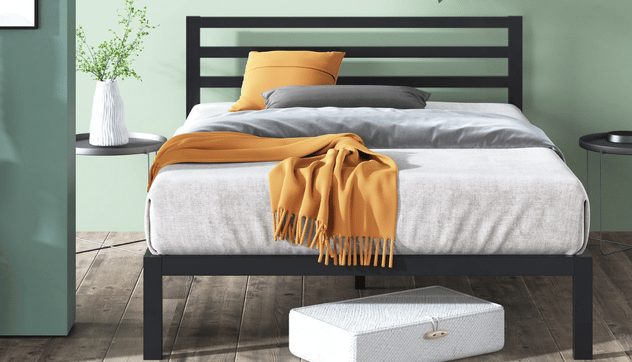 Your bedroom deserves a facelift, and your mattress deserves more support. The only thing capable of making that happen is a platform bed frame. These simple pieces of furniture possess the unique quality of flipping a bedroom for the better and elevating your sleeping experience as a whole.
Thanks to us, you don't have to break the bank to own one! For under $300, we are bringing you the best platform bed frames that can change the entire look of your bedroom and offer you better resting support.
So, whether you prefer wood, metal, or upholstery, there is a platform bed frame under $300 that is perfect for you; let's find out below!
How We Picked
Size/Height/Legs

Platform bed frames, like mattresses, come in a variety of sizes to meet the needs of all customers. These beds are typically low-profile, standing about 18 inches off the ground. These factors must be considered because they influence the overall appearance of the bed and room.

Durability of Material/Strength

Platform bed frames are typically constructed of wood, plastic, or metal. Each of these materials has varying degrees of strength and durability. Regardless of your choice, your bed frame should be durable and strong enough to provide support and last for many years.

Style/Design

We all love a product that positively adds to the aesthetics of our environment. With our chosen bed frames, you get a piece of well-designed furniture that seamlessly fits into the style of your bedroom.

Cost-Effectiveness

Just as this review says, we are providing the best bed frames you can find on the market for under $300. These budget-friendly picks give you the best value for your money without compromising on quality.
Our Top Picks
Best Pick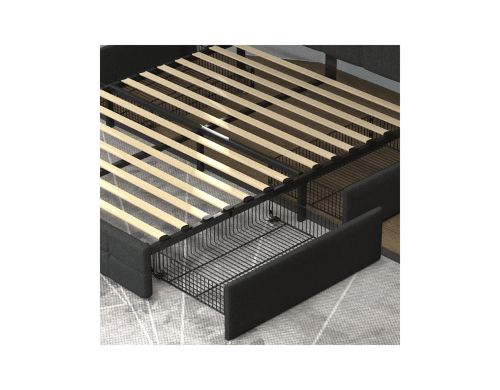 This best-budget platform bed offers tons of storage space and is fit for royalty.
Unlike most budget platform bed frames, the Allewie Platform Bed Frame offers both functionality and style through its upholstered fabric, button-tufted headboards, and fantastic storage.
Our top pick is for people who have a penchant for out-of-the-ordinary furniture and appreciate having their products stand out from the crowd. This upholstered platform bed frame features a button-tufted design stitched for royalty and is available in three neutral colors that can fit into any given bedroom. You also get ample storage underneath the bed, comprising four large drawers.
Runner Up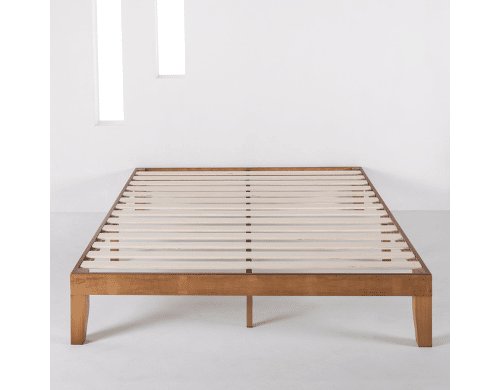 The perfect choice for minimalists looking for a natural, organic addition to their bedrooms.
It is constructed with natural wood grains and wooden slats, sealed by noise-free velvet padding and non-slip tape that helps your mattress stay in place.
Just as the name says, this bed frame is fit for mellow minimalists who love natural and aesthetically pleasing products. The Mellow Naturalista Classic Solid Wood Platform Bed makes a solid organic addition to any room it is placed in through its simple design and natural colors. It provides wood-based support and is available in multiple heights and sizes. If you're going for a more traditional look that saves you money whilst giving the best value for money, look no further than this gorgeous platform bed frame.
Most Cost-Effective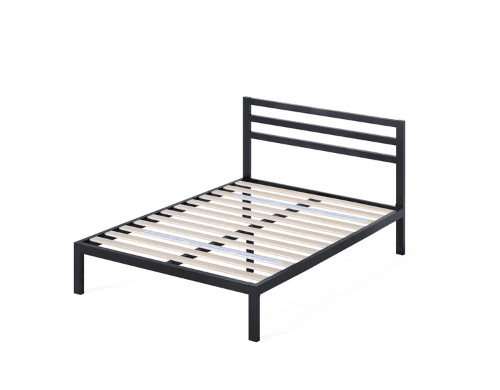 This is a functional and durable choice that blends nicely into any bedroom.
The Zinus Mia Metal Platform Bed Frame also features a bold headboard, non-stick tape to hold your mattress in place, and 14 inches of valuable storage space underneath.
The Mia Metal Platform Bed Frame from Zinus makes a perfect fit for the third, most cost-effective choice. It is a metal bed frame supported by wooden slats and a minimalist headboard. This piece of furniture makes a sleek addition to any bedroom and is built to fit almost every size of the mattress. Its clean lines and edges make it harm-proof, while its 14-inch height gives enough storage room underneath.
Everything We Recommend
Best Pick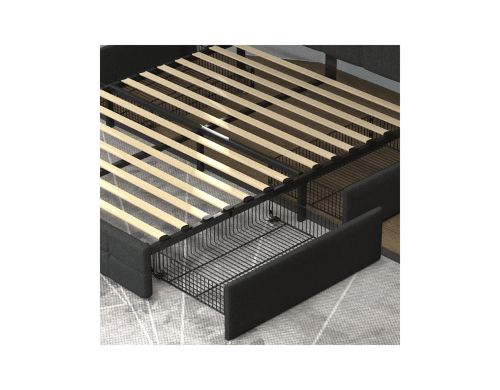 This best-budget platform bed offers tons of storage space and is fit for royalty.
$189.99
Runner Up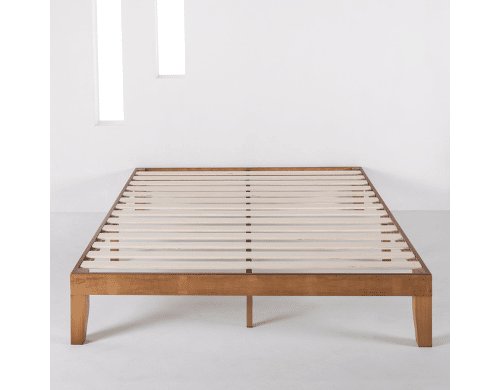 The perfect choice for minimalists looking for a natural, organic addition to their bedrooms.
Most Cost-Effective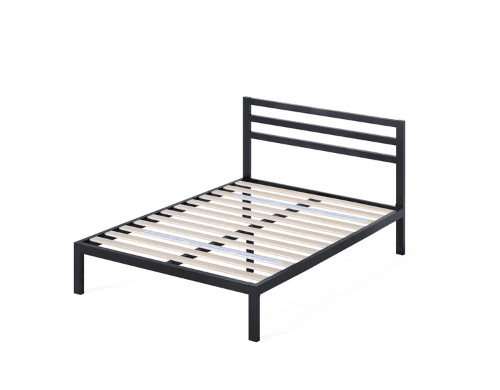 This is a functional and durable choice that blends nicely into any bedroom.
$180.17
Who This Is For
Our solid platform bed frames are for anyone looking to elevate their beds and give their rooms an overall facelift. These products not only provide enhanced support for your mattresses but also give you more room to store your cherished belongings.
What is a platform bed frame, and how is it different from a standard bed frame?
If you aren't conversant with bedding lingo, at this point you may find yourself wondering what the difference between platform bed frames and standard bed frames is all about. Well, lucky for you, we are about to provide a quick and easy explanation of both.
A platform bed frame is a simple, low-raised bed frame that is constructed with one solid surface to support your mattress without the need for additional box springs. They are more low-profile and closer to the ground. They provide both the base and frame for your bed. Give less for more by offering extra firmness and compact designs with no foundation necessary. These pieces of furniture often use wooden slats as their base and can be constructed using a variety of materials — metal, wood, or upholstery. They also come in different types and sizes, may or may not feature head and footboards, and can come in a solid block, have legs, or just be slightly raised from the ground.
On the other hand, standard bed frames are just that — bed frames. This means that your mattress will require the use of additional box springs, which also means that you will ultimately spend more for extra support. Traditional bed frames are designed with the need for box springs in mind, which is an extra layer that is eliminated with platform bed frames. When it comes to the latter, you easily cut out the middle man (box springs), place your mattress directly on top of it and get to rest. It requires no extra cost, it's easier to set up, may provide additional storage, and the compact sizes make them perfect for people who don't have a lot of space to play with.
Can I put my normal mattress on a platform bed frame?
Any type of mattress makes a good companion for a platform bed frame. So whether your mattress is a hybrid, innerspring, or good old fashion memory foam, you can 100% use it on this piece of furniture. All you need to do is make sure to get your size measurements (King, Queen, etc) on the lock and that your mattress has a base designed for full support (usually five or more slats).
Why You Should Trust Us
Our priority when writing this review was to give you the best budget-friendly platform bed frames that will make a perfect new addition to your bedroom while accentuating the support of your current mattress. We understand the need for quality, cost-effective products that offer functionality and efficiency, and our selected bed frames are right up that alley.
How We Picked
After conducting thorough research and testing several platform bed frames on the market, we discovered the major features that are important when selecting such furniture.
Size
This is one of the most important factors to consider when considering your next platform bed frame. The ideal choice offers several size options for different kinds of consumers.
Height
Although platform bed frames are generally more low-profile than other bed frames, you still don't want yours too close to the ground. When it comes to these products, the higher the better, and the best picks are those that provide different height measurements depending on users' needs.
Legs
As we mentioned earlier, platform bed frames come in different shapes and sizes, and also in different bodies. Our chosen frames all feature solid legs as opposed to box frames, in order to give more balance, support, and room underneath.
Durability
Our top picks are made of the best materials guaranteeing premium durability and support for many years to come.
Material
Platform bed frames are constructed using different kinds of material. Regardless of your preference, the chosen material should be top-notch and made of premium quality.
Strength
The worst possible thing to imagine is getting a bed frame that just collapses under pressure. Your future platform bed frame should be built to withstand more than twice your weight and the company of you and other loved ones.
Style/design
When selecting any product, we always aim to go for sleek, compact designs that seamlessly fit into their environment without causing a distraction.
Price vs quality
Just because our selections are budget-friendly and under $300 doesn't mean you should have to compromise on quality. Our cost-effective platform bed frames are sure to give you the best value for money at affordable prices.
Base types
There are two kinds of bases to expect when selecting a platform bed frame — slats or solid base types. While both options are effective, most legged platform frames come with slat bases.
Storage
One of the perks of getting a platform bed frame is being able to get additional storage through ample space underneath or defined storage facilities. In any case, our chosen frames give you enough storage for the belongings of your choice.
Warranty
This factor is an easy tell-sign of how long your product should last, and the bed frames on this list all boast of substantial warranties and ultimately longer durability.
Adjustability
Several things can affect this particular factor, but in the case of platform bed frames, easy transportation and assembly are the two major things. The bed frames featured in this article are easy to move around, assemble and adjust to your taste.
Care and Maintenance
When it comes to maintenance, there isn't much aftercare that comes once you purchase a platform bedframe, aside from the obvious, not jumping on your bed — at least not so often. Bed frames are constructed with innately durable materials that require little to no maintenance hassle. With that being said, it is however important to know what you must do to ensure you are selecting the right bed frame for your needs. Here are a few steps you should take to that effect.
Measuring for a bed frame
Before going ahead to purchase a new bed frame, you must, first of all, know the size of your current mattress (if you already own one) and then go ahead to get a frame that fits it accordingly. For example, if you own a full-size mattress, get a double/full-size frame, and if you own a queen-size mattress, get a queen-size frame accordingly. You must also note that mattresses come in multiple size variations, so knowing intricate differences like whether yours is a California King or Eastern King goes a long way. When in doubt, simply run a measuring tape down its edges and get your measurements down in inches. Make sure to also measure its height as this will determine how high your foot/headboards should be or how dramatic a frame you require.
Understanding weight limits
Every mattress and bed frame has its weight limits. It is important to not only know this but to also match them according to your needs. Aim for a bed that is able to carry at least twice your weight, and if you sleep with someone else, at least twice both your weights combined. It would be a shame to have your mattress give up and disrupt your peaceful rest.
Understanding foundations
Platform bed frames have two major foundation options — wooden slats or metal. Selecting which is the best for you solely depends on your needs and preferences as both are very stable options when constructed with the best durable materials. Metal foundations often offer more durable support, but can be an uncomfortable choice if your mattress is on the lighter end of the thickness level. Wooden slats offer very sturdy support but can give away easily when their weight limits are tested.
Building your bed frame
The complexity of a bed frame's assembly differs depending on its manufacturer and style. With that being said, it is important to know just how hard it is to set up a bed frame, and also if it requires any external tools before purchasing it. You would easily be able to find this answer by doing some research, not only on the manufacturer's page but also on affiliate pages where you can read a variety of customers' reviews. After you have selected the best fit for you, all buildable bed frames come with an instruction manual on how you can assemble your product. Follow it closely and ensure all parts are properly secured before use.