The Best Mosquito Control Gear of 2023
Here are some great mosquito control gear products that will keep pesky bugs away.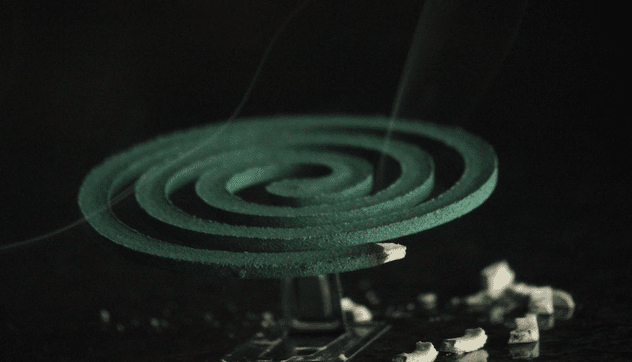 Bugs are no one's favorite creatures. We find them pesky, annoying, and sometimes overly irritating. If that were not enough, we still have to contend with the fact that these tiny hard-to-spot beings can transfer illnesses from person to person – and what predatory insect does anyone hate more than the mosquito?
Whether on hikes, casual outings, or relaxing outdoor moments, mosquitoes are an inconvenience to everyone, which is why we have compiled this review.
The whole point of having a porch is to enjoy the outdoors without putting on long pants to avoid insect bites. Our review is a compilation of the best mosquito gear currently available that efficiently tackles your pest problem without inconveniencing or endangering you or even the insect species.
How We Picked
Humane

When repelling mosquitoes, remember that they are food for other species and are still living creatures. Unlike zappers, the picks we made ensure that mosquitoes are effectively repelled without harming the planet.

Quality

You want to effectively repel mosquitoes without focusing all your attention on that. We picked gear that could enable you to enjoy your outdoors without worrying if you will be bitten.

Gear Type

We sifted through different types of gear for effectiveness and to search for which could work best without negatively affecting you. Yet, we also considered other options for those who preferred alternative gear.

Cost-Effectiveness

Between quality and convenience, we wanted to make sure you had the most cost-efficient gear. So that you would be spending money equal to the peace you would be enjoying.
Our Top Picks
Best Pick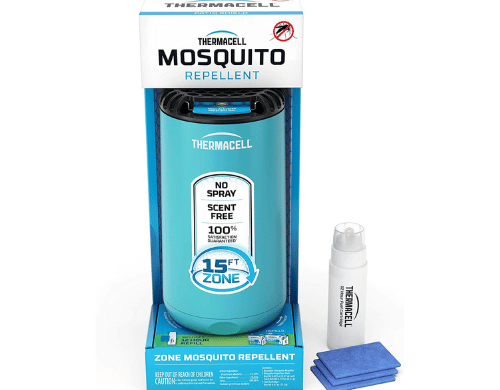 This patio shield gives you a 15-feet safe distance from mosquitoes and other bugs.
The Thermacell Mosquito Repellent Patio Shield allows you to protect yourself from mosquito bites without using lotions or sprays on your skin.
The Thermacell Mosquito Repellent Patio Shield runs on a fuel cartridge that is both small and risk-free and is so efficient that one cartridge can keep it going for up to a day. It produces an odorless spray that drives insects away and keeps them at bay. It works with unscented mats that can be used for up to four hours before being replaced and requires no batteries or cord.
Runner Up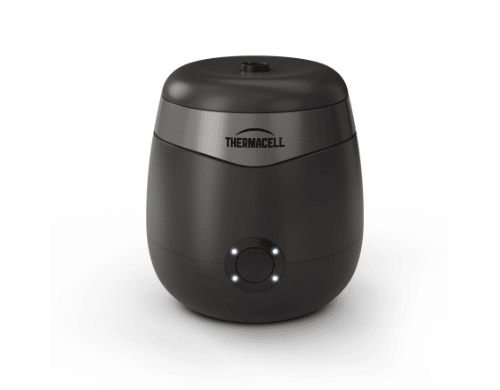 Effectively repel bugs without the need to spray.
In just 15 minutes, you can experience the highest level of security available, along with cartridges of odorless liquid repellent that are easy to replace.
The Thermacell E90 Rechargeable Mosquito Repellent has a rechargeable lithium-ion battery and can keep mosquitos away from you for up to 5.5 hours on a single charge while still performing properly. There is also no need to monitor its energy levels or refill it regularly. The repellent sprays an odorless mist that repels mosquitoes and keeps you safe all night.
Most Cost-Effective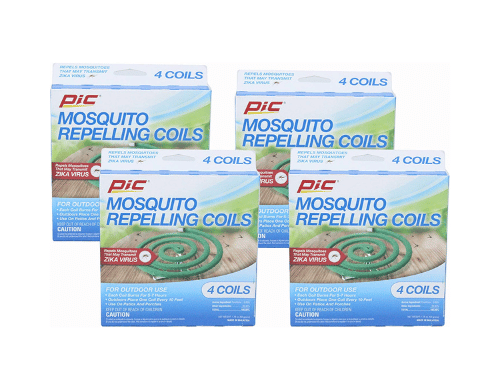 Your best outdoor defense against mosquitoes.
PIC Mosquito Repelling Coils can be useful in regions where there is a significant mosquito population.
Pic Mosquito Repelling Coils are especially useful where there is little to no air, such as on porches and patios. When placed at a distance of ten feet apart, these coils are most efficient at warding off mosquitoes. Each coil has a burn time of between five and seven hours, making it ideal for use on porches and patios.
Everything We Recommend
Best Pick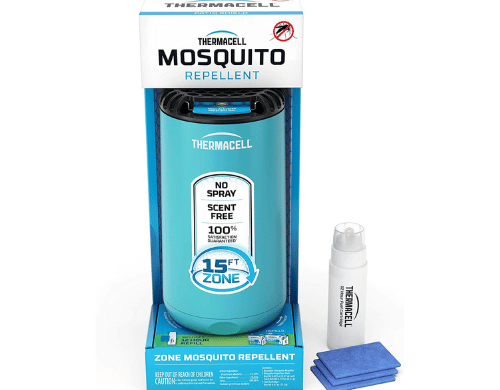 This patio shield gives you a 15-feet safe distance from mosquitoes and other bugs.
$17.99
Runner Up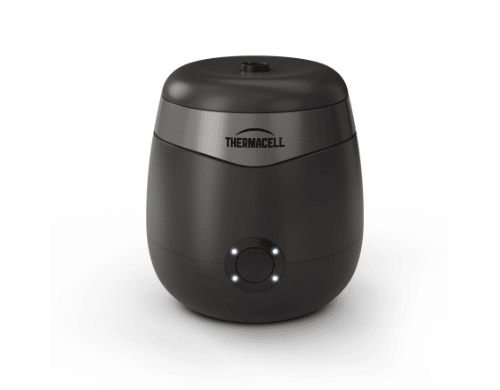 Effectively repel bugs without the need to spray.
Most Cost-Effective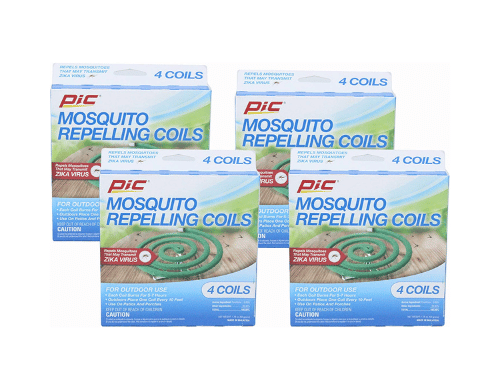 Your best outdoor defense against mosquitoes.
$15.02
Who This Is For
According to the Centers for Disease Control (CDC), vectorborne diseases constitute a serious and growing public health danger in the United States, and mosquitoes are the vectors for the transmission of some of these viruses. Therefore, everyone should make it their top priority to reduce the likelihood of getting bitten by mosquitoes. This is for those scenarios in which it would not be practical to spray your whole body with bug spray. It is also for those who want to enjoy a moment outside without having to worry about being bitten by insects or having to resort to using chemical bug sprays.
Different types of control gear for bugs and mosquitos
There are almost as many mosquito control methods available as there are mosquito species. Maybe not that many, though. However, there is a wide range of insect repellents available to suit a variety of budgets and preferences. Lotions, creams, sunscreen, and wipes are all examples of topical repellents. Most individuals agree that the most efficient method of personal protection from mosquitoes is the use of mosquito repellents that are applied directly to the skin.
For those who would rather safeguard their entire yard, there is no shortage of solutions. Larvicide, an insecticide used in several of these methods, is effective because it prevents mosquito larvae from developing into adult mosquitoes. These include mosquito granules, which are most effective when applied to stagnant water.
Similar to granules are mosquito dunks, which can be used to repel mosquitoes. In addition to the aforementioned, there are candles, coils, lights, fans, and spatial repellants. You can also use zappers and ultrasonic mosquito repellent devices, which use high-pitched frequencies to simulate the sounds of predators and scare mosquitoes away. However, which of these works most effectively? You will find out eventually.
Why You Should Trust Us
To know what best protects you from mosquitoes, we started our research by considering the options that did not yield good results. We then proceeded to find out what repelled mosquitoes more and on a wider scale without causing inconvenience or being harmful to those around us. We knew that coils were effective, but they were unsafe over the long run and were not best for closed rooms. Nets were also good but were restrictive, which caused an inconvenience. When we performed our research, we found that the majority of people preferred repellent sprays and the new spatial technology. We didn't understand it fully until we ran our tests. We concluded that spatial repellants were more effective and worked on a wider scale, checking most of our boxes. We also read reviews about each product and went to sites like Trustpilot and Amazon to find out what critics had to say in their reviews, after which we checked these out for ourselves to ensure that our recommendations were purely objective.
How We Picked
Humane method
We researched options that wouldn't negatively affect beneficial insects too much. Foggers, yard sprays, and bug zappers are just some of the many solutions that are efficient in combating mosquitoes, but they all kill all insects in their path. Since many of these insects are helpful predators of other insect pests and are food normally reserved for birds and bats, their annihilation en masse could have far-reaching consequences. We also considered methods that were not harmful to the people using them. These include dangerous sprays and other forms of mosquito repellents.
Quality of capture/control
According to the AMCA, mosquito repellent is more effective than mosquito traps, as mosquito traps have produced inconsistent results. That is because, regardless of the design of the trap, mosquitoes prefer a human host over the attractant of the trap. Other studies found that using traps either significantly increased or had no effect on biting pressure at close range when compared to other means. A trap's objective is to draw mosquitos to a specified location, but once there, they will find a human to be more delectable than a trap, which is why repellants are considered to have more quality.
Gear-Type
Lights
Mosquitoes are nocturnal insects that hunt for food by using light as a cue in dark environments. New insect technology has found that not only do string lights in the backyard, deck, and patio look good, but they also discourage the presence of insects. That is because these special lights are now constructed within pods that contain BiteFighter repellant fluid. According to the manufacturers, these lights can protect an area that is 330 square feet in size for up to 200 hours.
Repellent sprays
There are also repellant sprays that can be used on the skin and last for a certain period and effectively prevent mosquito bites. Spatial repellents are another type of modern repellent. In essence, these gadgets are air diffusers that release a repellant into the atmosphere, thereby creating a mosquito-free zone by repulsion without killing the insects.
Nets
One of the best defenses against mosquito bites is a mosquito net. While the net that can be spread over the bed is popular, there is also a net that you can wear (even if you lose some fashion points in the process). If you're concerned about getting insect repellent near your eyes, you can consider using a head net to protect your face from mosquito bites. These spacious suits are made of breathable mesh and provide full body protection from insects. However, most people don't find them convenient.
Coils
Mosquito-repelling coils were around as far back as the early twentieth century and were made with dried pyrethrum paste. Now, mosquito coils using plant-derived chemicals and pyrethroid insecticides are currently on the market. Depending on the ingredients utilized, the smoke from a burning coil can either kill or repel mosquitoes. However, in windy conditions, any active element in mosquito coils is rendered ineffective. Even though mosquito coils are an aesthetically pleasing method of repelling mosquitos, their persistent burning can pose a major health risk.
Price vs. quality
Our recommendation needed to be user-friendly, secure, and affordable to be accepted. We wanted a device that could be set up and left to work. We didn't set a price limit, but we focused on finding a cost-effective solution. Therefore, convenience was weighed against both cost, quality, and effectiveness.
Style/design
It is not the ice age, and repelling mosquitoes does not have to be done with crude, ugly-looking tools. Whether it is lighting, spatial repellants, sprays, or other gear, you want to have something attractive and not something that repels the mosquitoes and scares other people away.
Ease of use
The type of repellent that is used is a significant factor in determining the degree to which it is successful. When it comes to warding off mosquitoes, you have the option of using either a spray repellent or other gear, depending on whether you want a temporary solution or one that can be used more than once. Whichever one you choose, you will mostly prefer the simpler, easy-to-set-up and use option, which is something we considered in our recommendation.
Convenience
Coils and mosquito nets are usually not people's first choice because nets are restrictive and coils can be harmful, not to mention inconveniencing. You would want to consider using mosquito gear that does not bother you as much as it bothers the insects
Care and Maintenance
Knowing the concentration of bugs in your location
You can tell when bugs are more likely to show up based on certain indicators. Mosquitoes, for instance, prefer humid climates with high temperatures. Ticks become more active in hot weather, and cockroaches emerge in dry, hot sections of the country in search of food and water. Once you know the weather, you can predict what kinds of pests may show up in your location and in what numbers.
Different gear works better on different bugs
You should know that insects are different and that various types of chemicals and gear are designed specifically for certain types of insects. While pesticides may generally work for almost all insects, they will leave you uncomfortable. Advanced gear like lights and spatial repellents that might work for small insects like mosquitoes might not be effective on larger bugs. Therefore, you should be specific about which bugs you want to target before getting the right gear for the job.
Keep gear, especially sprays and liquids, out of reach from children and pets
Mosquito gear and all equipment used to manage your bug problems should be kept out of the reach of children and pets. According to the healthy children organization, most domestic accidents involving children happen when the caregivers are home but are not paying attention to the children. If you spray a room or are using a repellent, make sure that the children are far from it, as well as your pets. Additionally, make sure that the children do not put their hands in their mouths when coming out of a room that has been sprayed, as this might be dangerous and might cause poisoning. Always make sure to safeguard against all accidents by securely locking away your gear after use or when not in use.
Knowing if gears need refilling
If you use any of the spatial repellents, you should thoroughly read the manual to know how to handle them properly. For almost all Thermacell products, there are warning lights and indicators to show when the device is low or needs refilling. However, the most effective way is to know how long each cartridge lasts and to refuel it once its time has elapsed.
How to refill
If you want to refill your Thermacell butane cartridges, you'll need to make some adjustments to the container that holds the butane. Due to this, potential risks exist. Make sure the cartridge is completely empty by releasing the air pressure in it into the air. Put some distance between yourself and the container and use safety gear like goggles, and then listen carefully when depressing the cartridge's top valve to ensure all of the air pressure has been released.
Safely pouring fuel
Butane cartridges from Themacell can be made refillable in two different ways. A check valve inside the cartridge must be removed in the first technique before butane can be added. To do that, empty the cartridge and carefully unscrew the brass valve from the cartridge's end. After the check valve has been removed, the nozzle for the main valve can then be placed back into the cartridge. After that, the butane cartridge can be refilled by inserting the tip into the valve on the cartridge.
The second way is to install an inlet valve by drilling a hole in the base of a used cartridge. It is recommended to use epoxy to further secure the opening and prevent leaks. After installation, the cartridge can be refilled directly through the inlet valve.
When dealing with spray or other chemical gear, be sure to ensure that you use gloves and protect your skin. In cases where you apply them directly or use spatial repellents, always wash your hands immediately after.