The Best Portable Carpet Cleaner of 2023
Get rid of tough spots and stains with the perfect portable carpet and upholstery cleaner!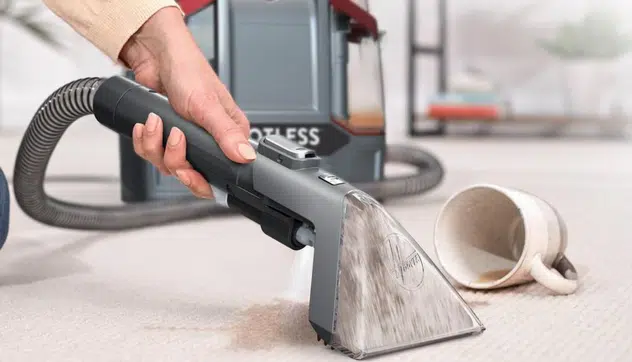 There's no place like home, and the perfect fittings can transform a home into a personal paradise. However, accidents happen. Drinks spill, pets leave messes, and the daily business of living brings unexpected stains to household items.
When cleaning by hand, some tough stains just won't budge no matter how hard you scrub. On the other hand, full-sized carpet cleaners tend to cost a lot of money. They are also too cumbersome to use on small spots and stains. This is where portable carpet and upholstery cleaners come in handy! Not only are they easy to carry around, but they also cost much less than full-sized cleaners!
Therefore, we've compiled a list of the best carpet and upholstery cleaners on the market to help you keep your home in sparkling condition.
How We Picked
Size/Weight

No one wants to drag around a heavy machine while getting rid of stains. Therefore, portable carpet and upholstery cleaners must be just what their name implies: portable!

Style/Design

Who says that household equipment has to look clunky and awkward? These portable cleaners look good while still getting the job done.


Quality of Wash

Getting rid of stains and spills shouldn't take an inordinate amount of time and effort. Therefore, the quality of the wash needs to be superior so that tough stains can be removed with only a little elbow grease.

Cost-Effectiveness

You don't have to spend a fortune to get a good portable carpet and upholstery cleaner. We found the best bargains to help you spend less while getting more in terms of quality!
Our Top Picks
Best Pick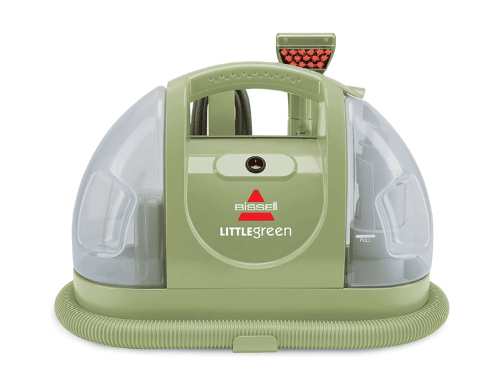 With powerful suction, this lightweight, portable cleaner easily sucks up dirt and stains.
The Little Bissell, as the name implies, packs superior cleaning power into a small package.
The Bissell Little Green Portable Carpet and Upholstery Cleaner promises a smooth cleaning experience with its powerful spray and suction. Unlike many other portable cleaners, its tank holds up to 48 ounces, ensuring that you don't have to keep making refills. It's also equipped with a Hydro-Rinse self-cleaning tool to automatically rinse the dirt out of the hose after usage. Additionally, purchasing the lightweight machine also gives you a free spot & stain solution with Febreze freshness.
Runner Up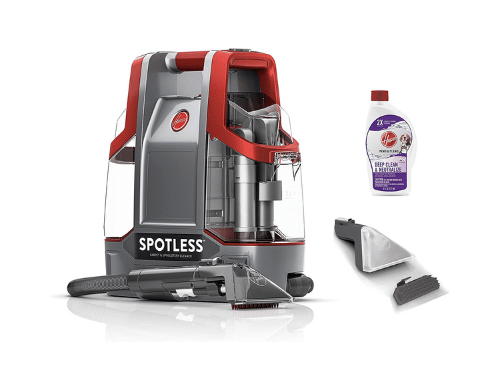 This deep-cleaning machine is ideal for cleaning carpets, upholstery, and car interiors.
The Hoover, the lightest on our list, combines portability and effectiveness in a single sleek package.
The Hoover Spotless cleaner has several unique features, from its self-cleaning technology to its antimicrobial multipurpose tool. This lightweight machine is capable of deep cleaning carpets, upholstery, and car interiors. It powers through stains with very little hassle. Its dual tanks have been designed to keep clean and dirty water separate, making the cleaning process as seamless as possible. Its long cord allows you to move as far as 5 feet away from the machine itself. With its sleek, unique, and attractive design, the Hoover Spotless cleaner is definitely a must-have.
Most Cost-Effective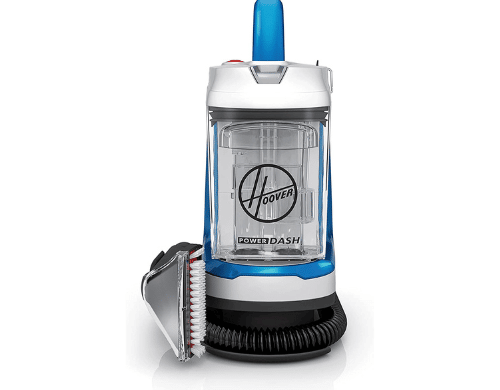 Looking for an affordable yet effective cleaner? This one's for you!
The Hoover PowerDash gives double value for money with its interchangeable scrub heads.
The Hoover PowerDash Go is a cost-effective yet efficient choice. The handy machine comes with its own premixed solution, so you don't have to fill up the tank with water. When tackling hard-to-reach spots, the five-foot hose ensures that movement isn't restricted. Its sleek and compact design not only looks good but also allows for ease of movement as it stands upright on its own. It also comes equipped with interchangeable tools: a bristle brush and a rubber nub tool for pet mess.
Everything We Recommend
Best Pick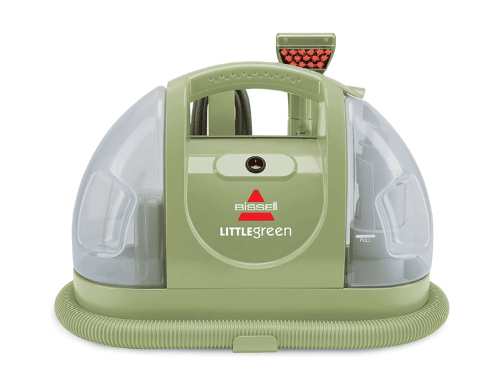 With powerful suction, this lightweight, portable cleaner easily sucks up dirt and stains.
$123.59
Runner Up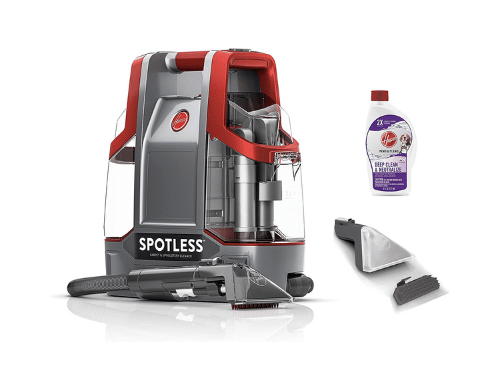 This deep-cleaning machine is ideal for cleaning carpets, upholstery, and car interiors.
$127.62
Most Cost-Effective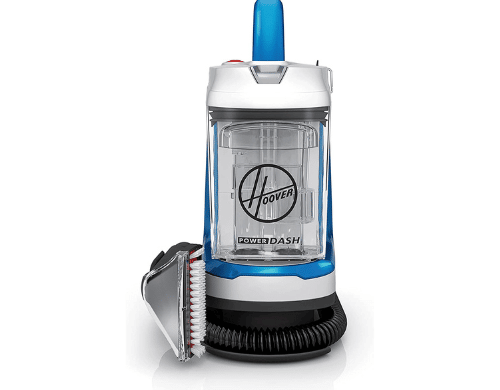 Looking for an affordable yet effective cleaner? This one's for you!
$81.99
Who This Is For
The products included here are for those who often have to deal with small stains and pet messes on upholstery, carpets, and auto interiors. If this is you, then you need a portable carpet and upholstery cleaner, as full-sized machines may not allow for effective spot cleaning.
Difference between carpet and upholstery cleaners
In recent times, the lines distinguishing carpet cleaners from upholstery cleaners have become blurred. Many companies now specialize in manufacturing multi-purpose equipment. Thus, one cleaner can work on both carpets and furniture, as well as car upholstery and stairs. This makes it much easier for customers when inevitable messes occur in different parts of the home. Instead of purchasing multiple machines to handle different areas, one machine can do all the work.
However, it is important to pay attention to the type and quantity of cleaning solution used when cleaning upholstery. Make sure to check if the solution is suitable for the upholstery material. Also, avoid spraying too much solution on your upholstery to prevent the foam and other underlying materials from getting soaked, as this may lead to a buildup of mold and unpleasant odors.
Can you use a carpet cleaner on sofas and armchairs?
The answer is yes! Most portable cleaners on the market are multipurpose cleaners. That is, they accommodate a wide range of surfaces, such as carpets, upholstery, car interiors, and stairs. Even better, a lot of them come with interchangeable tools, such as bristle brushes and rubber tools, depending on the type of surface being cleaned.
Why You Should Trust Us
The market is saturated with a large number of fancy-looking portable cleaners. However, not all of them are powerful enough to get rid of stains and embedded dirt. Therefore, we focused on products that have proven track records of effectiveness. Using a consumer-focused approach, we selected products that have high customer satisfaction rates and excellent reviews. None of the products listed here received less than a four-star rating!
How We Picked
Trying to find the perfect home appliance can be daunting when you consider the broad range of products marketed online. Whether it be large or small, corded or cordless, they all promise to get the job done. We know how tasking and stressful the process can be, so we did all the work by scouring countless customer reviews and product descriptions to find the best options for your home.
We looked for portable spot cleaners powerful enough to suck up any kind of stain, whether it be old or new. Portable cleaners are meant to be an alternative to full-sized ones in terms of size, so we made sure to choose machines that are portable and compact, small enough to carry without strain. They all have comfortable handles that make it easy to move the machine around while cleaning. Each cleaner comes with its own free bottle of cleaning solution, so you don't have to worry about mixing your own. These solutions have proven to be effective at getting rid of stains.
All the products on this list come in beautiful and bright designs. Better still, you don't have to worry about splashing out, as all options are budget-friendly. However, this doesn't have a negative effect on their quality. What's even more amazing is how easy they all are to use! Even before reading the instruction manuals, the products' style makes assembly and storage as straightforward as possible. Every part and component is easy to use, store, wash, and disassemble. As these cleaners get the job done fairly quickly, the noise they generate shouldn't be a problem. Thankfully, the power cords extend several feet, giving you a long reach while cleaning. With all our picks far below the $200 mark, you don't have to worry about spending a lot of money to get the right portable cleaner for your home.
Care and Maintenance
In order to extend the life of your portable cleaner, it's important to follow the manufacturer's instructions meticulously as each machine is different. When filling the tank with solution, pay attention to the measurement lines on the tanks, if any are included. If they are not, avoid overfilling the tank to prevent spilling.
After handling the solution, ensure you wash your hands properly as a result of the chemicals involved. After use, wrap up the cord and hose and attach them to the back of the machine with the attached clasps. If no clasps are available, wrap them carefully and secure them with a peg or any similar tool. Avoid spilling liquids on the machine or its power cord to prevent it from malfunctioning.