The Best Slide-In Gas Range of 2023
A gas slide-in range is an excellent option for creating a functional and visually appealing kitchen - why not get yourself one?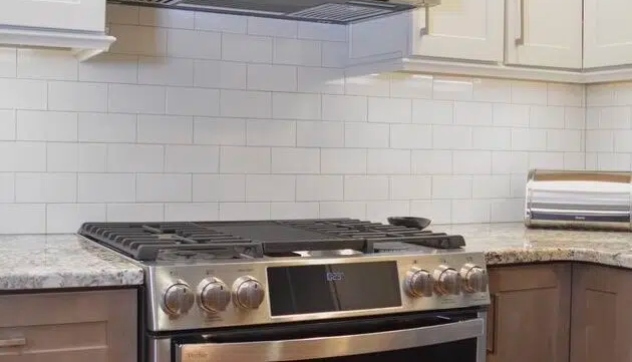 Looking to upgrade your kitchen with a bespoke gas range? why not try one of these best slide-in gas ranges? A slide-in range fits between existing kitchen cabinets, creating a seamless look. Additionally, slide-in ranges often have a larger oven capacity than freestanding ranges, which can be useful for those who like to cook large meals. They also have a sleek and modern design that can be a great aesthetic addition to a kitchen.
Slide-in gas ranges are simple to install and maintain. The best models include a long list of time-saving features. Let's take a look at the best slide-in ranges we chose so you can make a well-informed choice for your kitchen.
How We Picked
Size

You must ensure that the oven cavity size on your range is adequate for your cooking requirements. If you have a large family or genuinely love entertaining, choose a slide-in gas range with plenty of capacity. A smaller model will save you money if you don't require as much cooking space.

Storage for Cookware

If you have limited kitchen storage space, you can always store items like baking dishes, casseroles, or skillets in the oven drawer. It's therefore important to settle for a slide-in gas range with sufficient oven space to double as storage for cookware.

Max. Temperature

Not all slide-in gas ranges are the same, with some providing more heat than others, even on the same stove. However, hotter may not always be better, and different stoves may be ideal for different types of meals.

Cost-Effectiveness

Slide-in gas ranges are by no means a cheap purchase. The expensive price is due to intricate engineering and, in some cases, aesthetics. However, because gas ranges can last so long, this is a one-time investment.
Our Top Picks
Top Pick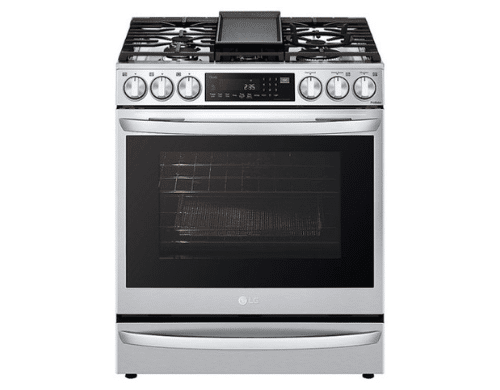 It is a feature-rich and simple-to-use smart gas range.
LG's Smart Slide In Gas Range has a five-burner cooktop and a 6.3 cubic foot capacity oven. InstaView Window, Air Sous-Vide, Built-In Air Fryer with ProBake Convection, and EasyClean. Moreover, Self Cleaning options are also included in the range.
This is one of the most versatile ranges with exceptional features if you want to improve your cooking abilities.
Runner-Up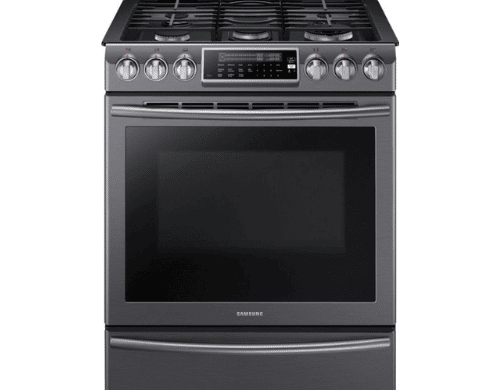 It has an appealing aesthetic with great performance.
This slide-in range is a great replacement for the typical freestanding range, bringing a sleek, customized, built-in look to the home kitchen without the need to remodel. It has five burners and a large oven for high-performance cooking, broiling, and baking. A 5.8 cubic foot oven's capacity enables you to prepare several dishes at once. With the largest capacity slide-in range in the business, you can easily fit a large roast, many baking dishes, or several trays of cookies.
The Samsung NX58K9500WG 30 will spruce up any kitchen thanks to the sleek, built-in design.
Most Cost-Effective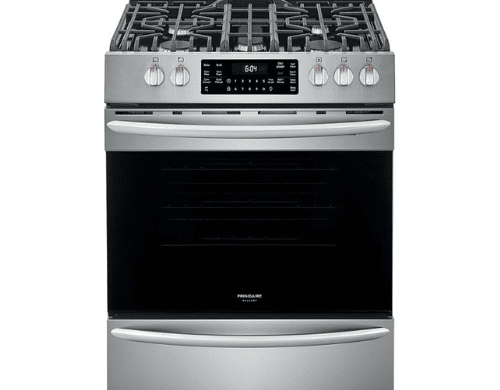 The Frigidaire FGGH3047VF is a fine, inexpensive appliance.
An efficient 30-inch gas range with an integrated air fryer. It provides more than enough space for all of your meals and baking treats with a capacity of 5.6 cubic feet. This oven is ideal for any culinary necessity thanks to its enhanced features and total adaptability.
The Frigidaire FGGH3047VF is cost-effective, has respectable looks, and cutting-edge features.
Everything We Recommend
Our Top Pick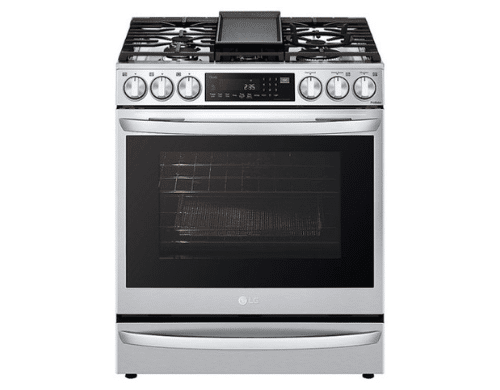 It is a feature-rich and simple-to-use smart gas range.
Our Runner-Up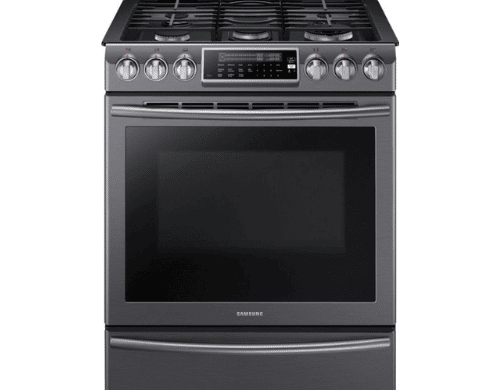 It has an appealing aesthetic with great performance.
Most Cost-Effective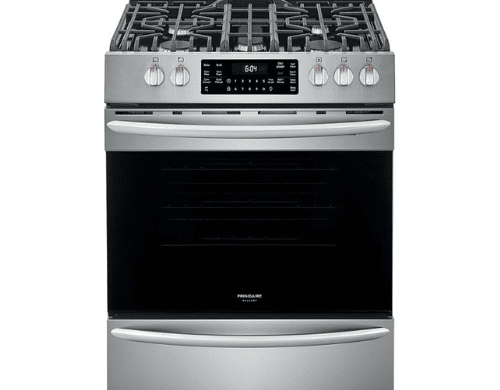 The Frigidaire FGGH3047VF is a fine, inexpensive appliance.
Who This Is For
A slide-in range is a popular option for home planners and owners who wish to put a range on a kitchen island because of its stylish and contemporary appearance. Food and liquids cannot spill between the cooktop and the counter when using a slide-in range, making cleanup simple after meals.
Slide-in vs. freestanding ranges
Freestanding stoves, as in not attached to any walls or cabinets, are precisely what they sound like. However, slide-in ranges are the apparent winner in terms of design. Slide-in ranges don't have a big backyard like freestanding ranges do. Because the controls are up front, access is more manageable.
Slide-in ranges typically have a more streamlined and personalized appearance than freestanding models. As a result, they usually have a higher price tag. Fortunately, most oven designs are available in freestanding and slide-in models. Slide-in induction stoves are very popular among homeowners due to their sleek, contemporary appearance.
Slide-in gas ranges are rapidly becoming more common in the cooking industry, though they are still not as prevalent as freestanding ranges. They are likely to keep a stronghold for the foreseeable future. Your style will ultimately depend on your personal choices, financial situation, and kitchen layout.
Gas vs. Electric
While electric ranges use metal heating elements, gas ranges use an open flame. Both have distinct advantages: electric ovens often provide dry, uniform heat that's perfect for baking and roasting, but gas stovetops tend to be more sensitive, allowing you to switch between heat levels swiftly.
In short, choose the one you feel most comfortable operating while looking for a new stove and deciding between gas and electric. Choose an electric stove if you are wary of using natural gas or uncomfortable with cooking over an open flame. Alternatively, gas can be the most incredible option if you're on a tight budget or a budding cook.
Why You Should Trust Us
Buying a range is a significant investment, so we make sure that the one you choose is a good fit in any and every way. If you're remodeling your entire kitchen, decide on the size and location of the range early in the process. Because of their modern appearance, we prefer slide-in ranges. Slide-in ranges are well worth the investment. They are stylish, long-lasting, and have front-end controls that meet current standards. To help you make the right decision, we investigate and assess every necessary aspect, including your budget, kitchen layout, family's needs, aesthetic qualities, and energy source.
How We Picked
Size
The size of the area available to house the unit is the most crucial factor when choosing a slide-in gas range. It's critical to take precise measurements to guarantee that the appliance will fit tightly into the space that it is intended for, with no significant gaps that could let food and other trash fall through.
Number of cooktops
Next, think about how many burners would best suit your requirements. Four people may be sufficient if you typically cook for yourself or a small family. On the other hand, if you frequently host dinner parties, you might require five or six.
Your time and energy are fully expended during the cooking process, and cleaning up may be exhausting. It's crucial to look for slide-in gas ranges that make quick work of cleaning your appliance. Many gas stovetops include detachable grates that can be washed in the dishwasher or sink, and the oven parts frequently have user-friendly self-cleaning functions.
Max. temperature
You can easily prepare many types of food at various temperatures simultaneously with a wonderfully multi-functional slide-in extension. For instance, some sleek slide-in ranges have stovetops with several warming elements that you can adjust to different temperatures to ensure that each container warms to the ideal temperature for whatever ingredients you are cooking.
Easy installation
Lastly, it is also necessary that you select a slide-in gas range that will save you money on installation and that you can install easily on your own by following simple instructions. A slide-in model needs to have base cabinets placed on each side of it. The side panels of the range contain alignment grooves rather than being polished, as they are on standalone stoves, to make installation easier. Your kitchen design will often dictate which type of range best suits your needs.
Care and Maintenance
Cleaning your range
Although cleaning and maintaining your gas range may initially seem complicated, it will become simpler with practice. After each use, make sure to wipe off your gas range top and carefully clean up debris or spills. Then carry out a more thorough cleaning once every month or two.
Remove any removable stove parts and put them in the sink. Wear cleaning gloves. Spray cleaning solution on everything that can be removed, then set aside for 15 to 25 minutes. Despite its claim to be fume-free, this cleanser might still irritate your lungs, so take care not to breathe in too deeply.
Moreover, watch out to prevent getting a cleaning solution in your eyes. If that occurs, quickly flush the eye with cold water.
Wear gloves when cleaning
Most importantly, don't forget to wear your cleaning gloves while following cleaning methods and heat-resistant gloves when the range is on.
How to install
The most crucial step to a secure installation is purchasing the appropriate connector. Retain the pipe threads, remove the range, and turn off the gas cock. The gas line must then be connected to the connector. Holding the tube straight up against the fitting, tighten the connector nuts on the two-end connector fittings.
Check for gas leaks
Always look for leaks in your activities. To get the air out of the gas line, turn on the gas and light the range burners for roughly a minute. Then use a gas leak detector to spray all the joints. Push your new stove into position and check the levelness if no leaks are found.
Sources and Research