The Best Fire Extinguisher of 2023
Fire extinguishers can prevent a few small flames from becoming a devastating blaze.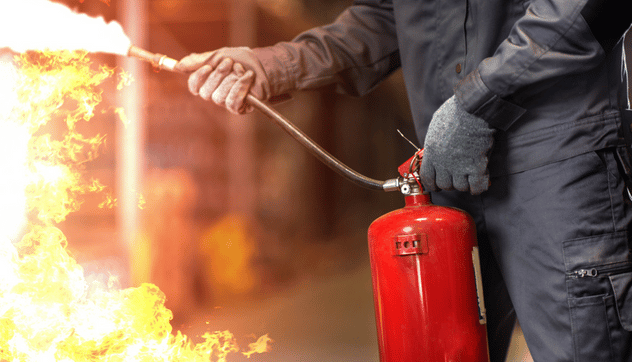 Accidents, particularly fire accidents, can occur at any time. Fires can occur as a result of a faulty electric appliance, daily meal preparation, filling tanks at gas stations, and a variety of other activities, necessitating the use of a fire extinguisher.
A fire extinguisher should be easy to use so that you can put out small fires quickly before they escalate to infernos. It also needs to be safe, reliable, and built well enough that it won't fail you in the middle of a fire emergency. But fire extinguishers can be confusing and intimidating, with different sizes, shapes, and colors, along with a seemingly extensive list of instructions for their use. Knowing which to buy and how to use them is essential for any homeowner or business owner.
Everything We Recommend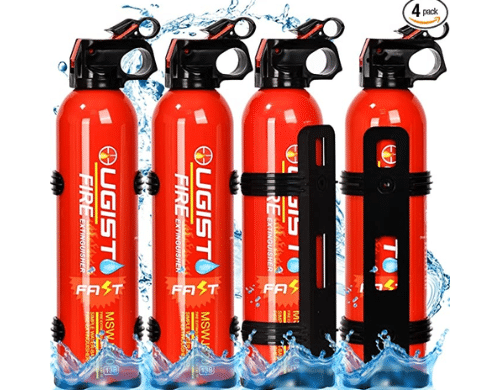 1. Best Product
Ougist Portable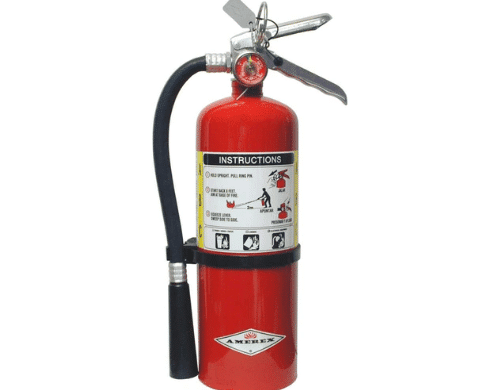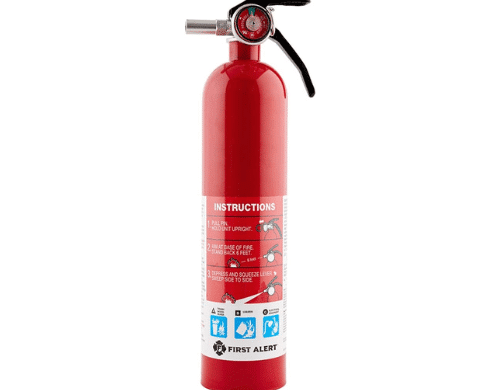 3. Cost Effective
First Alert Standard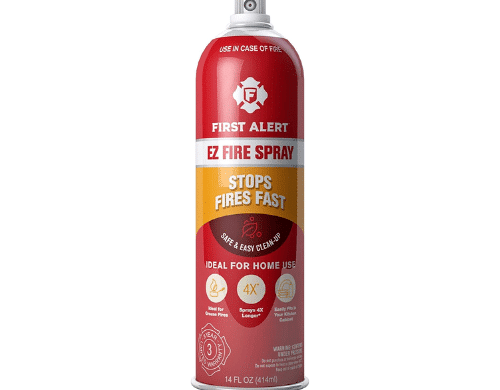 4. Almost Made the Cut
First Alert EZ Fire Spray
Who This Is For
When it comes to the need for a fire extinguisher, no one is left out. Every home, workspace, and even play area needs a fire extinguisher and it is a safety item that comes in handy in the situation of a fire outbreak.
How Do Fire Extinguishers Work?
The work of a fire extinguisher is simple and direct, that is to put out a fire that can lead to the loss of life or property. Fire is a product of the reaction between three properties; oxygen, fuel, and heat. Oxygen and fuel are heated up to a specific temperature which causes fire to burn. There are different types of fire extinguishers (water extinguishers, carbon dioxide extinguishers, and dry powder extinguishers) that are used to extinguish different types of fires. How a fire extinguisher works is basically to weaken or separate either of the three components that make up a fire.
A water extinguisher is capable of extinguishing fires like burning wood, paper, or cardboard, but is not suitable for fires from inflammable liquids or electrical fires. Water extinguishers will only worsen the fire situation in cases of inflammable liquids and can cause electrocution in cases of an electrical fire. The carbon dioxide extinguisher when put to use displaces the oxygen embedded in the burning fuel and this causes the fire to stop burning. When carbon dioxide is sprayed on fire, it separates the fire from oxygen which makes it impossible to burn. Dry powder extinguishers contain sodium bicarbonate (baking soda), potassium bicarbonate (similar to baking soda), or monoammonium phosphate. These chemical components decompose in a burning fire to release carbon dioxide which helps to smother the fire.
How to Use A Fire Extinguisher
The right way to use a fire extinguisher is in four easy and simple steps. These four steps are tagged with the acronym 'PASS' which means Pull, Aim, Squeeze, and Sweep.
Pull the pin on to unlock the fire extinguisher. This will enable the extinguisher to discharge its content.
Aim the nozzle of the extinguisher low towards the base of the fire.
Squeeze the handle or lever of the extinguisher to discharge its contents. The pressurized extinguishing agent in the extinguisher is then released.
Sweep the nozzle across the surface of the fire until the flames are extinguished. Begin from a safe distance away, then gently move towards the flame. Keep the fire extinguisher aimed at the base of the fire and move it from side to side to ensure that fire is completely extinguished and be on the lookout in case it re-ignites.
How Many Fire Extinguishers to Have in a House
The presence of fire extinguishers is very important, it can help nip a fire outbreak in the bud when it happens. It is recommended that every home have at least one fire extinguisher, and if a house has multiple floors, it is advised that every floor have its fire extinguisher.
Why You Should Trust Us
The safety of human lives and properties is very essential and this is something we cherish very dearly. There is nothing as beautiful as living or working in an environment that has the proper safety equipment in place and that's why we made a list of the best fire extinguishers to pick from.
How We Picked
Size
The size of a fire extinguisher does matter, this has a direct reflection on the amount of its content and its overall weight. Variation in sizes allows an individual to select their preferred choice based on their need.
Weight
The weight of a fire extinguisher cannot be undermined, as this plays an important role in how it is going to be handled and used. The weight of a fire extinguisher should not be heavy, it should be such that it makes it comfortable and easy to use when the need arises.
Capacity
The capacity of a fire extinguisher can also not be excused. Fire can break out from different sources and under various conditions, it is therefore important that a fire extinguisher can extinguish different types of fire in different circumstances.
Filling
The content of a fire extinguisher varies based on the type of fire it is used for or the size of the fire extinguisher itself. However, when the content of a fire extinguisher is expended, refilling it should not be a struggle. Some fire extinguishers can be refilled at affordable rates.
CO2 or Foam or Water Mist or Powder
A fire extinguisher can either contain carbon dioxide (CO2), water mist, or powder based on the type of fire it will be used to extinguish and this is usually indicated on the fire extinguisher.
Water can be used to extinguish fires that involve paper, wood, plastic, and other solids. Carbon dioxide (CO2) is used to put out flammable liquids and gasses, including oil, gasoline, propane, and methane. It also puts out cooking oil fires. It is common in restaurants because it does not contaminate cooking equipment or food. Dry powder extinguishing agents contain sodium bicarbonate (baking soda), potassium bicarbonate (similar to baking soda), or monoammonium phosphate. It puts out fires caused by flammable metals, such as aluminum, sodium, and magnesium, not forgetting to mention electrical fires caused by appliances.
Respective Colors of Tank
Fire extinguishers have a generic red tank color in conformity with the British and European Standard BS EN3. However, fire extinguishers have different color coding depending on their type and function. For proper identification, this color coding can be found in a wide band at the top of the fire extinguisher. These color codings include; red, cream, blue, black, and yellow which stand for various kinds of extinguishers. The red color identifies a water extinguisher, blue for dry powder extinguisher, cream for foam extinguisher, black for carbon dioxide (CO2), and yellow for Wet chemical extinguisher.
Placement
It is recommended that fire extinguishers be placed in a position where they can be easily located and accessed. In a home or office, it is advised that everyone knows where a fire extinguisher is placed and it should require little or no restraint for it to be accessed.
Type of Fire
Even though fire looks the same when burning, fire is of different types, based on its source and the materials involved. Different types of fire can be classified into five classes; class A, B, C, D, and K. The different classes of fire are categorized based on the nature of the items involved.
Class A: Class A fire involves solid materials like paper, wood, and plastic.
Class B: Class B fire involves flammable liquids and gasses like; gasoline, propane, and methane, including oil.
Class C: Class C fire involves electrical fires caused by appliances.
Class D: Class D fire involves flammable metals like; aluminum, sodium, and magnesium.
Class K: Class K fire involves cooking oil.
Best Product for Fire Type
The best type of fire extinguisher can extinguish multiple classes of fire. The range of products we have made available is such that possess great and top-notch extinguishing features which can be used on different fire types. Various fire extinguishing products are identified by the color code marked on the fire extinguisher, and this color code determines the type of fire they can be used to extinguish.
The red color signifies a water extinguisher that can be used to fight class A, and D fires. The blue color signifies a dry powder extinguisher that can be used to fight class A, B, C, D, and k fires. Cream color signifies foam extinguisher which can be used to fight class A, B, and D fires. Black color signifies carbon dioxide (CO2) which can be used to fight class A, B, C, D, and k fires, and lastly, Yellow color signifies Wet chemical extinguisher which can be used to fight class A, B, and C fires.
Price vs Quality
Price and quality is always very important when it comes to the procurement of products and fire extinguishers are not exempted. A suitable fire extinguisher should come at an affordable price and be of good quality.
How We Picked
Size and Weight

Fire extinguishers are available in a variety of sizes and their corresponding weights. As a general rule, make sure the extinguisher you choose is appropriate for the fire hazard in question and comfortable for anyone to use.


Placement/Location

The last thing you want to deal with during a fire is the hassle of trying to locate your fire extinguisher. As a result, fire extinguishers should be kept in plain sight and easily accessible whenever the need arises.


Type of Fire Likely to Occur

Depending on the source, fire can be classified as A, B, C, and K. This determines the size, location, and type of fire extinguisher you should buy.


Cost-Effectiveness

Fire damage can cost thousands of dollars, so never skimp on the quality of a fire extinguisher. We examined very reliable options, regardless of cost, to ensure that you can protect your property and life at all times. The good news is that these items are reasonably priced.

Care and Maintenance
Every piece of equipment needs adequate care and maintenance and so does a fire extinguisher. All fire extinguishers come with a manual and this should carry instructions on how the fire extinguisher can be properly maintained. It is advised that a fire extinguisher is inspected intermittently every three months or at least once a year to ensure that the extinguisher is in good working condition.
Refilling your fire extinguisher
Fire extinguishers that have rechargeable features can be refilled after usage, this usually costs less than buying an entirely new one. Fire extinguishers can be refilled by a licensed professional at any fire department that does refilling service.
Checking pressure gauges
During the inspection, it is important to verify that the fire extinguishing can is still pressurized which is indicated by a green pontification on the pressure gauge. Also, it is important to ensure that the locking pin and tamper seal are intact and confirm that the fire extinguisher is well gauged.
How many to own and where to put them
Every home and office should have at least one fire extinguisher and for buildings with multiple floors, every floor should have its fire extinguisher placed in a position where it can be easily accessed when there is a need for it. Do not put your fire extinguisher directly next to the item that may cause a fire as this will make it difficult to safely reach should a fire break out.