The Best Pen of 2023
Enjoy a personalized and smooth writing experience with these lovely pens.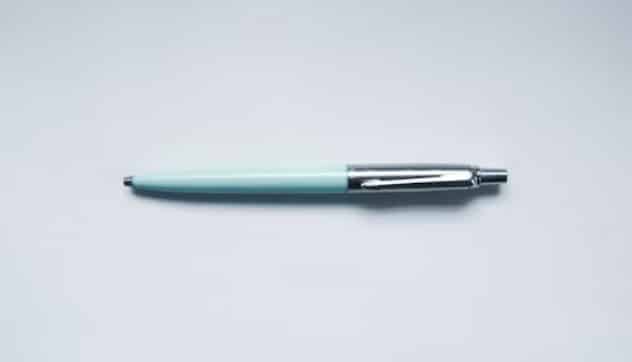 We can all agree with William Shakespeare that the pen — whether it's a fountain pen, rollerball, or ballpoint — is indeed mightier than the sword. And, of course, one of the most pleasurable aspects of writing is using a pen that feels like it was made just for you.
However, because we all have different writing styles, finding the right pen takes some trial and error.
Having a good pen is important regardless of whether your handwriting is too big, too small, illegible, or you write with your left hand. Whether you prefer fun ballpoint, gel, or felt-tip pens, you are sure to find one that excites you below.
How We Picked
Type of Ink + Consistency

Ink can be water-based, oil-based, gel-based, or alcohol-based. Ballpoint pens use oil-based, which dries faster with fewer smudges. Water-based ink flows and soaks into the paper faster, making it ideal for fast and long writing.

Alcohol-based ink is found in markers and is used to write on plastic, glass, or metal.



Comfort

During writing, many folks prefer pens that are pleasant to hold. To prevent finger strain after a lengthy session of scribbling, ensure the pen has a comfortable grip and is lightweight.

A sizable selection of pens available is made with high-quality parts to encourage a secure grip and increased comfort.

Precision

The precision of the pen is determined by the nib, so it is critical to select a pen that matches your writing style. If you write in large letters or cursive, a calligraphy pen is ideal.

A ballpoint pen, on the other hand, will be more appropriate if you use more details and smaller letters.

Price

Pens should be reasonably priced unless they are luxury or collector's items. However, more expensive pens tend to write more smoothly and with purpose. Low-cost quality pens are ideal for everyday writing.
Our Top Picks
Best Pick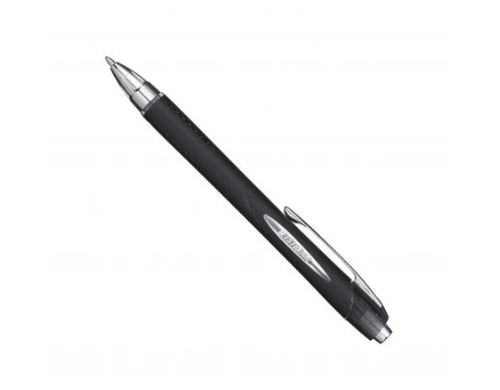 Acid-free ballpoint pens that come in a range of colors.
This fast-drying ink is resistant to smudging and smearing.


In terms of everyday writing, this is one of the best pens. Jetstream RT hybrid ink combines the satisfyingly smooth, vibrant writing of a gel pen with the fashionable appearance of an embossed pen, along with an embossed grip and stainless steel accents.

Runner Up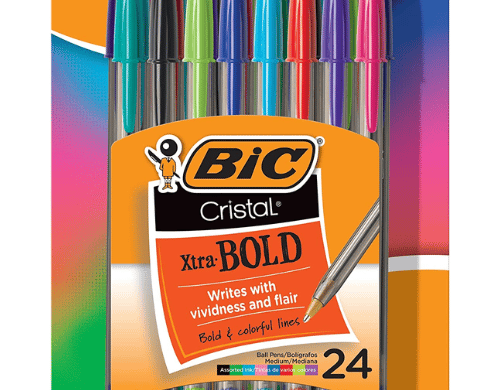 Blends smooth ink flow with a sleek, elegant aesthetic.
The pens include a 1.6mm bold point for clear lines that pop off the paper.
BIC Cristal Xtra Bold ballpoint pens allow you to make bright and easy-to-read marks on your pages and papers. They are available in packs of 24 to guarantee that you always have a replacement writing tool on hand.
Most Cost-Effective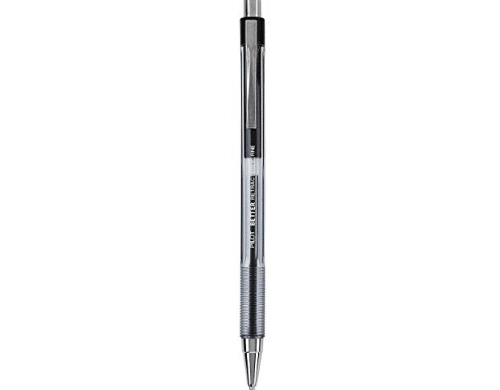 Provides a textured barrel for added comfort and control.
Popular ballpoint pen thanks to its stainless steel tip and textured finger grip.

Retractable ballpoint pens from Pilot Better provide crystal-clear notes without smearing.
No matter where they're stored, the retractable design prevents staining. The precise tip of these Pilot Better retractable ballpoint pens helps keep your writing crisp.

Everything We Recommend
Best Pick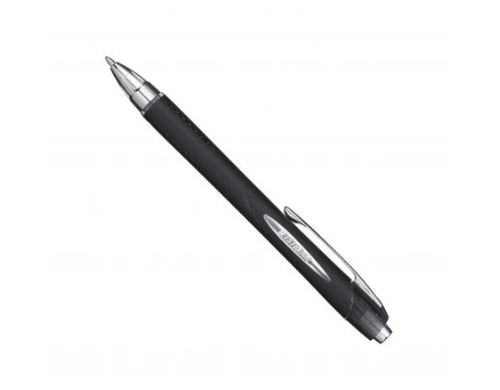 Acid-free ballpoint pens that come in a range of colors.
$10.29
Runner Up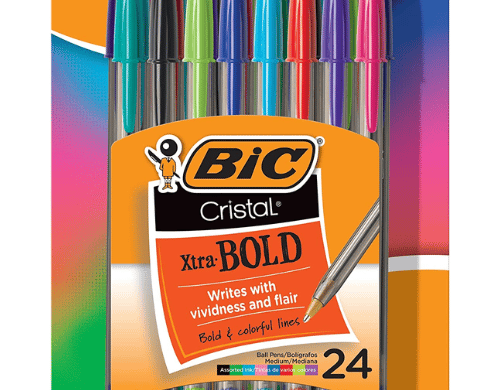 Blends smooth ink flow with a sleek, elegant aesthetic.
$7.99
Most Cost-Effective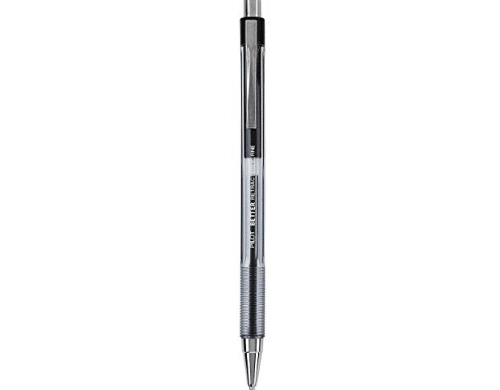 Provides a textured barrel for added comfort and control.
$12.68
Who This Is For
Pens are a functional instrument that most people don't give much thought to while purchasing, much like notebooks, pencils, and other standard stationery items.
You may occasionally go for extended periods without buying any pens, instead stocking your house or desk with freebies from hotels, companies, conferences, and other locations.
However, if you invest a couple of dollars in an excellent pen, the darker, better-flowing ink will make your handwriting more appealing and perhaps even easier to read.
There is no question that a good pen provides a better writing experience than basic ballpoint sticks, which are cheap to use and quickly dry out.
Ballpoint vs. rollerball vs. ergonomic vs. gel
The ball-bearing tip of ballpoint pens and rollerball pens spreads the ink on the paper, but the ink separates the two types of pens. Ballpoint pens are great for taking short notes while you're out and about since their oil-based ink writes easily and dries rapidly.
Many people believe that rollerball pens are of greater quality than ballpoint pens. This is because its water-based liquid or gel ink is comparable to a fountain pen but less expensive. Of course, it's all subjective whether rollerball pens are superior to ballpoint pens.
There isn't a clear description of an ergonomic pen or how it should seem. The consensus appears to be that an ergonomically designed pen design enables the user to hold the pen with the gentlest grip and exert the smallest amount of pressure when writing.
Ink for gel pens is made from water-based gel ink combined with powder pigments or dyes. They often come in various hues, from pastel to metallic to fluorescent, and have a higher viscosity than most inks.
These pens are especially useful for tabbing since gel ink flows more easily (and needs less pressure) than other types of ink, preventing hand cramps.
Remember that gel pens are more prone to skipping and take longer to dry, so they can smudge if you're not careful.
Note that gel pens can smear if you're not cautious because they are more likely to skip and need longer to dry.
Capped vs. retractable
Capped pens provide security. You are less likely to accidentally open them and stain the interior of your pocket or pen case. Furthermore, they serve as a satisfying way to begin and end every writing session.
In contrast, ink pens with retractable cartridges retract and extend outside of the protective housing, which is normally made from plastic or rubber. The major benefit of retractable pens is that they allow you to write directly without having to fiddle with caps.
Additionally, they don't have any loose parts you can lose, and when you get bored, the clicker keeps you entertained.
Why You Should Trust Us
We have tested various products, and we never endorse anything we wouldn't personally purchase. Before choosing our best recommendations for a category, we first spend hours researching and testing potential products.
We investigate and contrast various pens, read customer reviews, analyze competition coverage, and do in-person testing throughout our staff over days or even weeks to find the best products.
How We Picked
Type of ink and its consistency
Ink is essential since it is the substance that will be on your paper. Quality, color, and ease of flow are all important.
A great pen should not only have a color that fits your needs but also has a smooth, unimpeded flow. You should also consider how long it takes for the ink to dry.
Precision
First, examine the sort of pen that best fits you and your needs. A ball pen is an excellent choice if you need to write fast and without smudging the paper.
An ink pen or a fountain pen would be better if you plan on doing pen art or calligraphy. Gel pens are the best option if you're a student looking for smoother writing.
Comfort
Grip is another important factor to consider. Depending on how you grip a pen, some may be bigger, and some may be smaller.
So, if possible, try writing with the pen before purchasing it to ensure that the grip is firm and that it does not harm your wrist if used for extended periods.
Size and weight
Hold them lightly in the crook between your thumb and index finger like you're preparing to write. The pen should not be overly heavy at the back or the front. If the pen has a cap that can be posted (attached to the rear), use it.
Then perform the balancing process. Pens need to be comfortable to use, regardless of weight, and overall balance plays a huge role in this.
Design/style
The "style" of a pen refers to its aesthetic appeal. For example, some versions have a fully metallic body while others have a plastic body. Some variations are chosen for their bright aesthetic appeal, while others are picked for their semi-transparent icy bodies.
These are simply a couple of instances of the styles to choose from. A wider range of styles is available in online and physical stores, which will fascinate you even more.
When choosing a pen, you need to be sure about choosing a pen style that appeals to your tastes and preferences.
Durability
The durability of the pen is also important. Ideally, they should be made of metal or plastic of good quality. Ideally, steel, tungsten, or brass should be used in the writing sphere of a pen. Another important factor to consider is the ink cartridge.
As a result, it would be better to manufacture it out of brass or aluminum. In general, the construction should be robust and durable yet soft and smooth simultaneously.
Long-lasting
In the event of a fall, a plastic body will not last long and will be susceptible to breaking. On the other hand, metal bodies can withstand many falls.
However, if you are a scholar likely to misplace your pens every other day, purchasing plastic pens makes sense.
Price
The pen price is the next item you should think about. Ballpoints, rollerballs, and gel pens are far more practical for many individuals, and superb pens of all varieties are available at every price level.
So, before you buy one, make sure you have a price range in mind.
Care and Maintenance
Whatever pen you're using, remember to cap it or retract the tip after you're through writing. This keeps your pen from leaving stray markings on pen cases and pockets.
Keep your pens with the tips pointing up since this might cause the ink to flow to the bottom of the pen, resulting in hard beginnings or the tip drying up.
Keep ballpoint pens with the tip pointing downward to prevent ink from flowing away. In contrast, gel and rollerball pens contain inks that are more fluid than ballpoint ink.
As a result, they should be kept on their sides to avoid ink from the tip leaking. Pen cases and pouches will also prevent scratches, keeping your pen's finish looking new.
Store your pen upright when not in use to keep the writing point upright while flying.
Whenever possible, clean your pen with a soft, damp cloth to prevent a chemical reaction that could discolor your pen. Make sure you clean your pen regularly to prevent discoloration. If your ink leaks into the barrel, immerse the pen in a cup of water after removing the barrel.
This should progressively dissolve any remaining ink, but you may also rinse the barrel under running water for a more thorough cleaning. If the ink still doesn't come out, try placing a moist cotton swab into the pen to clean it manually.
To avoid damaging the materials, avoid using household cleaners and detergents.