The Best Cordless Phone for 2023
Cut the cord and enjoy the convenience of wireless communication with the best cordless phone available this year.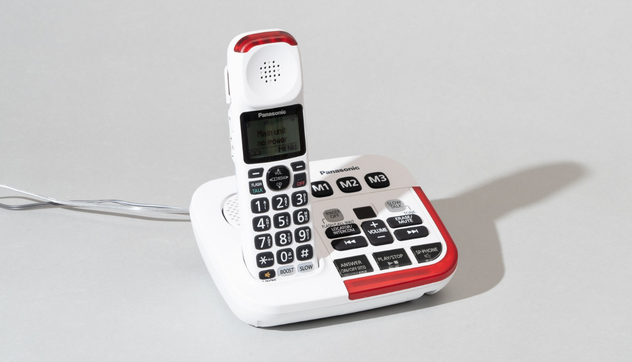 Even with cell phones changing how we communicate, many households and offices still use landlines and cordless phones. Cordless phones, like any other technology, have undergone significant advancements to meet the demands of contemporary communication.
These phones offer wireless convenience within your house or office. With the sheer number of cordless phones on the market, it helps to know what goes into picking the best. Lucky for you, we've lined up some great options with call-blocking capabilities, decent battery life, and easy-to-use interfaces. Read on!
Everything We Recommend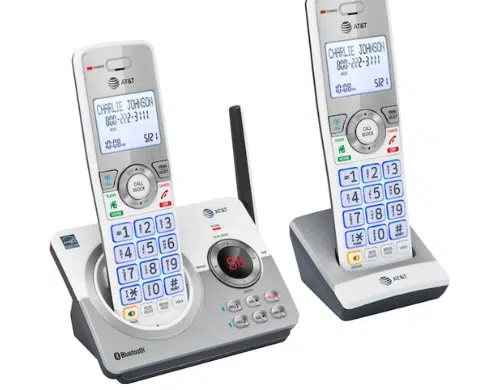 1. Best Product
AT&T's DL72210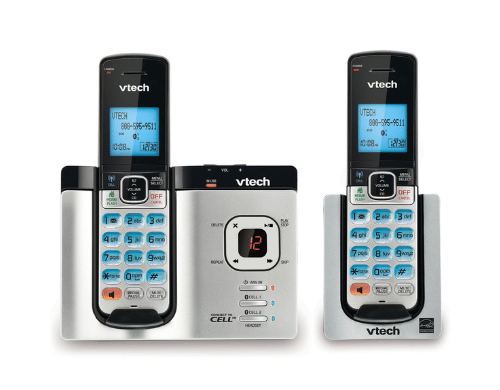 2. Runner Up
VTech DS6621-2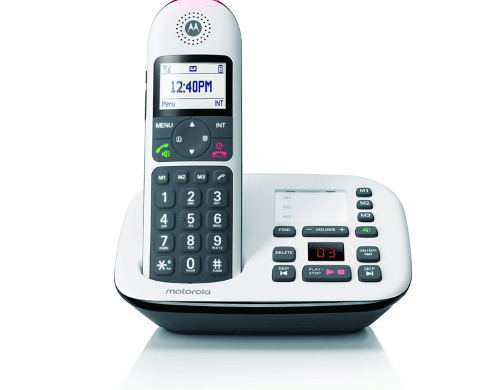 3. Cost Effective
Motorola CD5011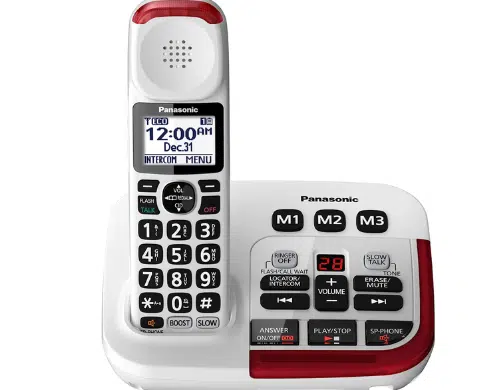 4. Almost Made the Cut
Panasonic KX-TGM420W
Who This Is For
Cordless phones are far from outdated technology and can still be helpful in any home or office. They are great for folks who prefer larger buttons or more straightforward functionality than mobile devices. Additionally, cordless phones frequently provide hearing aid support for people who require it and might offer a more convenient method to catch up on voicemail through built-in answering machines.
Corded vs cordless phones
Phones come in two variations — the older, corded version and the newer, cordless version.  There has been criticism that cordless phones' receptiveness is not as good as that of corded ones. Additionally, it must not be moved too far from the base to avoid disrupting the signal.
Cordless phones allow you the freedom to make and receive calls without being tethered to the base. This is particularly helpful when you need to multitask and still stay on the phone. Even better, many cordless phones come with additional features such as caller ID, call waiting, and voicemail. Some models even offer advanced features like an intercom, speakerphone, and the ability to connect to a cell phone. Besides, a cordless phone provides an additional level of privacy, as you can take your calls in a separate area of your home or office away from other people.
You can still choose a corded phone despite the convenience of a cordless phone. Although corded phones have excellent audio quality, you have to stay connected to the base the entire time you're on the phone with someone. Corded phones are also pretty dependable. since they don't rely on a wireless signal or batteries to run. Therefore, in the event of a blackout, you can still make and receive calls as long as the line is active.
Do I really need a cordless phone if I have a cellphone?
Is there any point in having a cordless phone if you have a cell or smartphone to stay in touch with the rest of the world? Yes. Most cordless models employ DECT (Digital Enhanced Cordless Telecommunications) technology, which uses the 1.9-GHz frequency band to minimize interference with devices such as microwave ovens. In some variants, a base may accommodate up to 12 handsets, and in large homes, handsets can be used as close-range walkie-talkies.
Additionally, certain cordless phones can be used in place of your cell phone. For example, you can use Bluetooth technology to access your wireless service and a cordless handset to make or receive phone calls by positioning your phone close to the cordless phone's base. In addition to the simplicity of utilizing a single handset for all of your calls, you may obtain greater cell phone reception at home. For example, if you don't have mobile service in your basement or in rural locations, you can rely on a cordless handset to make or receive cell calls. This reliability is crucial in emergencies since the cellular location may be inaccurate.
Is it worth splurging on?
If you're still considering whether or not to purchase or keep a landline, there are some significant advantages to having one. The ability to dial 911 in an emergency is a crucial factor. Your cordless phone landline is connected to your address, including your apartment number. If you reside in a multi-unit building, this can be crucial since you want emergency services to be able to find you as quickly and easily as possible in the event of an emergency. Another advantage is that certain models have a battery backup or line power mode that lets you make calls even when the power is off while the phone lines may still be operational.
Why You Should Trust Us
We pay attention to people who have first-hand experience with the products. We comb through Amazon reviews, enthusiast blogs, and other sources to give you the most accurate and detailed information possible. Finally, we sort it out, keeping the gold and tossing away the rest.
How We Picked
When it comes to picking a cordless phone, there are numerous options available. There are basic phones that are excellent for emergencies and sophisticated phones that might be a perfect addition to a small business. Therefore, in the quest to review some of the best you with our pick of cordless phones, we keep these points in mind.
Range
Most cordless phones have an indoor and outdoor range of up to 50 and 300 meters, respectively, which should be sufficient for most properties. However, a long-range cordless phone or one that is repeater-compatible is a smart choice in an older building with thick walls or one that has had issues with cordless phone range in the past.
Audio quality
A cordless phone must produce high-quality audio. An excellent cordless phone provides clear, sharp audio for you and the person you're calling. In addition, your phone should give considerably better quality than your cell phone, which may degrade depending on the signal strength.
Comfortable to hold
Although smaller phones are portable, larger devices are more pleasant to use, particularly during longer talks. Additionally, we look for decently sized, ideally lighted buttons with readable labels.
User-friendly features
The cordless phones we've featured below come with various helpful and practical features that make them very simple to use. In addition, more recent cordless phones have usability-enhancing designs. These include settings like talking caller ID, visual "ringers" that indicate incoming calls, and volume boost, to mention a few.
Design/style
Initially, cordless phones were designed to resemble smartphones. Still, as time passes, manufacturers are turning away from touchscreens and other app-related gimmicks in favor of more conventional designs and practical functionality. However, some cordless phones have trendier styles than their predecessors, for example, colorful screens and graphic backdrops.
Price
Think about the price you want to pay. Which kind of cordless phone you wish to purchase greatly influences the decision. Budget cordless phones are frequently the best option for someone who only needs basic functioning and may not use all the features offered by more expensive models. However, when purchasing a high-end cordless phone, ensure it is exactly what you want; otherwise, you may spend a lot of money for no benefit.
Durability
A product certification assures that the manufacturer has followed best practices and requirements. Generally speaking, a high-quality item will last longer. Choosing a durable product saves you the trouble of repairing or replacing it and is cost-effective.
Portability
It's excellent that all digital cordless phones use DECT technology to offer a secure, obtrusive-free wireless connection between handset and base. As a result, any cordless phone that is sufficiently portable can be utilized to move around the house or office without worrying about the connection breaking.
How We Picked
Range

The range of a cordless phone determines how far you can go from the base without losing connection. And the further you can go without the call breaking up, the better. Most cordless phones have a 98- to 984-foot range. However, depending on their build and technological components, some can have a 3200-foot range.

User-Friendly

We evaluated each cordless phone's usability and ease of use in light of people's aversion to purchasing complicated technology. Our evaluation covered some of the more complex features of each. We looked at standard phone functions like making and receiving calls, finding a lost handset, and saving numbers in the phone book.

Audio Quality

While cordless phones offer decent audio quality, a few factors like obstruction, signal interference, and the distance from the base can affect the quality. We opted for phones with better modern technology that can reduce interference for better audio quality.

Price

A simple cordless phone should not cost much. However, extra features like a talking caller ID, an answering machine, and backup power for emergencies can add up in price. Expect to pay even more if you prefer something more luxurious with practical features like a headphone jack or Bluetooth connectivity.
Care and maintenance
How to keep clean
The more buttons there are, the more places for gunk to collect. In addition, because the phone is positioned so closely to your face, it may accumulate a lot of unfavorable tiny debris if it is not regularly cleaned. To keep your phone clean, swab the area surrounding the button, receiver, and mouthpiece with a cotton swab coated in rubbing alcohol. Next, use a disinfectant-sprayed microfiber cloth to clean the entire phone, including the body and the receiver. If you move into a new office and discover ear wax buildup in the receiver or gunk in the mouthpiece, use a dry cleaning toothbrush to gently brush off the debris before cleaning the phone, as previously mentioned.
Where and how to display
Even though each cordless phone typically has a unique set of functions and components, basic calling capabilities can be set up on practically all cordless phones in the same way. To display it, choose a location for the base unit where you can put the landline phone cord and your main electricity supply. Then, you are now prepared to make and receive calls!
Where and how to store when not in use
Many cordless phone models come with a dock or charging station. When not in use, place your phone in the dock to keep it charged and in a secure location. Do not store your cordless phone in an area that is too hot or too cold, as extreme temperatures can damage the battery and affect the phone's performance.
Cordless phone electronic safety
Always keep cordless phones in a dry location, out of the sun, and at a cool temperature. Metal objects and cordless phones do not mix well. Don't put your phone near a metallic object that can cause leakage and rupture.
Sources and Research