The Best Bluetooth Transmitter for 2023
These best Bluetooth transmitters will enable you to stream audio from non-Bluetooth sources seamlessly without breaking the bank.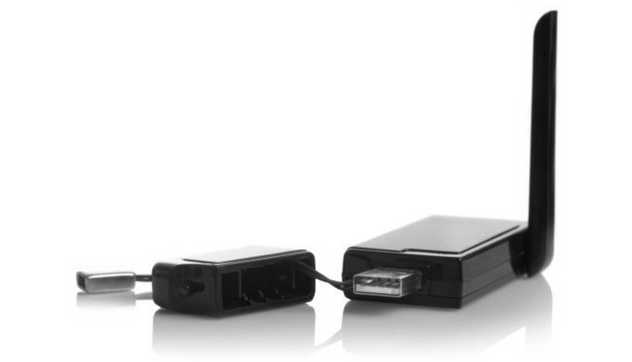 Finding a seamless way to transmit audio from a wired, non-Bluetooth device can be challenging. Luckily, the market is a wash with some of the best Bluetooth transmitter dongles and adapters that will give your older devices a new lease of life. The transmitter is connected to the headphone jack or audio output port of your TV or any other device. You can then pair with Bluetooth-enabled devices, such as headphones or speakers, that are in range.
There are different Bluetooth transmitters on the market, each offering a different set of features. There are small, portable variants that run on batteries and larger models that are meant to be placed near your TV. Check out our in-depth analysis of the best Bluetooth transmitters on the market if you want to cut the cord for good.
How We Picked
Easy Pairing and Switching

Switching between transmitter and receiver modes, as well as multiple outputs, while successfully pairing with multiple devices, is a fantastic feature for Bluetooth transmitters. This increases their versatility and convenience, which is why we included them in our selection criteria.

aptX Low Latency

A Bluetooth transmitter with aptX low latency makes it possible to reduce the delay between the audio being transmitted and the audio that's received. This is especially important when transmitting audio with video content because it ensures that the on-screen video and audio transmissions are synchronized.

Battery Life

On a single charge, the majority of transmitters have a respectable playtime of up to 10 hours. However, you can opt for a model with a longer battery life if you intend to use it a lot.

Price

Depending on their quality and features, Bluetooth transmitters range in price. We compiled our list with products that cut across several price ranges to make any purchase affordable for you based on your budget.
Who This Is For
As more and more manufacturers ditch the 3.5mm headphone port, wireless Bluetooth headphones and speakers are quickly becoming the de facto standard. Sadly, you can't use them with an audio source that doesn't have Bluetooth capabilities, such as the in-flight entertainment system, the gym's machines, or an older smart TV.
This issue can be remedied with the use of the best Bluetooth transmitters, which enable Bluetooth connectivity in devices that otherwise wouldn't have it. They accept an audio codec from the source and transmit it wirelessly to headphones or Bluetooth speakers. As such, these devices are great for anyone with a Bluetooth headset or speaker who wants to listen to their TV wirelessly.
Bluetooth Transmitter vs. Receiver
Anything that can broadcast a signal wirelessly is known as a transmitter. The term "receiver" is used to describe the equipment that picks up the transmitted wireless signal and decodes the data. The use of a receiver and transmitter is crucial for the operation of Bluetooth devices and, more importantly, for the enjoyment of high-quality sound by audiophiles. The two share certain similarities, but a receiver takes in Bluetooth signals while a transmitter sends them out.
Can it be multipurpose?
Yes, the best Bluetooth transmitters can be multipurpose. All of these adapters and dongles can transmit sound to your headphones wirelessly, and some of them can also receive sound from your phone and transmit it to a different set of headphones, a speaker, or even a car radio. For the sake of convenience, we decided to exclusively evaluate transmitter/receiver combos rather than transmitter-only versions because their prices are comparable.
Are BlueTooth Transmitters worth splurging on?
If you don't have the means to link your older devices to play audio, investing in the best Bluetooth transmitter is worthwhile. However, don't anticipate the finest possible sound quality or a completely reliable connection. If you want to enjoy the convenience and good audio quality shared on your Bluetooth devices, it is worth the money.
Why You Should Trust Us
We sifted through hundreds of the best Bluetooth transmitter dongles and adapters sold on sites like Amazon and Best Buy to find the ones with the highest customer reviews and decent capabilities. After sorting through numerous options, we selected the best Bluetooth transmitters that are suited for different devices, whether portable or not.
How We Picked
Easy switching and pairing
We didn't include models that only connected to a single device in our analysis because the vast majority of them can pair with two Bluetooth receivers at once (your headphones and your partner's, for example). We also considered their ability to switch between both available modes.
aptX low latency
To reduce latency to 40 ms or less, this streaming audio codec is supported by a wide variety of Android smartphones and some headphones. This eliminates the unsettling delay that can occur when using Bluetooth codecs like SBC while watching a video, ensuring that the audio follows the characters' lips in perfect time. However, both the sending and receiving devices must be aptX Low Latency compatible for you to make use of its features.
Receiving and transmitting modes
In addition to transmitting sound to wireless headphones, many of these devices can also accept signals from your mobile device and relay them to an external audio system, such as a set of wired headphones, a speaker, or a car stereo. Since the cost of transmitter/receiver sets was comparable to that of transmitter-only devices, we only evaluated those that contained both modes.
Battery life
In addition to increasing the likelihood that your portable transmitter will be charged and ready to go whenever you pick it up, a longer-lasting battery will allow you to use it on excursions and throughout the week without having to worry about running out of charge.
Price
We examined each feature of these best Bluetooth transmitters against the cost, after which we cut back on some features to see which ones were basic enough to provide you with an excellent experience at a great cost. When that was done, we settled on a price range and chose the best transmitters from there.
Design/style
We compared each transmitter's supplementary capabilities, such as its number of ports, additional features, and overall layout. More functionality and user-friendliness in a transmitter's interface were preferred over others that were plain.
Durability
We considered the lifespan of the Bluetooth, the strength of the battery, the materials it was made of, and the manufacturer to be sure of durability and that your money will be spent on a device that will serve you for a long time.
Optical output
For models that are meant to sit on TV stands, we identified a few extra factors to think about. Instead of just the signal, we focused on testing only transmitters with optical audio input and output, which would let the sound get to your soundbar or other audio devices. We also wanted them to be able to wirelessly stream audio to the TV or soundbar at the same time.
Care and Maintenance
How to keep BlueTooth Transmitters clean
Just like any other electronic device, the best Bluetooth transmitters perform best in a cool and dry environment. Before attempting to clean the device, unplug it and make sure you don't let it get wet. Avoid using any cleaning solutions that contain chemicals or detergents. At best, you may use a microfiber cloth or blower to remove dust.
Cord care
Every cable consists of many individual wires that are twisted together. Every cable, no matter how simple, has at least one copper wire protected by its plastic jacket. Keep the copper inside the wires safe by properly wrapping the cables while they are not in use. After you have your cables neatly coiled, you should attach them using a velcro tie or a twist tie salvaged from the devices' packing. Also, be mindful of your cords at all times. The ends of cables are the most likely to break. This is due to the fact that the maximum pressure is applied at these connections. The cable is most easily moved around at its connectors. Avoid making it a habit to yank or bend plugged-in cables; doing so might harm the connection over time.
How to store when not in use
Place your transmitter in a cool, dry place when not in use, as it could be damaged if it were placed near a heat source. Also, make sure that it is protected from direct sunlight and high temperatures. Do not store the product where it could be knocked over or on a hard surface, as doing so could damage the internal circuit. Do not place anything on it, as this could cause a crack or damage it.
Sources and Research