The Best Smartwatch for iPhones in 2023
We've saved you the trouble of scouring online for the right watch for you and brought you some of the best smartwatches for iPhone users.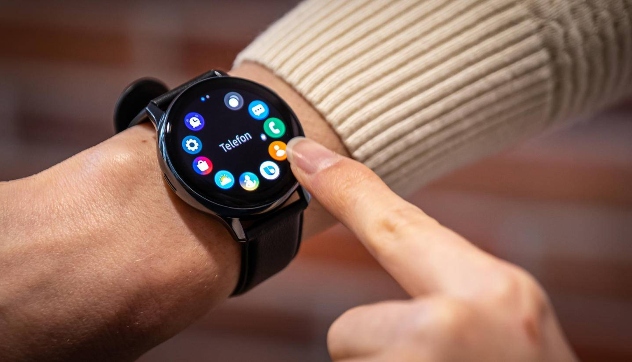 Smartwatches have quickly evolved from an oddity to a necessity, and you can spot one of these devices on practically every hand. The best smartwatch for iPhones has to be an Apple Watch. However, these watches don't come cheap and you may want to look for one outside the Apple ecosystem. We've gone the whole nine yards to find you some of the best smartwatches for iPhone users. These watches seamlessly pair with iPhones and allow you to make calls, track your health and fitness parameters, and receive notifications, among other things.
How We Picked
Accuracy of Fitness Tracking

Smartwatches come with multiple sensors that help track physical activity. Watches with GPS and heart rate monitoring capabilities are great for keeping track of outdoor activities. Besides the ability to track multiple metrics, you want a smartwatch that does so accurately.

Updated iOS System

It's important to have a smartwatch with the most recent operating system or one that can be updated. This makes it possible for the watch to pair with the most recent iPhone operating system. However, most smartwatches can run for a couple of years without the need for an update.

Display Design

Different smartwatches have different display designs. Some watches have larger screens with better resolution, while others have smaller screens. A smartwatch can also have an older LED or OLED display or a newer MicroLED or AMOLED display. It helps to have a watch with a customizable and user-friendly display.

Cost-Effectiveness

It's no secret that Apple watches cost an arm and a leg, especially the newer series. We consciously added a budget pick that offers decent functionality. While the best iPhone smartwatch should have cutting-edge features, it also needs to be reasonably priced.
Our Top Picks
Best Pick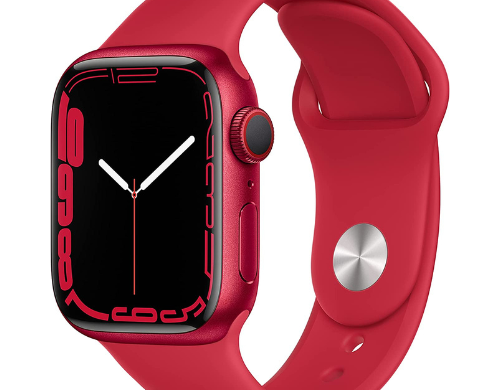 If you love to stay in the Apple ecosystem, this is the best smartwatch for you.
Comes with WR50 water resistance, IP6X dust resistance, and crack resistance.
The Series 8 Apple Watch surpasses the Series 7 in terms of temperature sensing, crash detection, and low power mode. You can use Siri, send texts, make calls, listen to music and podcasts, and get notifications while you're on the go. The Apple Watch Series 8 (GPS) can be connected to Wi-Fi or your iPhone to maintain connectivity. If you're still not convinced that this is the best iPhone smartphone, it is also swim-proof, meaning you can take it on all your wild adventures.
Runner Up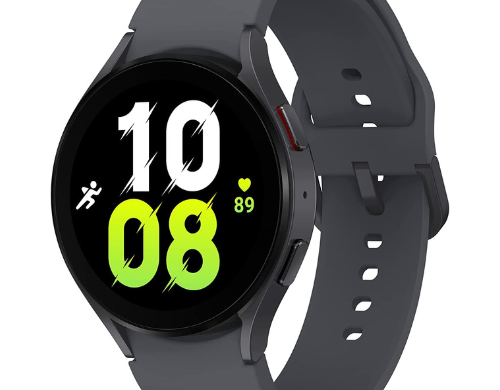 Respectable battery life, an IP68 rating, and it is still waterproof up to 5 ATM.
It keeps track of your metrics and records the various patterns while you sleep.
The improved battery on the Galaxy Watch5 keeps up with your busiest day without the need for recharging. It also has enhanced GPS with voice navigation right on your wrist, allowing you to explore and wander as much as you want while still knowing where you are.
Most Cost-Effective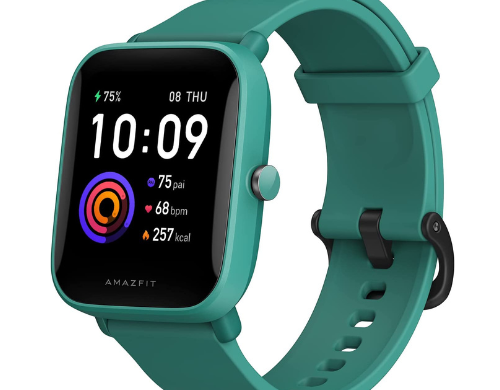 Relatively low price and incredible features.
This smartwatch can run for close to 9 days on a single charge.
Not only is this pick beneficial for those on a budget, but it's also worth considering as one of the best smartwatches for iPhone users. Even when worn while swimming, this handy little device will still record your accomplishments because it is water-resistant up to 50 meters. It is also suitable for exercise that results in a lot of sweat.
Everything We Recommend
Best Pick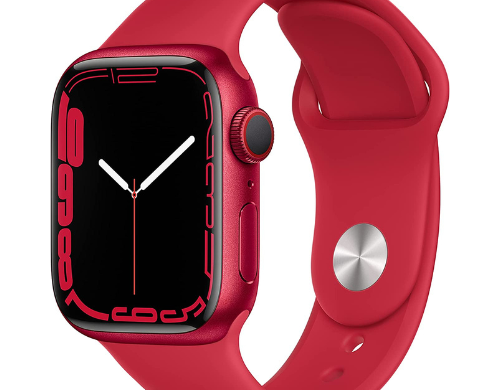 If you love to stay in the Apple ecosystem, this is the best smartwatch for you.
$369.21
Runner Up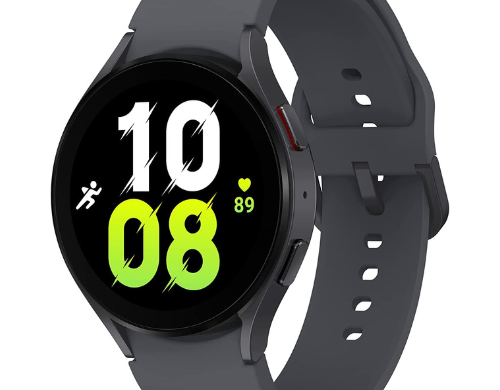 Respectable battery life, an IP68 rating, and it is still waterproof up to 5 ATM.
$229.00
Most Cost-Effective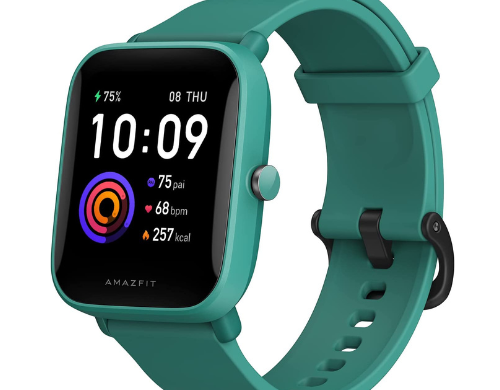 Relatively low price and incredible features.
$59.99
Who This Is For
This buying guide is meant for anyone looking for the best smartwatch for iPhones. It is also intended for people who want to buy smartwatches but are overwhelmed by the market's abundance of options.
What are smartwatches for iPhones used for?
Smartwatches for iPhones are primarily meant to bring the convenience of using an iPhone to the wrist. These watches enable you to make calls, receive and respond to different notifications, and track your physical activities and health parameters, among other things. An Apple smartwatch can also be used as a remote control for the music on your phone, to take a picture with your iPhone camera, or to control your Apple TV. The remote is impossible to misplace.
Are smartwatches for iPhones worth the money?
Whether you are shopping for your first smartwatch or looking for an upgrade, these best smartwatches for iPhones are worth every penny. Also, considering the advanced features that they bring to your wrist, you have no reason not to get one. These features, from health monitoring to workout assistance, are irreplaceable tasks that only smartwatches can guarantee.
Do smartwatches for iPhones improve fitness?
Yes. Smartwatches can help you achieve your fitness goals by encouraging you to set and achieve them. The satisfaction of knowing you've met your fitness goals for the day is quite wholesome. In addition, if you have been sedentary for a hot minute, the watch can send you a reminder to get moving. Apple Watch tracks all of your favorite workouts, from strength training and HIIT to Pilates and yoga, and displays the metrics that are important to you.
Why You Should Trust Us
Our goal is to help you find the best smartwatch for iPhones while also making the most of what you already have. There are numerous smartwatches on the market right now. To help you navigate the confusion and find what you're looking for, our team carefully evaluates each product we recommend to ensure you get the most out of what you buy.
How We Picked
We scoured the Internet for information on the best smartwatch for iPhones and read customer reviews from real users. We sought advice from fitness enthusiasts who use these watches regularly; and, of course, we relied on our own accumulated expertise.
Accuracy of fitness tracking
Smartwatches feature many sensors that can accurately measure a variety of physical activities. The accuracy of these sensors is often influenced by variables such as physical activity being tracked and also positioning. To ensure the accuracy of fitness tracking, we picked watches with suitable sensors, so they are guaranteed to give accurate tracking.
The functionalities of smartwatches that enable tracking and day-to-day monitoring of your health state are important factors for many consumers when choosing a smartwatch. The possibilities are unlimited, from calculating a workout at the gym with a breakdown of calories burned to aid with motivation, to just establishing a goal for daily steps.
We looked at programs that accurately analyze your daily heart rate, stress level, sleep schedule, and other factors.
Available apps
We looked for the availability of apps and picked products with available apps. While exercising or taking a quick stroll, users are increasingly inclined to leave their smartphones at home or in their cars, giving them the much-needed break they need during the day.
Since this is always a plus to take into account when purchasing your newest smartwatch, we chose smartwatches that can connect to music streaming apps or stream TV shows. The next factor to consider was the display design. Display designs differ between smartwatches. Some designs are simple to use, while others are complex. With this in mind, we only chose devices with simple display designs that are also user-friendly.
Updated iOS system
We also only went for smartwatches with updated iOS. This is because smartwatches with updated iOS systems are more functional and efficient, and they have more advanced features. As a result, we chose the best iPhone smartwatches with the most recent operating systems.
Power
We considered charging speed, power consumption, and battery life. Long battery life should be at the top of your list of considerations when choosing a smartwatch to monitor and track your daily activities while also displaying live notifications. This has now become a crucial competitive selling feature for many firms, as they extensively engage in R&D to produce timepieces that can occasionally last close to 24 days on a single charge.
Therefore, we chose watches that have long-lasting lifespans and those that consume less power in order to reduce the frequency of charging.
Communication capabilities
Another significant factor during testing was communication capabilities. You must take into account how simple tasks can be completed without taking your phone out of your pocket, as customers increasingly rely on their smartwatches to conduct daily tasks with increased visibility and convenience.
Answering calls, and checking and responding to messages, are just a few of these activities and needs. We also picked watches that use Bluetooth and WiFi connectivity. These provide the convenience needed during the connection of the watches to your devices, phones, and the internet.
Care and Maintenance
Keep the watch charged and safely strapped
It is key to remember to charge the smartwatch before use. When the watch is fully charged and you are ready to exercise, you need to ensure that the watch is tightly and securely strapped on your wrist to avoid any accidents that may lead to breakage.
With this, you are ready to have a fruitful workout session.
Remain hydrated when exercising
During your workout sessions, remember to stay hydrated. This will not only ensure that you feel great, but it will also lead to accurate readings of your vitals by smartwatches.
Connecting your smartwatch
Most people connect their watches to their phones. This is achieved by turning on Bluetooth on your device and turning on your watch. Make sure your smartwatch is turned on before you begin the pairing process.
So, locate the power button and hold it down for several seconds until it turns on. The pairing screen will appear shortly, with a phone and a watch symbol. Go to the bottom of the screen and select Search for Devices or Scan Devices while Bluetooth is turned on.
Sources and Research