The Best Wearable Sleeping Bags for 2023
This list allows you to bring a snuggly wearable sleeping bag on your next camping trip to protect yourself from the cold.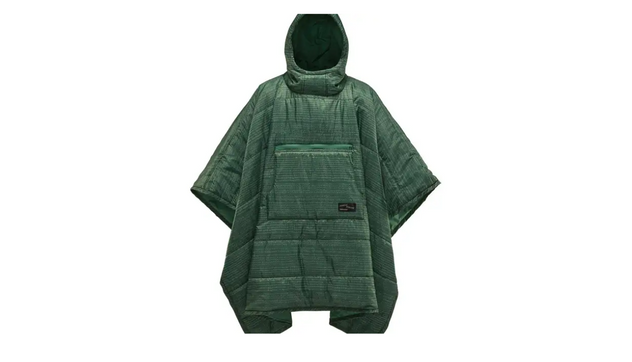 If you love outdoor activities like camping, you know how important a sleeping bag is.
Wearable sleeping bags are essential whether you are out in the cold weather or just in the comfort of your home. The challenge comes when trying to find the right one for you. They come in many shapes, sizes, and designs to suit different preferences.
We have put together a guide that highlights and dives into detail about some of the top wearable sleeping bags out there. Below is a quadrant to see what features we prioritized when looking for the best wearable sleeping bag.
Everything We Recommend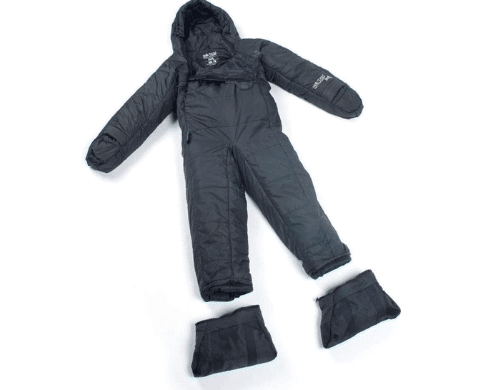 1. Best Product
Selk'bag Adult Lite Wearable Sleeping Bag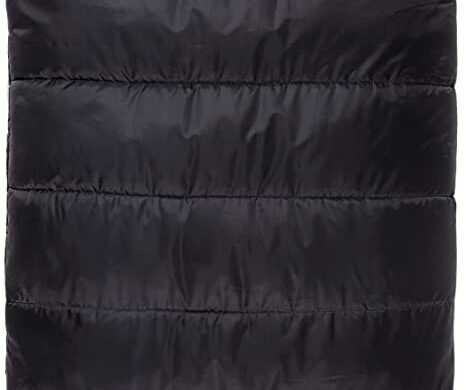 2. Runner Up
TETON Sports Celsius XXL 0 Degree Sleeping Bag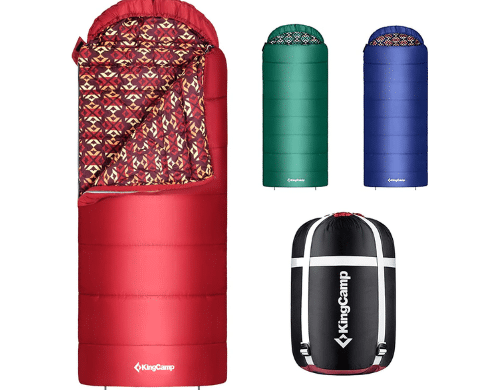 3. Cost Effective
KingCamp Sleeping Bags for Adults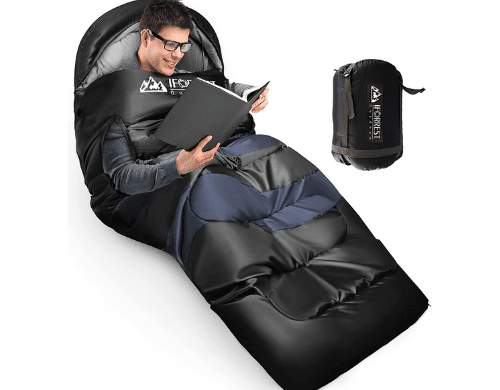 4. Almost Made the Cut
FORREST Sleeping Bag for Adults
Who This Is For
If you live in cold places, love camping, hiking, and sitting at night by the fireplace, or are a seasonal traveler that loves extra protection and warmth during these activities, then these wearable sleeping bags might be what you need.
But, of course, we individually feel cold, which is why we have sleeping bags with different temperature ratings based on your needs and the conditions you want to utilize your sleeping bag.
This guide might prove helpful if you want to know more about suitable sleeping bags' features.
Wearable sleeping bag vs. poncho
Wearable sleeping bags emerged several years ago, with companies cutting arm openings and opening up the base (or designing legs on) traditional sleeping bags.
The idea is that they can keep you toasty in the comfort of your camping chair with your arms free to hold beer, a book, a guitar, etc. Then you can stumble over your sleeping quarter and pass out for the night without having to climb into your sleeping bag because you already have it on.
A wearable sleeping bag is not Slanket, a Snuggie, or, as seen on TV "blanket with arms." It is not a snowsuit, rain suit, or ski suit but resembles an insulated sleeping bag with a specific temperature rating. It gets a soggy mess when it gets soaked and will lose its heat retention capabilities. Moreover, if you prick it with a sharp object, it will rip open, and fluffy white stuff will come out.
A poncho, on the hand, is an ancillary category to the wearable bag. It is warmer too. Ponchos mainly suit situations where people may not think of you as a little cumbersome, for example, at an outside café or a hockey game.
Their base and sides are completely open, requiring warmer cloth underneath. Ponchos can be used as an additional layer over a bulky coat.
Ponchos may be less bulky, although they have temperature ratings or water-repellant capabilities similar to wearable sleeping bags. The main drawback of ponchos is that you must wear pants to keep your legs warm.
Is it worth splurging on?
Wearable sleeping bags have been around for a while and are often used by ultra-light backpackers and mountaineers. Wearable sleeping bags perform double duty as an insulative layer when camping (instead of down pants and a jacket) and a sleeping bag.
Now, are they worth splurging on? That depends. Honestly, wearable sleeping bags have their place. Although, an average cold-weather camper who wants to save backpack weight, will be better placed having traditional warm layers on and putting on a lighter-weight sleeping bag when retiring to sleep.
Wearable sleeping bags can be expensive and tricky to perform camp chores while wearing them. Additionally, you must keep your distance from campfires as some may catch fire or melt, and spilling camp food inside could have you sleeping in it!
Are wearable sleeping bags multipurpose? Or just meant for the outdoors?
Most modern wearable sleeping bags are multipurpose. You can put them on indoors, especially those with lower temperature ratings, and chill while reading a book or having a beer. But, there is no question about how beneficial they can be outdoors, especially hiking or during campfires.
Why You Should Trust Us
We trust what users and testers say about the wearable sleeping bags they have interacted with. From home users to mountaineers and campers, we have obtained reviews based on specific features to help us rule out some of the best wearable sleeping bags.
We put our focus on some wearable sleeping bag features and how these features contribute to their overall rating.
How We Picked
Material
Trendy wearable sleeping bags are made with insulating materials and other materials such as nylon to make them water resistant. In addition, some feature polymers or flame retardants to make them resistant to fire.
Other materials, such as cotton, ensure that the wearer stays warm and maintains a suitable temperature. Wearable sleeping bags with durable, soft, and water-resistant materials made the cut for our picks.
Heat retention qualities
Heat retention qualities are present in the temperature ratings. Modern wearable sleeping bags have extreme, limited, and comfortable ratings. The comfort rating is the optimal temperature and should be used as a guide when purchasing any sleeping bag.
The limit rating is low and ideal for Spring or Fall camping trips
The extreme rating is ideal for survival situations as it may keep the average man alive for five to six hours without risk of dying from hypothermia. Heat retention depends on the conditions you want to use your sleeping bag in, as a blend of hot conditions with a highly rated sleeping bag may not be what you want. Moreover, the type of insulation is quite crucial, whether down feathers or insulation fibers.
Comfort
Comfort is all around. From the outer material to the inner and the overall design contributes to comfort. For example, in summer, you might not be comfortable with a sleeping bag with high-temperature ratings. However, space for arms and legs is great for your comfort.
Durability
Choose a durable wearable sleeping bag depending on the intended activity. For example, light sleeping bags tend to tear more quickly than heavy ones. On the other hand, the water-resistant fabric ensures that the sleeping bag serves you longer in case you accidentally spill fluids on it.
Type of zip
Depending on the design, look for the zip positioning. For example, some sleeping bags have zips to detach booties or openings for hands and legs. During our pick, we considered sleeping bags with strong two-way zippers that make them durable.
Overall construction
Based on your personal preferences, the overall construction matters a lot. You may fancy a wearable sleeping bag resembling overall pants or one that resembles a regular sleeping bag that you can get into and get comfortable with. No matter your preference, we recommend a wearable sleeping bag with quality and comfortable construction.
Size
All wearable sleeping bags come in various packed sizes and lengths. Most sleeping bags are made with a standard size for users up to 6 ft tall. However, we recommend one slightly more significant than you so that your body can have space to move in and feel comfortable. If you are tall and choose a sleeping bag with hands or sleeves, ensure they are long enough to cover your arms.
Design and Style
The style is a personal preference provided that the sleeping bag has the essential features you need. For example, you might get a favorite color or franchise like Star Wars. Extra quality to spice up the style; for example, an attached torch, a face mask, or a built-in mosquito net is also excellent. Consider whether the design or extra features are important to you or spend money on lighter bags.
Price
The price varies depending on the design, overall construction, and material used to make the sleeping bag. Extra features make it even more expensive. We recommend reviewing their features and determining if they matter to you before splurging on a sleeping bag. Many affordable sleeping bags get the job done, although their durability is not always guaranteed.
How We Picked
Material

Most modern wearable bags are made with raw materials that you can find in traditional ones, winter jackets, or blankets. Some materials offer insulation for water and fire resistance. It is essential to check the built-in materials.

Comfort

A wearable sleeping bag should be comfortable and convenient. It should have enough space for your arms, legs, and body size. Some of these bags feature holes for your arms and legs to poke through, while others have pant legs and sleeves to help you move around in the sleeping bag suit.

Durability

Durable wearable sleeping bags should have materials such as quality two-way zippers, hoods, and insulation from hazards that might arise while using them. Furthermore, a sleeping bag should be durable, convenient, and long-lasting.

Price

Price is essential when considering any wearable sleeping bag. Look at the quality of materials, comfort, and durability to determine if it aligns with the set price. Some wearable sleeping bags are overpriced yet lack quality and essential features. Others are cheap and have quality features that make them worthwhile.
Care and Maintenance
Are they machine washable?
Most modern wearable sleeping bags are machine washable. However, always check the wash type configuration you need to apply and the temperature to avoid damaging it. Furthermore, it's best to air-dry them on a sunny day.
How to wash and dry your washable sleeping bag
Avoid using too much soap when hand washing, as it may be hard to rinse. Work the soap in the bag and let it soak in the soap and water for up to an hour. Gently rinse the soap and drain it for 15 minutes while squeezing out any remaining water.
Depending on the material type, dry it in a dryer under low heat or lay it on the grass in the sun or partial shade. While machine washing, wash on the gentle cycle in warm or cold water with a little amount of appropriate soap. Rinse twice to ensure all the soap residue is gone.
How to clean stains
If there are minimal stains, you can spot them clean. Prepare a paste of detergent-free soap and water. Use a toothbrush to clean the shell gently. If the stains cannot be spot cleaned, consider taking your sleeping bag to a professional.
How to store the sack
Begin by stuffing a stuff sack – begin at the bottom as you go up. After using your sleeping bag, unzip it and air it out to make sure it is dry, then store it loosely in a storage sack or large cotton which you bought the bag with. Do not store the sleeping bag while compressed in its sack as it damages the fill.
In case of rips/tears, what to do?
Accidents always happen, and you might end up with a ripped sleeping bag from the field. If that happens, sew up the ripped hole by hand using a needle and thread, or use a sewing machine if you can find one to ensure the sleeping bag retains its heat retention capabilities. You can patch it with a wound bandage if it is a pinch. If the tear is massive, seek professional repair.
Sources and Research