The Best Pubic Hair Trimmer for 2023
Say goodbye to discomfort and hello to painless grooming with one of these best pubic hair trimmers. Read our all-you-need-to-know guide here.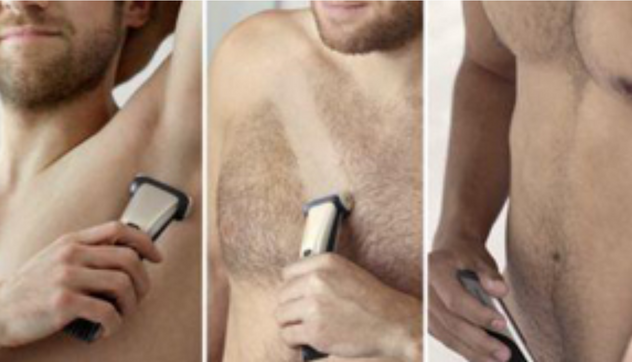 At some point, we have all reached out for razors, waxing kits, or depilatories and rid ourselves of pubic hair. Unfortunately, these methods often result in painful micro-cuts, skin irritations, or ingrown hairs. If you are looking to remove your pubic hair, then a safer grooming alternative is pubic trimmers because they sport a gentler design. To help you find the safest and best-performing options, our team put several pubic hair trimmers to the test.
Everything We Recommend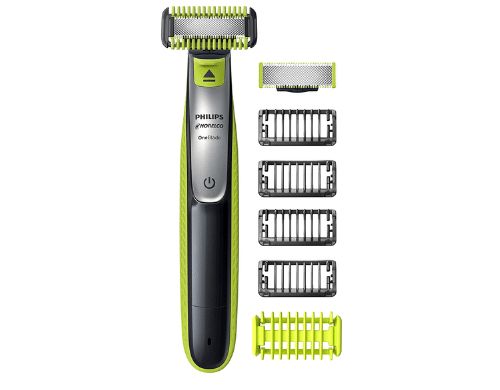 1. Best Product
Philips Norelco OneBlade Electric Trimmer and Shaver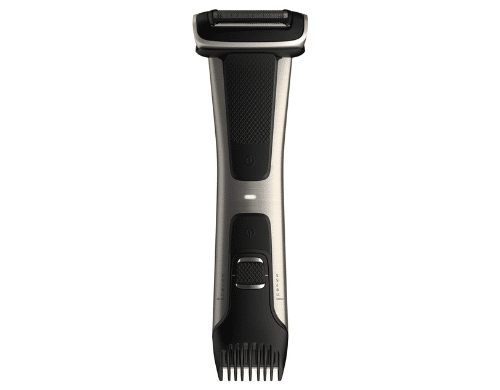 2. Runner Up
Philips Norelco Bodygroom Series 7000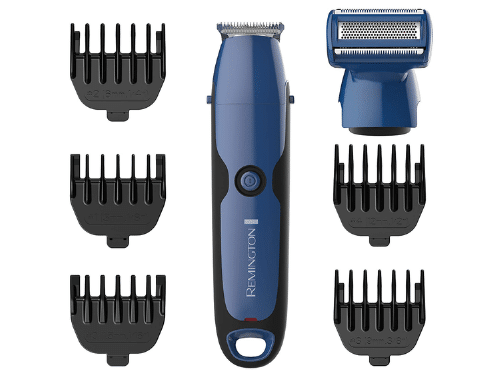 3. Cost Effective
Remington Face & Body Grooming Kit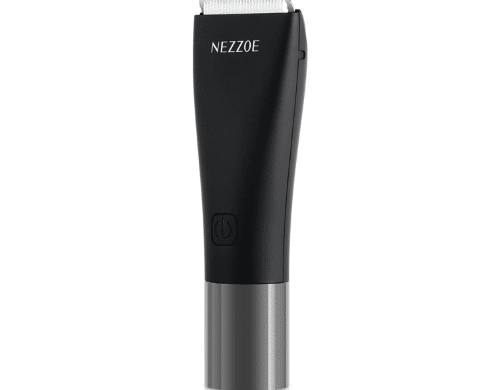 4. Almost Made the Cut
NEZZOE Body Hair Trimmer
Who This Is For
Studies show that 80% of participants experience itching after shaving their pubic and body hair with a razor (manual or electric). Several men and women also experienced severe irritation after using depilatories or waxing, which involves yanking hair off the skin. While using a razor or waxing leaves your pubic areas smooth, you may suffer painful nicks, razor burns, ingrown hairs, or even genital warts if you are unlucky. 
Hair trimmers have emerged as a safer and more convenient alternative for grooming. Unlike regular hair clippers or razors, pubic hair trimmers have a specific design for sensitive skin and delicate areas. They feature adjustable settings for precise and relatively close trimming and usually come with additional attachments for different lengths and styles. Whether you have overly sensitive skin, are tired of razor nicks and bumps, or are looking to keep your pubic hair neat between waxing sessions, this list of the best pubic hair trimmers is for you.
Why You Should Trust Us
We sought the opinions of numerous testers across genders when evaluating over a dozen of the most popular pubic hair trimmers on the market. We analyzed each person's findings to provide an unbiased and accurate review. We review and reassess our recommendations periodically to account for new trimmers coming to the market to ensure our selections are up to date and factoring in the latest product developments.
How We Picked
We opted for whole-body trimmers, gender notwithstanding. The main differences we noticed were the trimming settings, comb attachments, and blades, as these features determine how close of a shave you can get and the ease with which you can achieve it. To disregard unsuitable trimmers, we vetted each one against the following criteria. 
Blade Type
Hair trimmers, including pubic hair trimmers, often have the classic twin-blade arrangement or foil blades. Typically, one remains fixed while the other oscillates, creating a clipping mechanism. You must attach the guide combos to achieve the desired hair length. These trimmers do not cut hair too close to the skin because of the gap created by the comb attachments. Other trimmers will come with a foil shaver for a smoother finish. These trimmers have oscillating blades that move back and forth behind a thin, perforated sheet, resulting in close trims and smooth finishes.
Water Resistance
The best place to shave is either in the shower or bath, especially if you prefer to soften the hair for a smoother and more comfortable trimming experience. We ensured that all the trimmers on our list have water-resistant ratings, meaning they can withstand water splashes. However, some trimmers are 100% waterproof to allow use under running water. 
Corded vs. Cordless
In the past, corded models packed more power which helped trim the hair of different lengths and textures. Besides tangling, power cords limit the use of trimmers in the shower. We opted for cordless options as they are now as powerful as corded picks and offer the convenience of being used under running water or anywhere you like, regardless of whether a mains outlet is nearby. We ensured that all cordless trimmers chosen have a battery life of at least  40 minutes of continuous use.
Attachments and Settings
A good pubic hair trimmer should feature several trimming settings and comb attachments to customize your trims and touch-ups. Trimmers with different blades and a safety guard were preferred because they offer extra safety to delicate body parts. 
Ergonomics
Grooming, especially trimming pubic and body hair, is a delicate affair. As such, we went with trimmers that are comfortable to hold and easy to maneuver around the contours of your body. A good grip and lightweight design were crucial as they reduced the risk of accidentally dropping the trimmer or nicking yourself.
How We Picked
Precision and Effectiveness

Pubic areas are pretty delicate, and you don't want a trimmer that requires several passes to achieve a neat and even trim. Therefore, we picked compact trimmers with sharp blades and those that tend to keep an edge for several months.

Gentle on skin

This factor was tied to precision as it helps reduce irritation. Trimmers should have guide combs or skin guards for comfortable close-to-skin trims. Our trimmers also have rounded blades and adjustable settings to ensure they remain gentle.

Durability

A pubic hair trimmer is not something you want to keep buying. We made sure to recommend trimmers that will serve you well, whether you are trimming for the first time or are a seasoned trimmer.

Cost-Effectiveness

Trimmers with more advanced features are often more expensive than no-frills trimmers. We prioritized trimmers that strike a balance between price and quality.
Care and Maintenance
Keeping on top of proper maintenance of your pubic hair trimmer is crucial because it ensures longevity, optimal performance, and hygiene. Here are general care and maintenance tips for pubic hair trimmers and standard grooming practices. 
If your body hair is long, use scissors or a hair trimmer with a long guard setting to trim the hair down to a more manageable length. This step makes the trimming process smoother and prevents clogging or pulling of the trimmer.
After each trimming session, remove any loose hair or debris from the trimmer blades and attachments. You can utilize a small brush or a soft cloth to do this. Ensure the trimmer is powered off and disconnected from any power source before cleaning.
If your trimmer has detachable parts, such as combs or cutting heads, follow the manufacturer's instructions to remove and wash them separately. Rinse them under running water and use a mild soap or cleaning solution to remove any product buildup. Ensure the parts are dry before reattaching them.
Depending on the trimmer, keeping the blades lubricated will help maintain their sharpness and ensure smooth operation. You can apply a small amount of lubricating oil to the blade edges or use a specialized clipper blade oil recommended by the manufacturer.
After cleaning and drying the trimmer, store it in a clean and dry place and use the provided protective cap or a designated storage pouch to prevent dust or damage to the trimmer. 
Avoid storing the trimmer in humid or moist environments to prevent rust or corrosion.
Over time, the blades or cutting heads may become dull or worn out. Be sure to replace these parts with the correct models. Using dull blades can lead to less effective trimming and potential discomfort.