The Best Electronic Cutting Machine for 2023
Bring your creation to life at the snap of a finger, right from the comfort of your home, using an electronic cutting machine.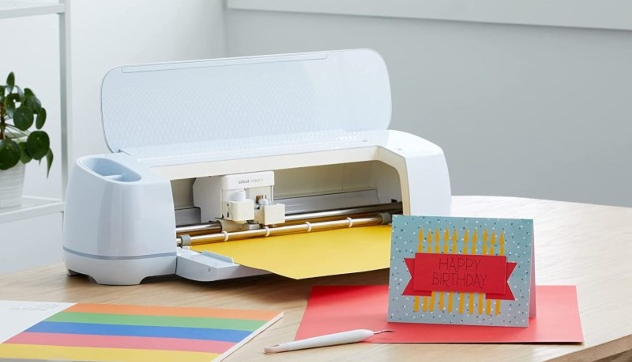 Calling all interior decorators, DIY lovers, and creatives! We're introducing you to the "Holy Grail" of arts and crafts equipment: a machine that prints out your masterpiece on almost any surface you'd like.
Electronic cutting machines use a small blade to carve out programmed designs on paper, cardstock, vinyl, fabric, and all other sorts of materials. You can decorate, redesign, and elevate any space at the click of a few buttons.
We know by now you're thinking you might have to rob a bank to own one of these bad boys, but as always, our readers deserve the best. That is why we have taken our time to research, test, and find the best of these devices that will offer impeccable value and make all other creators jealous from a mile away.
How We Picked
Project/Material Type

Electronic cutting machines have different ranges of materials they can carve. So if you're a creative bumble bee, bursting with ideas, there is a device that will fulfill all your design desires and more.



Strength/Sharpness

Precision is the name, and our selected machines are the game. Blades are the tools that electronic cutting machines use to create design imprints on materials, and the strength of the blade determines its sharpness.



Style/Size

Just like home printers, it's easy for these devices to take up a lot of room. With that being said, we've found stylish, portable cutting machines that will seamlessly blend into your home without cluttering up your space.



Cost-Effectiveness

Our selected machines offer the best value on the market within their price ranges. So whether your budget is low, average, or in surplus, there's a device guaranteed to give you premium satisfaction without emptying your wallets.


Our Top Picks
Best Pick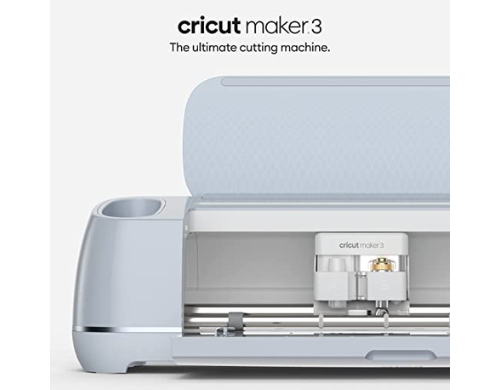 With our top pick, you can express your creativity on over 300 different materials!
Get all you would ever need from a cutting machine that inspires borderless creativity.


With this beginner-friendly pick from Cricut, you get a versatile, compact machine that can slice through an extremely wide variety of materials easily without barely making a sound. The Cricut Maker series is one of the top-rated die-cutting machines on the market, and the Cricut Maker 3 is at the top of that list. With a powerful downward force, this machine can practically carve on anything, from leather to balsa wood.

Runner Up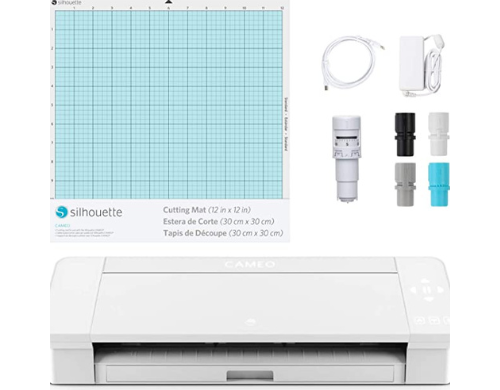 A powerful option from Silhouette that is made for heavy-duty work and large-scale projects.
Take your creativity up a notch with this powerful option from a well-known manufacturer.


Another staple name in the electronic cutting machine industry, the Silhouette Cameo 4 comes in a close second after our top pick. With an even more powerful 5 kg-downward force, this machine was made to cut through just about any material and is more than suitable for heavy-duty work. It comes with an intuitive blade and enough room to load multiple tools at once. Our runner-up cuts at incredible speeds and has all the extra little features you never knew you needed.

Most Cost-Effective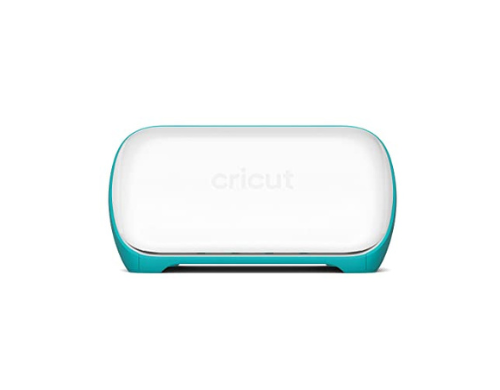 Perfect for home DIY creatives, this compact option gets the job done seamlessly.
Cutting is made stylish with this adorable, tiny machine from Circut.
Our third pick may just be the cutest little cutting machine you will ever come across. The baby of the Cricut family is perfect for creatives who love to create on the go. Its lightweight design makes it super portable and easy to handle. Not to mention, its beginner-friendly features and budget-conscious price make this machine hard to resist.
Everything We Recommend
Best Pick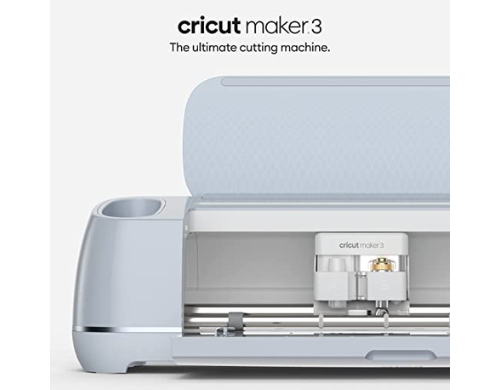 With our top pick, you can express your creativity on over 300 different materials!
$365.00
Runner Up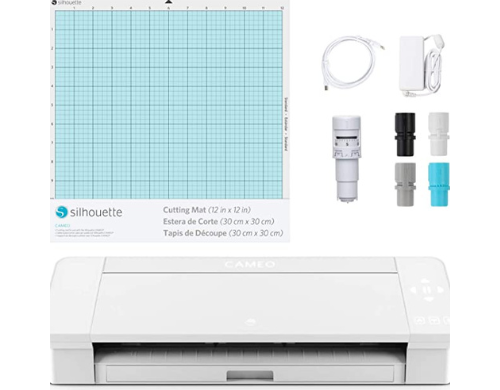 A powerful option from Silhouette that is made for heavy-duty work and large-scale projects.
$299.19
Most Cost-Effective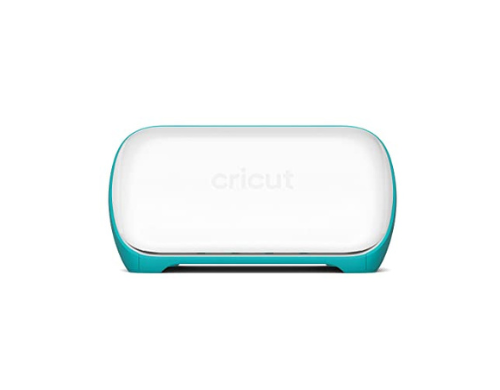 Perfect for home DIY creatives, this compact option gets the job done seamlessly.
$119.99
Who This Is For
These machines were designed for true, hands-on creatives, people who love seeing their ideas come to life and will go to any length to make it happen. Electronic cutting machines are great for all kinds of designers. So whether you're an artist, a DIY master, an interior decorator, or just looking to spruce up your living room, this equipment will make a useful addition to your creative arsenal.
What is an electronic cutting machine used for?
As we touched on earlier, these devices are used to carve out designs and images on a variety of materials such as paper, vinyl, cardstock, and iron-on transfers, and some can even cut on fabric, wood, leather, and more. They do this using sharp built-in blades at high speeds under the direction of pre-programmed designs. Electronic cutters go by many nicknames, some of which include plotters, vinyl cutters, craft cutters, and digital cutters. 
Different Types of Cutting Machines
Cutting machines vary per industry and use, so it's hard to place them in one category. For the purpose of this article, we will be discussing the different types of cutting machines used in the garment and fabric industries, as this often applies to the majority of lightweight materials.
Straight Knife Cutting Machine – These are handheld electrical devices used in cutting lays (fabric piles) to separate fabric or cutting thick materials such as denim. Its blade's edge is usually straight but can also be waved, sawed, or serrated.

Band Knife Cutting Machine – This is an electrically-powered device that consists of three or more pulleys used in producing more precise and accurate cuts on pieces.

Round Knife Cutting Machine – This machine has a circular blade and a flat base plate. It's used for cutting straight lines on less thick lays than a straight knife.

Die Cutting Machine – This is used in creating smaller, more precise designs on fabric and other types of materials for design purposes. It uses a similar principle to electronic cutting machines.

Drill Cutting Machine – As the name implies, these devices are used to create holes in materials.

Computerized Cutting Machine – These are fully-automated devices that cut at very high speeds based on pre-programmed settings that may include the number of fabric layers, fabric textures, and so on

Rib Cutting Machine – These devices are used to craft cloth pipings, such as T-shirt necks, from knit fabric.

Laser Cutting Machine – This computerized device uses lasers to cut through materials as opposed to blades
Is a cutting machine worth the money?
The answer to this question once again truly depends on your preferences and needs as a user. Are you someone who enjoys creativity and design as a hobby? Are you a DIY enthusiast looking to expand your skills and take on multiple projects? Are you an artisan looking for new ways to earn money from your craft? If you fall into any of these categories, then we guarantee that a cutting machine will make a worthy addition to your toolbox.
These devices allow you to craft a variety of designs according to your taste in under a few minutes. However, if you are looking to tackle a few design projects or have one specific thing you'd like to bring to life, this piece of equipment may seem like an unnecessary purchase for you in the long run.
Why You Should Trust Us
Creative expression is an important part of our principles as researchers and writers at National Today. We take pride in the ability to freely create all forms of art in ways that are true and unique to individuality. This is what makes us the best decision-makers for selecting crafting tools such as cutting machines. We have been able to suggest and prove the best electronic cutting machines on the creative market through extensive research and testing.
How We Picked
These intricate machines carry out their work through precise tools that produce the most accurate and detailed designs. Here are some of the key features we looked at to that effect.
Material type being cut
As we have discussed, these tools are used to carve on a variety of materials, from plain old paper to vinyl, fabric, and wood. Each machine has a range and limit for the types of materials it can cut through; however, material thickness is a major determining factor.
Typically, the larger the clearance of the machine, the thicker the materials it can cut. For example, the Cameo 4 from Silhouette has a 3 mm clearance for cutting thicker materials like balsa wood and leather, while the Portrait 3 can only cut materials that are 2 mm thick.
Strength and sharpness
Out of all the tools found on a cutting machine, its blade is the most important. This is because it is the main tool that produces the final design of your chosen material. The strength and sharpness of the blade determine how precise, clean, and accurate your designs come to life on these materials. A blade's strength is measured by its downward force. The heavier the force, the more powerful the impact, and the thicker the material that can be cut.
Safety features
As you would assume, these machines don't sound like the safest tools to use. With all these talks of blades, materials, and cutting, it's easy to get scared away from owning one of them. However, you can discard your worries and rest knowing that the best cutting machines come with the most reinforced safety measures that ensure the protection of their users while they craft.
Style and size
At first instance, these machines sound bulky, immobile, and space-consuming. It's hard to believe that a tool that does so much crafting, takes up a small amount of space. Well, our selected options make that possibility a reality through compact designs, that are even smaller than most home printers. These cutting machines are not only able to fit into any space, but they also do so seamlessly through stylish construction and inviting color options.
Ease of use
Every crafting tool has a bit of a learning curve, especially for beginners who are new to the art. With that being said, however, the best ones make it look easy through guided instructions and user-friendly operating systems. Every product was created by a group of people to be used by others; therefore, the best manufacturers and our selected machines make their products easy to use and master.
Price vs. quality
Just as with other powerful pieces of equipment, cutting machines aren't the cheapest purchase to make. The key is finding one that offers more than its worth and the best features within its price range. The machines discussed in this article are the gifts that keep on giving and will serve you for years to come.
Care and Maintenance
Unless you're a professional creative who is familiar with cutting machines and their tools, keeping your device properly maintained and in top condition over time can be a hassle.
This is made easier by the guides and instructions provided by manufacturers. When you've decided on the right machine for you, the next steps are to buy it and set it up.
Every manufacturer has detailed instructions on how you can go about this in their included manuals, and if you're stuck, you can always research videos and tutorials of other users that have successfully set up theirs.
Here are some important things to remember that help maintain the optimal condition of your cutting machine:
Before you begin crafting, ensure that your blades are properly aligned and sharpened, as the opposite may lead to shallow cuts and inaccurate designs.
If you're crafting heavier materials that chip off or create flying edges such as wood, ensure you wear protective gear like goggles and gloves before operating your machine.
Do not place your hands or body parts anywhere under the machine where the bulk of the work gets done.
A tidy workspace is an efficient workspace, so ensure you clear up leftover cuttings and materials after use.
If you're a frequent user, service your machine once every month for premium production, otherwise once every quarter may suffice.
Over time, your machine may get blocked or broken due to constant use. In such cases, you may experience dull blade execution, misaligned designs, or even missing spots on your material's design. Turn off your machine fully before investigating further to detect the issue.
In more severe situations, such as dented or misaligned blades, it's advised to either replace your blade depending on the circumstance or call in the service of a professional.
However, in most cases, it may just be due to a dirty machine. To clean your machine, simply empty its cylinders and chambers, as paper fibers and cut pieces can accumulate and clog up your machine.