The Best USB C Portable Charger for 2023
These best USB-C battery packs will keep all of your devices charged.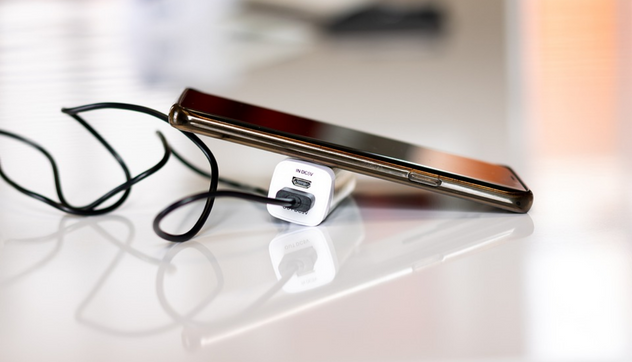 These days, we depend on a variety of mobile devices for our entertainment and even work. It is no longer just about spending the day with a smartphone or tablet in your hands playing games and watching social networks, but you depend on it to keep in touch with clients, your boss, the office, and much more. The increased demand for the use of these devices reduces the durability of their batteries and leads us to need a power bank, Besides, you will not always be near an outlet, especially if you like to enjoy camping or outdoor sports, situations in which you require connectivity for your safety.
When buying this accessory, we must not only evaluate its capacity but also a series of factors such as the number and types of ports, the charging speed, as well as the design, size, and weight to be able to carry it comfortably. In addition, one piece of information that is good to have is whether wireless charging is possible, in case we find ourselves without a cable at hand. This and more are factors we consider when choosing the best USB-C battery pack and power banks, as well as when offering you the best information and tips on maintenance and selection if you want to choose any other model.
How We Picked
Size/Weight/Portability

The great advantage of power banks is their portability, and although there are large-size models, you should consider your lifestyle and needs when choosing one. There are several types that will be more or less useful depending on where you are going to carry them. To carry it in a pants pocket, a flat design is ideal, but if you have more space, such as a purse or backpack, you can opt for a larger design.

Power and Charging Speed

For average use, a power of 10,000 mAh is sufficient, but to know if we require more, we have to be clear about the type of use we will give and what devices we will connect. The charging speed is also an important factor that will depend on your needs and the type of device you have; if it supports fast and wireless charging, you can always pick a power bank with these features. The charging speed will depend on the wattage to be delivered; usually, 5W and 10W are the standard today, and any value above these will indicate a fast charge.

Number of Ports and Port Compatibility

The number of ports and their compatibility will define the number of devices you can charge simultaneously with the power bank. While most devices are compatible with the USB-C port, it is recommended to choose power banks with this type of port.

Cost-Effectiveness

The power banks' cost is not too high, and their quality and functionality are similar across most brands, so you can afford to invest a little more in equipment with a large capacity and attractive features such as fast and wireless charging without worrying too much about the brand.
Who This Is For
Power banks are for everyone, as we all have smartphones or other portable electronic devices that help us stay connected or entertained. Those who most need these accessories are those who practice outdoor activities such as camping and trekking because, in the wild, it is almost impossible to keep our phones charged, and they are necessary in case of emergencies. They are also very useful for those who have jobs that demand their attention at all times or an enterprise for which you need to be in contact with your customers, in these cases, a power bank will free you from the plugs, and you can keep your mobile devices charged both at home and at work.
Power banks are not only for these specific users but for anyone who wants to save a little money and not frequently replace their smartphones when their batteries start to fail. It's no secret that a battery replacement will never be efficient enough, and many people tend to replace their smartphones when the batteries show signs of starting to lose their capacity and efficiency. This increases pollution and our consumption level, so a power bank will help you keep your phone charged and use it for longer, whether you decide to keep its original battery or replace it.
Difference between USB-C power banks and other power banks
The main difference between the two models is that those with USB-C have much faster charging and are compatible with many more devices. Models with MicroUSB ports tend to be slower and more restrictive.
The voltage/amperage supported is also determined by the connection type. The micro USB, or USB-A, port delivers less power than the USB-C port and the latest connectivity standards. By the way, cables must always be in good condition, without nicks or obvious damage to both the connection plug and the condition of the cabling itself. On the other hand, the more outlets, the better. Many power banks opt for an integrated solution with three connections; two for charging devices and a third for charging the power bank itself from the mains, usually, one is USB-C and the others are USB-A.
Can I use a power bank while charging it?
Although it does not seem very logical, since the power bank was designed to give us the freedom to move around with our devices without being tied to a socket, the truth is that it can be done, especially with those devices that have reverse charging, an option that allows you to drain the battery of one of the connected devices and use it to charge the other devices through the power bank.
Even though it is generally safe to use the power bank while it is charging, it is not recommended practice. Using the power bank while charging can cause it to overheat and fail. It can also reduce the life of the power bank, as it is designed to be used once it is fully charged. Using the power bank while charging can also reduce the charging time of the devices connected to it.
Does charging multiple devices at once slow the charging speed?
In a quality power bank, this should not happen, especially in models with different ports. In those with USB-C and USB-A ports, you can connect multiple devices and those with fast charging availability will not see their charging speed reduced. However, this will always depend on the design, and although the voltage will be the same in each port, the amount of current in each of them may be reduced if we charge too many devices at the same time.
Even if a power bank has many ports, it is recommended that you consult the user manual and the opinions of other buyers to verify that the charging speed is not affected if you use them simultaneously.
Why You Should Trust Us
On our website, we pride ourselves in offering only the best information about the products we recommend, and we carry out careful research that not only considers the reliability of the brands and equipment evaluated but also the opinion of its users, as they have the definitive opinion since they have already tested the recommended equipment and can explain in detail its functionality, quality, and most importantly, its efficiency.
Choosing a power bank does not seem like a complicated task, but if we want to take full advantage of our investment, it is one that we must do by managing updated and accurate information. That is why we not only recommend the power banks on our list but also share with you our purchasing criteria so that, if necessary, you can pick a device that meets your needs.
How We Picked
When selecting the power banks we recommend, we considered several important criteria. You are welcome to use them as a guide if you want to buy a different power bank than the ones we recommend.
Size
The size of the power bank you decide to buy will depend on how you are going to use it. If you are planning to use it daily, you may need to be able to carry it around with you comfortably. A small portable battery would be ideal in this case. Of course, the number of services they can provide is more limited.
If you need multiple charges, you'll need a larger-capacity power bank. This usually means a slightly larger size. However, there are portable batteries on the market that fit in your pocket and provide up to three charges. If you are looking for a higher number of charges, you will probably have to go for a larger power bank.
Weight/portability
If the power bank will be used for travel, the size, and weight of the power bank are key aspects to consider. You can find more compact and lighter batteries on the market, but, as a general rule, these have a lower capacity. If you want to have more charge cycles, you should assume that the power bank will need more space in the suitcase or backpack, as well as that its weight will be higher and its portability somewhat more uncomfortable.
Power
This factor is related to the previous one. Some models have a higher load capacity than others. However, it is not as simple as making an equivalence between size and capacity. There are portable batteries of similar sizes with different capacities.
The important thing is to look at the manufacturer's specifications, specifically the milliampere hours (mAh), which we talked about earlier. The higher this figure, the greater the number of charges it can provide. That is, it will have a higher capacity. It is significant to note that it depends on the device you are going to charge to calculate the number of charges.
This feature should be between 5,000 and 15,000 mAh so that several full charges are guaranteed. You should always consider the quality-price ratio to get the best product on the market at the lowest possible price.
Charging speed
The charging time basically depends on two factors: the capacity of the power bank (mAh) and the intensity of the input current (mA). We advise you to check the maximum input current (Input) that the battery can support, as this will be a factor that limits the speed of recharging.
In general, these magnitudes must appear in the specifications of the external battery. They should be clearly indicated in the user's manual.
Fast charging is one of the fundamental issues when talking about power banks. To achieve this, the first thing to do is to check if your cell phone has this option and if the power bank offers it. For this, the maximum power it can supply is 10 W, with the highest power being 45 W. What it does to reach them is increase the voltage from 5V to 9V, 12V, or even 20V, although it is rare in the latter case.
Battery life
The "useful life" of a power bank refers to the number of times we can use it since we bought it. It is also known as the "life cycle." Most often, a portable battery has between 500 and 1,000 cycles. This is the number of times we will be able to charge it and use it before it stops working. Of course, this is an estimated number that varies greatly depending on each model.
It also depends on the use we make of the power bank and external factors such as, for example, temperature. It is common to all batteries that, with the passage of time and use, their charge capacity decreases. Furthermore, it is important to be informed about this aspect before buying one.
Wattage output
The voltage in most devices is similar, but the power varies from one device to the next. If you use a higher current, you will increase the load capacity without damaging the equipment since it will make full use of its capacity. However, if you use a cable with a lower capacity, you may end up damaging your battery. It is critical to select appropriate cables for the power bank and ensure that it is compatible with your mobile devices.
Number of ports
The number of ports on the power bank you pick is not a matter of little importance, as it will not only allow us to connect more than one device simultaneously or have enough flexibility to charge different devices. If you only need to connect one device at a time, it will be more than enough to have a USB port.
If you need to connect more than one device at the same time, you will need the power bank to have more ports. It is often necessary to charge your smartphone and tablet at the same time, for example. For this, you will need a compatible USB connection for each of these devices.
Port compatibility
In most cases, power banks have micro-USB or USB-C connection ports, but you can also find some options on the market with which you can charge your cell phone without the need for cables, via a wireless connection. It should be considered if the external battery to be purchased includes the connection cable. If not, you must have one to start charging.
Speaking of compatibility, this is another factor that you must take very much into account. Although there are international agreements that pursue a single standard for the inputs and outputs of mobile devices, many companies prefer to use their own. An example of this is Apple, which abandoned the USB standard in favor of the Lightning standard.
Price vs. quality
The price-quality ratio in these devices is not usually very marked, as there are inexpensive models from brands that stand out for their quality and functionality. However, more expensive models from much more well-known brands are always available, so it all comes down to personal preference and budget. Splurging on such equipment is not advisable, especially if it is for a change of brand, but it will always be worth investing a little more for some extra capacity. If you are choosing between two or more power banks with the same features, you should choose the design that suits you best according to your lifestyle.
Care and maintenance
Ensure device/s are USB-C compatible
It is critical to make sure that the devices are compatible, especially if they have USB-C ports. USB ports have many limitations, especially when it comes to current throughput and pin position. USB-C ports do not have major limitations in terms of pin position and charging capacity.
Do not overcharge your bank or device
Overcharging both your mobile device and your power bank can reduce the useful lives of both. That is why this type of equipment, especially those of updated design, has systems that stop charging when 100% capacity is reached. Even if they have this functionality, it is not recommended to leave your power bank or your devices charging overnight or, worse, unattended.
Do not use it if overheats
When a power bank or smartphone is charging or discharging, it can get a little hot, especially when using fast charging mode. If you notice that they get too hot, you should unplug them and wait for them to cool down to room temperature. If you think the overheating is due to the ambient temperature or poor ventilation, place it in a ventilated space or a space with excellent heat conductivity.
In case the problem is not solved in this way, avoid using the devices and consult the warranty if it is still valid, replace the equipment, or consult technical service.
Preventing port connector damage
Misuse of the charging ports or the accumulation of dirt can severely damage them. The first thing you should do to keep them in good condition is to avoid pulling on them or carrying the weight of a smartphone or power bank with you. You should also make sure to clean them, as dirt can reduce power transfer and cause overheating.
You can use compressed air to clean both ports of any dirt buildup; you can also scrub with a medium or soft-bristled toothbrush, as too-hard bristles can scratch the port. If you dare, you can use a pin, always with care and attention to avoid damaging the pins. You can also moisten the pin in alcohol to improve the level of cleanliness and wait for it to dry, thus protecting the pins and removing dust and lint that can cause accidents.
How long do battery packs last?
The lifespan of a power bank depends on how many charge cycles it can withstand. If you want to make sure you get the most out of your device, just avoid overcharging it or taking it to 0% charge. This will be achieved by knowing its capacity and the capacity of the devices to be charged. This should always be lower to ensure you keep the power bank in optimal conditions for as long as possible. If you do not use the accessory, it is best to leave it charged to a maximum of 60%; this way, it will maintain its useful life for much longer.
If you unload the power bank and keep it until you return home, remember to charge it as soon as you arrive. If you forget to recharge the battery and keep it without a charge for weeks, not only will you reduce its useful life, but you will also reduce its charging capacity. It is important to cycle the battery from the smartphone to the external battery.
Do not connect an excessive number of devices
While the power bank may have many ports, it is advisable not to use them simultaneously. Numerous connected devices can reduce the charging speed of some devices and cause overheating. It is also critical not to use external ports or any other gadget that increases the number of charging ports, thus avoiding possible accidents or failures.