The Best Audio Bluetooth Receiver in 2023
These little dongles help you to take control of your music wherever you are in your home!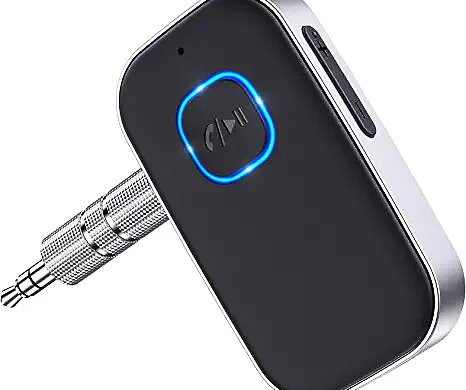 Technology is a very versatile being, if we can call it that. One minute you have the latest technology, the next minute your gadgets are outdated and need a serious upgrade. That said, the past decade has seen a paradigm shift in the formats of audio and generally sound stereos as a whole; and we all have those stereo systems that we are attached to. It could be the great music delivery, specific memories attached to them, or the fact that you just want to treasure them. Sadly, most of these stereos are outdated now and you can only use them through audio jacks meaning you have to leave your phone plugged in to enjoy the music unlike the new version of stereos that come with in-built Bluetooth for easier use with your mobile phone.
The good news we bring you is that you can still enjoy your music through your stereo by integrating it with these Bluetooth audio receivers that will enable you to play music from anywhere around the house as you please. Take a look at the list we have summed up for you to find some of the best deals on Bluetooth audio receivers in the market right now!
How We Picked
Range

The range of connectivity between your device and the stereo system is affected by many factors such as distance, obstacles, and individual product specs that are covered in this review. A consideration of all these factors is important when choosing what is useful to your unique situation.

Updated System Technology

Different generations of Bluetooth have different capabilities when it comes to performance, range, and data rates. It follows that the latest version of Bluetooth which is 5.0 is a lot better for use in the current world of technology to achieve the best and most desired results.

Compatibility

Bluetooth isn't always about high quality. If you want the best possible sound, search for a device that supports the AptX codec for high-quality streaming from many Android phones, Macbooks, and PCs. The last thing you want is to purchase a receiver that is not compatible with your device!

Cost-Effectiveness

We understand that you might not want to blow money on a Bluetooth audio receiver; which is why we put everyone's needs into consideration when coming up with this list. The items listed below are totally cost-effective and guaranteed to give you value for your money.
Our Top Picks
Our Top Pick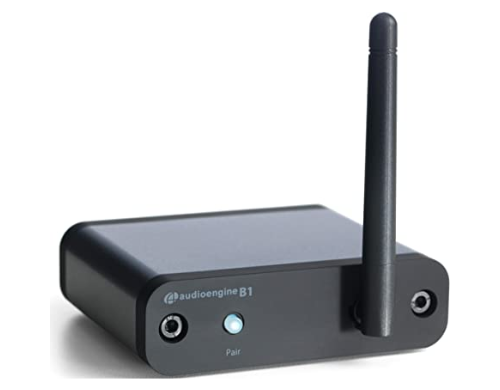 This is just what you need to get the best sound quality that will surely exceed your expectations.
At the top of our list for a very good reason! With this option, you get to experience amazing sound clarity backed by a three-year warranty on your product to put your heart at ease. This receiver is perfectly compatible with your tablet, smartphone, speaker, and personal computer. The extended range will give you coverage of up to 100 feet and still deliver clear audio with minimal to no interference.
Completely minimize interference and enjoy the best quality of audio that technology has to offer with this top-rated audio receiver.
Our Runner-Up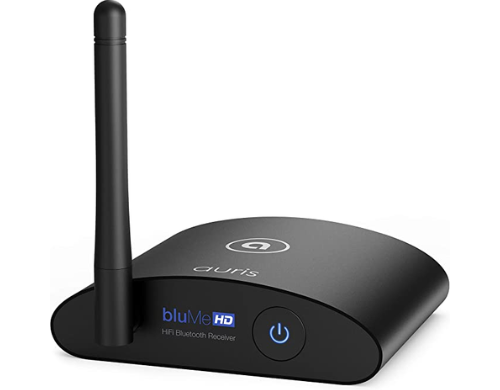 This Hi-Fi Bluetooth receiver guarantees minimal distortion so you can enjoy high-quality audio as if you were in the studio!
The high gain antenna on this Bluetooth receiver gives you a range capable of connection from 100 feet away, you can be sure your whole house is covered. Experience clear music without losing any quality. This option has the latest Bluetooth technology in the market meaning the data rate is the best you can get. It is compatible with both Android and IOS operating systems, not forgetting your PC in case you need to use it.
This option streams the highest quality audio wirelessly from your phone, tablet, or computer to any home stereo system; easy setup and connects in seconds.
Most Cost-Effective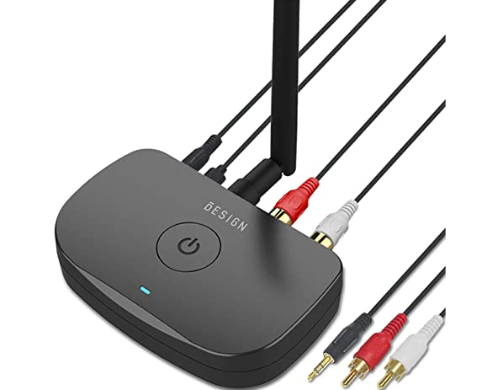 This option is highly cost-effective and yet it also offers you most if not all the features offered by other options on this list.
A bargain price product that offers you quality without having to break the bank for it. It comes with a long-range connection and the latest Bluetooth technology to offer you nothing but the clearest sound. Unlike most receivers, with this option, you have coverage using the RCA cables. The package contains all the cables you need so no need to buy them separately! It lacks an in-built microphone so you don't have to worry about picking up calls while it is still connected since it won't air your calls.
The perfect choice for you if you are on a tight budget; moderately expensive but still offers you great service in terms of range, data rate, and ease of use!
Everything We Recommend
Our Top Pick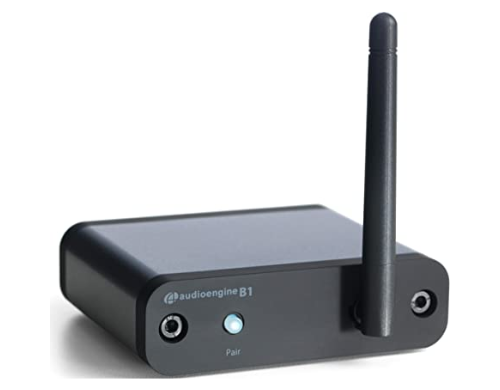 This is just what you need to get the best sound quality that will surely exceed your expectations.
$189.00
Our Runner-Up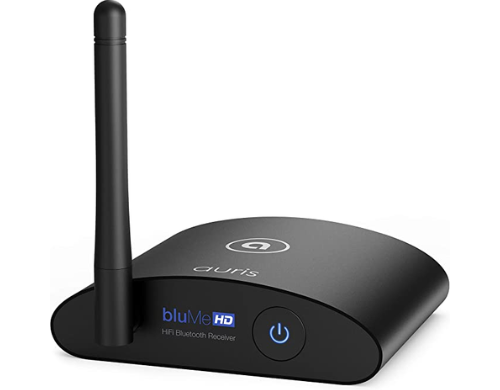 This Hi-Fi Bluetooth receiver guarantees minimal distortion so you can enjoy high-quality audio as if you were in the studio!
$119.00
Most Cost-Effective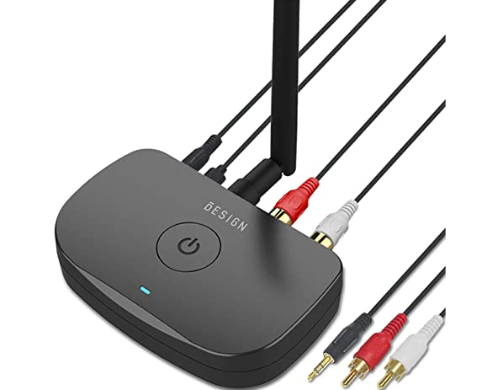 This option is highly cost-effective and yet it also offers you most if not all the features offered by other options on this list.
$23.99
Who This Is For
This review is for anyone out there looking to revive their old sound stereo or better yet find a way to keep using a sound set that doesn't have in-built Bluetooth features. Just because your sound system is lagging on the latest technology doesn't mean you should get rid of it, these receivers will help you keep that stereo in use.
What is a Bluetooth receiver?
A Bluetooth receiver is a gadget that can attach to your favorite analog or digital stereo system, allowing you to send your favorite songs and podcasts from your phone to the speaker. This can make any audio system wireless, turning your stereo system into a Bluetooth-controllable device. This means you can get the quality sound you desire from digital or analog systems while simultaneously experiencing the benefits of wireless connectivity.
What are Bluetooth receivers used for?
These receivers give you an easier set-up to deal with whenever you want to use a non-Bluetooth device. You can play music on devices that do not have in-built Bluetooth features hence you have total control over the audio from your device once you are connected. Bluetooth connection is reliable and will keep streaming even if Wi-Fi is lagging.
Do Bluetooth receivers work for any device?
Receivers can connect to any Bluetooth 5.0 device so they have a wide range of compatibility.
Why You Should Trust Us
In a world full of vendors and plenty of manufacturers marketing their products as the best and ranked number one, it might be somewhat hard to tell how good a product solves your problem before you buy it and try it; but what happens if it doesn't? Well, better safe than sorry; we took our time to diligently go through individual product reviews and customer feedback to figure out if the claims made are true. This final list of products will guide you to make better purchases.
How We Picked
To pick the best list of products to suit you, we had a couple of parameters to evaluate.
The best receivers are simple to use yet complex and powerful when it comes to their performance. Contemporary models are equipped to handle virtually any type of music source, from analog to digital. So that old stereo in the garage is not just for your dad's generation, as it can be used as the central hub for all the music and audio that you play throughout your house. Hi-Fi systems give you the ability to mix and match components to put together a system that's right for your space and your finances. What's more, if you build around a quality receiver, you can always add or swap other components (such as speakers) as your needs and budget grow.
The first thing was to consider how you intend to use the receiver. You'll want to find a receiver that fits your needs and will maximize your usability. Hence we had to focus on Bluetooth audio receivers with crisp audio quality. Not all devices are made equally so you'll want to do some research before purchasing. As an example, the Auris blueMe HD Bluetooth Music Receiver is made with audiophile-grade 384kHz/ 32bit DAC (Digital to analog converter) for superior playback. It also features high-fidelity Qualcomm aptX HD, aptX Low Latency, and AAC decoders. The low latency means you get less buffering and a faster response time as you switch to the next song or play something on your stereo. High fidelity (often shortened to Hi-Fi) is the high-quality reproduction of sound. Ideally, high-fidelity equipment has inaudible noise and distortion, meaning you get to recreate the original feeling of a live performance right in your ears or around you.
We also kept in mind how much you would be willing to spend on these gadgets. Finding a cheap $20 receiver might seem like a good idea at the time, but it could quickly break and need to be replaced. Investing in a receiver that is a bit more expensive will ensure that it's built to last many years without breaking. The next thing we considered is how easy it is to set up. You want to find a device that is simple to pair with your smartphone and won't be confusing. These receivers also come with a manual or user guide to help you out just in case you get stuck or are unsure of the next step.
Another important aspect of any Bluetooth receiver is the range. Receivers that have at least a 100-foot range will allow you to move around your house freely without loss of connection. Again this heavily depends on the size of your house or where you intend to use the gadget.
The transmission range is affected by plenty of factors which typically include; the output power of the transmitter, the sensitivity of the receiver, and the antennas. Receivers that lack high-gain antennas tend to have a shorter range compared to the ones that do. When picking a Bluetooth device, you can give your device a better range by selecting the Bluetooth chip with the best receiver sensitivity and output power, and making sure that you use a good antenna.
The latest updated system technology is Bluetooth (5.0) which has major improvements compared to the previous generations. With this new system, you get faster data rates (the speed at which data is transferred within the computer or between a peripheral device and the computer, measured in bytes per second.) and a longer range of connectivity. The biggest difference between Bluetooth 5.0 and previous iterations of Bluetooth is the maximum range. While Bluetooth 4.0 and later supported a range of up to 33 feet, Bluetooth 5.0 stepped it up to a theoretical range of 800 feet.
Compatibility of the device you pick means that it can function well with certain electronics that you intend to use. You need to check whether such a gadget is compatible with your laptop, phone or headset in the product description before you make a purchase. The adapter type or port type will guide you on this. With RCA audio cables, you can plug into most stereos and play your music.
Care and Maintenance
Check to see that the adapter is compatible with your device, the last thing you need is an incompatible gadget that doesn't really help you. For most of these products, the compatible devices are mentioned in the description and in this review also to make sure you are aware of what you buy as the most appropriate option.
Check the receiver has the latest Bluetooth technology (5.0) because it has way better features, speeds, and range of access.
Keep the port clean and avoid poking it with wires, metals, and pointy things. You should use a blower on a regular basis to avoid the hardening of dust in that space since it will affect your router.
Preventing port damage is only possible if you are careful enough to know what type of cable to insert into such ports. Take care to use minimal force as you input these cables to avoid such damage.