The Best Fish Tanks of 2023
The best fish tanks do a lot more than just meet your fishy's needs.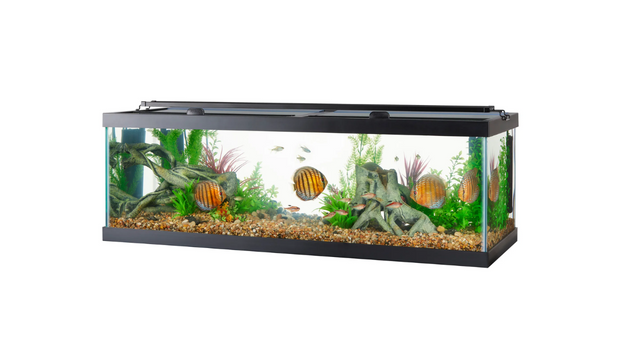 People keep fish as pets, and they require different settings and care than it is with dogs, cats, and other terrestrial animals. If you want to take good care of your fish, you need a fish tank. A fish tank is a man-made ecosystem for fish to feel at home.
An excellent fish tank will have all the essential components that will make a fish happy and thrive easily. Yes, there are many types of fish, and they have different needs. We have compiled the best fish tanks that will cater to different types of fish. These fish tanks are effective, durable, and budget-friendly.
Everything We Recommend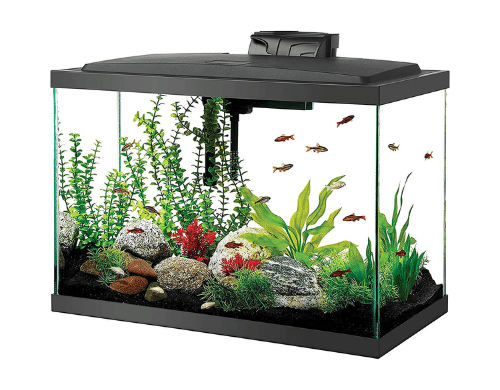 1. Best Product
Aqueon LED 20 Aquarium Kit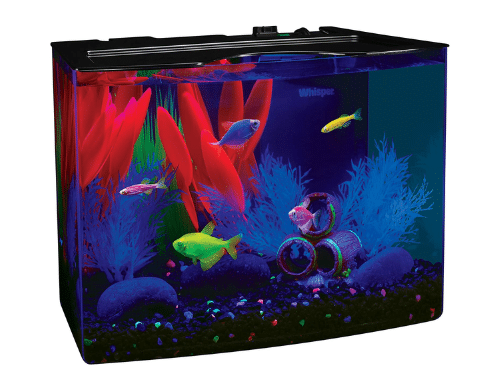 2. Runner Up
GloFish Aquarium Kit Fish Tank (5 Gallon)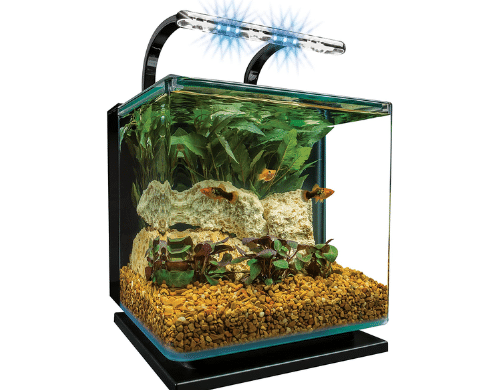 3. Cost Effective
Marineland Contour 3 Aquarium Kit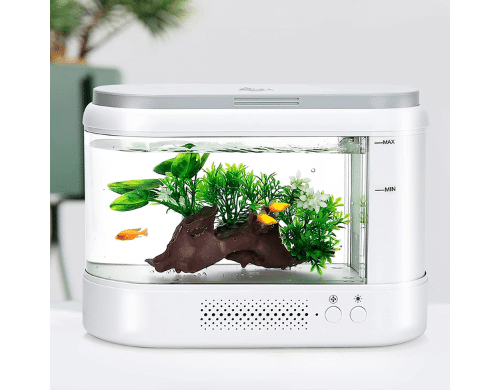 4. Almost Made the Cut
AQQA Multifunction Self-Cleaning Tank
Who This Is For
These products are selected for those that love keeping fish as pets even if you are a starter of this hobby.
How big should a fish tank be?
The size of a fish tank depends on the numbers and types of fish that will live in it. The thing about the appropriate size of a fish tank is there is no right size. We will recommend a big tank because big fish tanks are easier to maintain than smaller ones. A larger tank gives more room for a fish to play and be happy.
Can freshwater fish and saltwater fish be in the same tank?
No, don't try it. A freshwater fish and a saltwater fish can't stay in the same tank because of their different survival mechanisms. Saltwater fish need salt to survive and freshwater fish can't survive in a saline solution.
How to acclimate fish into a new fish tank?
After properly setting up your fish tank, turn off the lights in the tank and the room as these lights may affect the fish. Fish are usually sold in a bag and if it doesn't come in a bag, put them in a small plastic bag filled with water. Now, float the bag in the fish tank for 15-30 minutes. After this specified duration has been achieved, cut open the bag from the top and fold the top edges of the bag to create an air pocket. Now that you have created an air channel, you need to get a measuring cup and slowly add a half cup of the fish tank water to the bag at intervals of four minutes until the bag is full. Once the bag is full, lift it out of the fish tank and pour half of the water away carefully. Place the bag back into the tank and fill it with a half cup of water every 4 minutes. Once the bag is full, dip a small net into the bag carefully and get the fish out. Then, introduce the fish into the tank quickly and gently.
Why You Should Trust Us
Getting the right choice of fish tank for your pet isn't difficult but getting fish tanks with premium features at affordable prices isn't easy. As such, we have found four excellent fish tanks that are spacious, strong, and accommodating.
How We Picked
We worked with some professional opinions of aquarists, fish hatchery technicians, and fish tank installers. Their opinions led us to the selected fish tanks on our list. We checked through previous customer experience to confirm the quality of these tanks. Their reviews clearly showed the excellent build quality of the fish tanks and the additional features they possessed. With all these opinions, you can rest assured that we delivered the best fish tanks to you.
We saw many fish tanks of different sizes online and we ended up with the ones that have sufficient size and capacity that will make a fish happy. These fish tanks are great and flexible materials that can withstand pressure and collision. These tanks have great features which include excellent filtration systems, temperature controls, air pump regulators, LED lights, and so many others. They are easy to set up and clean. These tanks will deliver more than what you pay for.
How We Picked
Size and Capacity

If you like to keep fish as pets, then you need to consider the size and the capacity of the fish tank you are getting. We have factored this point and ensured that our selection has enough space to contain fish and essential gadgets that will contribute to their survival and growth.

Cleaning Filters

Fish thrive in clean environments and if you want to get a fish tank, you need to make sure they have cleaning filters to remove dirt and chemicals. Don't worry, we have picked fish tanks with excellent and multiple filters that make the tank clean and healthy for the fish.

Temperature Regulation

To give a fish a perfect ecosystem, you must pick an excellent fish tank that will operate at a temperature that will favor the mechanism and survival of the fish. This selection contains adjustable heaters and light to alter the temperature of the tank.

Cost-Effectiveness

These selected fish tanks have everything needed for a fish to survive and thrive. The tanks are made with high-quality materials that don't scratch easily and withstand pressure perfectly. They have excellent lighting and beautiful components that make them look lovely. They are worth every penny you splash on them.
Care and maintenance
Know the needs of your type of fish
Before you transfer your fish into a fish tank, know more about the fish. Discover what type of fish it is: "Is it a freshwater fish or saltwater fish?", "What does it feed on?", and "What temperature will suit it best?" If you don't have a comprehensive understanding of your fish, you may end up killing it.
How to clean a fish tank
You can clean a fish tank while your fish is in the tank. Disconnect the tank from any power source to avoid electrical shock. Remove the filter and UV lights, and close all valves. Clean the glass or plastic with an appropriate scrub and remove all synthetic decor and scrub with a toothbrush and hot water. It is best to use a gravel vacuum to tidy the substrate crevices. Remember not to remove more than 50% of the tank water as you may lose some beneficial bacteria if you exceed that limit. Refill the tank with new chlorine-free water that has been treated with a conditioning treatment.
How often to clean a fish tank
This depends on the size of the fish tank, its filter system, the type of fish, and the number of fish. It is recommended that you check the fish tank every day for any environmental change. We will suggest that you change the water every week. You should monitor the pH, ammonia, and nitrate levels every month. If you do these steps diligently, you can do deep cleaning every two months.
Where to keep a fish tank
The best place to keep a fish tank is on a flat surface that is devoid of noise, direct sunlight, and traffic. It is good to place a fish tank where you can easily access it and others can see it. Make sure your fish tank is near an electrical socket and far from an air conditioner or any gadget that will change the temperature of the tank.
Using water treatments
There are many water treatments that you can deploy to make the tank water habitable. You can use ammonia removers, water clarifiers, pH modification, tap water conditioners, biological aids, phosphate removers, algae treatments, and aquarium salts.
Lights, heaters, and other potential features to keep handy
Your fish tank needs some essential gadgets to work efficiently. Such gadgets include lights, heaters, air pump regulators, filters, and fishnets. Some of these gadgets are powered by electricity so your tank needs to be close to an electrical socket.