The Best Soldering Irons for 2023
Assemble, hack, and fix electronics with ease and safety using these efficient, and all-around best soldering irons.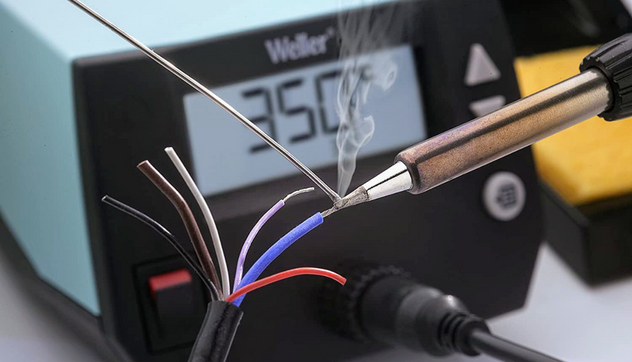 Soldering is one of the oldest and simplest forms of joining materials together using heat. As such, a soldering iron is an essential requirement for any electronics enthusiast. It is common in electronics repairs and fabrication and can be used with a variety of metals but is most often used to solder copper, nickel, and tin-based alloys.
A soldering iron consists of an electrically-heated tip that is attached to a handle. The tip of the iron has a pointy end that allows precision soldering. While soldering irons are great tools, using the wrong ones can subject you to electrical burns, poor heating, fire hazards, and mid-use breakdown. If you have experienced any of these unfortunate events, you need to replace your soldering iron with a better one. This is where our top selections for the best soldering irons come in!
Everything We Recommend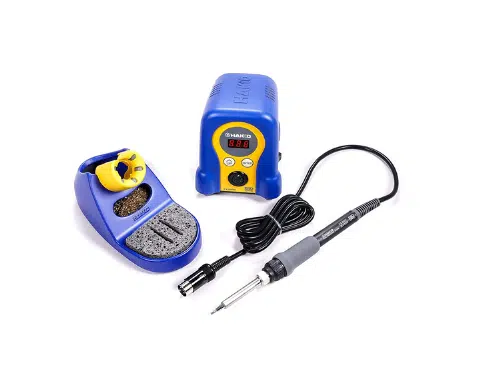 1. Best Product
Hakko FX-888D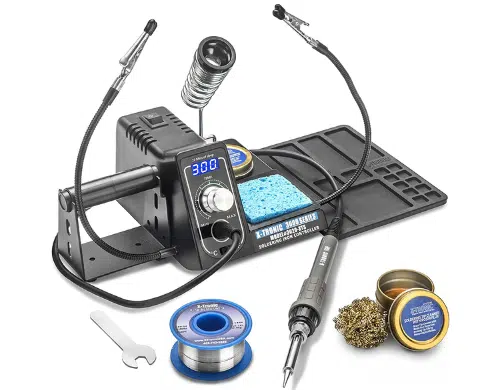 2. Runner Up
X-Tronic Model 3020-XTS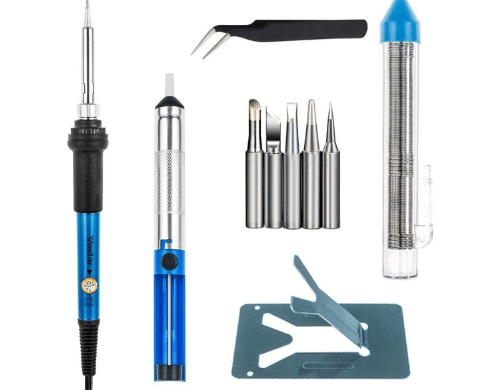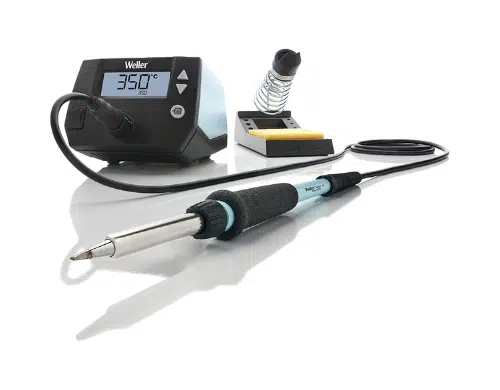 4. Almost Made the Cut
Weller WE1010NA
Who This Is For
The soldering irons featured here are for anyone who wants to solder their own electronics. They are particularly great for hobbyists and DIY enthusiasts. Soldering irons are also useful for professionals who need to make repairs on electronic devices.
What is a soldering iron used for?
Soldering irons provide three main functions: melting, heating, and soldering. The first function is achieved by heating the workpiece with a high-temperature flame. This melts the solder so that it can flow onto the objects to be joined. The second function is achieved by depositing molten solder onto any gap, allowing two objects to be attached permanently. Finally, soldering allows for electrical connections between two surfaces that may not directly touch each other.
Is using a soldering iron safe?
Soldering irons can be dangerous, especially if you're not careful. However, they are pretty safe to use as long you take the necessary precautions. Easy safety tips include using a solder stick instead of touching the iron directly with your fingers. Never leaving the soldering iron unattended. Make sure there is no water on the tip of the iron before using it and always turn off the soldering iron after use.
Why You Should Trust Us
With the variety of options on the market, there is no shortage of great, durable, or powerful soldering irons. However, most of these do not work as advertised. By carrying out in-depth research, committed testing, and including transparency in the results we have relayed to you, we are confident that our curated picks can stand the test of time.
How We Picked
A soldering iron is an important part of your electrical toolkit, and choosing the best soldering iron for your needs can be a daunting task. The features that make up a good soldering iron can vary from model to model, but there are a few key factors to consider when shopping for one.
Temperature controls
The best soldering irons have varying temperature controls for different soldering tasks. Having this kind of flexibility allows you to choose how hot you need your soldering iron to get so that you can achieve proper results.
Power
This feature determines the energy flowing in and out of the soldering iron, and the overall strength of the soldering iron. You'll want to choose an iron that has enough power to complete whatever task you're trying to accomplish at a reasonable pace without causing damage or overheating.
Wattage
To determine the best soldering iron for you, you will need to consider its wattage. The high-wattage soldering irons are for heavy-duty work. These tasks include making connections between electronic devices or metal components that are difficult to solder. The low-wattage soldering irons are more suited for lighter jobs such as making connections between electronic devices or metal components that are easy to solder with small tools like screwdrivers and pliers.
Safety features
Every soldering iron needs adequate safety features to help prevent burns and other electrical injuries. Some soldering irons come with safety tips and handles that help to prevent burns and certain electrical-induced injuries. Other high-end ones have built-in fire-extinguishing technology to help you fight flames in case of a fire.
Price vs quality
This feature helps you to figure out which soldering irons are worth your money. If a product costs outside your budget but is of high-quality build, you may want to consider it. At the same time, a cheap soldering iron might not last very long or work well. Analyzing the quality of soldering irons while considering each one's price is crucial to ensure that you make the best buy.
Size
There are different sizes of soldering irons available. Each one has different uses depending on what kind of work you're doing with it. The size of the soldering iron is important because it dictates how much current the solder will be able to flow through it. The larger the current, the more heat. This means that you can create stronger connections between pieces of metal with less effort on your part. A large soldering iron will generally create stronger joints than a smaller one would.
Durability
This factor determines the number of times you can use your soldering iron before it begins to let up or stop working. A good soldering iron holds up better than one that isn't well-made, maintaining its major and even safety features.
Heat-resistant handle
Soldering irons get very hot which is why they need to have heat-resistant handles. These unique handles protect your fingers from high temperatures, ultimately ensuring stress-free and hazard-free soldering. 
Easy to use
You need to be able to quickly and easily use your soldering iron without having to struggle with it. Also, the more comprehensible the user manual, the better.
Easy to clean
Soldering is a messy activity, so the soldering iron of your choice must be easy to clean. Poor ease of cleaning can lead to constant overheating, iron rust, and eventual damage.
How We Picked
Temperature Control

We chose models with programmable temperature settings so that your iron maintains the proper temperature throughout your workday. It will enable you to make adjustments depending on what kind of material or metal you are working with.

Power/Wattage

The power rating of a soldering iron refers to its maximum wattage output, which directly affects how much heat is transferred from the tool's tip to a component. A soldering iron with a higher wattage will produce more heat than a lower-wattage model, allowing you to use less heat when working with high-wattage tools.

Safety Features

Each soldering iron needs a set of good safety features to help prevent injuries and fires. Such safety features include an insulated tip and a non-slip grip on the handle.

Cost-Effectiveness

A good soldering iron should have the perfect balance between price and quality. In view of this, we chose soldering irons that have a high-quality build, a long lifespan, and a warranty to help you get your money's worth.
Care and Maintenance
If you've ever soldered a wire and got frustrated with a clogged or ruined tip, you know how important it is to keep your iron clean. As a result of frequent use, the tip can become clogged with dust and gunk. This can cause the iron to heat unevenly or not at all. Luckily, cleaning a soldering iron is easy, and here's how!
How to clean
First, unplug the soldering iron and let it cool completely. Remove the tip from the iron by unscrewing it. Be careful not to touch the hot metal while doing this. Then, brush off any excess solder or flux that has accumulated on it. This should be enough to get rid of most of the residue, but if not, use a wet sponge or wire brush to tackle any stubborn spots.
Next, dip the tip in water and swish through it with your fingers until it is completely free of any solder buildup. You can also use a toothbrush to scrub away any remaining particles before reinserting them into your soldering iron. Finally, wipe down the tip with an alcohol-soaked cloth until it is clean and dry!
How often to clean
How often you clean your soldering iron depends on how often you use it. If as a professional jeweler, mechanic, or engineer, you must clean it at least twice a week to get rid of the daily gunk. On the other hand, if your soldering iron is used rarely for DIY projects and simple in-house soldering, you can consider cleaning your soldering iron before each use.
Handle with care
Always use a soldering iron stand when working with the tool. This will help keep the tip of your iron safely away from combustible materials. Make sure your iron is clean before using it on your project — this will help prevent overheating and reduce the risk of injury or damage. Never leave a hot soldering iron unattended while working on projects. Keep your soldering iron away from children and other inexperienced people.
Always unplug the iron from the power source before touching it or removing the tip from its holder. This will prevent accidental contact with other parts of the soldering iron or its tip holder, which could cause an electrical shock. Wear heat-resistant gloves and eye protection (good quality goggles). Rubber work gloves are a good choice because they will protect your hands from both heat and melted solder. Finally, if your soldering iron is faulty or broken, fix or replace it.
Dealing with issues
The most common problem that people encounter when using a soldering iron is clogging with solder. You can remedy this by removing the debris (like rust and iron particles) with a ball of steel wool after every use.
Turn the soldering iron off, and wait for it to cool. Wet the steel wool slightly, and scrub the soldering iron's tip with the steel wool. Don't dispose of the debris by throwing the particles in the trash. Instead, dedicate a trash can for the soldering debris and have the local or community electronic waste company pick the trash up periodically.
Sources and Research