The Best Gas Cooktop for 2023
Sear your way to tasty meals with the finest gas stoves at your disposal.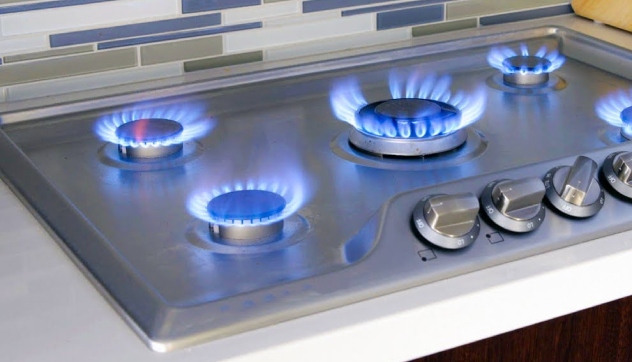 The pleasure of using a gas cooktop is something you already know if your kitchen has hookups for natural gas or propane. Gas cooktops have long been admired for their aesthetic, power, and flame. Although they are not the safest option, many people find their perks beneficial. They have a robust design and are famed for their ability to produce tremendous heat at various controllable levels and realistic flame visuals.
Additionally, a cooktop takes up less room than a kitchen range — that is, a cooktop and an oven built into one unit — but still allows you to sear your way to a tasty meal.
Different gas cooktops have various levels of durability, power, precision, and feature-richness. With so many alternatives available on the market, each claiming to be the best, how can you be sure you're choosing the perfect gas cooktop? Our guide enlists models that excel in terms of cooking power, space, safety, aesthetics, and budget.
Everything We Recommend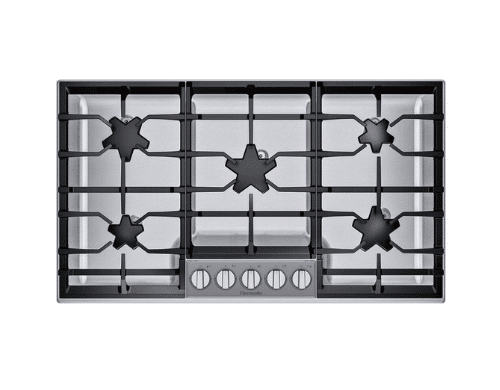 1. Best Product
Thermador Masterpiece Pedestal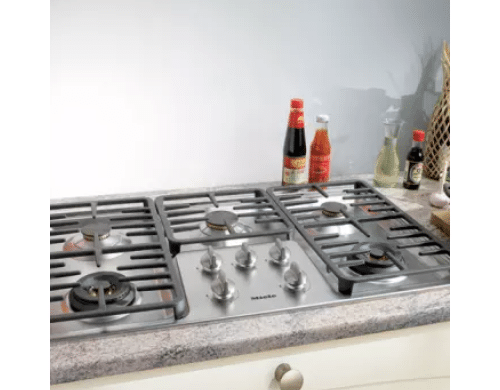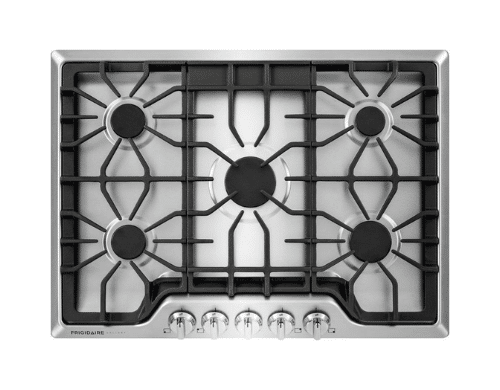 3. Cost Effective
Frigidaire Gallery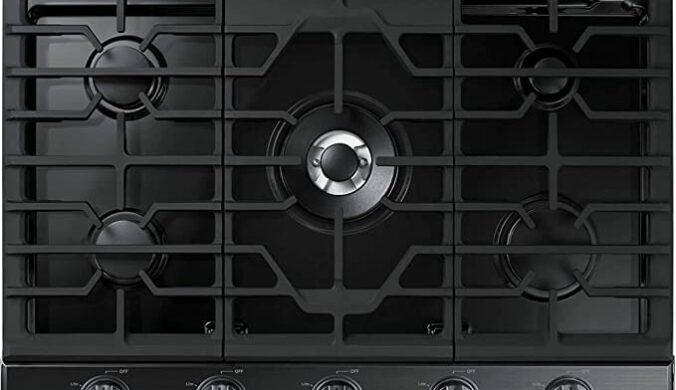 4. Almost Made the Cut
Samsung 30″ Gas Cooktop
Who This Is For
People seeking to upgrade their kitchen experience with burners that heat up faster than regular and various types of cookware should consider a gas cooktop.
What is a gas cooktop?
It's instinctive to cook over an open flame, and it's easy to become enamored with the visual indicators of temperature changes as you move the dial. Gas cooktops are ideal for those who desire extraordinary, precise control over cooking temperatures! Professional chefs frequently choose gas cooktops because they offer precise heat control and instantaneous reactions, as opposed to electric surfaces, which must cool down or heat up before transferring energy to the pot. Despite this, gas cooktops have certain drawbacks; they are much messier and more challenging to clean because of the massive protective grates and the burners that must be cleaned around. They might also be dangerous because an open flame is riskier than a hot surface.
Gas vs. electric cooktop
The source of power is the huge distinction between gas and electricity. As their name suggests, gas stoves are connected to a gas line and operate by lighting combustible fuel to create a blaze. Professional chefs prefer gas cooktops, as they can easily alter the flame intensity, enabling quicker and more accurate temperature control. In contrast, electric cooktops operate by passing a current through the metal coils in the stove, which heat them up, and plug into a unique 220-volt outlet to handle the higher power usage.
Electric cooktops are slower to heat up and cool down than their gas counterparts, making it harder to regulate the temperature.
The most crucial factor in choosing the best alternative may ultimately depend on the kind of power supply in your home. If you currently have a gas line or an electric hookup, switching can be costly. Safety, cost-effectiveness, style, and maintenance are a few subtler considerations that can make the investment worthwhile.
Are gas cooktops energy efficient?
In terms of effectiveness, gas ranges are more energy-efficient than electric ones. Depending on your local utility rates, an electric range uses three times as much energy to produce and transmit the same amount of heat as a gas range, so you can experience significant utility savings.
Why You Should Trust Us
We have published dozens of buying guides in many industries and are knowledgeable about the factors customers and chefs should consider before selecting a new purchase for their culinary endeavors. To compile this piece, we read several customer reviews and conducted extensive research on the best gas cooktops on the market.
How We Picked
Number of cooktops
Some cooktops include as many as six burners, but the majority only have four or five. More burners may also be less desirable on a smaller cooktop because of the constrained space between them, even though five or six may look excellent. It's important to consider how your existing or desired cookware will fit.
Power
Each gas burner's output is measured in BTUs (British Thermal Units). A gas cooktop with a solid selection of burners and an above-average BTU is what you should seek out; a couple of burners that produce more than 12,000 BTUs are ideal. High-end options often have a higher average BTU, while more affordable models include single-power burners and lower-powered options required for simmering sauces and slow cooking.
Easy to Install
Since these dimensions can vary significantly, you should double-check the actual product dimensions and the installation cut-out size for any gas cooktop you're considering buying. The cut-out size will always be smaller than the cooktop's measurements because the cooktop's sides will overlap on the countertop, but you should check the manufacturer's instructions before installation.
Easy-to-clean
Cooktops are used frequently throughout the day, so it's critical to have one that requires little maintenance, as this can save a lot of time and trouble. While many manufacturers boast about how simple their cooktops are to clean, customer reviews are usually more reliable.
Size
All of our gas cooktops listed are 30 or 36 inches, the two most typical standard sizes; however, cooktops can be any size to fit your kitchen and home. A 36-inch cooktop's ability to accommodate a variety of pots and pans on various burners at once is a plus. However, a 30-inch cooktop will be sufficient in smaller kitchens.
Temperature controls (dual-ring burner)
Professional gas cooktops usually have dual-ring burners. It has an adjustable heating output that can be turned up for intense heat or down for delicate heating requirements. The burner will ignite the inner and outer rings when operating at full power. If the burner is only being used for melting or simmering, only the inner ring of the burner will ignite.
Grate style
Although there are different types of gas cooktop grates, the most crucial feature to look for is continuous grates, which cover the cooktop's surface end to end to prevent gaps, tilting, and shifting of pots and pans. You also want elevated grates that are simple to lift for spills.
Safety features
Your gas cooktop will be safer to operate if it has a control lockout and indication lights that let you know when a burner is on. High-end models often have additional features like pilotless ignition, which makes lighting a flame simple, and flame failure protection, which will shut off the gas powering the appliance. Another excellent safety feature is push-to-turn knobs, which prevent you from inadvertently turning on a burner.
Smart features
Gas cooktops have fewer smart features than electric or induction cooktops, but many still provide options that you might want to consider. For instance, some gas stovetops have Wi-Fi-controlled monitoring, so you can turn off burners from your phone. Many Bluetooth-enabled smart gas cooktops can also connect to a smart kitchen hood and turn on the lights or exhaust fan when the burner is turned on.
Price vs. Quality
A 36-inch gas cooktop will often cost more than a 30-inch cooktop. Additional features like a dual-ring burner, smart features, or integrated accessories like a griddle or wok grate could increase the cost of a gas cooktop.
How We Picked
Number of Cooktops

Some cooktops feature four, five, or even six burners. The size of the cookware should be considered, as having more burners on a smaller cooktop may not be practical due to the limited space between them.



Safety Features

Your gas cooktop will be more convenient if it has safety features like push-to-turn knobs, flame failure protection, control lockout, and indicator lights that let you know whether a burner is on.



Temperature Controls

You want a cooktop that has a variety of burner powers. While some cooktops divide their burners into specific functions, others include burners that can handle everything from high to low heat.



Cost-Effectiveness

The cost of a gas cooktop can vary significantly based on its size, number of burners, features, and level of build quality. However, keep in mind that lower prices could mean slightly inferior building materials and poor customer service.


Care and Maintenance
Turn off immediately after use
Even though routine actions like quickly boiling water for drinking are typically safe, leaving your gas stove on for days is dangerous and could cause carbon monoxide poisoning. Leaving a pan or pot on the stove could cause it to heat up and catch fire. In some cases, this fire may spread to other parts of the house and cause serious damage.
Cooktop fire advice
Listed below is some cooking advice that you should adhere to:
Cooking should never be left unattended
Never let a child cook alone without an adult supervising
Avoid letting the flame reach the pot's side
Oven mitts and tea towels should be hung away from the stove
Keep a fire extinguisher and blanket handy in the kitchen
Make sure the smoke alarms are functional
A tested fire escape plan is essential
Never use a stove or oven as a heater
Never use water to put out fat and oil fires
Make sure the flame doesn't go out when using gas; it can silently and
covertly escape.
Schedule regular gas maintenance
Keep in mind that gas stoves, just like furnaces, require routine maintenance to stay in working order and to keep those hazardous combustion gases moving outside of your home! The gas fittings for leaks, the glass trim for correct sealing, and other penetrations are all crucial.
Tracking the carbon monoxide in the exit space and keeping an eye on the operation is crucial to guaranteeing the harmful gas is kept at acceptable levels. If you suspect a gas leak, leave immediately and call 911 or your local gas company. Most likely, they'll stop the gas. If any pipes start to leak later, you might need to contact a licensed local plumber.
Dangers of gas fires
Carbon monoxide is a highly dangerous gas produced by incomplete combustion in a poorly maintained gas fireplace, which results in lingering poisonous gas. Carbon monoxide is produced when natural gas or liquefied petroleum gas is partially burned. This can happen if a gas appliance is improperly installed, repaired, or neglected.
Carbon monoxide is extremely dangerous because you cannot see, taste, or smell it. Furthermore, some of its symptoms can be confused with those of viruses or even a bad hangover. Among the signs of carbon monoxide poisoning are unconsciousness, nausea, dizziness, breathlessness, chest pain, and headaches.