The Best Food Steamer for 2023
A food steamer is an excellent way to preserve the natural flavor and texture of food because it cooks food gently.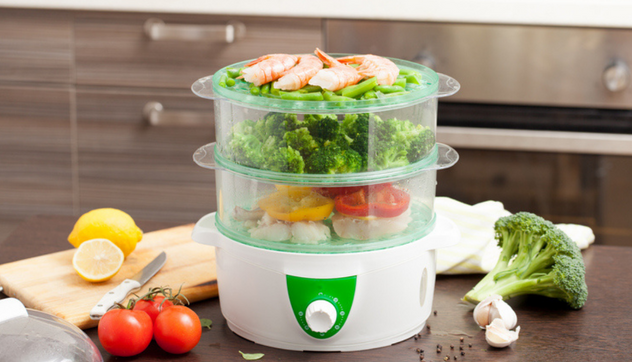 With an excellent food steamer, you can minimize the tedious parts of cooking while maintaining a healthy lifestyle. Every home cook should have a quality steamer on hand, as it is an excellent piece of cookware. In addition to a well-balanced meal with lots of veggies, you can rely on the best food steamer to flawlessly steam cook your food. Plus, you can cook meat, fish, rice, dumplings, or potatoes all at once without adding extra butter or oils, which reduces fat. This means less time spent worrying over the stove and more time to relax. Who wouldn't want that?
Nevertheless, buying a steamer is not a one-size-fits-all decision. There are multi-tiered stainless steel pots, traditional bamboo steamers that sit atop a pot on the stove, and electric steamers. These culinary tools come in every shape, size, price, and material, and we're here to help you make the best culinary decision for your needs.
Everything We Recommend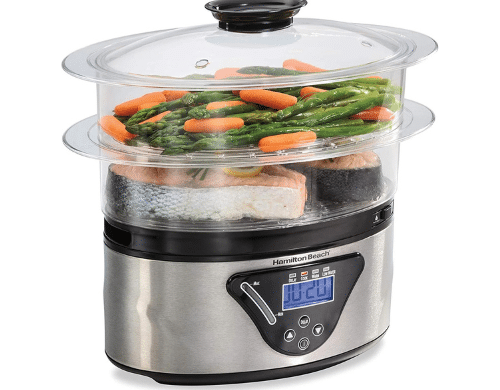 1. Best Product
Hamilton Beach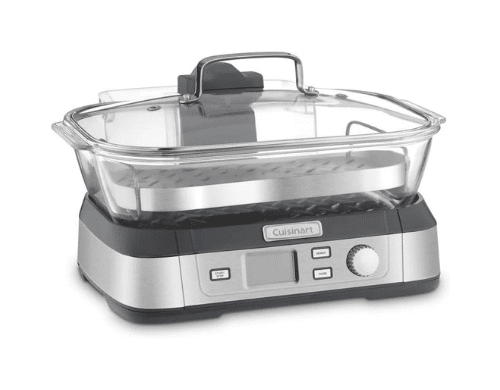 2. Runner Up
Cuisinart STM-1000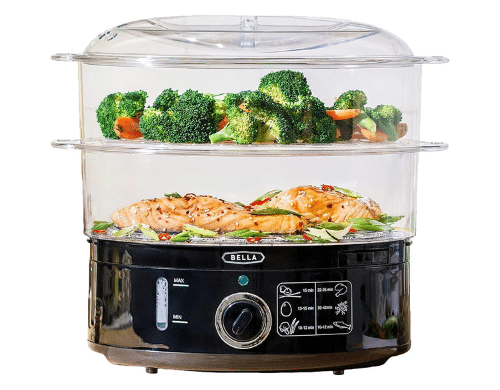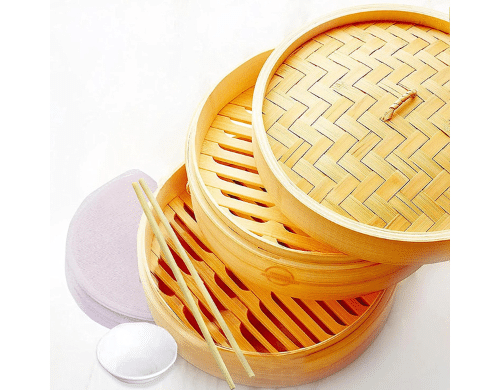 4. Almost Made the Cut
Mister Kitchenware Handmade Bamboo Steamer
Who This Is For
The products advertised here are for healthy eaters who want convenient and time-saving cooking while not compromising on the quality of their food in terms of flavor, shape, color, texture, and nutrients.
What food can you steam?
Vegetables, chicken, and seafood are just a few of the many meals that can be steamed. Put meals on a bed of greens, scallions, herbs, or lemon slices to enhance the taste. Shellfish like mussels and clams as well as leafy greens like spinach or mustard greens are good choices for steaming.
As a result, despite the apparent benefits of steaming, some vegetables are better off eaten raw rather than steamed. Kale, broccoli, cauliflower, carrots, brussels sprouts, and bell peppers are a few of these. Additionally, it is not advisable to steam big chunks of hard vegetables like potatoes, squash, or celeriac.
Is steaming food healthier?
One aspect of eating healthily is making the appropriate meal choices, but preparation also matters. According to research, some cooking techniques may alter the nutritional composition of our food in ways that could be harmful to our health. For instance, studies have revealed a connection between consuming large quantities of meat cooked at high temperatures and a higher risk of colorectal and pancreatic cancer. However, because they are done at lower temperatures, moist-heat cooking techniques like boiling and steaming are the healthiest ones to utilize when preparing meats and produce. And because they frequently don't call for oil or butter, these types are fantastic for calorie control if you're managing your weight.
In terms of retaining nutrients like carotenoids and phytochemicals while preparing vegetables, steaming beats boiling. Water-soluble vitamins B and C, for example, can leak out into the water when food is boiled, but they are retained in via steam cooking.
How does steaming food work?
Cooking via steaming calls for moist heat. Steam is produced when boiling water vaporizes, generating heat. Food is heated and cooked by steam. Contrary to boiling, the food is not in contact with the water during steaming; only the steam is in direct contact with the food. The steaming process starts when the water reaches approximately 100°F. The highest temperature at which food may be cooked is 212°F, which is also the temperature at which water boils.
Why You Should Trust Us
We have published dozens of buying guides in many industries and are knowledgeable about the factors customers and chefs should consider before selecting a new purchase for their culinary endeavors. To write this piece, we reviewed many customer reviews and did a ton of research on the top food steamers on the market.
How We Picked
Capacity
While bigger food steamers may supply up to 8 quarts or more, spread out across multiple tiers, some small food steamers, have a capacity as small as 2 cups. Since they do not need to fit inside a pot or pan, electric food steamers typically give more space for cooking, but many stovetop models have a cooking capacity of at least two quarts.
Water Levels
To ensure that you have filled an electric steamer entirely, look for models that have a water gauge that is clearly visible on the outside. Electric steamers don't usually run out of water, and many of them will beep if they do, allowing you to top them off while they're still on. Some steam cookers have an external inlet, allowing you to top off the water while cooking without removing the cooking vessels and risking the danger of getting burned.
Electric vs. Stovetop
Electric steamers typically cost more and require more counter space. But they're also simpler to use and maintain. Stovetop steamers require an additional pot or pan to steam your food, which makes them less practical even if they are less expensive and easier to store.
Quality of Steam Cooked Food
Since steaming avoids food coming in direct contact with water, the quality of food made from steamers is generally top-tier as they retain flavor, shape, texture, and nutrients.
Noise
Your appliance might suddenly start beeping incessantly which is a cause for concern. More often than not, your steamer is trying to tell you to check your water levels or give it a good cleaning.
Timer
The majority of electric steamers have a timer you can use to set the cooking duration. Pick one that is simple for you to use. Some advanced steamers include extra features like a timer or automatic shutoff to indicate that the food is ready which is a practical feature.
Max Temperature
While the safest temperature steamers should operate at is 212°, some brands accommodate up to 240°F for flexibility so it's up to you to choose your comfort zone.
Extra Features
The simplest food steamers will only have chambers for food and water but advanced models have these in addition to features like timers, alerts, and dehydrating functions. So it's important to think about whether your steamer has any additional functionality or clever design features.
Price vs Quality
We looked for models with good value for the money, solid construction, and practical features that make using and maintaining steamers simple.
How We Picked
Size and Capacity

We understand that each family's capacity varies, so we included steamers of varying sizes.

Quality of Steam Cooked Food

Our picks require no extra fats or oils to accommodate users who are on a healthy diet.

Speed, Power, and Timers

Our favorites all have digital controls, so you can customize the heat and intensity of the cooking process to suit your preferences.

Cost-Effectiveness

We are aware that not everyone has so much money to splurge on supporting cookware, so we included steamers within a wide budget range.
Care and Maintenance
Always ensure food is well cooked before eating
Depending on its thickness, meat and fish might take anywhere from three to more than ten minutes to steam cook. Keep an eye on the fish for doneness and use a thermometer to check that it has reached a safe temperature for ingestion. Fish cooks more quickly than meat and changes from translucent to opaque when it is done.
Be careful when handling steamed food
Cleaning, separating, cooking, and chilling are four easy actions you can take at home to safe-handle your food.
Before, during, and after preparing meals, wash your hands for at least 20 seconds with soap and warm or cold water.
If not kept separate, raw meat, poultry, shellfish, and eggs can contaminate ready-to-eat meals.
When a food's internal temperature reaches a level that kills contagious bacteria, it has successfully been cooked.
If left at room temperature or in the "Danger Zone" between 40°F and 140°F, bacteria can grow quickly. Keep your freezer at 0°F or lower and your refrigerator at 40°F, and be aware of when to discard food before it goes bad.
The danger of steam burns
Burns caused by heat are called thermal burns. When steam contacts body tissues, it can scald almost immediately. Steam can cause worse burns than hot water as steam transforms back into liquid when it comes into contact with your skin. Energy is released as a result. That energy, along with the heat itself, contributes to how bad the burn is. Transport the patient to a burn center if necessary if the burn cannot be treated.
Cleaning your steamer
Electric steamers are one of several kitchen appliances that require a lot of effort to clean. The best electric steam cookers prioritize cleaning after use in addition to precisely steaming meals. For easier cleaning, look for a model with dishwasher-safe parts and lids in addition to a removable drip tray.