The Best Needle-Nose Pliers for 2023
We are reviewing the best needle-nose pliers for grasping and cutting in tight spots.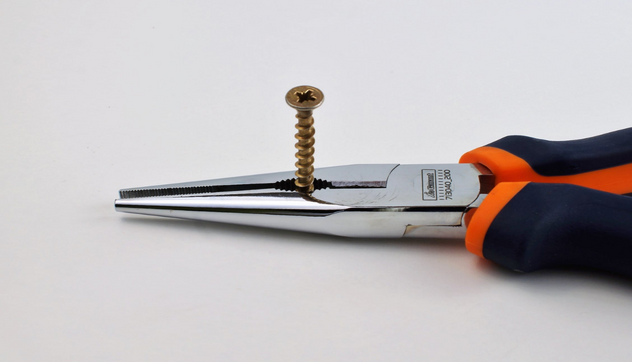 Needle-nose pliers are known to have narrow, tapering jaws with pointed tips. Although they are less effective at tenacious gripping and pulling, their extended design makes them more useful in a number of situations, including reaching hard-to-reach places, catching and holding tiny workpieces, and working with small gauge wire work. Long, pointed needle-nose pliers may fit into cracks in car engines or the backs of electrical outlet boxes because of their long, sharp jaws. They can also assist users in grasping small things at odd angles. When faced with small, precise jobs, these spiky gripping tools are a go-to. If you plan to use your pliers in confined or challenging spaces, this review will give you a proper rundown of what you should look for.
Everything We Recommend

1. Best Product
KNIPEX Tools – Extra Long Needle Nose Pliers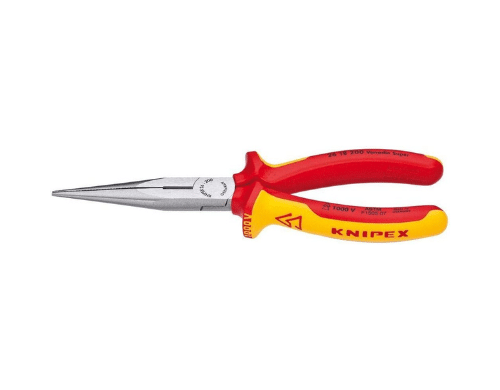 2. Runner Up
KNIPEX Tools – Long Nose Pliers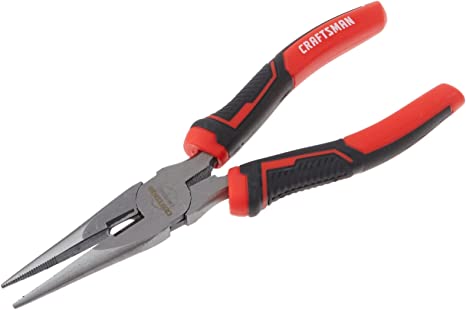 3. Cost Effective
CRAFTSMAN CMHT81645 Long Nose Pliers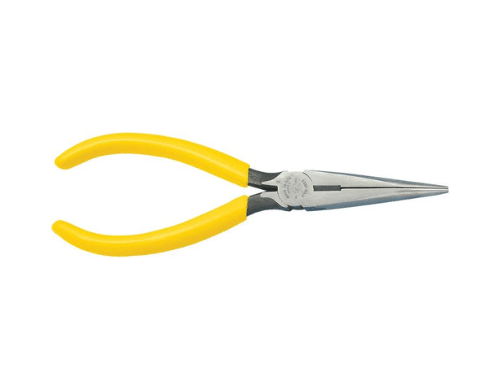 4. Almost Made the Cut
Klein Tools D203-7 Needle Nose Pliers
Who This Is For
Long-nose pliers are a common instrument that both professionals and homeowners can use. These pliers may come in handy when precision is needed in confined locations, even if you are not an electrician.
What are needle-nose pliers?
A needle-nose plier is a unique type of plier with a long, pointed nose for working in tight and deep places. They have long, tapered jaws and the appearance of a classic combination plier. Long-nose pliers are another name for needle-nose pliers because of their long jaws.
Are needle-nose pliers different from long-nose pliers?
Long-nose pliers and needle-nose pliers both belong to the same family, but needle-nose pliers have more angular and smaller jaws. In actuality, the only distinctions between needle-noses and long-nose pliers are the pointedness of the jaws and the compact form aspect.
Needle-nose pliers are less powerful than long-nose pliers because of the smaller contour of their jaws. They can bend or break relatively quickly when subjected to a great deal of twisting or bending power. As a result, needle-nose pliers are appropriate for delicate tasks like gripping tiny electronic screws or doing jewelry and artwork. In a nutshell, all pliers with long tapered jaws are types of long-nose pliers. Needle-nose pliers are the version with the narrowest pointed jaws.
Why You Should Trust Us
We've been using hand tools for almost 10 years. In addition, we have written on and reviewed hundreds of tools over the years. You can also count on us because needle-nose pliers have long been a staple in our toolbox.
How We Picked
We put each set of needle-nose pliers through tests for comfort, durability, handle material, thickness, and other important factors.
Durability
The material from which the pliers are made has the biggest impact on how long they will last. As you may anticipate, stronger materials cost more in general. The easiest method to guarantee consistent performance when you need it is to choose pliers constructed of high-quality components and materials. To ensure longevity, we strictly selected pliers made of the best materials.
Handle Material
The handles of needle-nose pliers should be made of high-quality, non-slip material to ensure a firm grip while operating. The majority of the pliers we chose for you have rubber handles since this material gives a firm grip and does not allow current to pass through it, protecting you from electric shock.
Comfort
Comfort is crucial, especially if you plan to use the needle-nose pliers frequently. We took care to prioritize comfort when choosing the items on our list. All of the pliers we selected have curved handles that support the hand from the front and the back. When exerting strong forces, this is advantageous. The multi-component sleeves on these pliers make them easier on the hands. The contact area between the handles and the hand is doubled by this ergonomic design. This greatly lowers the chance of developing blisters or pressure points and is quite comfortable for the hand.
Size+Weight
We can conclude that total size doesn't necessarily indicate quality, but it can add to the convenience. Sizes of needle-nose pliers range from four inches to up to a foot. We concentrated on testing devices in the 8- to 8.5-inch range because it is the size that tradespeople like (smaller pliers are too delicate, and larger ones are specialty tools). The 8-inch variants often feature shorter handles and a significantly narrower nose. This typically results in a longer reach and marginally better mobility in constrained spaces. The chosen use will determine the optimal needle-nose plier's length. Additionally, the weight of a typical needle-nose plier is about 0.37 pounds.
Thickness
The thickness of the pliers is important to ensure that they don't bend when in use. The 8.5-inch variants are far more durable; the thicker jaws can hold firmly and won't bend while being twisted and torqued (for example, if you need to grab a thick wire and twist it out of an outlet box or if you're trying to loosen a bolt that can only be reached at arm's length).
Tapered to a Point
Although the general design of each pair of pliers is the same, there are some subtle but important variations. Some are noticeably tapered, whereas others are wider, for instance. These two designs each have their advantages. The choices that are more tapered are preferable for working in confined spaces and gripping small objects. The bigger ones, on the other hand, are typically more powerful and may be slightly more accurate. When the sides are wider, it is simpler to bring the jaws together.
Serration Edges
The side of some pliers has serrated edges. Professionals who intend to cut wires can most often benefit from using these. Since the majority of homeowners do not require this function, it can be disregarded when buying. If it is a must for you, however, look for a pair of pliers that have it. Otherwise, you can obtain something deficient in what you require.
How We Picked
Durability

The jaws of needle-nose pliers provide users with improved gripping power, and they are made of forged alloy steel for optimum durability, making them ideal for even the most demanding job sites. It has ergonomic grips with an anti-pinch design that allows for a convenient and simple one-handed control release.

Handle Material - Comfort and Grip

Steel needle-nose pliers include easy-to-grasp grip handles that are insulated with a plastic or rubber coating. It is important to hold needle-nose pliers firmly while exerting moderate pressure. They should not be used on live electrical wires since they need to be stronger to cut huge, tough cables.

Style/Design

They are made to fit into the smallest, most confined locations that are impossible to access otherwise. For cutting cables and other electrical work, some models incorporate a cutting tool at the tip.

Cost-Effectiveness

Prices vary when it comes to hand tools. What a DIYer may consider exorbitant may be "cheap" to a tradesperson. However, most high-quality equipment necessitates a financial investment. There are options for needle-nose pliers that range in price from a few dollars to hundreds of dollars.
Care and Maintenance
How to use needle nose pliers
Place the needle nose pliers' open jaw over the spot you want to grip.
Tighten the grip on the handle until the pliers are locked in place.
To manipulate or open the wire, use the chain nose or round nose on the opposite hand.
Close after securing your component.
To remove, release your hold on the flat-nose pliers.
Do I need to sharpen my pliers?
If necessary, they may be easily sharpened. Many individuals advise against purchasing an expensive pair of cutters because they will ultimately get dull, and instead advise buying new cutters altogether. However, you'll need to purchase a fine hand file if you plan to keep your cutters from becoming blunt after prolonged use.
Cleaning pliers
Cleaning pliers is simple. Fill a bucket halfway with boiling water, add enough dish soap to make a lather, and soak your dirty pliers in the cleaning solution for five minutes. After soaking, use a towel to scrub the pliers until they are completely clean, paying special attention to the rubber handles, which tend to hold grease and stains. Then, using a toothbrush, clean the nooks and crannies around the joint as well as the serrations on the jaw. When you're finished, rinse the equipment in clean water to remove the soap. Give the instruments a thorough wipe-down with a different towel to dry them. To completely remove the moisture from the joints, you might also slightly heat them. If you don't thoroughly dry them, the moisture left behind may result in rust, which damages your tools.
Wearing safety glasses
Wear safety glasses, goggles, or a face shield with safety glasses or goggles when there is a risk of flying debris, wires, etc. Make a right-angle cut and never rock the cutting tool from side to side or bend the wire back and forth against the cutting edges.