The Best Adjustable Pliers for 2022
Hold, grip, bend, cut, and screw with the best adjustable pliers on the market!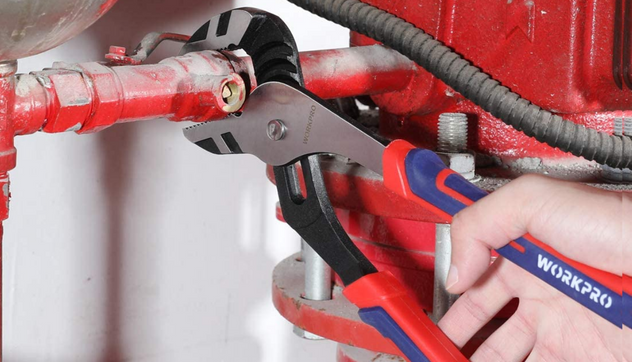 A pair of pliers to a handyperson is what medicine is to a doctor — you can't have one without the other. Pliers are a must-have weapon in any handyman's arsenal, and with the best ones, you can do various tasks, such as cutting wire, loosening tight screws, and even getting to those hard-to-reach spots.
The great ones make it look easy by having features that make jobs quick and stress-free. One of those important nice-to-have features is adjustability. Modern pliers are now made with mechanisms that allow you to easily adjust their size and grip capabilities.
We have taken it upon ourselves to research, test, and suggest the best adjustable pliers on the market to make your choices simpler and your handiwork more enjoyable.
How We Picked
Push Button Adjustment

Adjustability is the game, and push-button adjustment is the name. Our selected products are super easy to adjust thanks to stress-free, straightforward mechanisms.


Size + Weight

Pliers are just one of the many tools you can find in a handyman's toolbox. With all the other things you have to carry around, this tool should be lightweight and easily portable.


Ergonomic Handles

Doing any form of hand work is hard enough. The least we can do is suggest products that make your job more enjoyable. With ergonomic handles, you are guaranteed a comfortable and supportive user experience.


Price

Get the job done and keep some change in your pockets. Our valuable picks are cost-effective and provide incredible resourcefulness within their individual price ranges.

Our Top Picks
Best Pick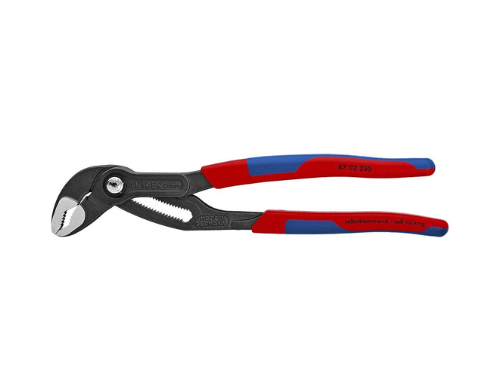 One premium tool that does the job of ten groove-joint pliers put together.
Forged with oil-hardened chrome vanadium, these pliers are durable, resourceful, and take ease of use to the next level.

These water pump (groove-joint) pliers are by far the most convenient pick on our list. With push-button adjustability and comfortable ergonomic handles, it's no surprise why this tool made it to the top of our list. Granted, these pliers cost more than half the amount of our subsequent sets, but when it comes to value for money, it doesn't get any better than the Knipex Cobra Water Pump Pliers.
Runner Up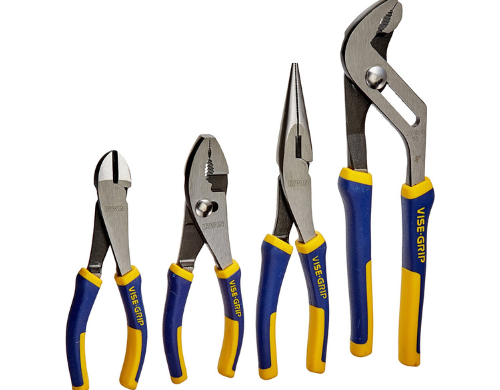 They feature a single button adjustment and a selection of four practical pliers.
When it comes to comfort and ease of use, hardly any other pliers on the market can beat the Irwin Vise-Grip GrooveLock Pliers.
This tool features a quick adjustment mechanism in the form of a single button. That means you can easily adjust the jaws of these pliers while you work, which is particularly useful when working in hard-to-reach spots. You also get a multi-groove ratcheting system and a self-lock feature. To top it off, you can decide to purchase the Groove Lock pliers alone, or in this resourceful set of four, which includes diagonal cutters, slip-joint pliers, needle-nose pliers, and the trusty adjustable groove-joint pliers.
Most Cost-Effective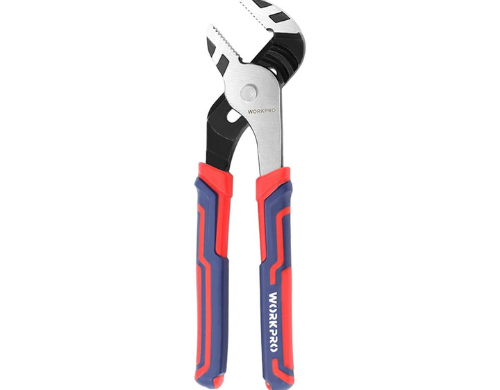 Durable, resourceful, and adjustable, all at a pocket-friendly price.
You get beautiful bi-material anti-slip handles for more comfortable use and up to seven adjustable positions for better turning, clamping, cutting, and gripping.

If you want to have a wide variety of tools to choose from, you need effective yet affordable options. One such option is these adjustable groove joint pliers from Workpro. Its two-inch jaws are heat-treated with up to seven adjustable positions to choose from and are coated in chrome vanadium steel to prevent future rusting. They are supported by alloy steel and anti-slip handles that are incredibly ergonomic. With this pick, you are getting the best of the best when it comes to pliers at the most affordable price tag you can imagine.
Everything We Recommend
Best Pick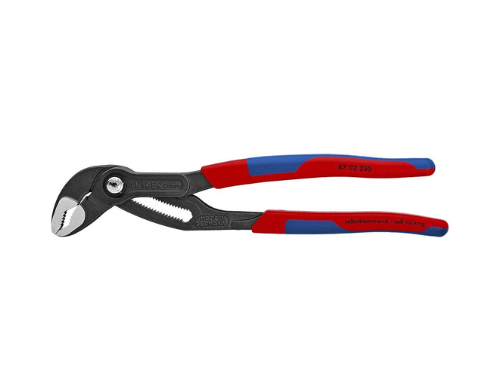 One premium tool that does the job of ten groove-joint pliers put together.
$42.38
Runner Up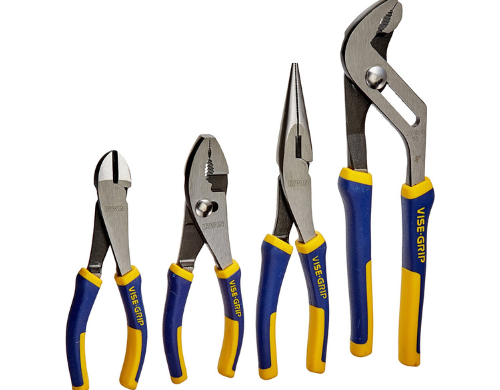 They feature a single button adjustment and a selection of four practical pliers.
$37.90
Most Cost-Effective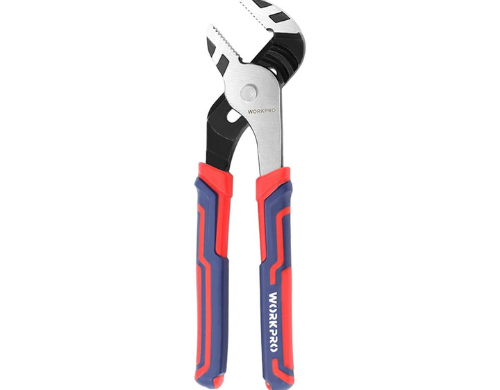 Durable, resourceful, and adjustable, all at a pocket-friendly price.
$11.03
Who This Is For
If you consider yourself a star handyman and a master of working with pliers, these products are guaranteed to make your job a whole lot easier. Adjustable pliers are a modern, stress-free upgrade solution to regular pliers. These products provide easy, straightforward mechanisms for adjusting their jaws to a wide range of positions without affecting the distance between the handles. This innovative concept makes all tasks requiring a plier, such as clamping, tightening, and screwing, much simpler to handle and maneuver.
Vjaw vs. straight jaw vs. smooth jaw
When it comes to adjustable pliers, you are likely to see one of these three popular jaw designs — Vjaw, Straight Jaw, or Smooth Jaw. Knowing the difference between each is just as important as knowing what kind of pencil to buy. Each jaw type is uniquely crafted to handle different kinds of tasks. Vjaws are the most versatile of the three. These pliers have a V-cut on both upper and lower jaws that allow them to securely grab onto a variety of screw heads and surfaces — flat, hex, and round shapes. Straight jaws are parallel to each other and have serrated teeth for easy work on flat or hex materials. However, you may struggle when it comes to round objects. The last jaw type — smooth — also runs parallel to each other but has no teeth. This limits their use too delicate surfaces that are more likely to be dented by a plier's teeth, such as PVC, or finishings like chrome.
Is it worth splurging on?
In our humble opinion, the price of comfort can hardly ever be considered a "splurge" as long as it can be afforded. Pliers are not just daily products that are purchased by anyone. They require a certain level of interest, experience, and craftsmanship in order to be properly used. Therefore, if you're some sort of a handyman, mechanic, plumber, or any other kind of manual artisan, a pair of pliers is a must-have necessity in your toolbox. Why have regular pliers when you can spend a few more dollars to get an upgraded, comfortable, adjustable, and stress-free plier? We assure you, if you decide to go for any of our suggested products in this article, your hands will never stop thanking you, and your job will be all the easier because of it.
Why You Should Trust Us
We understand the stress, time, energy, dedication, and expertise that go into any form of manual labor. These jobs are hard enough as it is and require individuals with the greatest willpower to handle them. That is why we have taken it upon ourselves to discover ways that alleviate this stress, at least as much as we can. We have researched and tested the top adjustable pliers on the market to select and suggest only the best options that are guaranteed to make your job easier.
How We Picked
Here are some of the important things we considered when making our well-informed list of the best adjustable pliers on the market.
Push button adjustment
One of the easiest and most modern ways pliers can be adjusted is through innovative push-button mechanisms. What this allows you to do is push a button located around the intersection of both the pliers' handles in order to slide the handles up and down to increase or decrease jaw openings. Hence, you get a more precise adjustment that can even be easily made while working on nuts or bolts. In this way, there is no need to constantly readjust handles as sizes can be zeroed in quickly and more accurately. This also allows you to have a wider range of size selections than the typically adjustable pliers.
Ergonomic handles
Pliers come in different kinds of handle finishings. Due to their poor handle construction, older pliers are likely to have a "pinchy" effect on the palms when being worked with. They are most often simply metal bars that are covered with thin layers of plastic, leaving you with bruised or blistered hands. Thanks to modern innovations, pliers now come with extra padded finishes that are anti-slip, making them more comfortable to use and suitable for tasks that require a lot of hand strength exertion.
Size + weight
Adjustable pliers also come in different sizes and lengths, from seven-inch to up to 12 inches. In any case, the longer your plier, the wider your grip area within the jaws, but also the heavier and bulkier it is. 10-inch pliers are the middle ground of pliers because they offer a grip area of approximately five inches and a jaw capacity of about two inches, making them suitable for bolts and larger pipes alike, but not too bulky to fit in your toolbox. If you're dealing with a smaller eight-inch plier, you have to sacrifice leverage and functionality, while if you're dealing with a larger 12-inch plier, you're left with longer handles that may be tough to get into tight spaces. The sweet spot is finding a pair of pliers that give you enough room to handle most tasks but are made with lightweight materials so that they aren't a chore to carry around.
Durability and price
Our selected options are made with the most durable materials on the market. In general, the best pliers are crafted with a premium stainless steel alloy, with upgraded pliers throwing on additional wear-and-tear finishings like oil-hardened chrome vanadium to prevent future rusting and damage. We have found the most durable pliers on the market, guaranteed to provide the best value for money there is within their price ranges.
Ease of use
When all is said and done, the goal of this article is to find you the easiest pliers to use, regardless of their manufacturer, features, or price tag. Adjustable pliers are the easiest kinds of pliers to use, but as we have established, it's way more than that. The products on this list have all the necessary features and qualities to give you a pleasant user experience and an easier work lifestyle.
Care and Maintenance
As with most tools, maintaining a pair of pliers is not tedious if you have the right methods. Although they do not require routine cleaning, thoroughly cleaning them at least once a month goes a long way to preserving their lifespans. Here are a few steps you can take to that effect.
Make a cleaning solution of hot water and dish soap in a bowl or bath of your choice.
Place your pliers in the solution and allow them to sit for at least five minutes.
Use an old toothbrush to clean serrations and crevices to go over the jaws.
Use a rag to wipe down handles to rid them of stains, excess sweat, and grease.
Rinse them in clean, fresh water to remove soap.
Wipe down thoroughly with a dry towel to remove excess water. Ensure your pliers are fully dry before storing them away in your toolbox.
Over time, pliers may get rusty, and it's important to treat this as soon as it is spotted to avoid future damage. You may use home remedies like vinegar, lemon, or salt or professional anti-rust solutions like WD40 or Boeshield T9 sprays to do this.
To use vinegar, pour the distilled white vinegar into a bowl or cup of your choice and submerge your pliers in this solution for at least 24 hours.
Open and close joints frequently in this soak to expel gunk around the joints.
Rinse your pliers with clean water and dry them with a rag.
Apply a thin coat of rust-protection oil like a machine or linseed oil to all metal parts of your pliers to protect them from future rusting. Don't forget to wipe off excess oil from handles and joints.
If you're using an anti-rust spray, follow the steps below:
Spray generously on the jaws and joints of your pliers to cover all metal surfaces susceptible to rust.
Open and close handles repetitively so that the oil from the spray penetrates properly.
Let your pliers sit for about fifteen minutes to allow the anti-rust spray fully work.
Use a rag to wipe the gunk off your pliers and follow up with a toothbrush along the jaws and joints.
If there is still some rust, repeat the steps until your pliers look as good as new.
Wipe your pliers clean and apply a thin coat of machine oil to prevent future corrosion.
When using your pliers, always remember that safety comes first. Therefore, ensure that you use these tools with the right protective gear, like gloves and that they are properly kept away in your toolbox — out of the reach of children or pets — when not in use.