The Best Toilet Plunger for 2023
Make fixing a clogged toilet or drain easy and mess-free with one of the most dependable toilet plungers available on the market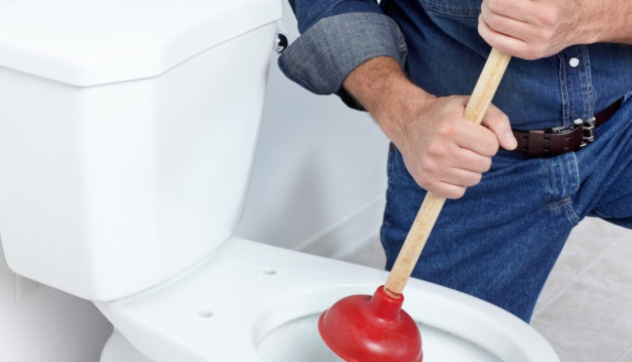 There are many household tools that we use and appreciate daily. However, there are others we don't give the recognition and praise they rightly deserve. The toilet plunger is a clear example of an underrated household tool.
Clogged drains and toilets are both common issues in our homes. They may not occur frequently, but when they do, the results can be disastrous. Thankfully, dealing with clogged toilets or sinks doesn't always require a handyperson. With a good toilet plunger, you can efficiently deal with clogs when they occur.
But, like with every other household tool, many different toilet plunger options are available, which might make it hard for you to choose one from the lot. This is why we have compiled this list of the most reliable plungers for you.
How We Picked
Strength of Suction

The suction strength depends on how fast and easy it will be to unclog a blocked toilet. The best toilet plunger should be powerful enough to finish the job quickly.

Material and Durability

To work efficiently, the best toilet plungers are made from durable materials that boost the results during use.

Easy Grip

A plunger with a comfortable grip is preferred to ensure you can easily use the plunger without experiencing discomfort.

Cost-Effectiveness

Plungers shouldn't cost much. We reviewed plungers that work effectively and are affordable.
Our Top Picks
Our Top Pick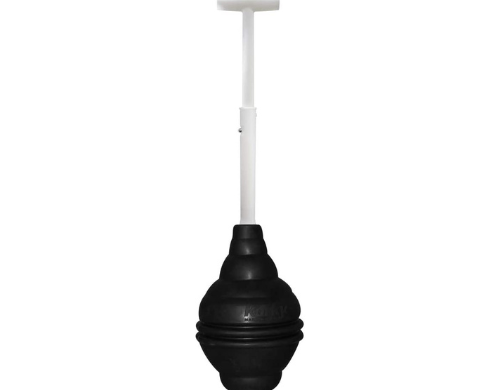 This plunger is perfect for old and modern toilet bowls
This plunger gives a perfect and secure fit on all toilet bowl types. The lower portion of the cup of this plunger has a thin wall that makes it soft and pliable to conform to any bowl shape. Furthermore, it has a unique T-shaped handle. This handle is very comfortable because it is easy to grip and use. The sturdy and compact handle is also adjustable, so you can adjust the length to suit you.
It is designed with a unique shape to fit any type of toilet bowl.
Our Runner-Up
A full cleaning kit that includes six authentic disposable refills, a storage caddy, and a toilet wand
This plunger has layered flanges that are responsible for its heavy-duty suction. The NEIKO toilet plunger's cup has four steps, each of different diameters. This creates the tightest seal of all our picks. In addition, it has an all-angle design that lets you quickly reach all corners of a toilet bowl. It has a standard-style metal handle that is resistant to mold and rust. The smooth edge and bottom, with no interior ridges, prevent residue buildup.
A flange plunger that provides suction from all angles and a tight seal.
Most Cost-Effective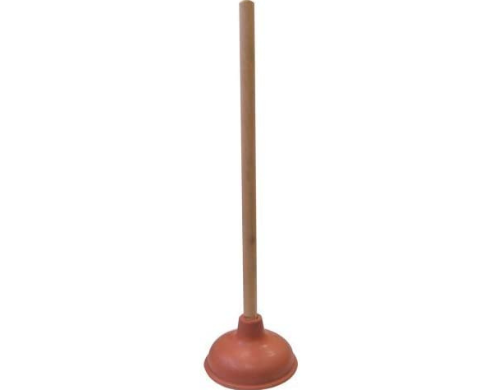 A simple, classic plunger with tremendous suction power
Supply Guru's Heavy Duty toilet plunger is a traditional cup plunger. It features a long, sturdy wooden handle that makes it easy to use. Not to mention its flat rubber cup that creates an above-average seal. It's not the most beautiful or sophisticated plunger out there. Still, it has every essential feature to tackle a clogged toilet. It is best for flat drains.
This classic plunger packs a lot of suction.
Everything We Recommend
Our Top Pick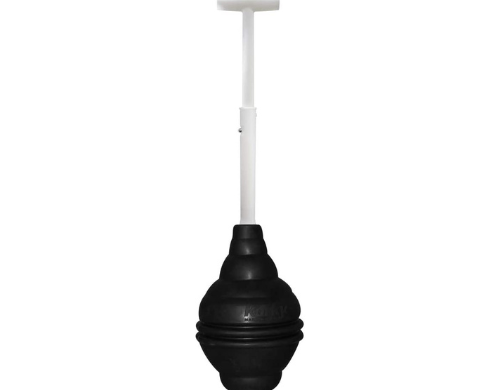 This plunger is perfect for old and modern toilet bowls
$19.98
Our Runner-Up
A full cleaning kit that includes six authentic disposable refills, a storage caddy, and a toilet wand
$17.54
Most Cost-Effective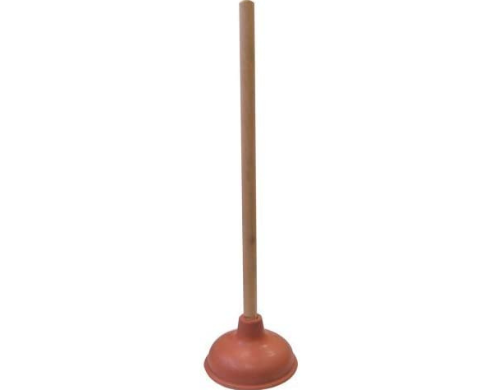 A simple, classic plunger with tremendous suction power
$7.80
Who This Is For
Toilet plungers are a must-have for every home. You may only appreciate its importance once you need to use one. A good toilet plunger helps you deal with a toilet clog emergency as soon as it comes up. In addition, it saves you the cost of hiring a plumber to unclog your toilet for you.
Toilet plungers are also excellent tools for plumbers and people in charge of maintaining facilities in an apartment, flat, office, etc.
Toilet plunger vs. drain plunger
"Drain" is a universal term. Your toilets, sinks, bathtubs, bathrooms, and whatnot all have drains. Therefore, a drain plunger would work for all the facilities mentioned above. A toilet plunger, on the other hand, is a unique toilet. A toilet plunger features designs that make it strong and easy to use for toilets. Depending on what suits you, you can choose a One-for-all (drain) plunger or a specific toilet plunger.
Different types of plungers
There are five types of toilet plungers. Each of them has unique features. Knowing the different toilet plunger types will help you make the right choice.
The traditional cup plunger
This is simply a suction cup that connects to a stick. They are widely available and budget-friendly. However, they don't always create the perfect seal on most toilets.
The beehive plunger
It has a wide shape and a flange (a projecting edge). They're great for most toilets but not very suitable for small ones.
The bellow plunger
This plunger has a collapsible and expandable drainage pipe. They are also popularly known as "accordion plungers." They are powerful and well-suited for toilets. However, they may be hard to use.
The flange plunger
It is similar to the traditional cup plunger, differing only by an included rubber flap. The rubber flap ensures the cup can form a seal on the curve. It's the best toilet plunger, although the flap can quickly get dirty.
The taze plunger
This plumber's favorite has a steep curve. The steep curve helps to clean long pipes quickly. This makes it the best toilet plungers for plumbers that want to unclog toilets and sewer pipes. It is not readily available because it is not intended for regular, domestic use.
Why You Should Trust Us
We researched multiple plumbing sites to understand the features the best toilet plunger should have. Armed with knowledge from professionals, we surveyed the multiple toilet plunger options available. We picked high-quality plungers that scored high marks in critical factors such as suction strength, ease of use, affordability, and manufacturing material quality.
How We Picked
To ensure that we picked only the best, we considered some critical factors in our evaluation — the power of the toilet plunger, for example. We chose plungers with powerful suction so that you can unclog the toilet in a short time. We also considered the materials used to make these plungers. We picked plungers made from durable and quality materials, favoring metal handles because they are more hygienic and durable than wooden ones.
We ensured that the handles of our choices were long enough to make the task easier, and they sported rubber heads that could work with most toilet types. In addition, we confirmed that our picks are as easy to use as they are powerful. We focused on the style and design of these plungers because they can directly affect the plunger's efficiency.
Finally, we picked the best toilet plungers that are worth the money you spend on them.
Care and Maintenance
The best way to care for and maintain your toilet plunger properly is by using it correctly. Here's how.
Firstly, put on your rubber gloves. Clearing a clogged toilet is unsanitary and filthy splash-backs may occur.
Your toilet should have enough water to cover the rim of the plunger head. Add water to your toilet bowl if it doesn't.
Angling your plunger optimizes the unclogging. You should flex your plunger over the drain. That allows it to fill the cup with water and seal it tightly around the drain.
You have to ensure the seal around the drain remains tight. You know it's loose if you see bubbles from the plunger cup rather than down the toilet. If it's loose, you have to readjust the plunger.
Now it's time for you to plunge. Pull the handle firmly for twenty seconds. Don't use one long pull, as that may dislodge the seal. Instead, use firm motions. This will clear the clog completely.
A toilet plunger does a dirty job and would require cleaning. Here's how to clean your plunger.
Pour three caps of bleach into your toilet. You can also use 5% apple cider vinegar if you prefer.
Soak and swirl the plunger vigorously in the toilet water.
Flush the toilet with fresh water.
Soak the plunger into the toilet again and swirl.
Remove the plunger and let it dry.
You must remember to wash your hands after plunging and cleaning the plunger, even if you wore gloves. Toilets only sometimes get clogged to the point of using a plunger. Usually, you can clear toilet clogs with other more straightforward and less demanding methods. However, you must use a toilet plunger when all other approaches prove wrong. This is because it shows that the clog is a serious one.