The Best Drill Bit Set for 2023
The best drill bit set will ensure and enable quick and simple drilling for both professionals and DIY enthusiasts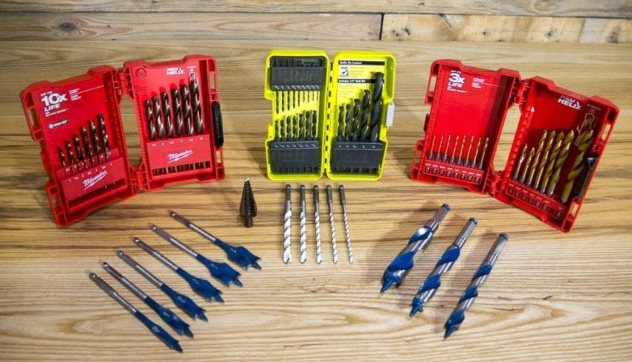 Not everyone appreciates the satisfaction of a perfectly drilled hole or the gleaming luster of a brand-new tool set, but those who do get it. Whether you are a home handyman or a professional contractor, you need one of these drill bit sets in your toolbox.
Drill bits come in a variety of sizes and materials, making them suitable for drilling a wide range of materials. Whatever surface you're working on, there's a drill bit for it.
So, whether you're looking for your next drill set or a gift for a special handyman in your life, our detailed, easy-to-understand reviews will provide excellent clarity.
Everything We Recommend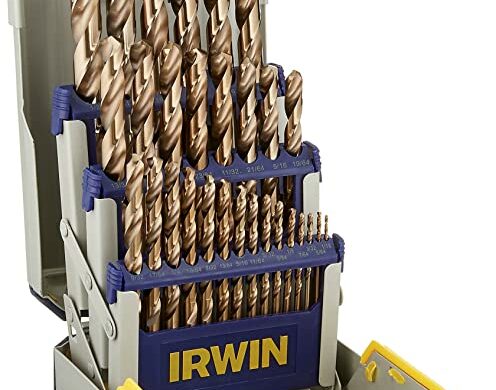 1. Best Product
IRWIN Drill Bit Set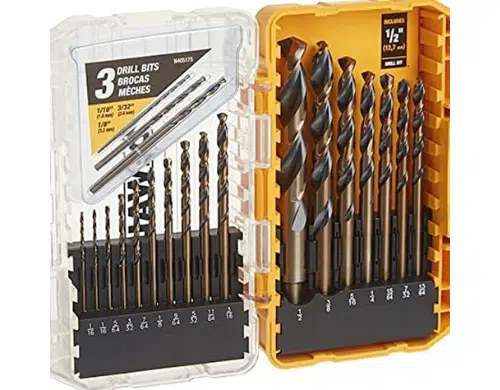 2. Runner Up
DEWALT DW1177 Drill Bit Set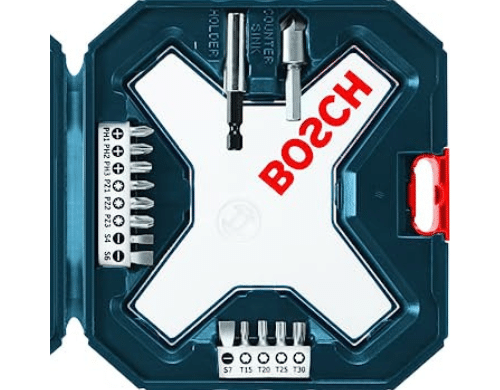 3. Cost Effective
BOSCH MS4034 Drilling and Driving Set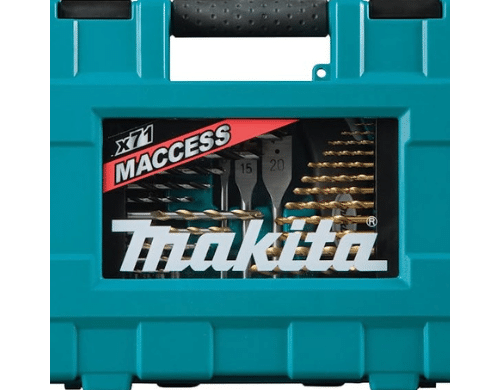 4. Almost Made the Cut
Makita D-37144 Metric Bit and Hand Tool Set
Who This Is For
These products cater to handypersons of every skill level, ranging from the everyday DIY enthusiast to seasoned professional construction workers. With their versatility in handling a diverse range of materials, these drill bit sets are the ideal companion for your power drill. They provide reliable and efficient results for all your drilling and handiwork needs. Whether you're a seasoned professional or just starting out, these sets are the best in the market.
What is a drill bit set?
A drill is a special power tool used for boring holes into different kinds of materials. such as plastic, wood, metal, masonry, cement, glass, and so much more.
These are solid metal shafts, made of a variety of materials in different shapes and sizes, that are attached to the chuck (front clamp) of a drill through their shanks. These bits are then powered by the drills in a rotary motion to create the aforementioned holes in various materials or surfaces.
Differences in drill bits
The next question on your mind will most likely be, "Well, how do I know what drill bit to use?"
Don't worry, we've got all the answers right here. Different drill bits are used for different purposes on different materials, depending on their shape, size, and material. Understanding the difference between drill bits helps you make better-informed decisions when carrying out any drilling task.
Drill bit sizes
Drill bits come in different sizes, and you would want to look out for the length of their shanks and the size of their points' diameter. For more clarity, the shanks are the bottom part of the bit that fits into a drill's chuck while its point is the top of the bit or cutting edge.
Drill bit sizes are usually measured either using the Metric System (millimeters) or the Imperial System (inches). However, we prefer the more popular Imperial System.
Drill bits should fit drill chucks equally or slightly smaller. Therefore, a bit's shank can fit a ½ inch heavy-duty drill, ⅜ inch standard drill, or a ¼ inch light-duty drill.
On the other hand, points come in a wide range of sizes to fit various boring needs, ranging from 1/16 inch to ½ inch. While the former is the smallest size and is ideal for menial, lightweight household tasks, the latter is the largest possible size and is used for tougher drilling conditions like carpentry, repairs, and construction.
Shapes of parts in a drill bit set
Drill bits also come in various shapes depending on their intended use. Here are a few of the most popular shapes you may find on the market:
Twist drill bit: This is the most popular drill bit shape. It features a pointed tip with fluted sides to eliminate waste while drilling. This drill bit is ideal for a variety of tasks on plastic, wood, and thin metal surfaces.
Brad point drill bit: This fluted bit features spiral grooves on its sides as well as a sharp spur tip and is mostly used on wood. It uniquely grips wood chips with its flutes to remove them from the hole to drill, while its sharp tip results in more accurate fine holes.
Countersink drill bit: These are specialty drill bits, mostly used on wood to create broader openings in test holes at the screw's head's top. This concept is known as "countersinking" and helps you enclose a closure deep enough. That way, the head does not protrude above the material's surface.
Auger drill bit: This is a long, twisted, ribbon-shaped bit with a screw-shaped tip and sharp helical spirals called "flight lines" that pull the rest of the bit into the wood. This results in cleaner, more consistent cuts on a wide variety of materials, preferably wood, and ice.
Hex drill bit: These bits have hexagonal shanks that support round shafts or hexagonal bars.
Spade drill bit: Spade drill bits have unique pyramid shapes. They are mainly for enlarging previously-made holes or boring new holes into thin materials like sheet metal or sheet plastic.
Masonry drill bits: These bits work magic on heavy-duty materials like cement, concrete, and bricks. They create a quick hammering action and have a tungsten carbide coating and are bonded to a spiral shaft made of steel.
Materials in a drill bit set
The durability and function of a drill bit depend on the construction material. Some of the most popular kinds of drill bit materials include:
Low-carbon steel (LCS)
These poorly tempered drill bits are great for drilling soft wood and plastics. They are the cheapest option for drill bits and the least durable too.
High-carbon steel (HCS)
HCS are carbon steel bits that are more conferred by tempering and hardening. They work great on wood and light metal. However, you need to space out the drilling frequency to avoid overheating and subsequently a soft cutting edge.
High-speed steel (HSS)
This is the most popular form of drill bits. It is durable and made with a form of tool steel resulting in faster cutting speeds on fiberglass and soft metals like aluminum, PVC, and wood.
Cobalt
Cobalt drill bits are exceptionally robust and combine cobalt with steel alloy for swift heat dispersion. They are the most durable of the aforementioned bit materials and are for drilling hard materials like stainless steel.
Tungsten carbide
This makes the hardest, strongest, most durable bits on our list. It is exclusively for drilling masonry and ceramic tile due to their fragile nature which makes them more susceptible to breaking.
Why You Should Trust Us
Construction and any form of handwork are hard tasks in themselves. We have given our all to ensure we suggest only the best drill bits on the market that make your job quicker, easier, and stress-free.
We have done so by carrying out thorough research, evaluations, and tests to make well-informed decisions.
How We Picked
As expected, there are a lot of considerations that went into making this detailed review article. Drill bits and any other form of power tool accessory require a lot of precision and detail in their construction.
Therefore, choosing the right ones requires the same amount of in-depth analysis. Here are some important factors we took into account when making our decisions.
Number of parts included
The number of bits in any drill bit set determines the versatility of a drill. Therefore, the larger the set, the more options for drilling bits you may find inside it. It's a rule of thumb to select a set with the highest number of drill bits.
However, this all depends on your experience with tools and the level of work you require the bits for. A great drill bit set offers 13 to 20 bits, while sets that offer more than that provide you with more options, precision, flexibility, and overall accuracy.
Range of sizes and types
As we discussed earlier, drill bits come in different shapes and sizes. With our selected picks, you get a wide variety of bit sizes and types to choose from.
If you're still not sure which to go for, drill bits of 1/16-inch to ¼-inch sizes and twist shapes are decent enough for any major household tasks, while bit sizes like ⅜-inch, 5/16-inch, 7/16-inch, and ½-inch and more precise shapes are great for heavy-duty jobs.
Durability and strength
The durability and strength of a drill bit largely depend on the construction materials. We have already discussed the different kinds of materials of drill bits as well as their purposes and expected lifespans.
However, durability is beyond that. Another factor that determines how strong a drill bit is is the coat or finish. Black oxide coats on regular HSS drill bits make them more corrosion-resistant, heat-resistant, and lubricated.
They are therefore more durable than regular HSS bits and are perfect for use in wet or humid conditions. Titanium nitride (TiN) coating is the next kind of coating you will find. These bits are not to be confused with titanium bits. They are built to reduce friction and heat with a hard ceramic material used in coating HSS bits.
This extends a bit's life by three times or more and results in improved sharpness. It is ideal for drilling hard surfaces like fiberglass, hard plastic, wood, and soft metals like aluminum and lead.
Price vs. quality
You don't have to break the bank to get access to top-notch premium working tools. With our selected options, you get the best quality on the market from some of the most renowned manufacturers, and hence, the best value for money within their price ranges.
These drill bit sets are at the top of their game, with award-winning reviews that clearly state their positions in the industry.
Working length vs. total length
We have discussed the different sizes of drill bits one can find on the market. However, this measurement considers the size of the hole, and not the depth. To know just how deep a drill bit can cut, you must know its working length and total length.
The working length of a drill bit refers to the depth of the hole it can drill (typically from where the working surface/twist of the bit starts to the tip of the bit). A drill bit's total length is its overall length including its shank, which fits into a drill's chuck.
Different manufacturers offer varying lengths depending on the bits, with smaller bits having the shortest lengths and the largest bits having the tallest lengths.
Range of materials
Bits do more than just drill. With the right drill bit set, you can perform a variety of tasks, from drilling to driving, to fixing and fastening. This is all made possible due to the number of additional materials or accessories the drill bit set comes with.
To suit a wide range of users, we have discovered options with various options for bits, tools, and accessories. So whether you're on the lookout for a minimalist, straightforward toolset or a more comprehensive one, there's a pick for you on this list.
How We Picked
Number of Parts

Drill bit sets are available in a variety of parts and with varying numbers of pieces. We discovered some of the most adaptable toolkits on the market, allowing you to complete more tasks at a lower cost.



Range of Sizes and Types

The pieces in a drill bit set have different uses depending on their shape and size. The most useful of these products offer a diverse range of bit sizes and types to meet the needs of all users.



Durability and Strength

These bit sets are made of various materials depending on their intended use. The strength of a bit and how long it remains useful depend on the kind of material used in making it.



Cost-Effectiveness

Finding a useful product within your budget is one of the most rewarding things you can do. With our carefully selected tool sets, you get the most efficient bits on the market, ensuring the best value for money.


Care and Maintenance
With great power comes great responsibility, and such is the same with these drill bit sets. Once you purchase your very own set of drill bits, the next train of thought is to figure out how to attach them to a power drill.
Getting the right size for your drill bit set
The great thing about this is that most drill bits are universal, meaning they will work with most drills regardless of their manufacturer. You only have to make sure to use the right bits for your drill.
Popularly, drills come with chucks sized in ½ inch, ⅜ inch, and ¼ inch. It is advised to find a bit with an equal shank size or slightly smaller. You can't use a bit that is longer than your drill's chuck.
How to attach drill bits
Check out the drill's manufacturer's guide for detailed instructions on how to change a drill bit. Here's how to generally attach your drill bits to a drill:
Make sure your drill is turned off and has cooled down.
Loosen or unlock the chuck of the drill to open the jaws that clamp onto the drill bit by turning the mechanism anticlockwise.
Once the chuck is loosened, remove the previous drill bit or ready your chosen drill bit.
Using your thumb and index fingers, insert the bit's shank (the smooth bottom part) into the chuck.
Lock the bit in by using the drill key or turning the chuck clockwise depending on the drill's architecture.
Squeeze the drill's trigger a few short times to tighten the bit in place.
If your drill has a ratcheting mechanism, engage it to finalize the process.
How to clean and sharpen the bits
After using your drill a few consistent times, it's important to clean and sharpen the bits as needed to improve their lifespan. To do this, simply follow these steps:
Turn off your drill and wait for it to cool down.
Use a clean microfiber cloth to wipe down the drill bits and get rid of any leftover chipped-away materials.
For stubborn grunge, use an old toothbrush to scrub away layered materials.
For rusty drill bits, dip them in a small bath of vinegar for at least 30 minutes and scrub away leftover rust and debris with an old toothbrush, then rinse out with clean water and dry with a microfiber cloth before storing them away.
Do not leave a drill unattended
A good handyperson never leaves his tools unattended, so when not in use, ensure your drill and drill bits are kept tucked away in a shelf or cupboard, out of reach of children and pets.
Always make sure to be careful when using a drill and wear appropriate clothing when working with different materials, such as gloves and eye-protection goggles.
Sources and Research