The Best Vacuum for Hardwood Floors of 2023
With the best vacuums available on the market, you can clean all forms of dirt off your hardwood floor quickly and easily.
Hardwood floors are beautiful, and they can give any house a modern, stylish look. However, hardwood is vulnerable to moisture and humidity. It expands and contracts when exposed to moisture and falls out of place and requires immediate replacement. For this reason, hardwood floors cannot be mopped like other regular floor types. They need waterless cleaning, which is impossible without a vacuum cleaner.
Hardwood floors are also pretty delicate, which is why it's important to have a vacuum cleaner precisely engineered for hardwood floors. Luckily, there are numerous vacuums on the market with special features that make them ideal for hardwood floors. In this article, we provide essential information about how to choose, use, and maintain vacuums for hardwood floors.
How We Picked
Multiple Suction Speeds

Multiple suction speeds give you the liberty to select the intensity you need depending on the nature of the dirt. Mild and light dirt will require a lower intensity than a stubborn, sticky stain.

Bag Capacity

Bag capacity determines how much dirt you need to suction before emptying. Therefore, if your space often has lots of dirt, get one with a large capacity to allow you to suction more dirt with no frequent emptying breaks.

Weight and Portability

The weight of a vacuum cleaner determines whether you can handle it for long hours. The weight also determines how easy it will be to move it from one spot to the next. The ideal vacuum cleaner should therefore be light for effortless cleaning and portability.

Cost-Effectiveness

A cost-effective vacuum cleaner is one whose effectiveness matches its cost. You should expect, therefore, a more effective vacuum to be more costly. However, be vigilant during your selection to avoid being duped.
Our Top Picks
Our Top Pick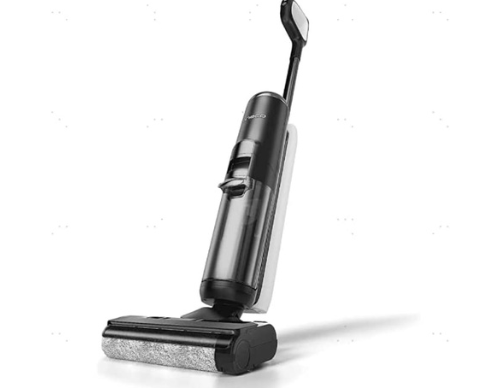 The Tineco S5 is easy to use and cleans fast and thoroughly. It has a voice control feature that you can use to operate it remotely.
The Tineco S5 Pro 2 vacuum cleaner is ideal for hardwood floors. It cleans sticks and stubborn messes in one step, thanks to its special cleaning features. These features also enable the vacuum to get rid of the mess quickly. You, therefore, achieve a clean floor within minutes without too much trouble.
Clean your wet and dry mess easily and fast using the Tineco ONE vacuum cleaner.
Our Runner-Up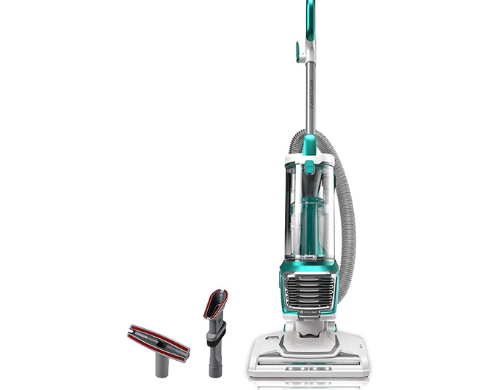 With a 2-motor system, this vacuum has strong suction power that cleans stubborn dirt easily, fast, and rigorously.
The Kenmore DU2012 is a bagless upright vacuum that removes all types of dry dirt. It has special features that enable it to suction the tiniest dirt particles, including pet hair. Besides cleaning hardwood floors, you can use this vacuum cleaner to clean your carpet. Therefore, you will not have to buy other cleaners for your other floor types and different types of dirt.
Clean wider areas for longer periods with no fatigue using this compact and lightweight vacuum.
Most Cost-Effective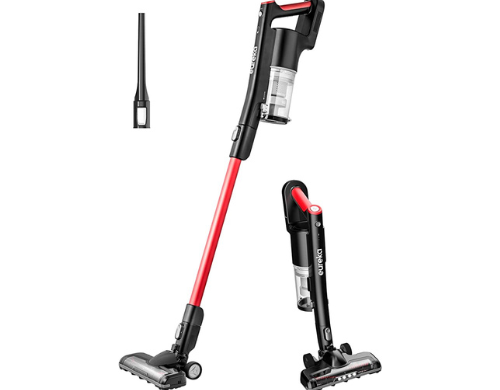 Thanks to the LED headlights, you can use this vacuum at night and in dark, tight spaces with no trouble.
This vacuum cleaner is wireless and will not, therefore, clutter your floor with wires. You can also use it to clean a wider area than corded options. You do not need to connect it to a power outlet. This way, you can use the vacuum in any room, with or without an electrical outlet.
Illuminate dark parts of your floor using LED lights for more precise cleaning.
Everything We Recommend
Our Top Pick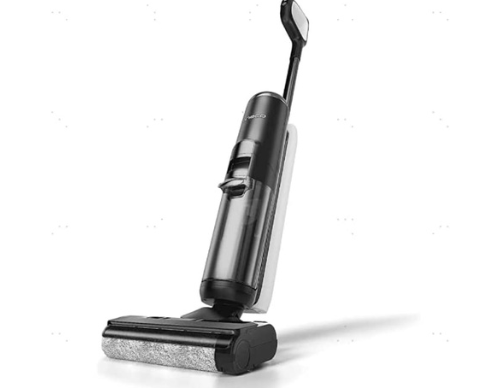 The Tineco S5 is easy to use and cleans fast and thoroughly. It has a voice control feature that you can use to operate it remotely.
$499.00
Our Runner-Up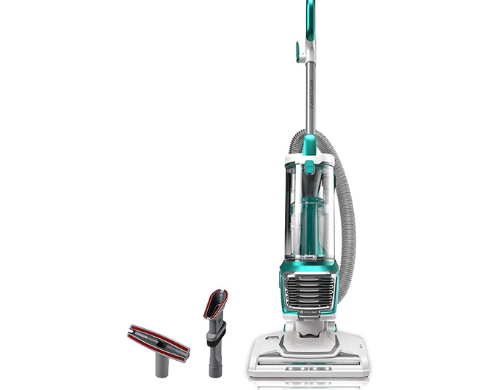 With a 2-motor system, this vacuum has strong suction power that cleans stubborn dirt easily, fast, and rigorously.
$149.99
Most Cost-Effective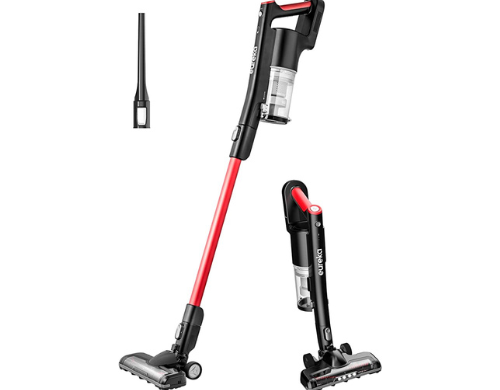 Thanks to the LED headlights, you can use this vacuum at night and in dark, tight spaces with no trouble.
$117.00
Who This Is For
All the vacuum cleaners reviewed here are ideal for cleaning your hardwood floors. They are light and are therefore easy for any teen or adult to handle. Since they are all easy to use, they can be used by anyone with basic knowledge of how to use a vacuum cleaner.
Why You Should Trust Us
We picked the vacuum cleaner reviewed here based on its effectiveness and customer reviews. All are effective, high quality, and cost-effective. We do not advertise or endorse any brand, and therefore, none of our picks are sponsored.
How We Picked
We used specific criteria to reach our picks. We evaluated their different features to determine their effectiveness. The first feature we examined is power. All our picks have a powerful motor that provides high suction power. Therefore, regardless of the vacuum you choose, you will get rid of dirt fast and easily.
Due to the different users with different preferences, we have picked both corded and cordless vacuum cleaners. The cordless options have a long battery life that allows you to use them for long hours without running out of power. Noisy vacuum cleaners can be disruptive. To avoid this challenge, all our picks have low decibel motors that run silently.
The ideal vacuum cleaner should be easy to maneuver around your home to clean all the spots on your hardwood floor. For this reason, all our picks are lightweight, allowing you to move them around for long hours with no fatigue. They are also compact-sized to make handling and portability easy. The small size also allows you to store the vacuums away in small and tight spaces.
With multiple suction speeds, all our picks allow you to clean different floor types, including hardwood. They also clean different types of stains without damaging your surface. While some of our picks are bagless, others have a dirtbag. The dirtbags are large enough to handle large amounts of dirt, allowing you to clean large areas before they fill up.
To ensure that you get value for your money, all our picks are cost-effective. They all have impeccable features, and their buying prices and maintenance costs are reasonable. Due to their stylish and functional designs, all of our picks add decor to your space. They are also easy to maneuver, thanks to their streamlined design.
Different homes have different types of dirt. Some often have dry dirt, while others have wet dirt. For convenience, we have listed vacuum cleaners with different capabilities. Some can suck up liquid dirt making them ideal for spaces such as bathrooms and kitchens. Additionally, all our picks have different attachment options that you can choose from depending on the specific attachments you need.
Care and Maintenance
Follow the following care and maintenance procedures to keep your vacuum cleaner functional and effective for a long time:
For the bagged vacuums, clear the bag regularly to allow proper airflow. Once the bag fills up, the vacuum will jam and may mess up the internal parts. However, you can clean your surface a few times before emptying the bag, depending on the bag's capacity. Also, keep checking the condition of your bag. As soon as you notice holes or thinning, change the bag to prevent dirt from finding a way to other vacuum components.
After using your vacuum for a while, it is common to experience blockages. Ensure that you remove the blockages as soon as they happen to keep the vacuum suctioning properly. To remove blockages, you will often have to insert your fingers into the suction pipe. In such instances, turn off the vacuum to avoid electrocution and getting your skin wounded.
Your vacuum may break after a while due to impact or long-term use. Do not use it while broken as it will not function as effectively as it should. It can also pose risks to the internal components or worse still, damage your power outlet. If it produces odd smells and noises, have it checked before using it again.
Once you are done with your cleaning, choose a safe place to store your vacuum. The ideal place should be dry to avoid corrosion and rust. It should also be free of heavy items that can fall on the vacuum and damage its parts.
Clean your vacuum cleaner every once a year or more frequently if it happens to get too dirty before the scheduled cleaning time. Here, disassemble the vacuum and clean each part separately. Consider the material of the components and clean them safely.
However, some parts, such as the brushes and bristles, require cleaning after every use to remove trapped debris and dirt. Avoid pulling out stuck dirt particles; rather, use a pair of scissors to cut them out without damaging the bristles. Check the state of the filters and soak them every once a month. This process will remove all the dust, leaving the filter clean and able to filter more dirt.