The Best Upright Carpet Cleaner for 2023
Whether you have pets or children or just want to maintain the cleanliness of your home, an upright carpet cleaner is a great investment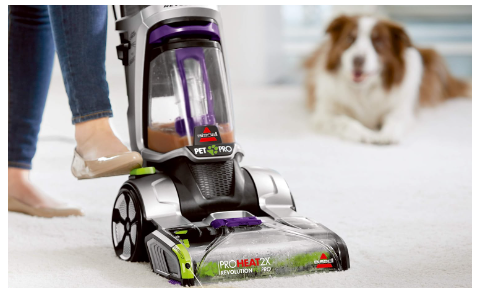 Upright carpet cleaners are a convenient and effective way to deep clean your carpets. These machines are designed to be used in a standing position, making them easy to maneuver and use. Unlike traditional carpet cleaning methods, which can be labor-intensive and time-consuming, upright carpet cleaners allow you to quickly and easily clean your carpets, removing dirt, stains, and pet hair.
These cleaners typically come with a variety of attachments and tools, such as upholstery brushes and crevice nozzles, which can help you clean a wide range of surfaces in your home. Whether you have pets or children or just want to maintain the cleanliness of your home, an upright carpet cleaner is a great investment.
How We Picked
Cleaning Performance

There are many models of upright carpet cleaners on the market, so it is important to evaluate their performance. Only then will we be able to select functional equipment suitable for removing stains and the type of dirt that tends to accumulate most frequently in our carpets, such as pet hair, food, human waste, and more.

Size and Weight

Size and weight directly influence the maneuverability of the equipment. Choose models with medium or low weight and size so that you can move the equipment freely throughout your carpet and store it easily.

Ease of Use

Even the appliances with the most functionality that can make our lives easier can be abandoned because they are difficult to use. That's why we picked equipment that is easy to assemble, use, and store.

Cost-Effectiveness

Upright carpet cleaners can be expensive, especially those belonging to well-known brands. It is best to splurge on this type of appliance because the more expensive models generally have more power, functionality, and quality. However, it is also advisable to evaluate economic models, as some of them may surprise you.
Our Top Picks
Our Top Pick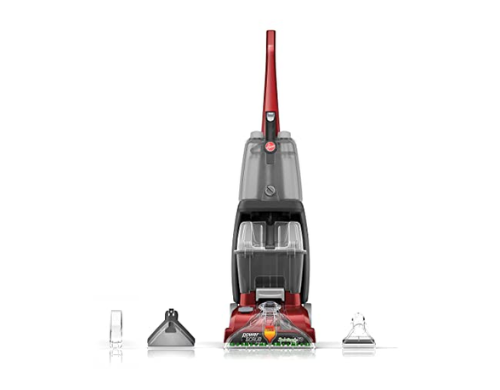 Revitalize your carpets with this upright carpet cleaner, which cleans debris, pet messes, and tackles dirt with ease.
Given its 360-degree brushes and strong suction power, this is the best carpet cleaner for deep cleaning. It cleans thoroughly and removes deeply embedded dirt while protecting your carpet's fibers. Its efficient operation speeds up the drying process, allowing you to enjoy your carpets sooner. We should also mention that this equipment is very light, weighing only 19 pounds, making it easy to transport.
With its 360-degree brushes, you can quickly and easily deep-clean your carpets.
Our Runner-Up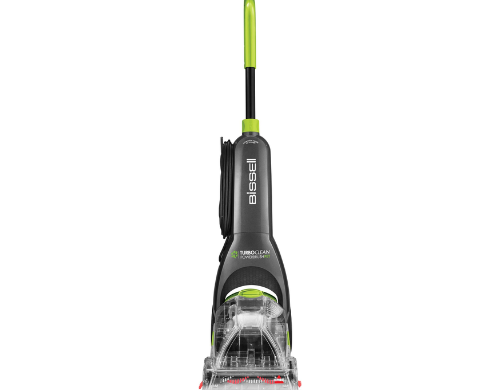 The ideal carpet cleaner for those with pets and children. It deep cleans any type of dirt and keeps your carpets fresh and clean for much longer.
One of the first aspects to highlight is that every purchase you make from this brand helps to save homeless pets, as Bissell directs part of its profits to its animal rescue foundation. If your carpet gets dirty frequently or if you have pets, this is the perfect piece of equipment for you. Its powerful brushes and suction help remove embedded dirt.
A powerful piece of equipment that easily removes the most stubborn stains and pet messes
Most Cost-Effective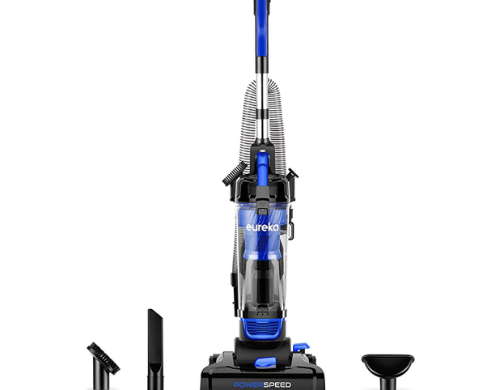 One of the most economical carpet cleaners you can find, it has wheels for easy transport and a variety of accessories for efficient and thorough cleaning.
The high power of this economical equipment allows it to easily absorb large and small dirt and debris. Its system allows it to penetrate deep into the carpet and remove as much dirt as possible. In addition, its power does not increase its weight; it is lightweight equipment that you can easily carry around your home. We can also highlight that it has wheels that glide smoothly over the hardwood floor, which helps prevent scratches and marks.
This carpet cleaner has been upgraded with new cyclonic technology that removes dirt of all sizes, including microscopic dust.
Everything We Recommend
Our Top Pick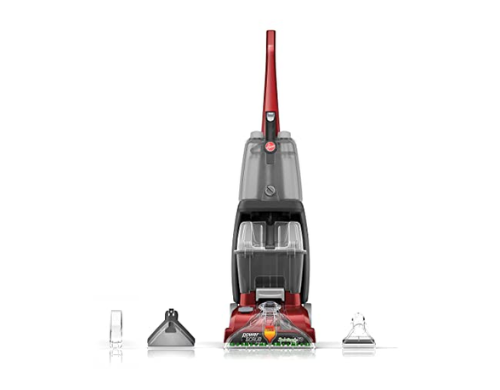 Revitalize your carpets with this upright carpet cleaner, which cleans debris, pet messes, and tackles dirt with ease.
$159.00
Our Runner-Up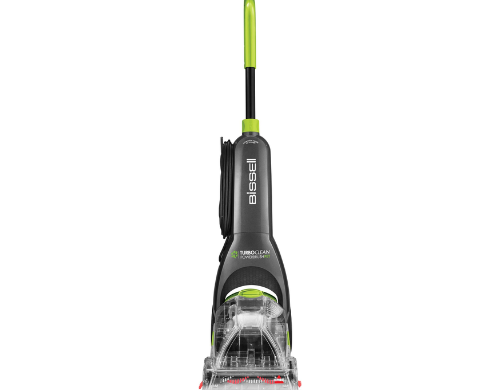 The ideal carpet cleaner for those with pets and children. It deep cleans any type of dirt and keeps your carpets fresh and clean for much longer.
$194.99
Most Cost-Effective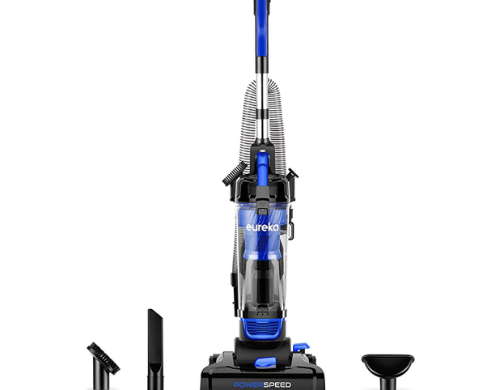 One of the most economical carpet cleaners you can find, it has wheels for easy transport and a variety of accessories for efficient and thorough cleaning.
$79.99
Who This Is For
Upright carpet cleaners are absolutely necessary equipment for those who have carpets in their homes, regardless of their size. These home accessories are essential to maintaining a high level of cleanliness and hygiene.
They deliver a high-pressure jet of special carpet detergents and then suction and scrub the surface with their cyclonic vacuum systems and rotating brushes. By investing in this type of cleaning equipment, you can save yourself from hiring professional services, which can cost a lot of money, and you should use it relatively often if you want to keep your home clean. With an upright carpet cleaner, you can clean more frequently, save money, and, of course, keep your home clean and free of odors, dirt, and bacteria that can cause serious illnesses and allergies.
Portable vs. upright cleaners: what's better?
Frequent cleaning of our carpets helps us not only to keep a space free of bacteria and dirt but also refreshes the space and prevents unpleasant odors. If you have decided to buy a carpet cleaner, you will be faced with an important choice between an upright machine and a portable machine.
Upright carpet cleaners are designed to achieve a quick, deep, and easy cleaning of the carpets in your home, especially those that cover entire rooms. They feature brushes with rotating stiff bristles, which help to easily scrub and remove the dirt and stains that your vacuum cleaner can't remove. Then, they have a powerful suction system that easily removes all the released dirt.
Portable carpet cleaners are smaller pieces of equipment, ideal for cleaning confined areas and stains quickly and easily. They are ideal for solving small accidents such as unexpected spills and stains, like those caused by juice, wine, and pet messes. Having one of these devices in your home will help you keep it clean and fresh with spot and more regular cleanings.
When it comes to choosing whether an upright carpet cleaner or a portable carpet cleaner is better, you should consider the job to be done and the conditions of your home. If you have children and pets, it is convenient to have both, especially since the portable models will help you clean up any untimely spills immediately.
Of course, carpet cleaners don't work alone; you should use carpet cleaning formulas recommended for the equipment you have at home to keep your home clean and fresh.
Is this something that I should be splurging on?
Of course, there are brands that, although they seem expensive, offer high-quality equipment with excellent power and capacity to clean your carpets and provide a higher level of hygiene in your home. There are models that are inexpensive. However, they do not have the same specifications as much more expensive models.
These items also have an extended useful life, during which they will maintain an excellent cleaning capacity and a power that will remove any accumulated dirt. Remember that all equipment related to the cleaning of your home requires a little more; after all, their efficiency will depend on the degree of hygiene and freshness that they can offer, and with this, you should not skimp because the comfort of your home and the health of your family will depend on them.
Why You Should Trust Us
We conducted careful research to find the best upright carpet cleaners on the market. We evaluated aspects such as size, weight, design, ease of use, and cleaning performance to make sure we recommend not only the best that the most recognized brands have to offer but also powerful equipment that guarantees the quality and depth of cleaning in your home. We also consider feedback from buyers and users to find the equipment that performs best in the home.
How We Picked
When choosing the best upright carpet cleaner, we considered all the necessary characteristics for the performance of the equipment and, with it, its capacity to clean your carpets and, consequently, to sanitize your home:
Cleaning performance
Cleaning performance is critical in this type of machine because it determines the level of cleaning that the device is capable of providing as well as the time it takes to do so. It is also defined by the different capabilities of the upright carpet cleaner; for example, some have hard brushes that remove the dirt trapped in the carpet fibers, while others have a vacuum system that easily removes pet hair, dust, and any other type of dirt.
At the same time, you must consider the field of application; upright carpet cleaners can be used to clean many more materials than just carpets. A good carpet cleaner also cleans upholstered furniture, car seats, and sofas and makes fabrics look new again. The size of the equipment may make this task more complex, but it is possible to use it; just change the cleaning product or shampoo to be used, as long as it is suitable for the upright carpet cleaner.
Size + weight (for maneuverability)
About the size, we must emphasize that this should be enough to give space to a good motor, brushes, and tank but should not have an excessive size that prevents the movement of the device, its transport, and its storage. You may think that the size adds to the weight, but this is not always the case; there are large machines that are not very heavy. This usually happens because of the materials used, the size of the water and shampoo tanks, the brushes, and more.
The weight of the upright carpet cleaner should be low, this will facilitate the maneuverability of the equipment and its storage. Heavy machines can lead to injury if you don't handle them properly, and over time, you will become discouraged and stop cleaning your carpet. That's why we select lightweight equipment or equipment with wheels for easy transport.
Design/style
The design and style of upright carpet cleaners are similar. They often have a tank on top, followed by a handle that makes it easy to transport and move around your home. If you have limited space, you should choose equipment with a slimmer design, a small tank, or a design that facilitates storage. It is also convenient to select cleaners with long hoses, which make it easier to clean the carpet, reduce the need to transport the equipment in your home, and help you reach the most difficult corners.
Easy to use
Most upright carpet cleaners are used similarly and differ only in the processes before use. For example, some carpets require pre-washing or pre-cleaning powders to remove dirt. Most only require the use of water, shampoos, or disinfectants; the equipment applies them thanks to the brushes, and then the product is suctioned through the hoses and the vacuum system.
Price
Upright carpet cleaners can be relatively expensive, depending on the brand and the features included. Excellent models can be found for a reasonable price. This means that you can choose the equipment that best suits your budget and the type of carpet you have in your home with great freedom and no limits.
Warranty
Upright carpet cleaners usually come with warranties of two years or more, always on a limited basis. It is necessary to consult the manual to avoid making mistakes that may invalidate the warranty. For example, some equipment can only use certain brands of shampoos or cleaning liquids for carpets and pre-washes; if you do not comply with this, the warranty would be invalidated. Furthermore, some upright carpet cleaners can't be used to clean pet hair and debris, while others can. In these cases, it is important to pick equipment suitable for homes with pets so that the warranty will never be invalidated.
Durability
A good upright carpet cleaner, particularly those of the Bissell brand, can have a useful life of about 8 to 10 years due to the quality materials with which it has been manufactured and its durable design. However, the durability of these devices, regardless of their brand, will depend on certain factors. A device that is used too frequently will have a shorter useful life than those that are used sporadically throughout the year. Most experts agree that a deep carpet cleaning should be done once a year. However, if you have pets, children, or people in your family who suffer from allergies, you should deep clean from four times a year to once every two weeks. Do you use the cleaning products indicated by the manufacturer? You should only use the cleaning products indicated by the manufacturer. Homemade mixtures or products of other brands may contain ingredients that can damage the cleaner components.
Where do you store the upright carpet cleaner? It should be in a dry environment, away from sudden changes in temperature (you should not store it in the garage but inside your home), and the equipment should be unplugged. At the same time, you must make sure that the water tank is completely dry. A wet tank is not only a source of bacteria but can also shorten the life of your carpet cleaner.
Do you frequently clean the brushes on the equipment? This is a fundamental step in the maintenance of any upright carpet cleaner. This not only improves the performance of the machine but also reduces the load on the motor and allows it to work more efficiently, thus protecting its useful life.
Type of tank
The capacity of the machine's water tank is important, as it directly affects how often you will refill and empty the machine during cleaning, an aspect that can be very time-consuming. It is advisable to choose the largest capacity you can afford.
It is also indispensable to note that the tanks of upright carpet cleaners are divided into two sections. One for the clean water and carpet cleaning shampoo, and an area to store the dirty water with the particles sucked from the carpet. The tank that stores the dirty water tends to be smaller, as carpets absorb up to 20% of the water jetted into them. Some more advanced models have a heating function that heats the water in the unit, which makes it easier to remove dirt that has accumulated or clung to the fibers of your carpet.
Type of cord/hose
The type of cord should be thick, preferably long enough to allow you to move the upright carpet cleaner freely throughout a room. The hose should be made of resistant plastic with a design that facilitates mobility, as well as a nozzle that facilitates the suction of the carpet and its cleaning. It is recommended that the hose form a seal with the carpet surface; this will allow it to better absorb water and dirt.
Additional attachments
Similar to a vacuum cleaner, upright carpet cleaners can include additional attachments. These are mostly additional brushes and nozzles for different types of carpets or, failing that, different types of dirt. It is recommended that your upright carpet cleaner include a crevice tool for cleaning in the tightest corners and smallest spaces. It is also convenient to include hand brushes, these will help you brush away any dirt buildup and free it from the fibers before using the machine.
Care and Maintenance
How to keep the body clean
With constant use, it is normal for your upright carpet cleaner to get dirty. You must clean the body of the equipment and its tank before storing it in the closet after each use. To accomplish this, simply lightly dampen a wiping cloth or towel in water or a mixture of water and disinfectant and wipe the surface. Once dry, you can wipe again to remove any remaining dirt and then dry with a napkin or paper towel.
When to clean out and rinse the tank
Whenever you finish cleaning, you should not leave the tank wet, even if it contains the water and carpet cleaner mixture. Any moisture content in them can lead to the growth of mold and harmful bacterial colonies, and high moisture content can affect equipment systems.
When you have finished cleaning your carpets, you should remove the tank, if possible, and rinse it with plenty of clean water. Then you should dry it with a paper towel and let it rest before storing the equipment.
Cord care
Cord care is similar to any other household appliance. When disconnecting it from the power supply, you should hold the base of the connector and pull it, but never from the body of the cable. You should also clean it after each use to avoid its deterioration and thus prevent serious accidents. Once you disconnect the equipment from the power supply, you only have to rub it along its entire length with a cloth or towel dampened with water and disinfectant; in this way, you will prevent grease, dust, and any other type of dirt from accumulating on it.
Where and how to store when not in use
The upright carpet cleaners should not be stored in spaces where they are exposed to humidity or sudden temperature changes, as this could affect their internal circuits and motors. It is also advisable to keep it away from direct sunlight; this way, the materials will be preserved in good condition and the exterior paint will not deteriorate.