The Best Under Desk Footrests for 2023
Never stoop over your desk like a goblin again with these under-desk footrests.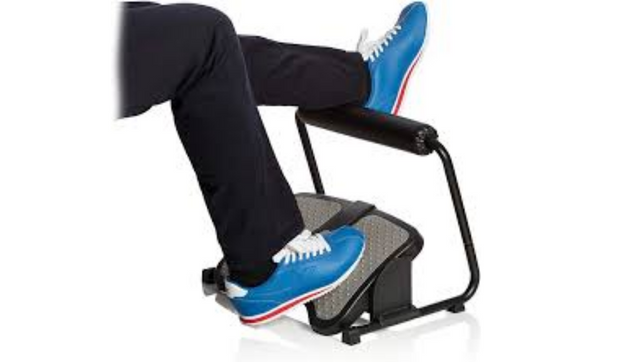 We understand that maintaining ergonomic work postures at your desk can be a challenge. Adjust your chair so that your arms at the keyboard are parallel to the floor and your monitor so that the top of it is at eye level to ensure your feet are supported. It is also recommended to use a footrest if everything is in order but your legs are hanging down.
You are here today to learn about the requirements regarded as beneficial, which should assist you in choosing the finest under-desk footrest. A footrest can promote healthier, more productive sitting while also improving ergonomics by allowing your feet to rock back and forth to improve blood flow in your legs.
How We Picked
Height Adjustment

Given that good posture begins in the feet, having the proper footrest while working at a standard-height desk that is either too high or too low may make a difference.

Size/Shape

To avoid the platform collapsing or losing its shape, the perfect footrest should have the proper density, which strikes the ideal balance between firm and soft.

Portable

Because everyone's a little bit different and ergonomics is not a one-size-fits-all concept, we also compiled a variety of footrest solutions that are tailored to your body and workstation.

Cost-Effectiveness

In a bid to accommodate various budgets, we tested many models within different price ranges to find your ideal footrest.
Who This Is For
Anyone looking to put their body in a better ergonomic setting should think about the products featured here.
Are under-desk footrests worth it?
Yes, because sitting for extended periods during the day might impact your body. A footrest placed under your desk is a smart way to make your workspace more ergonomic. Additionally, a rocking footrest helps increase blood flow in your legs by ensuring constant movement throughout the day. You can lean back further in your chair and lean into the support of it thanks to the footrest's angle. Your posture will remain more neutral and upright.
Different types of under-desk footrest
Rocking: Through better alignment, this sort of footrest promotes better posture, enhances circulation, and is comfortable. Its rocking feature enables users to exercise and stretch their calves and ankles.
Massaging: A massaging footrest's primary function is for exercising. It has a special surface that encourages and stimulates blood flow in your feet. Your legs and ankles are stimulated by the footrest's exercise motion, which boosts circulation.
Stable: By keeping your feet and legs raised while working or at home, this form of footrest (which is typically inclined) helps to enhance posture and circulation.
Padded: To prevent users' feet from slipping, this footrest is made with a gripping surface, and it also has adhesive pads for increased stability.
Why You Should Trust Us
Working with trustworthy independent writers with years of expertise writing about lifestyle topics and product evaluations is something National Today takes great pride in. Our study team examined data on the top-selling footrest brands to determine the best footrests, taking into account criteria like cost, weight, size, unique features, and average user reviews. Affordable, lightweight, adaptable, and comfy products scored significantly higher.
How We Picked
Our ergonomics specialists' recommendations led us to prioritize the following qualities in a good footrest:
Height adjustability
It's obviously a plus if a footrest lets you select the level of height that you want. But bear in mind that even if the height is fixed, you can still elevate the footrest to the preferred height by putting it on a higher surface.
Versatility (size, weight & portability)
You might have noticed that footrests can serve other purposes besides supporting the feet ergonomically. For example, people who are constantly on the road will value product features like lightweight, small size, and design that allow them to carry their footrests onto the plane or into the car because portability can be a make-or-break feature. A decent footrest should be versatile; for instance, it should be able to switch between rocking and non-rocking modes and have a clip-on sling that works with various airplane seats.
Durability
A durable footrest can withstand frequent use. Additionally, a simple, solid surface or a removable cover will prevent your footrest from turning into a mud pit.
Price vs. quality
Different brands are associated with various price points, which still doesn't guarantee exceptional value for your money. Expensive or not, low-quality materials, whether they are made of steel, wood, or plastic, will shorten the duration of your foot resting pleasure. Although it would appear that quality and pricing are mutually exclusive, who's to say you can't have the best of both worlds?
Style/design
Your footrest must have anti-slip grips to stay put. Footrests come in a variety of shapes, sizes, and uses. They can be a cushion or an adjustable platform made of soft memory foam or rigid plastic, attached to a chair or stand-alone, portable, reversible, mobile, or stationary, and made of soft memory foam or rigid plastic. Depending on the environment they are intended for (an airplane, a wheelchair, a desk, etc.), there are many different types of footrests, so it's important to be aware of your own specific requirements while looking for the best fit.
Material
Compared to foam footrests, which might eventually sag or flatten, wooden and plastic footrests may last longer. In addition, foam pillows can include chemicals like polyurethane that may harm the environment.
Ergonomic shape
In general, choosing a footrest with an ergonomic design that was created to raise your legs, keep your feet moving, and enhance your posture and blood flow is a good idea.
Care and maintenance
Setting up your footrest if it is collapsable/Storing your footrest when not in use
A proper footrest that needs assembly will come with a guide for easy installation (in most cases, you do not even need a guide, it is that simple!). Moreover, the majority of footrests are height-adjustable, allowing you to swap between noticeably different positions for easy storage. There is no need to disassemble it; simply flatten it.
Getting the right footrest for your needs/foot shape
Consider these crucial factors you must take into account when selecting your footrest:
Flexibility: You should be aware that these devices are made from various materials and are produced in a variety of sizes, colors, and shapes. Employee heights vary depending on the type of office arrangement. So, regardless of whether you are standing or sitting, make sure your footrest is simple to adjust to your preferred height and angle for maximum support and comfort.
Latest technology: Modern technological developments have radically changed offices. Keeping this in mind, your footrest ought to be able to adapt to any modifications that the office may experience in the future. The Everlasting Foot Rest, for instance, has the latest features. As a result, it can both stimulate your fitness and let you work out at your workplace. Both employers and employees barely have free time to exercise, however, modern technology means that those who spend a lot of time in the office will no longer have an excuse for a declining lifestyle.
When and how to clean a footrest
Some footrest covers can be machine-washed and dried for simple maintenance. For footrests with non-removable covers, simply sprinkling some baking soda on stains may help loosen them, but for a thorough clean, combine it with water and create a solution. Apply it exactly as you would while shampooing your furniture, give it a few minutes to sit, and then vacuum it up.