The Best Umbrella for 2023
Stay protected from the wind and showers all year round.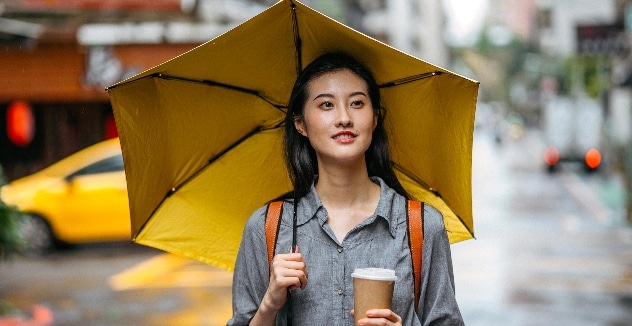 Are you ready for a proper rainy season? Rain, wind, and cold are common weather conditions that come with spring and autumn. Rainy days don't mean that you have to be miserable and wet. You can simply use your umbrella to stay dry, and comfortable.
If you are planning a trip to the beach or any other outdoor location, it is equally important to make sure you have an umbrella.
There are a lot of different umbrella brands, but not all of them are created with the best quality. Hence, we have compiled a list of the best umbrellas to help you pick the right one, according to your needs. We have considered affordability, design, durability, and the overall structure of the best umbrellas on the market.
How We Picked
Durability

There is nothing worse than being vulnerable in a difficult weather condition with an umbrella that breaks easily and is cheaply made or too flimsy. This is why we have looked at the best-quality umbrellas that are sure to last a very long time.

Fabric Material

The fabric material of umbrellas makes all the difference between a shoddy product and one that stands up to the elements so we looked at umbrellas made from a range of different fabrics and have the best canopy coatings.

Domed Canopy

The best umbrellas are the ones with sturdy dome-shaped canopies because they offer better protection from the sun's damaging rays, heavy rain, and harsh winds.


Cost-Effectiveness

A ton of cheap umbrellas are not even worth their low prices, which is why we selected the best high-quality umbrellas that are affordable and efficient when out to the test.

Our Top Picks
Best Pick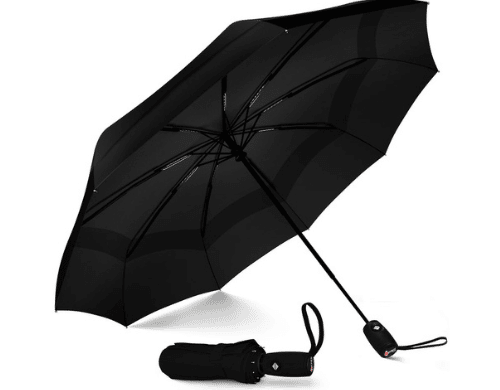 Compact, durable and automatic
No more dealing with the hassle of manual rain umbrellas; easily closes with a button to make getting into cars and buildings a breeze
This is one of the most reliable umbrellas in the industry. It is shocking, really, how hefty it feels when put to the test against very strong winds, considering its compact size.

Runner Up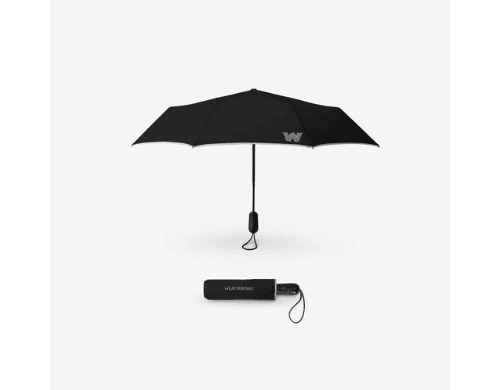 High-quality and convenient size
Each Weatherman umbrella is built using an industrial-strength fiberglass frame, defending against inverting and breaking and makes it a heavy duty umbrella.
Infamously known for its capability to withstand winds of up to 45mph, Weatherman's Travel Umbrella is lightweight, sturdy, and storm-ready.

Most Cost-Effective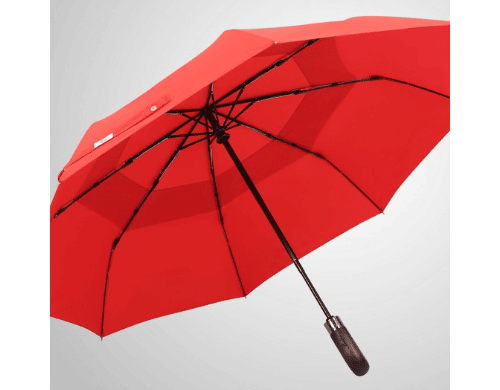 Sturdy and affordable
A luxurious feeling umbrella without the high-end pricetag
Balios Travel Folding Umbrella may look luxurious and expensive — at first glance, though — but it is actually very affordable. It promises durability and a high-quality ergonomic design.

Everything We Recommend
Best Pick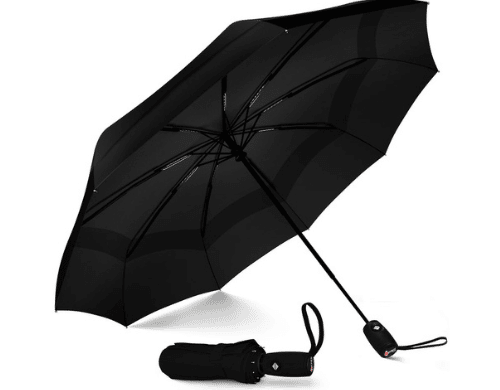 Compact, durable and automatic
$29.99
Runner Up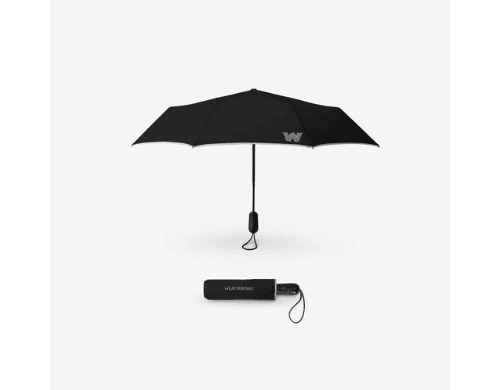 High-quality and convenient size
$69.00
Most Cost-Effective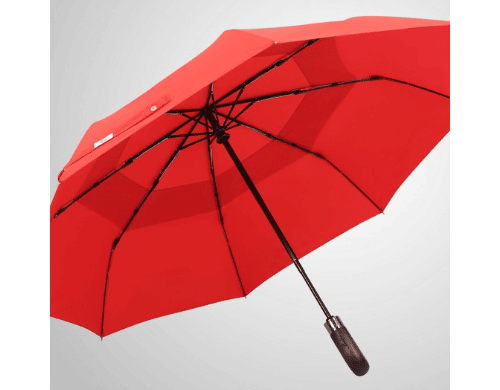 Sturdy and affordable
Who This Is For
Our selections are excellent for all. From sturdy designs, and durability, to the best additional features, we've got you covered.
Different Types of Umbrellas
Standard Waterproof Umbrellas
These are the most common and affordable types of umbrellas. They are designed to provide coverage against rain or snow. The waterproof canopy is usually made of polyester, nylon, or clear plastic, but some umbrella companies prefer canvas because they're more durable and less likely to rip or tear. The shaft is either made of metal or plastic.
Standard umbrellas are excellent for use in rain or snow, but they're not great for windy conditions or heavy downpours.
Windproof Umbrellas
Windproof umbrellas can withstand high winds. They are made of waterproof material and have reinforced frames for added support. They are typically more expensive than other types of umbrellas because they are more durable and have thicker fabric. They are also heavier than other types of umbrellas because of the materials used in their manufacture.
They are designed to be used in weather conditions where there may be strong gusts of wind. They are ideal for the winter months when temperatures drop below freezing levels outside.
Sun-protection Umbrellas
These types of umbrellas are made from materials that block 97% of the sun's harmful UV rays and can be used for other purposes like shade and privacy. They also help reduce eye strain because they provide shade to your eyes as well as your face when you look up from reading or watching something on your phone.
Sun-protection umbrellas come in different styles and designs. Some are oversized and used at the beach or patios, some have a handle and can be carried around like regular umbrellas while some have an adjustable headband to fit your head size and comfort level.
Umbrellas Vs Parasols
Umbrellas and parasols are very similar, but they have some very important differences.
The first difference between umbrellas and parasols is that umbrellas are more versatile than parasols. This is due to the fact that you can use an umbrella when it's raining, whereas you can't use a parasol in the rain.
The second difference between umbrellas and parasols is that parasols can be placed to stand on their own, unlike umbrellas that need to be held. A lot of people find this to be more comfortable because they don't have to worry about holding a parasol up all day long.
Finally, both umbrellas and parasols provide protection from the sun's rays, but they do it in different ways. Umbrellas block out the sun and protect you from the rain and wind while parasols redirect the sun's UV rays away from your face so that you don't get burned or blinded by them; they're not designed to keep you from getting wet.
Why You Should Trust Us
Umbrellas are a practical necessity. If you've ever experienced a sudden downpour or heavy wind in the middle of your walk home or to the office, you know how much more enjoyable it is to have an umbrella that keeps you dry — and how much more comfortable it is to have one that fits well and doesn't blow away with every gust of wind.
It certainly doesn't help that there are a ton of options online and in stores. This is why we scoured the internet and picked the best of the best. We're confident that one of our selections is your next favorite umbrella!
How We Picked
We looked at the following features and functions in picking the best umbrellas:
The material of the umbrella: This determines how well the umbrella will keep you dry. We took into consideration umbrellas whose canopies are made with the best fabric/material with or without coating.
The handle: How comfortable does it feel? The handle of an umbrella is important because it should be comfortable to hold and easy to hold onto when wet. The more comfortable it is to hold, the more likely you will use it for longer periods. In addition, the longer or wider, the more comfortable it will be for you to carry your umbrella in one hand.
Durability: This is usually the major problem with modern umbrellas. There are plenty of cheap umbrellas on the market that break easily after just a few weeks' use (or even just a few days) which is why we picked umbrellas of high-quality and super-durable construction that are sure to last long since you'll always use your umbrella in less-than-ideal weather.
The height of the canopy: This is important because taller umbrellas can shield you from rain better than shorter ones.
Size: You may not think of this, but the size of your umbrella does matter. Our selections are compact, which means that they are easy to hold, carry or tuck in a bag, so you can get them out when it gets too windy or starts raining.
Protection: A strong gust can yank your umbrella out of your hand or fold it inside out. Maybe it's the rain or sun making it difficult for you to survive the weather. If your umbrella isn't waterproof, windproof, and sunproof like our selections, there probably won't be any difference between you who has an umbrella and someone without one.
Affordability and design: Who doesn't love affordable varieties? Not only are our best picks affordable and pretty much great, but they also come in several different colors, so you can pick one that matches your personality or style perfectly.
After taking these factors into account, we chose our top three picks based on their overall performance in all categories.
Care and Maintenance
Umbrellas should be stored in a dry area, and they should be protected from the sun's UV rays. If you're storing your umbrella outdoors, make sure it is covered with a tarp. If you're storing your umbrella indoors, keep it away from direct sunlight, heat sources (like radiators and heaters), and moisture (like the bathroom).
To remove dirt and dust from the surface of the umbrella, use a soft cloth or sponge with mild soap to wipe down the outside of your umbrella and the inner surface of the canopy. Make sure that you do not use any abrasive sponges or cloths that can scratch the surface of your umbrella's fabric. Dry your umbrella by hanging it from a clothesline or using a towel rack if you have one.
To prevent mold and rust on your umbrella when drying it, remove any excess water from around the edges of the base with a towel or paper towel, and let the umbrella dry completely by hanging it upside down in an area that does not get much direct sunlight.
Don't fold your umbrella when wet. Instead, put it in a plastic bag and let it dry out before you fold it back up.
You might think umbrellas are sufficient as walking support, but that is not the case! Umbrellas are not designed to bear weight as this can damage the metal frame and cause it to break or fall apart completely.