The Best Travel Mug for 2023
The most secure way to transport your favorite beverage is in a dependable travel mug.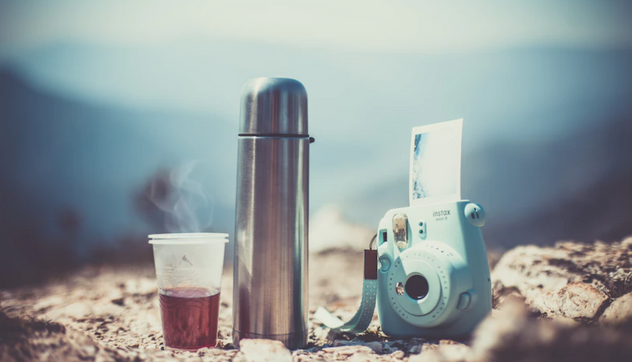 If you're going on a road trip and want to enjoy your favorite beverage along the way, a travel mug is a must-have. These travel mugs are especially perfect for warm or hot drinks. They come with tight-fitting lids to prevent accidental spills and are well-insulated to keep drinks at whatever temperature for a decent amount of time. Even better, these mugs can be reused multiple times, reducing the number of disposable cups that end up in landfills. Do you know what's better than one travel mug? A few more travel mugs. Here is a list of some of the best options on the market right now.
How We Picked
Material

The majority of travel mugs are constructed of stainless steel on the inside and glass, ceramic, or plastic on the outside. Stainless steel is more resilient, which is perfect for different drinks, while glass, ceramic, or plastic are great for the exterior because they are poor heat conductors.

Insulation + heat retention

To better retain heat, travel mugs have an additional layer of insulation. They also have an airtight enclosure that keeps heat inside. Consequently, your beverage will stay hot or cold for a long time.

Size

It's crucial to recognize and comprehend the size differences so that you don't get thirsty throughout the day! Look for a travel mug that is the right size for you.

Price

Depending on your choice of quality, size, and material, travel mugs vary in price. That said, stainless steel mugs are more expensive than other materials.
Our Top Picks
Best Pick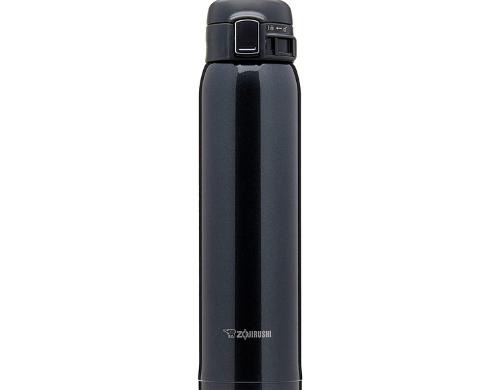 This model's heat retention is very powerful, and the lid is leakproof.
These travel mugs come in a wide range of lovely colors, making them perfect for just about anyone.
The outstanding vacuum-insulated Zojirushi SM-SD60BC Stainless Steel Mug keeps beverages hot for hours, even in chilly surroundings. The stainless steel body is complemented by a convenient, BPA-free plastic flip-open cover.
Runner Up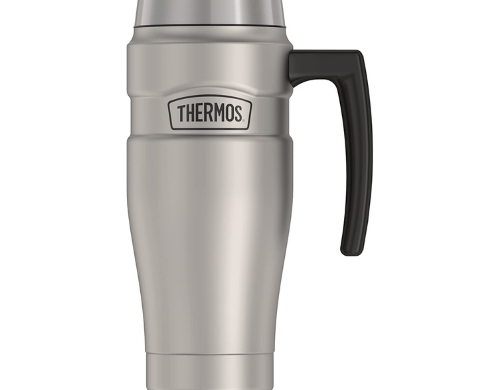 This Thermos travel mug is sweat-proof and features an easy gripping handle.
These are some of the most durable travel cups on the market, thanks to their steel construction.
This 16-ounce mug, which comes in five different colors, features a double-wall stainless steel structure to keep beverages hot for up to five hours or cold for up to nine hours. This travel mug is simple to clean and dry; all that is required is either a hand wash in water and soap or a dishwasher (which is completely safe).
Most Cost-Effective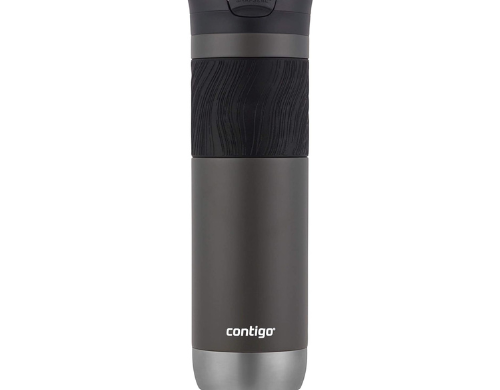 This Contigo travel mug is dishwasher-safe and quite affordable.
These mugs can keep hot liquids hot for up to nine hours and cold drinks cold for an amazing 21 hours!
This travel mug has a one-piece SnapSeal lid that is leak-proof when closed and allows for one-handed drinking without the need to remove or misplace additional lids or caps. This model requires no further effort or skill to operate, including cleaning.
Everything We Recommend
Best Pick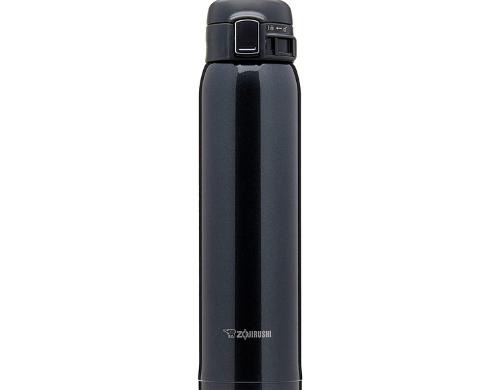 This model's heat retention is very powerful, and the lid is leakproof.
$70.53
Runner Up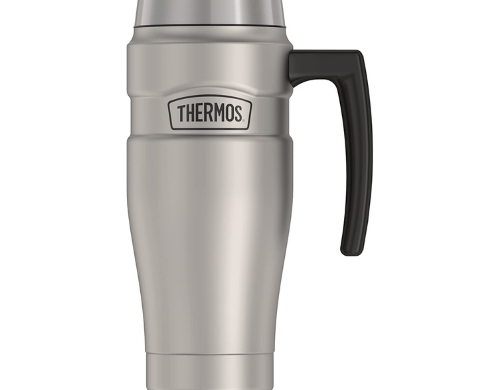 This Thermos travel mug is sweat-proof and features an easy gripping handle.
$27.07
Most Cost-Effective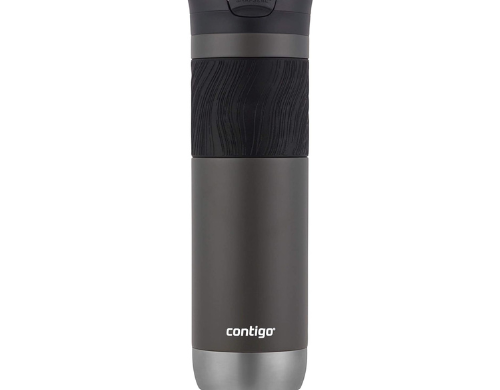 This Contigo travel mug is dishwasher-safe and quite affordable.
$22.91
Who This Is For
A travel mug is ideal for you if you commute, work, or travel outside, or if you just want to enjoy beverages for longer. It also helps you reduce the cost of purchasing a single-use cup for your beverages in restaurants every time you need a drink.
Travel mug vs tumbler
A travel mug is intended to be used for both hot and cold beverages when traveling, but it works best for hot drinks like coffee, tea, and hot chocolate. It preserves the temperature of your beverage at the proper level for a very long period. Anyone who commutes to work, runs errands on foot, rides a bicycle, travels frequently, or is even a student, needs a travel mug.
A tumbler, on the other hand, is a type of drink container that can hold both hot and cold liquids, although it is usually filled and ideal for cold beverages. It frequently has no handles, a lid, and a straw. It is also frequently made of BPA-free plastic. Unlike a travel mug, it cannot hold beverages at the proper temperature for as long. A tumbler is necessary for events like wedding feasts, family dinners, picnics, beach fairs, and other quick-paced activities.
Do I really need one?
Having a travel mug as a regular beverage taker is a good investment, especially whenever you're traveling. With this, you may not even need to go to the café every time you need a coffee or tea. Instead, you can prepare any type of drink as much as you want in your kitchen and secure it in your travel mug. You really should get a travel mug if half of your day is spent at work or away from home.
Why You Should Trust Us
We chose several travel mugs and came up with four choices to assist you in making an informed purchase. We looked at important factors such as material, price, size, leakproof, insulation, ease of use and cleaning, durability, and other factors before giving them further information on what they liked and didn't like about each cup. So, we proceeded with our four choices, tested them, and collected reviews from people who use them daily. We did not only pay attention to their positive experiences or satisfaction; we also considered their pain points to help us compare similar brands eloquently.
How We Picked
Material – stainless steel
Aluminum, stainless steel, or plastic are the most common materials used to make travel mugs. Since metal is the best insulator, it will maintain the temperature of both warm and cold beverages. They are comprised of iron combined with carbon and chromium. This mixture increases its strength and makes it rust-resistant, making it difficult to break. Unfortunately, the taste sensation offered by stainless steel mugs might not be the best. Numerous claims from coffee users assert that the metallic flavor of the coffee is caused by these mugs. Also, consider the drawbacks that some materials have. For instance, certain stainless steel cups may negatively affect the flavor of your coffee, while other plastic mugs may discolor and retain coffee odors.
Insulation + heat retention
To better retain heat, travel mugs have an additional layer of insulation. They also have an airtight enclosure that keeps heat inside. Consequently, your beverage will stay hot or cold for a long time.
For an average of roughly four hours, your travel mug can keep your beverage hot. Cold drinks will stay that way for 13 hours on average. However, how each mug is made will determine how long it will last. Coffee in stainless steel cups stays at the proper temperature for a very long period and is less likely to leach chemicals.
Size – capacity
There are travel mugs available in a variety of sizes, ranging from 6 to 24 ounces, but the most popular sizes are 12, 16, and 20 ounces. Even though most manufacturers offer two to three selections, others only come in one size. You might also take your intended use into account while selecting your size. Look for something that is the same size as a takeout coffee cup if you want to make it easier on the person who makes your latte. It will keep your coffee hotter for longer if you choose a size that corresponds to the amount you intend to consume.
Price
Customers who use travel cups can spend less money since they make fewer daily trips to the coffee shop. However, even though they are the same type, larger mugs can cost more than smaller ones due to their size. The least-priced alternative is likely to be plastic, whereas glass, stainless steel, and ceramic are all marginally more expensive.
Leakproof
A leakproof bottle keeps your drink from spilling and keeps your mugs from becoming wet. Your leak-proof travel mugs should have a tough, long-lasting finish that won't chip like paint or produce slippery condensation or sweat and cause the mug to slip from your grasp. The leak-proof lid also makes sure that your drink will stay in the cup if it does manage to fumble from your grasp or move around in the car. Because of its double-walled vacuum insulation, which has been developed to completely prevent leaks and minimize splashing, you may put it in your bag or car without worrying.
Easy to clean and use
Every travel mug should be simple to use, especially when drinking. On the other hand, some models seem a little bit difficult to use due to the extra technology featured in them. If you plan to use your cup while riding a bike or driving, at least one hand must be free, and most likely both eyes. A decent cup ought to be simple to use with just one hand to open, close, lock, and unlock. In addition to being simple to disassemble for cleaning, the lid shouldn't fully obstruct your view while you're driving or touch your nose when you're drinking.
Durable
Your travel mug should be sturdy enough to withstand the extra forces exerted on it when in use. Irrespective of the material, when thrown from a fair height, your mug shouldn't dent, break, or begin to leak.
Care and Maintenance
How to wash and dry
Pulling or untwisting the mug's lid will allow you to remove it so that you can wash your travel mug properly. The rubber seal that surrounds the inside rim of the lid can then be removed by pulling on it if it is possible. When the water in the sink is warm but not hot, turn on both the hot and cold water faucets and let the water run for a short while. Adjust as necessary. After that, either fill a big bowl or plug the sink to start filling it up.
Dish soap should be added while the sink or bowl is filling up. The cup, lid, and rubber seal should all be submerged in soapy water after the sink or basin is full. Then, scrub the mug, lid, and rubber seal thoroughly, taking great care to scrub the lid's crevices. This will get rid of any leftover grime, bacteria, or residue that was clinging to the cup parts. After brushing all the cup components, drain the sink or pour the soapy water out of the bowl. After that, hold each component under the running water in the sink while the water is set to warm. On a fresh piece of paper towel, spread out the entire mug, lid, and rubber seal. Before reattaching the rubber seal to the lid or the lid to the mug, let them air dry fully.
How and where to store when not in use
Before you store your travel mugs, make sure they are completely clean and dry. Keeping them in your cabinet without any support could cause them to fall and cause damage whenever you open them to take something out. We recommend you make use of a bottle stand organizer, where you can easily store them horizontally in your cabinet or vertically in your deep drawer.