The Best Trash Can of 2023
These best trash cans will help you manage your trash better.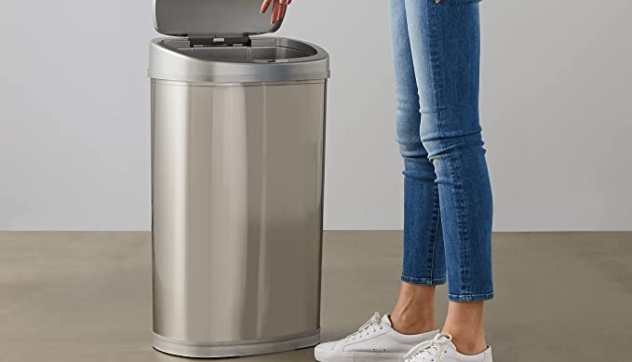 A trash can provides a designated place to throw away your trash. As a result, you can keep your home or office somewhat organized. Over the years, trash cans have evolved and now come equipped with features like automation. Others have an in-built odor-eliminating system that keeps the air clean from effluvium. We've reviewed a number of trash cans and narrowed them down to some great options.
How We Picked
Usage Type

A trash can's intended use determines what trash can to get. While an office trash can for holding waste papers can be open and perforated, a kitchen trash can needs to have a lid to keep bugs out and control odor. We have selected the most versatile cans so you can use them to dispose of any type of waste.



Location/Convenience

Given that trash cans are meant to hold trash, you don't want to have one in plain sight. It's important to position your trash can in a convenient spot that is easily accessible.


Durability/Material

Trash cans are often made with plastic, metal, or concrete. While metallic cans tend to last longer, they can be quite heavy. Plastic cans, on the other hand, are great for just about any use and in any weather. The material of the selected trash cans should be strong, water-resistant, and also rust-resistant.



Cost-Effectiveness

There has to be a fine balance between the benefits and the price of a product. Our picks come at a convenient price, and we aim to deliver good value for money on all our selected items.


Our Top Picks
Best Pick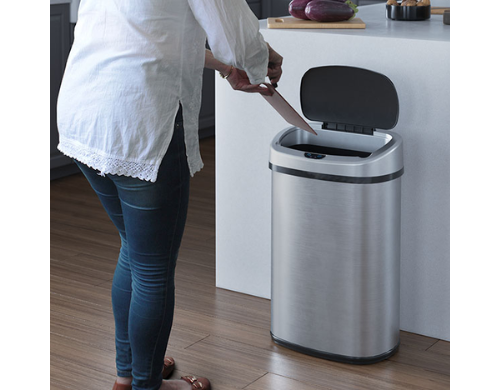 Comes with an in-built odor filter.
This trash can has automated sensors, making it great for contactless trash disposal around your kitchen, home, or office.
If you prefer some elaborate technology, this automated trash can is the best choice! It has a touchless sensor that keeps your hands clean and away from the can. This way, it assures you of maximum hygiene. This product also offers a host of amazing additional features.

Runner Up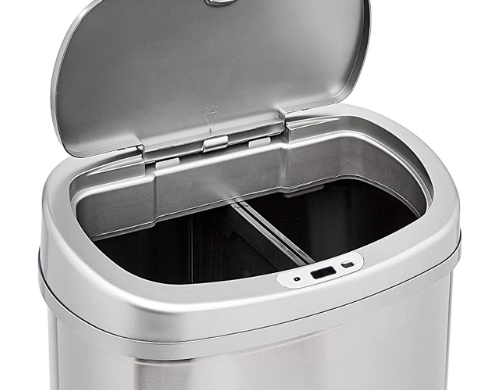 With a motion sensor and secure bag placement.
This can fits regular trash bags and includes a ring liner that conceals the rim of the trash bag.


Also using automated sensor technology, the Amazon Basics Automatic Hands-Free Trash Can is here to keep your hygiene levels high. This can has two compartments for trash separation. Also, because of the delay motion sensor, it cannot be accidentally opened by pets or passersby.

Most Cost-Effective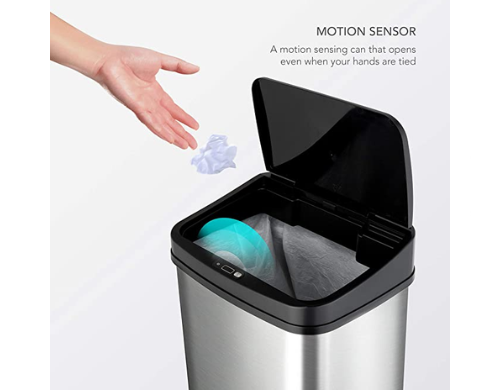 This simple trash can gets the job done.
A minimalistic and touchless trash can that provides good value for money.
This is a classic, simple, and minimalistic trash can that is suitable for all types of waste. This is made of type 430 stainless steel and is coated with an anti-fingerprint polish technology that leaves no traces of dirty fingerprints behind. Also, this device has an in-built water-resistant infrared motion sensor.

Everything We Recommend
Best Pick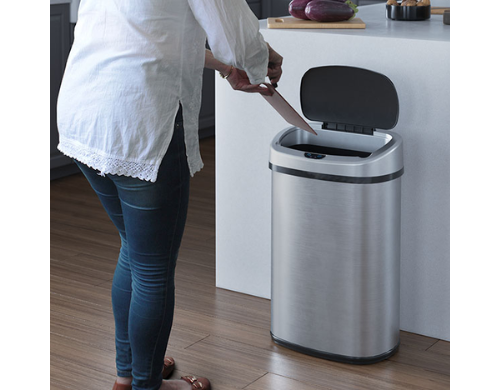 Comes with an in-built odor filter.
$89.99
Runner Up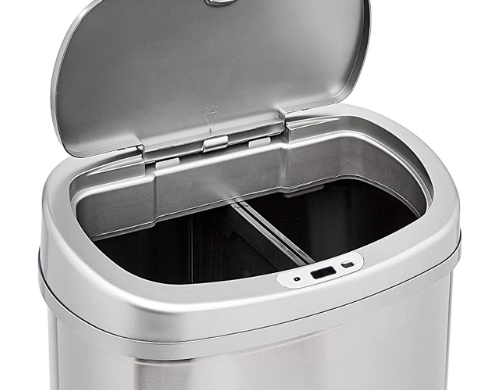 With a motion sensor and secure bag placement.
$84.52
Most Cost-Effective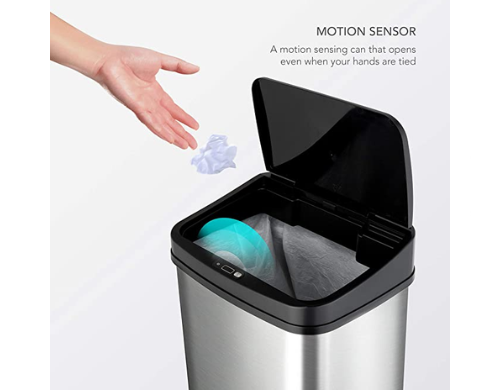 This simple trash can gets the job done.
$66.94
Who This Is For
This list is for those who are looking to buy a trash can that best suits their requirements and budget. We have chosen the top trash cans for your convenience.
Types of trash cans
There are two types of trash cans; those with motion sensors that eliminate the need to open the lid manually with a foot pedal or hand, and conventional ones without any sensors or extra technology.
Why You Should Trust Us
We have gathered valuable data and information regarding trash cans. Based on that, we have made our selections to provide you with trash cans that offer only the best features, functions, and value for money. No matter what your requirement is and what type of waste you wish to dispose of, our list has been prepared keeping all your needs in mind, and you will find a suitable trash can easily with its help.
How We Picked
To be included in our list, we decided upon some criteria for all the trash cans out there. Here is how we picked these cans for you:
Firstly, trash cans must be suitable for any type of use, indoor or outdoor. Usually, people want them for kitchen waste, so we considered those with anti-odor technology. This was one of the significant factors in choosing the cans. We also paid attention to the linen that was used and ensured that it was easy to use and dispose of.
As for the models of the trash cans, we decided to go with sensor-equipped ones. A sensor allows the user to minimize contact with the trash can, thereby reducing germs and bacteria, which helps you keep your hands safe and clean.
Durability is one of the factors that cannot be ignored. So, the next factor that became one of our criteria was the durability of the can. We selected trash cans with strong base materials that were long-lasting and could withstand any situation.
Our selected cans can contain almost 13 liters of waste. Another thing that was considered was the design element; our selected trash cans have simple and sleek designs that provide ease of use and occupy less space. And last but not least, our trash cans come at a reasonable price. Even with the innovations and technology that they offer, we made sure that the selected cans were not overpriced.
Our only goal is to deliver the best products. Let's have a detailed look at our picks.
Care and Maintenance
To keep something looking neat and, most importantly, working well, you need to take good care of it. We are also going to share some tips and tricks to keep your trash can in top shape.
Regularly clear out your trash can
It is important to have a schedule to clear out the trash can. This can reduce the probability of overloading. It is recommended to clear out the trash can every seven days.
Keep your trash can clean
After you clear out your can, you may also want to clean it. The easiest way to do so is by using a cleaning spray and then wiping it with a clean, dry piece of cloth.
Use an air freshener to prevent odors
The awful smell of trash can be disturbing, especially in an air-conditioned room. To prevent that, you can put an air freshener near the trash can. While most trash cans have odor management technologies, you can use a freshener if your trash can is basic and manual.