The Best Tampons for 2023
Periods aren't fun, but your tampons don't have to make you feel any worse.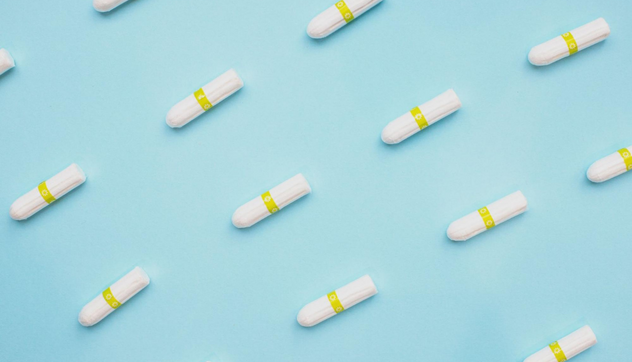 Finding feminine care products should not be like looking for a needle in a haystack. While some women have manageable periods, others suffer from mood swings, cravings, nausea, vomiting, perineal pain, cramping, dizziness, and other unpleasant symptoms. Struggling to find good, quality tampons should not be added to that list. We wanted to help every woman have a slightly more relaxed period by giving her the ultimate tampon list. With thousands of brands out there, we scoured the internet to find the best tampons for your wallet and health.
How We Picked
Comfort

A tampon should not feel like a burden you have to carry. It should go in easily and be undetectable throughout the day, but otherwise, it loses value.

Functional

The point of a tampon is to keep your period blood from staining your clothes. If it fails to perform this one function, then it cannot be classified as a tampon.

Packaging (easy to carry around)

Compact, easy-to-carry tampons are ideal. If not, we were looking for tampons that were individually wrapped for easier use and transport.

Price

The pink tax is a problem, and period products should be affordable for everyone. We found great tampons that won't break the bank and can fit multiple budgets.
Our Top Picks
Best Pick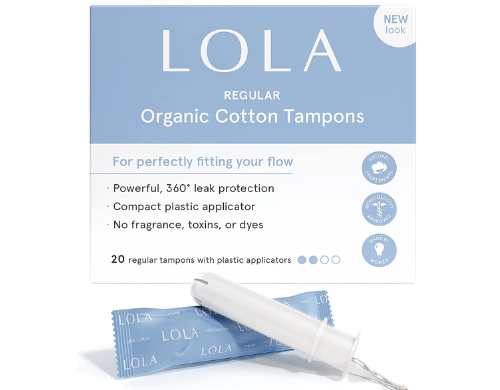 Simple, scented, and chlorine-free tampons made from 100% cotton.
LOLA is a company founded and run by women for women, which explains why these tampons are comfortable, leak-proof, and come with a BPA-free applicator. They're great for every woman, but especially those who suffer from allergies and are easily irritated by period products.
Unscented and toxin-free, tampons that are made of 100% pure cotton.


Runner Up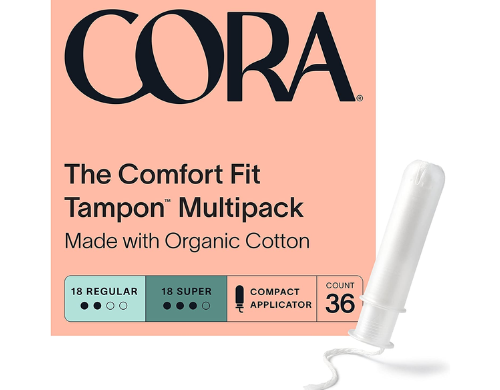 Cora Organics is well-known for its commitment to providing toxin-free period products for women.
This classic brand of organic cotton tampons is a great alternative to LOLA. They are comfortable and provide an easy fit for every woman. Cora Organic tampons come with a strong applicator for easier insertion. The 36-pack is well-priced but the 144-pack is an even better deal. The tampons are free of toxins and pesticides.
Comfortable and easy-fitting cotton tampons with a BPA-free plastic applicator.
Most cost-effective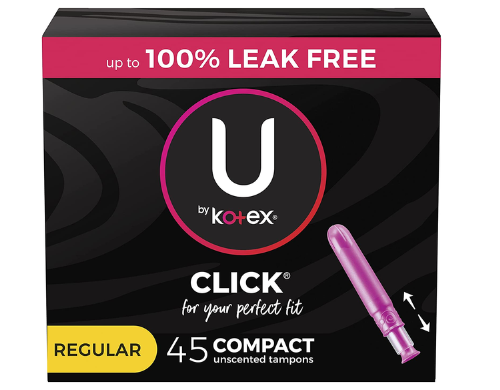 The unscented tampons have a smooth, rounded tip for easy and safe insertion.
Kotex is a company trusted by millions across the world when it comes to sanitary products. Their U by Kotex brand is an affordable tampon that feels luxurious. The tampons are compact, highly absorbent, and equipped with press-DRI protection. They are a great budget-friendly option.
Tampons that are both inexpensive and comfortable to use.


Everything We Recommend
Best Pick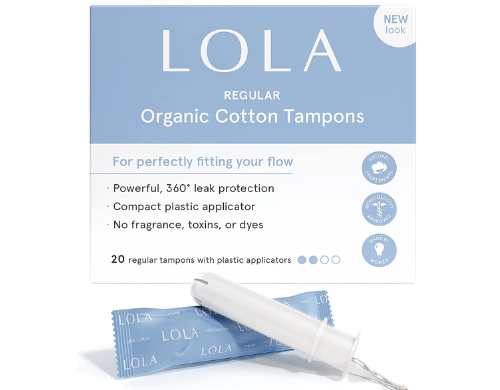 Simple, scented, and chlorine-free tampons made from 100% cotton.
Runner Up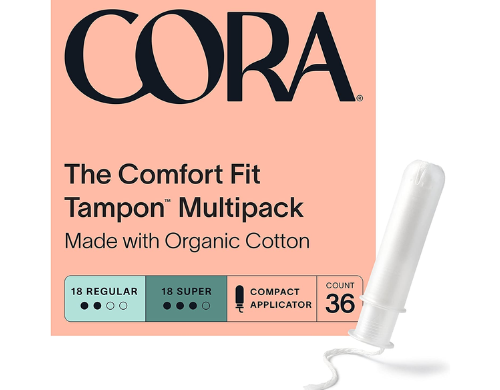 Cora Organics is well-known for its commitment to providing toxin-free period products for women.
$16.99 ($16.99 / Count)
Most cost-effective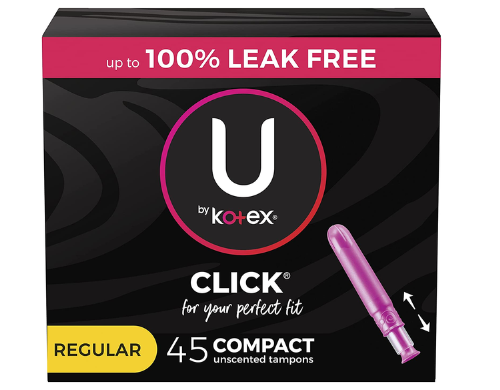 The unscented tampons have a smooth, rounded tip for easy and safe insertion.
$9.36 ($0.21 / Count)
Who This Is For
This list is for everyone who gets a period and everyone around people who get periods. Periods will be slightly easier to manage with the information and products provided here.
Pad vs. tampon vs. menstrual cup
Pads are a classic period product. They are disposable, easy to use, highly absorbent, come in many forms, and are the least invasive option. When made well, they are comfortable for sleeping and sports and provide a more secure feeling. However, many women do not like the feeling of a pad when it's full. If you have pubic hair, the pad's wings can stick to it and be painful. Some women also find it embarrassing to unwrap pads, as the wrappers are often plastic and sound loud in bathrooms.
Tampons are the more compact, disposable period products. When properly inserted, they allow for more vigorous activity, freedom of underwear choice, and water sports. They are easy to carry around and can help with feeling 'clean' during your period. Tampons are, however, tricky to insert, especially the first few times and without an applicator. They can be painful and uncomfortable without proper insertion and expose you to a higher risk of TSS.
The menstrual cup is a newer period product. It is a reusable cup that can last for up to eight hours. It is more environmentally friendly and is inserted by the narrow neck into the vaginal canal. Nonetheless, the menstrual cup does come with a few challenges. Some women have noted that it bumps into their cervix and can be quite painful. The cup is the messiest option out of the three. When using a menstrual cup, you should pay extra attention to hygiene. The cup, your hands, and the vaginal area must be properly washed before every application.
Are they safe?
Tampons are safe. As with everything else, there is some risk. Using tampons exposes you to a higher risk of toxic shock syndrome (TSS). However, if you follow the rules of insertion and removal and do not wear them for longer than the recommended 4 hours, you are less likely to suffer from TSS.
With or without an applicator
An applicator simply makes insertion easier. Effective applicators are made of plastic, but some are made of cardboard. Some tampon packs come with an applicator, and some don't. Plastic applicators can cause chafing and irritation in the vaginal canal if used improperly or if someone is allergic to the plastic. However, they make application easier, and cases of reaction are few.
You do not need an applicator. You can insert a tampon without one if you use the proper technique and remain calm. It is the more sanitary option, as long as you clean your hands immediately before and after insertion. Applicators can hold on to bacteria and require deep cleaning after every insertion.
Why You Should Trust Us
We are women, and we know what it is like to have a period. Even more importantly, we know what it's like to search for the perfect tampon that's not uncomfortable, leaky, hard to carry around, or that takes hours to insert. We want to have more manageable periods, and that starts with good period products. We took it upon ourselves to do the research, so you don't have to.
How We Picked
We picked the best tampons on the market based on specific, measurable, and researched criteria:
Comfortable
Tampons should be undetectable once you insert them. If you can feel a tampon inside you, then it lacks the comfort aspect. Our suggestions all passed the comfort test and were ranked based on degrees of comfort rather than a lack thereof.
Packaging (easy to carry around)
Individually wrapped tampons tend to be easier to carry around. On top of that, the more compact a tampon is, the easier it is to fit into bags and pockets. We were looking for tampons that were individually wrapped to make it easier for you to carry them around.
Functional – easy to insert and remove
You should not have to work a tampon in or cut it out. Ease of insertion and removal were key components of the tampons we chose as the best ones.
Absorbing capability
Our main concern was finding leak-proof tampons. Of course, no tampon is fully leak-proof and can leak if put on for too long. However, properly manufactured tampons should last the recommended 4 hours without leaks if used as per period flow guidelines. We were looking for highly absorbent yet comfortable tampons.
Price
Tampons should never be a reason to break the bank. They are an essential need for women everywhere. We limited our review to affordable tampons so that you could choose to buy the one you liked the most, not just the most affordable.
Size
Tampon size is based on two things: flow and the compactness of the tampon itself. While flow is solely up to you as the buyer, how compact a tampon is decided by the manufacturer and the ingredients. Pure cotton tends to be less compact, while inorganic tampons can be shrunk down further. We wanted to review both compact and non-compact tampons in order to get the best of both worlds.
Unscented
Scent has been proven to not only be useless in period products but to be a cause of reactions and increased PMS symptoms. Because of this, we wanted to only review unscented tampons.
Care and maintenance
How to dispose
To dispose of your tampon, take it out carefully and wrap it in tissue paper. You can also add another tampon's wrapper to secure the tissue wrapping. Toss the wrapped tampon into the sanitary bin in the bathroom. Clean up and wash your hands thoroughly with ant-bacterial soap afterward.
Where and how to store when not in use
Place your tampons in a cool, dry place. Avoid direct heat, sunlight, or moisture-rich areas. This could cause the tampon to unravel. Check for expiry dates and use old tampons first.