The Best Storage Containers for 2023
Having the right storage containers makes it easy to maximize your space.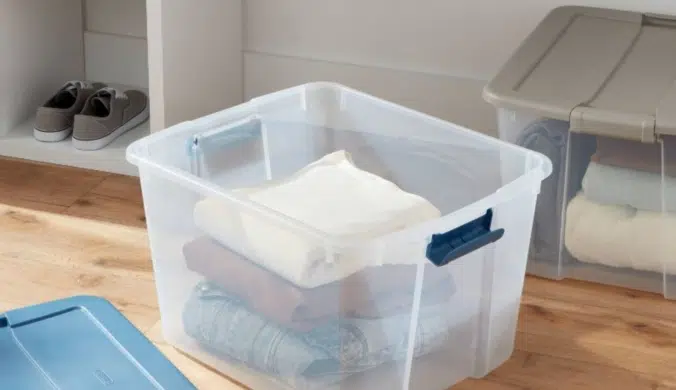 With inflation soaring through the roof, we all have to think about how we spend our money. As prices on mundane goods show no signs of decreasing, many of us might need to preserve more household goods for longer, and this is where storage containers come in.
To keep your space organized and your items in the best possible condition, new or aged, you will need storage containers. If you've ever tried to find storage containers, you know that there are thousands of options in every size, color, and build quality. With that in mind, we've selected some of the best storage containers to fit your storage needs, factoring in all the necessary considerations.
How We Picked
Size/Capacity

Storage units depend on the purpose, use, and amount of space around the house. Choosing the right size container should make carrying your items stress-free


Lid/Attachments

Lids can make or break the use of storage containers. Should you carry it around often, sturdy latches are more reliable than flap latches. Make sure you choose the container most suitable container for your needs


Water Resistant/Condensation Resistant

Moisture and potential leaks can ruin your valuables, so you must pay close attention to the design of storage containers before taking the plunge


Cost-Effectiveness

Unlike other products, storage containers irregular purchases. The practical purpose of storage containers is to preserve items for a long time. Getting the right quality container at the right price could mean never worrying about containers again

Our Top Picks
Best Pick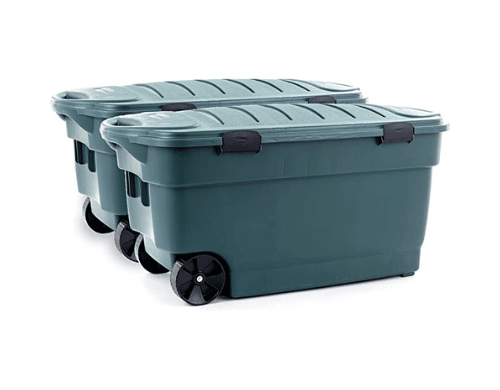 Suitable for all conditions, come blazing sunshine or blizzard snow
A high-quality eco-friendly plastic container. The container's design, with mounted wheels and a sturdy handle, allows for easy mobility. Additionally, the locked lid protects your belongings from unwanted dust and unwelcomed moisture.
Wheels make these containers convenient for storing and lugging heavy items. Mobile and sturdy, this eco-friendly option is a multi-purpose storage container.

Runner Up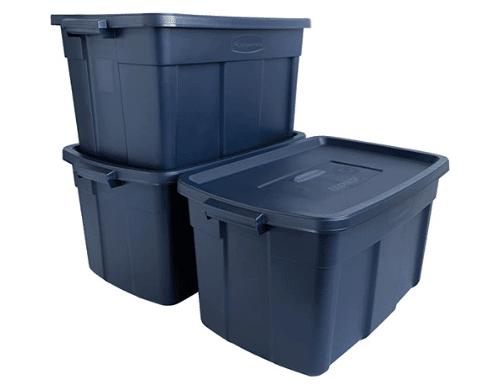 Made for longevity, you can place heavy items in this storage container easily
A solid storage container available in a variety of different sizes Featuring a compact design coupled with an air-tight lid to maintain dry and cool conditions, this makes for a durable storage container that's also portable.
These will stack nicely with no cracking. The durable second option is great for ease of use with its air-tight lid design.


Most Cost-Effective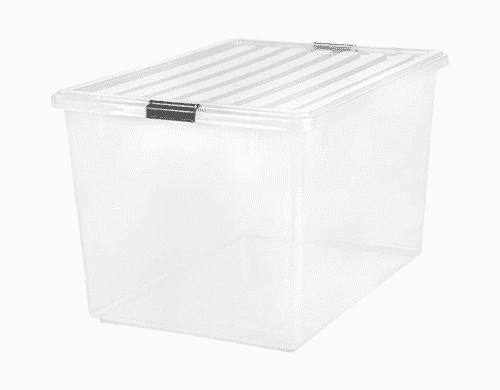 A simple and efficient storage container, suitable for household environments and conditions
A versatile container that can be used in a multitude of ways because of its sheer size. Semi-transparent for identification with a buckle-down lid to keep your items protected. Perfect to be used indoors.

Organization on a budget. This cost-effective and transparent option takes the labeling out of storage containers.

Everything We Recommend
Best Pick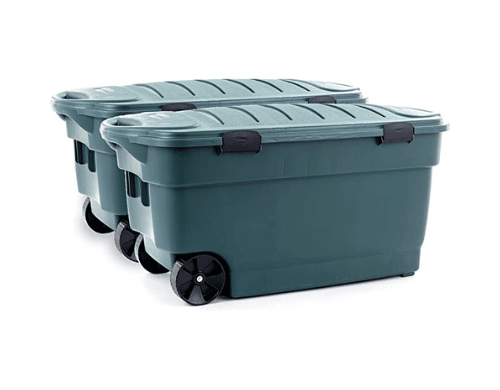 Suitable for all conditions, come blazing sunshine or blizzard snow
$230.36 ($57.59 / Count)
Runner Up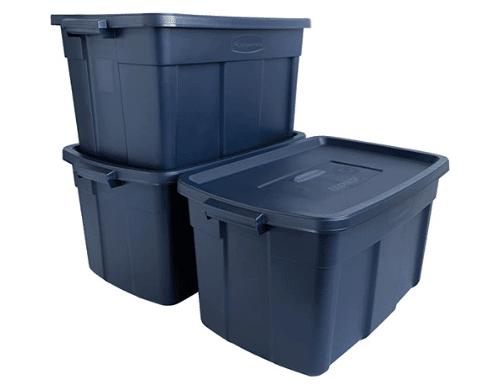 Made for longevity, you can place heavy items in this storage container easily
$124.50 ($41.50 / Count)
Most Cost-Effective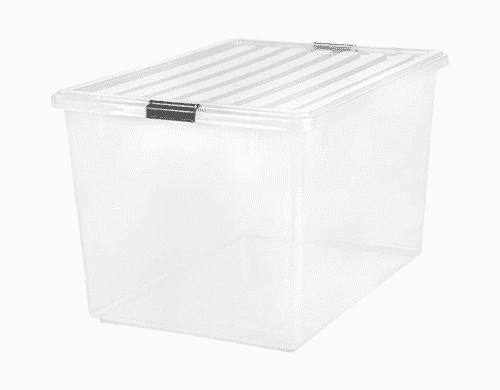 A simple and efficient storage container, suitable for household environments and conditions
$69.99
Who This Is For
Whether your concern is about storage space at home or work, it is vital to get the correct storage container, whatever your purpose.
Getting the right type of storage container for your task
The correct storage container could be the difference between beating traffic and saving a few dollars on gas or hitting the throngs of traffic, wasting time, and stopping at Exxon for a fill-up.
There are a plethora of storage containers of different sizes and shapes. There is no shortage of storage containers, including cardboard boxes and handwoven baskets.
Different types of storage containers
Corrugated cardboard boxes
Cardboard boxes are one of the most common containers used for storage, whether small-scale or large-scale. Many businesses use cardboard boxes to save on running costs and deliver goods. If you recently purchased a product from Amazon, it came to your door in a cardboard box. One of the main benefits of these types of storage containers is their versatility. However, despite these benefits, cardboard boxes for everyday people have a short shelf life. Cardboard boxes are great for weekends away or vacations. They, unfortunately, fall prey to unfavorable weather conditions or insect infestations.
Baskets
Baskets as storage containers are ergonomic and are used to store different products, mainly those of a domestic disposition. From toilet paper, and dirty laundry, to your common key area, woven baskets are perfect for daily domestic storage due to their ease of access. However, baskets fall flat when storing heavy material over long periods. Woven straw and rope are not conducive for long-term storage, and baskets, like cardboard boxes, are susceptible to the elements, limiting their usefulness.
Fabric bins/Storage containers
Fabric storage containers are great for households. Easy to set up and fold, these containers take up limited space. They are great options for toys, books (within specified weight limits), snacks, or any other packaged or dry products around the home.
Why You Should Trust Us
Choosing the correct rugged and multi-purpose storage container is an important decision. These containers preserve family documents, make moving easier and ensure safe camping trips. And purchasing a sub-standard storage container could see your invaluable family photos, birth certificates, and family heirlooms ruined due to weak plastic and poor design. We made sure to pick out high-quality and sturdy products adequate for all your household storing needs. Storage containers should ease your domestic worries, not add to them.
With these variables at the forefront, we believe we've provided the best options at the best price.
How We Picked
There are many task-specific storage containers, and, at first, glance seems serviceable. However, only specific family-friendly storage containers are conducive to most conditions or products.
We've selected storage containers specifically purposed for large families or single households. With that in mind, we know offering you factory storage units built for warehouses is not relevant for you. All our options are easy to open, close, and carry.
We also picked storage containers equipt to safeguard your valuables against invisible enemies, namely fermented moisture and unsealed lid designs. With each option averaging over 200 pounds in maximum weight capacity, most of your home items shouldn't have any trouble fitting in.
With the different packages to explore, all options are durable, produced from polyethylene, and suitable for long-term storage or great outdoor adventures. So after scouring and analyzing different storage containers and reliable customer experiences, we've shortlisted three storage containers to make your life easier and less burdensome.
Care and Maintenance
Ensuring longevity regarding storage containers is about sensible packing, cautious stacking, and general cleanliness.
When traveling or moving, many people tend to stack storage containers on top of one another. Although storage containers fit on top of one another, be sure not to overstack, potentially risking passenger safety and damaging the containers. It is advised you stack two bins on top of one another.
Packing storage containers past capacity is not recommended. If you tend to overload storage containers, they lose their shape and rigidity and end up cracking or breaking over time. To ensure safe packing loads, place one or two thick blankets or towels at the bottom of your storage containers. These buffers will limit weight with little trouble.
Many modern plastic storage containers keep moisture at bay. If not, there are ways to protect your items. If you store clothing in a storage container for long periods, take them out every one or two months, lay them on your bed for an hour or so, then place them back into the container. This prevents moisture from growing or fermenting in the container.
Another way to rid your storage container of moisture is by placing desiccants inside. Getting a small bag of desiccants can keep your items dry for around six to 18 months before needing replacements. If insects become a problem, there are ways to seal your storage container to close any protruding gaps. Although masking tape is a viable sealing option, zip ties are more effective sealants, offering extra protection when carrying valuables.