The Best Standing Desk Converter of 2023
Each of these standing desk converter will magically turn your current workstation into an ergonomic standing desk.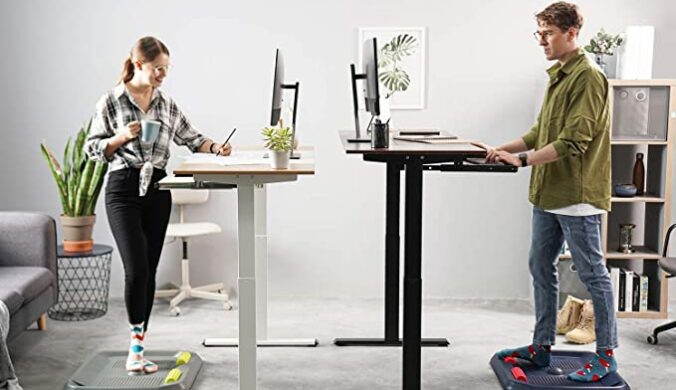 Standing desks are the hottest thing in office furniture right now and standing desk converters come in a close second. If you're tired of sitting all day, adding a standing desk converter to your current desk is a simple way to enjoy the benefits of a standing desk without spending much money.
Standing desk converters help with back pain, stress reduction, and a variety of other health benefits. Even better, desk converters provide a plethora of customization options, making it easier to adjust to your new sit-stand station.
There are several types of standing desk converters available to make your life easier. Here are our top picks for increasing productivity without hurting your back or pocket!
Our Top Picks
Our Top Pick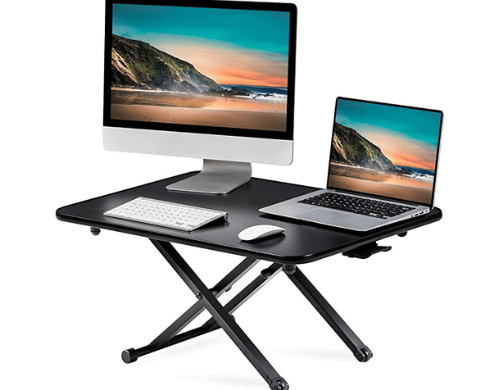 The ergonomic edge design helps prevent you from hurting your arms while typing.
Our Runner-Up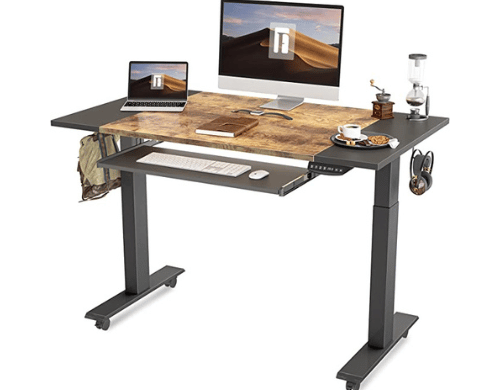 The included cable management tray hides your cables, thereby preventing messy rooms.
$254.99
Most Cost-Effective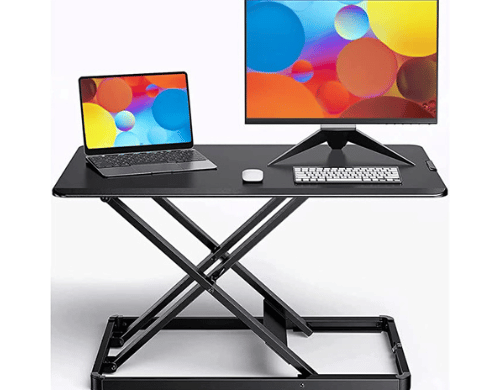 Pushing the side lever enables you to switch from sitting to standing at any preferred time.
$109.99
Who This Is For
Standing desk converters are intended to cater to those people who frequently work from computers or laptops. It is perceived that using them can eradicate pain or other fatal diseases whenever you want to relieve muscle tension.
Can you make a normal desk a standing desk?
Creating a homemade standing desk can be done if you want to save money or if you need to use a preferred design and size. However, you should first consider factors like the cost of required equipment, height, and comfort.
Well, the most affordable way of making a DIY standing desk is if you raise your normal desk. To achieve this, you can add extra gadgets below the feet and raise the desk to the preferred height level. Even though the overall look is not that sophisticated, it is still a better method since the surface will not be reduced.
Another way is to purchase a standing desk frame to add on top of your regular desk. The best thing about this method is that you get access to stability, electrical adjustability, and memory settings.
How do standing desk converters work?
Standing desk converters work by moving the work surface up and down, so you can either work while standing or sitting. You can place them on your desk to raise them to a height that works best. Standing desk converters also include two different platforms, that is, lower and upper. You can keep your mouse and keyboard on the lower platform while your monitor or laptop stays on the upper part.
Manual standing desk converters require you to pull a handle or lever to adjust the height. On the other hand, an electric standing desk will rise mechanically due to an included motor(s).
Health benefits of standing desks
There are numerous benefits associated with using a standing desk frequently while working. These may include:
Reduce weight gain/obesity
Even though this benefit has not been researched, it is perceived that standing can help burn more calories. This is an ideal achievement for people who always work and lack enough time to exercise.
Reduce back pain
Sitting in front of your computer for hours can indeed be uncomfortable and tiring. However, recent studies have shown that people who use standing desks are less likely to get painful muscles.
Prevents fatal diseases
Factually, sitting down for hours can lead to heart disease or high levels of blood sugar. On the other hand, standing up allows your brain to become active and productive, thereby reducing sugar levels and keeping your heart healthy.
Improves overall well-being
Using a standing desk can improve your energy levels and mood, which helps increase productivity and lifespan. They ensure that your daily tasks are never hindered and that you never contract fatal diseases that cause early death.
Why You Should Trust Us
For simple, high-quality, wise, and comfortable choices, we ensure that our picks can satisfy your every need. Any information we provide is thoroughly researched from credible sources, so you can receive only the best.
How We Picked
Our reviews revolve around some of the best standing desk converters on the current market. We came to this conclusion based on the special features that every product possesses. We first ensured that you can easily adjust the height of every desk so you can enhance your working posture. As such, all our picks are easy and fast to adjust to a comfortable height depending on the height of the user.
Moreover, we searched for different sizes that could fit into spaces of different sizes. While some have a small surface for small rooms, others have a large surface that can fit most of your accessories. Therefore, check the size of the pick of your choice to ensure that it will fit into your space.
Getting value for money is an essential factor when purchasing furniture. All our picks are made of sturdy materials that stand the test of time. They are also reasonably priced and affordable and will not require too much money to get them. Additionally, they all have a stable construction that securely holds your accessories in place without wobbling.
When the overall style is concerned, our picks are premium and sophisticated. They are all elegant and look great in any working space. Their lightweight design also comes in handy when you need to move your desk for storage or easier carry.
How We Picked
Size and Height

Before buying a standing desk converter, ensure that it's the ideal size for your current desk and that it can fit your keyboard and computer. The converter should have different height levels to fit different sitting and standing work positions.

Durability

There is nothing more satisfying than going for a high-quality standing desk. This is because a premium product will always provide durability, which in turn saves you some cash. A durable product will also prevent wobbling even after frequent use.

Noise and Speed

Nobody wants a standing desk that rises and lowers like an old truck going up and down a hill. The converter must adjust the height quickly and with minimal noise.

Cost-Effectiveness

Desk converters are a cost-effective alternative to standing desks. The price will range depending on the quality and build material. However, there are tons of sturdy options at decent prices.
Care and Maintenance
To prevent exertion, experts recommend you stand at a standing desk for about 5 to 15 minutes each hour. More than this would lead to painful knees, feet, and hips. You can also use a balance board, which enables you to change your typing position easily. For the placement of the entire desk, it is important to ensure that it is secure and balanced to prevent your accessories from falling and damaging it.
In addition, you can use a lubricator to oil any squeaky parts of your standing desk. Lubricating also prevents corrosion and damage to maximize the lifespan. When it comes to ergonomic logistics, you should ensure that the edges are comfortable to prevent you from hurting your arms. Poor ergonomics can also lead to bad postures, thereby resulting in pain, numbness, discomfort, and other fatal diseases.