The Best Sprinkler for 2023
Install one of these incredible sprinkler systems and watch how beautifully your lawn grows and flourishes!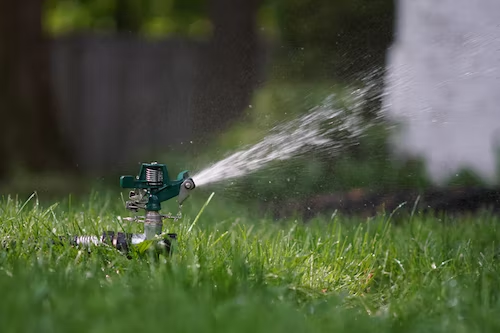 Having a dependable sprinkler that properly waters all the different landscape areas is one of the keys to having a healthy lawn and garden. Sprinklers for the lawn may be an excellent tool for promoting healthy garden and yard growth.
Maintaining healthy, green grass may need some work on your side. Choosing the best lawn sprinkler system and understanding how to use it will simplify the work. With so many sprinkler types available, we've simplified the process and provided you with our best selections.
With the proper lawn sprinkler system, you can conserve water and save yourself from the trouble of hand watering. Our list of the best lawn sprinklers below offers a nice selection.
How We Picked
Consistent Coverage

You should compare the sprinkler's coverage with your garden size before buying it. It is important to remember that if your water pressure is below 4 bars, the coverage may be reduced.

Ease of Use

Using an easy-to-use lawn sprinkler could save time, effort, money, and water. Sprinklers should be easy to install and require minimal supervision to ensure they are working.

Durability

The sprinkler's durability is important. The ideal building material would be metal or hard plastic. The sprinkler shouldn't seem fragile and should feel sturdy.

Cost-Effectiveness

Sprinklers are a useful way to water your lawn and are available in several price ranges. Therefore, be sure to have a budget range in mind before making a purchase.
Our Top Picks
Our Top Pick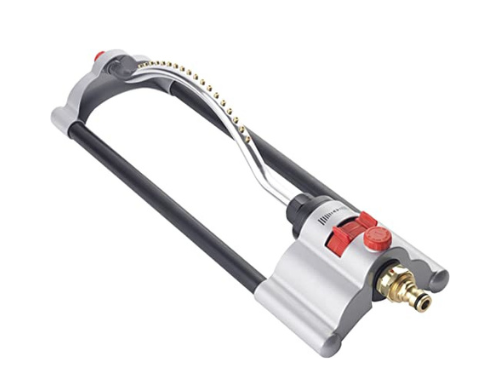 Adaptable to a wide range of temperatures.
This oscillating sprinkler is ideal for keeping lawns and borders hydrated. You can adjust the angle to reach the area you desire. It includes a hose connector for maximum strength and longevity and a tight lock on the water supply. It's a quick and easy way to distribute water uniformly on lawns and grassy areas.
Because it is made of high-quality brass, it is robust, durable, and rustproof.
Our Runner-Up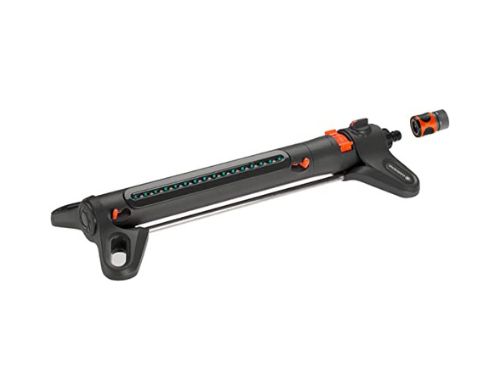 The spray range is endlessly and perfectly adjustable.
Get the most out of the summer with the GARDENA AquaZoom M. The spray nozzles can be easily cleaned by wiping them with a finger because they are made of soft plastic. This will help get rid of any limescale buildup. The water connection has a stainless steel filter to keep filth from getting into the AquaZoom M.
Its stainless steel metal filter and soft nozzles prevent dirt from getting inside, making maintenance easy
Most Cost-Effective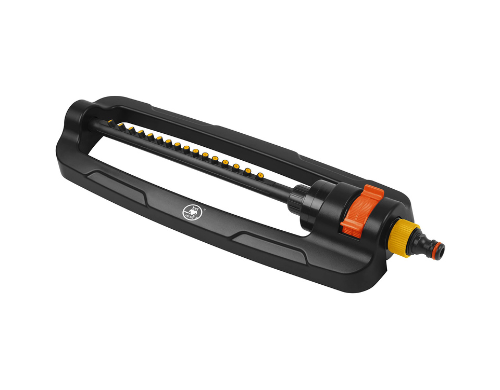 A free nozzle cleaning tool is included.
It is unlike most cheaper models, which require running water to operate. This model uses water passing through to drive the gears and switches on and off when water pressure increases or decreases.
The bar is completely adjustable and may be adjusted from vertical to horizontal.
Everything We Recommend
Our Top Pick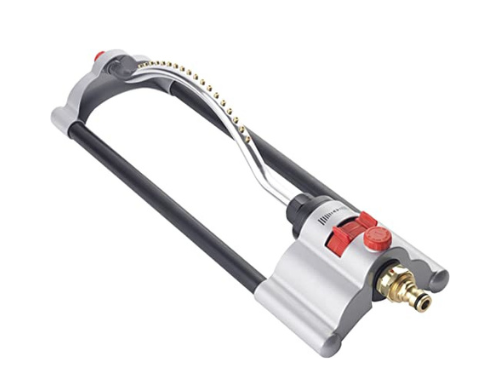 Adaptable to a wide range of temperatures.
Our Runner-Up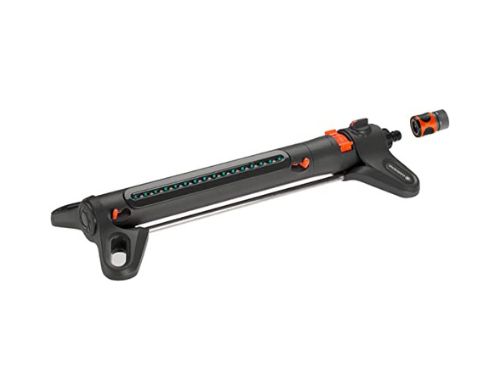 The spray range is endlessly and perfectly adjustable.
$68.00
Most Cost-Effective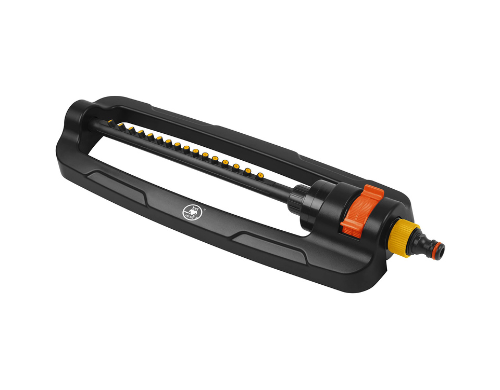 A free nozzle cleaning tool is included.
Who This Is For
Garden sprinklers are tremendously helpful for saving dried-out grass and withering plants. There are various types and brands of lawn sprinklers, so you shouldn't hurry into making a purchase. Lawn sprinklers come in various styles, including telescopic, fixed, and moving sprinklers. Some sprinklers may even spin and oscillate to better distribute water throughout the lawn. Depending on the size of your property, you may need one or more, but a good sprinkler system can save you time and effort while maintaining the healthiest possible grass.
Stationary vs. oscillating vs. impulse – what's preferred?
As their name implies, stationary sprinklers are positioned specifically on the grass. They are stationary and can only cast water in a precise pattern at a particular location. If you have some difficult-to-reach regions in your garden where other sprinklers struggle to cast water, you can simply put a permanent sprinkler there and set it to water only in that area.
One significant advantage of stationary sprinklers is that they deliver precise watering on time. Because stationary sprinklers only water one part of the yard, the ideal use for them is to water the flowerbeds.
Oscillating sprinklers are the second-most common form of sprinkler and are used regularly by plenty of homeowners to water their lawns. It has a foundation with a single pipe in the middle with numerous holes, and the sprinkler oscillates back and forth with the pressure of the water, creating a large rainbow-like pattern spanning left to right. An Oscillating sprinkler is simple to set up and use straight away.
You may be curious why they are called "impact sprinklers." A hammer is positioned within this sprinkler head and is used to create forceful jets of steam or showers. Usually, you'll find them in parks since they're widely used there. Impact sprinklers have a tremendous water throw and can quickly cover a broad area.
In addition, the sprinkler head may be adjusted to remain fixed or to spin left and right to cover a pie-shaped region. The sprinklers can be used in your lawn or backyard if they are reasonably sized; two would be sufficient.
Is it worth splurging on?
While irrigation systems have significant upfront expenses and ongoing upkeep, most homeowners think the convenience they provide and their ability to maintain lawns and gardens appropriately irrigated outweigh these issues. For busy homeowners, an irrigation system may be a great tool for keeping their property looking its best and their market value moving in the right direction.
Why You Should Trust Us
We aim to find and highlight wonderful products to help you live a wiser, better life. To do this, we curate the most recent technology, home, outdoor, and lifestyle items to ensure you only buy the best of the best. Items you will treasure and love using.
How We Picked
Consistent coverage
Coverage is crucial when selecting the best sprinkler system for your needs. Our picks include a system that can readily irrigate huge lawns. Conversely, if your lawn is small, we have also listed some compatible with that size.
Ease of use
Where is the flow control for your sprinkler system? Is there an on/off switch on your system? Would you get drenched trying to reach the button? We went with smart sprinkler systems that tackle these concerns effortlessly and are simple to use.
Easy to keep clean
We evaluated how easy it is to clean each sprinkler outlined. Some models require more care than others. Our picks are carefully selected to ensure you get models that are easy to clean to ensure the longevity of use.
Durability
Sprinklers are a significant investment. They should last for years, even with consistent use. Since they will be put to work more often than not, we chose sprinklers that won't chip or break easily, regardless of construction material.
Warranty
In the case of a break or a malfunction, you want your sprinkler to have a warranty or at least some sort of guarantee to cover this loss. Our list includes sprinklers that come with a warranty to protect your purchase.
Size + weight
The size and weight of sprinklers are more or less directly proportional to the area they can comfortably water. Larger sprinklers will cover a vast area but require sufficient pressure, and smaller ones will cover only a small patch of land.
Price
Of course, your budget is an important consideration in any purchase, including purchasing sprinkler heads for your yard. There are different sprinklers on our list based on your intended budget.
Adjustability
A sprinkler with adjustable parts means you can turn and twist it to cover your desired area. All the sprinklers on our list provide some adjustability to ensure you water the parts of your garden that you want.
Care and Maintenance
Sprinkler systems require frequent maintenance to function properly year after year. It is necessary for homeowners to keep up with normal upkeep. Check for leaks, damaged or blocked sprinkler heads, and other issues such as lawn equipment damage or incorrect winterization when checking.
Dirt and other ground debris may easily block your sprinklers over time. If there are any obstructions, sections of your lawn or garden may be overlooked, resulting in dead or brown patches. It is critical to clean your sprinkler heads at least once a year to keep the system working smoothly. Typically, this requires removing the heads and immersing them in a cleaning solution—consult your manufacturer's instructions for specific cleaner recommendations.