The Best Spiralizer for 2023
Spiralizers have elevated vegetable cutting from a chore to an art; it's time to give one a shot.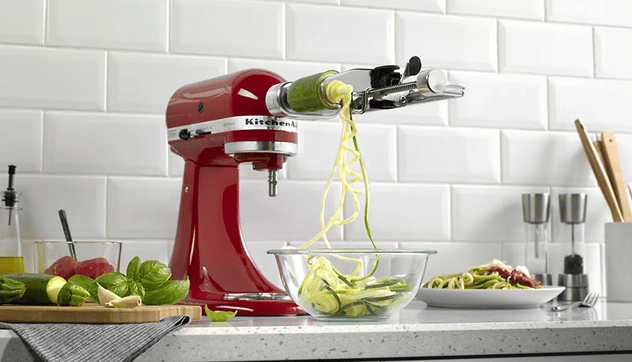 Do you simply detest chopping up vegetables? Sometimes, even after using the proper knife and cutting board, the vegetables still come out misshapen. Well, you are not alone and there is good news for you!
The spiralizer, which is famous for producing zucchini noodles, or zoodles as they are commonly known, has grown in popularity in recent years. The majority of spiralizers include multiple types of blades so you can create thick or thin noodles, slice, curl, grate, ribbon, or even shred vegetables beautifully. It saves you time and produces vegetables with chef-like accuracy. Once you get the hang of using spiralizers, you'll wonder how you ever managed to prepare a healthy vegetable-based meal without one. This multifunction tool is a great addition to your kitchen.
Our Top Picks
Best Pick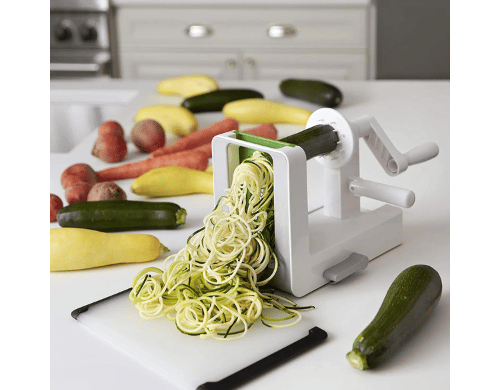 It is very easy to use and pretty efficient.
$47.95 ($1.58 / Ounce)
Runner Up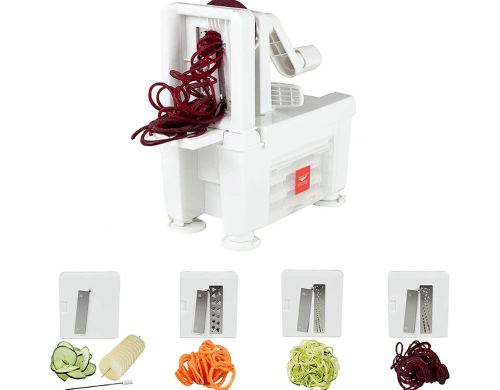 It is very compact and ideal for slicing all kinds of vegetables.
Most Cost-Effective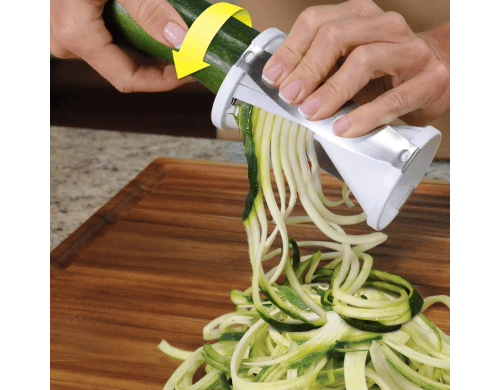 Both affordable and simple, this is a great option for anyone testing the waters.
$9.99
Who This Is For
A spiralizer is a unique, multifunctional, and compact kitchen appliance that produces inventive dishes quickly. It can create long, thin vegetable noodles from a variety of fruits and vegetables. It is the perfect size to store in the kitchen drawer or counter and is a great way to get the family to eat healthily. Spiralizers are extremely easy to use and can be used by anyone. A spiralizer is quite helpful whether your goal is to add more vegetables to your meals or you simply enjoy making creative and elegant meals. The benefits of this time-saving device can be enormous for people who don't have much time to cut up veggies every day. A spiralizer is not only used to make zucchini noodles or cut vegetables in long spirals, it can be used to shred, grate or chop vegetables in different shapes and sizes, that too within minutes.
Horizontal vs Vertical Models
Spiralizers are available in both horizontal and vertical models. Both have their pros and cons but when choosing a spiralizer make sure that you know about the pros and cons of both to have a comfortable experience.
Horizontal spiralizers are the oldest form of manual, hand-crank spiralizer. As their name implies, they maintain the position of the vegetables horizontally as you spin the handle to move them through the cutting blades. The concept that spiralized vegetables can pile up on a cutting board or countertop without running out of room is one of the benefits of purchasing this sort of manual spiralizer rather than one of the more recent vertical types. On the downside, a horizontal spiralizer typically has a higher rate of vegetable misalignment than a vertical spiralizer.
Since the vegetable is vertically positioned, it seems easier to cut the vegetable and collect them in a bowl, leading many people to believe that vertical spiralizers are superior to their horizontal counterparts. This means that compared to the typical horizontal spiralizer, a vertical spiralizer often reduces the chance of the vegetable slipping out of position and requires less pressure than a horizontal hand-crank device. Unfortunately, vertical models typically have less space below the blade to catch the spiralized vegetables, and those that have containers to collect the zoodles and vegetables need to be frequently emptied when processing a large amount of food.
Is it an Essential Kitchen Tool?
At first, a spiralizer might not seem like an essential kitchen tool but once you use it and get the hang of it, it quickly becomes your preferred method to cut vegetables and even fruits. While you could use the commonly used method of using a knife and a chopping board to cut up your vegetables, a spiralizer is efficient and saves you a lot of time so that you may proceed with other tasks. The different shapes it creates encourages more people to eat healthily by incorporating more vegetables into their diet. Although it might seem like a worthless expense to some people, it proves to be a good investment. You might not choose to regard the spiralizer as an essential tool but after frequently using it your point of view is sure to change.
Why You Should Trust Us
Unfortunately, a lot of products are falsely advertised online. Only a few of these products live up to the hype, even though the majority of them seem promising. This makes it challenging to buy things like a reliable spiralizer. We have compiled the following list of spiralizer based on our thorough market research, reading through dozens of reviews, assessing the functionality of each device, and looking at general user feedback. You won't be let down if you get these because they are the best options.
How We Picked
It can be difficult to choose the best products from a plethora of options available on the market. The ideal product needs to be of the highest quality, durable, and efficient. However, when determining the best spiralizer models, we took into account a few other qualities.
They are several blade choices available. Some spiralizers even have up to seven distinct blade options, but if you don't like having too many parts or only need two or three blade variations, you shouldn't spend money on larger models with a lot of blade choices. The best blades have to be sharp enough to cut the vegetables without having to exert much force. The thin and thick noodle blades, as well as one used to cut long ribbons or circular forms, are some of the blades that are most frequently used.
Another essential characteristic that a good spiralizer should have is a simple operation. It shouldn't be overly complicated to operate or have a lot of parts. It should efficiently cut vegetables into your desired shape with little to no effort. Some spiralizers can be washed in the dishwasher. If you are not accustomed to cleaning dishes by hand, this feature may come in handy.
Typically, spiralizers are not overly expensive. You don't have to spend a fortune to find a good spiralizer with multiple blade selections. However, this does not imply that you should choose the least expensive model because it most likely won't be of high quality. You can get a decent spiralizer for less than $100. It should be sturdy, durable, and stable when placed on the counter for cutting vegetables.
Spiralizers are available in both horizontal and vertical models and both are equally good. They are also available in serval designs and colors.
How We Picked
Type of Blade - Cuts Evenly

Most spiralizers come with a variety of blade selections. This is something you should keep in mind if you want to use a spiralizer to make different kinds of dishes. Some blade options include small triangles, noodle-like shapes, circular, etc.

Easy to Use & Clean

Contrary to popular belief, most spiralizers are very easy to clean and even easier to use. Some more compact choices might even be machine-washable.

Stable and Sturdy

When buying a spiralizer make sure to pay attention to its quality. You should choose a sturdy and stable spiralizer that will last you a long time and will not move when cutting vegetables.

Price

Spiralizers are reasonably priced kitchen appliances. A good spiralizer can cost you under $100, depending on the size, quality, and blade options.
Care and Maintenance
Cleaning a spiralizer may appear difficult at first, but it is quite simple. If you want it to last a lifetime, you should clean it regularly and properly care for it, just like any other appliance. To clean, take out all removable parts, including the blade, handle, food tray, and sliding board. To remove the food, gently wash the parts with water and soap. If there is food stuck on it, soak the parts in soapy water for about 10 minutes before rinsing them with water.
If the spiralizer parts are dishwasher safe then you can also wash them in the dishwasher alongside other dishes. Allow the parts to dry on a towel. Wipe the spiralizer body with a damp cloth. When not in use, store in a dry place such as a kitchen cabinet.