The Best Solar Camp Shower for 2023
Harness the power of the sun and enjoy long and warm showers during camping.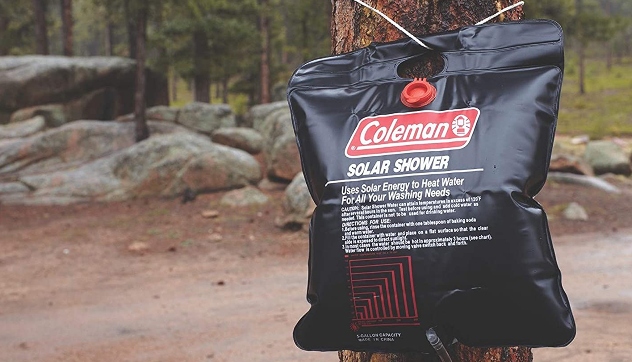 If you are going camping in an area with no electricity or a clean supply of water, it's advisable to bring a solar camp shower with you. Solar camp showers are portable and offer the most practical way to enjoy a warm shower in the woods. Besides, you can always add a filter whenever you feel the need.
Even though taking a shower in the woods or bushes can be fun and refreshing, if you don't pick the right camp showers, it could end up costing you money. You're in luck if you're still having trouble determining what camp shower will work best for you.
This review explains what makes a solar camp shower great and offers a ranking of the top choices. Let's dive into it.
How We Picked
Size/Weight/Portability

When going on outdoor adventures, you want to pack as light as possible but without leaving any essentials behind. For easy portability, ensure that you choose a compact and lightweight camp shower.



Temperature Controls

A good solar camp shower will include temperature controls. This allows you to regulate the water to your liking. Besides, this allows you to accommodate a few more people.



Secure Valve for Water Source

Ensure that you can securely tighten the valve to prevent any damage or leaks. In return, you get a functional and effective camp shower that allows you to add clean water whenever you want.



Cost-Effectiveness

A good solar camp shower doesn't have to be expensive. However, that doesn't mean you skimp on quality. We tried to strike a middle ground between price and premium features.

Our Top Picks
Best Pick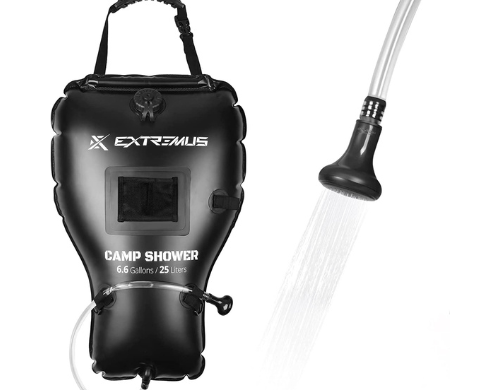 Get ultimate control over the flow of water by enabling the on/off switch.
Supports a large capacity to help accommodate all your showering needs.

The Extremus Camping Shower is one of the simplest and most effective portable solar showers to use. This is mostly due to its ability to handle water.

To prevent spills and allow you to fill it with enough water to meet your bathing needs, it has a large opening and capacity. In addition, the black bladder that absorbs sunlight ensures that your water will always be warm or hot.
Runner Up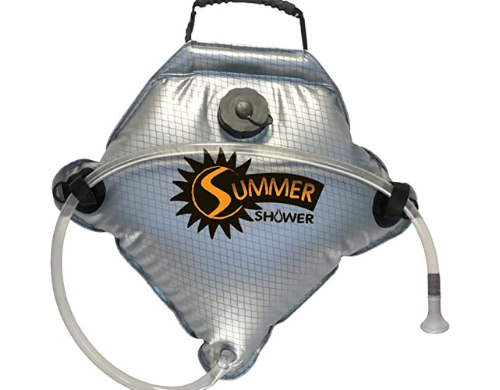 The four layers can retain heat, thereby keeping your shower warm for long periods.
Enjoy warm showers thanks to the innovative and heat-retaining construction.
Having four layers allows the bag to absorb and retain enough heat to keep the water warm for longer periods. As a result, you get to shower with warm water no matter the time of the day. Moreover, this shower is simple to pack and keep.

All you need is to roll it up into a compact design and then store it appropriately.

Most Cost-Effective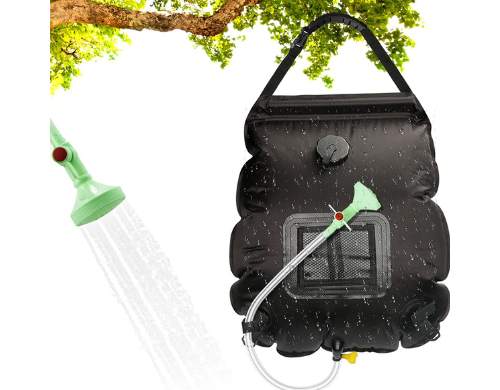 The included indicator tells you when the water is warm enough.
Use a camping shower made out of safe materials to protect yourself as well as your surroundings.

If you want to protect yourself and the people around you, then this shower bag is the best option to carry during outdoor activities. This is due to the non-toxic and environmentally friendly material, which makes it stand out amongst many camping showers on the market.

The material is also durable enough to provide long-term service. So, overall, the Gujin Camping Shower is the best investment for anyone.

Everything We Recommend
Best Pick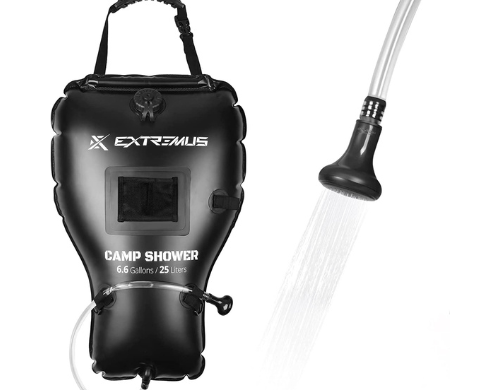 Get ultimate control over the flow of water by enabling the on/off switch.
$21.99
Runner Up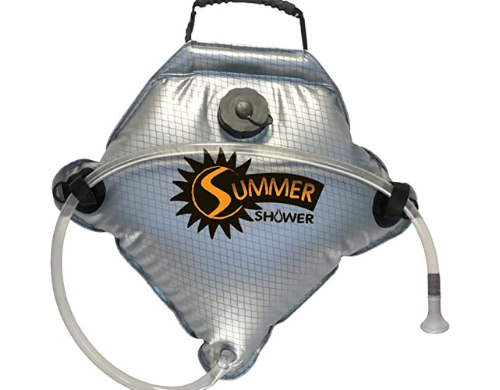 The four layers can retain heat, thereby keeping your shower warm for long periods.
$20.99
Most Cost-Effective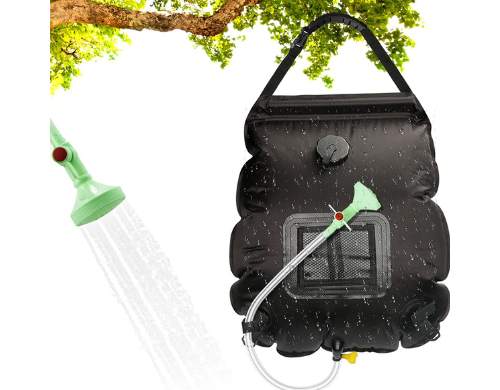 The included indicator tells you when the water is warm enough.
$19.99
Who This Is For
A solar camp shower is perfect for people who enjoy engaging in outdoor adventures since it provides you with warm water for showering. Apart from showering, you can also use it to wash dishes, clean your pets, or wash anything dirty while enjoying outdoor adventures.
How does a solar camp shower work?
A typical solar camp shower will consist of a heavy-duty plastic material with a black exterior. The main source of power for these bags lies within the black cover, which absorbs the power of the sun and, in the process, heats the water inside the bag.
A solar camp shower also includes a tap and shower outlet, which allows you to have a relaxing and refreshing bath every day during outdoor experiences.
If you want to control the flow of water, a high-quality camping shower will have an off-and-on switch, which provides ultimate control over the tap outlet.
Are solar camp showers good for hiking and camping?
Solar camp showers are perfect for use in many outdoor experiences, including hiking and camping. You can use the warm water inside the bag to cleanse anything that requires immediate attention.
The disadvantage of using these shower bags is that you need sunlight to heat the bag to receive warm water every day.
Why You Should Trust Us
Since numerous counterfeit products have emerged, we took up most of our time to ensure that you only take effective solar showers on your camping trips. Therefore, our reviews are based on essential and truthful information.
How We Picked
We evaluated all our picks and decided to go with products that can fit the needs of most campers. First, we ensured that our choices are compact and lightweight, which can allow anyone to carry or store them easily during camping trips.
Our picks also enable you to save on your warm water while showering or performing other activities, all thanks to the included switch. Another included feature is the temperature controls, which allow you to know when the water is warm enough for you.
Some of our picks include a visible thermostat, which allows the shower bag to heat the water quickly as well as retain the heat afterward.
Secure valves are also essential since they can prevent leaks and damage, and our picks allow you to tighten the valves easily whenever you need to. We focused on solar showers that can heat the water to 113°F, which is perfect for most people.
Apart from the temperature, the following products can use pressure to push the water through the shower head for simpler use. If you are not satisfied with the state of the water, you can always add water filters, which remove any trace of pathogens, thereby allowing you to cleanse your utensils.
When it comes to the price of our camping showers, it ranges depending on most people's budgets. In addition to that, all the products are of high quality, so you do not have to worry about safety or frequent wear and tear.
The overall design is modernized so you can look stylish even during outdoor activities. In conclusion, we ensured that all our shower bags include a black finish that can absorb sunlight, and heat your water quickly.
Care and Maintenance
Before using a solar camp shower, you should always ensure that the valves are secured in place. Usually, the valve will include a cap, which you can unscrew and screw back on easily.
Moreover, when screwing the valves properly, ensure that they are on a flat area with thick plastic to prevent damage.
If you want to clean your solar camp shower, you should first fill the bag with about 2 tablespoons of bleach mixed into 1 quart of hot water. Next, rinse the bag before air-drying it to help eradicate moisture, mold, or bacterial growth.
When using the shower bag, you can try to add a water purifier to help filter pathogens for clean and safe use. Moreover, if you want to receive a satisfactory shower during your camping trips, you should always ensure that you have access to enough clean sources of water.
Another important note to consider is that sometimes the pressure of your solar camping shower can lessen. In this case, the water may not go through the showerhead since the process requires pressure to push the water down.
However, you can resolve this by not filling the bag with water entirely to leave some space for air.