The Best Snowshoes for 2023
Dominate the snow and enjoy the beauty of a white winter.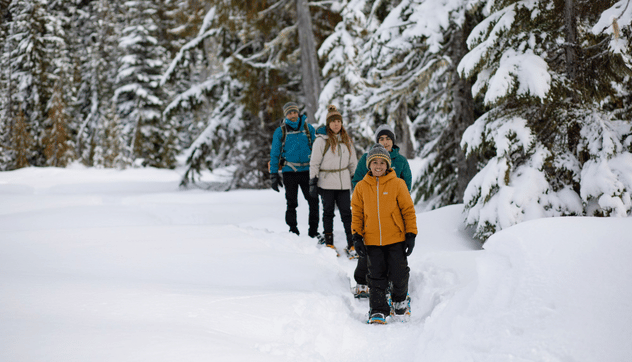 Autumn was pleasant enough, but the winter season seems to be freezing more than just the trees. You have been stalling your activities, waiting for the perfect time to wander off and explore the luxury of the snow. Whether as adults, teenagers, or children, we all have memories kindled by falling snowflakes. We remember the joy of throwing snowballs and the beauty of making a snowman.
But there is more to this jubilant season than memories. Winter inspires the longing for adventure and play. It is the one time when everyone, both old and young, wants to do the same thing: explore.
For those who simply want to play safely; those who want to hike into the rocky terrain; take a walk in the snow; into the woods; or go on an adventure. Our expertly written, beginner-friendly review of the best snowshoes will assist you in making sure you enjoy the snow with two firmly planted feet.
How We Picked
Material

The materials used to make the snowshoes were considered because they were what ensured the quality and lifespan of the shoes.



Length

We also considered the length of the shoes because, just like casual shoes, buying the perfect fit ensures comfort and improves stamina.

Type of terrain it can withstand

Each terrain comes with its own variation of snow. From fluffy to deep fluffy, packed snow, and even hard ice, we considered which shoe fits best in each terrain.

Price

While picking these snowshoes, we considered the fact that everyone does not share the same budget. Therefore, we also provided a category that covers the best shoes at a cost-effective price.

Our Top Picks
Best Pick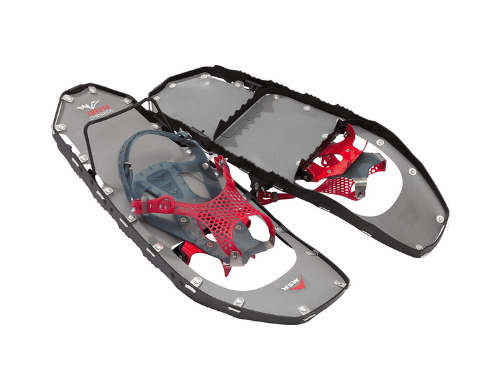 Designed to strike the best possible balance between mobility, stability, and comfort.
MSR Lightning Ascent Snowshoes are the perfect solution for a weekend tripper or backpacker looking to get out and explore the backcountry with a light, compact, and easy to use snowshoe. And, they are designed for people of all skill levels.
The MSR Lightning Ascent delivers exactly as promised. This snowshoe can manage everything from packed roads to deep powder and the most severe mountain terrain thanks to its lightweight build and nimble underfoot.
Runner Up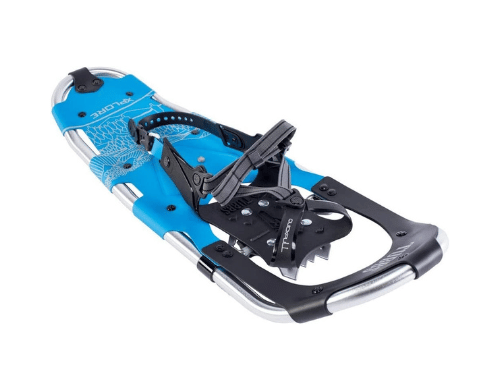 A top-of-the-line, lightweight snowshoe that will take you as far as you want to go.
Tubbs snowshoes are offered in a variety of lengths to accommodate a wider range of weights and to ease walking on fluffier snow. They also offer plenty of comfort, control, and grip ideal for some serious backcountry exploration.
The Xplore's recreational design means that people of all ability levels can enjoy their conventional look and feel. Hip, knee, and ankle joint stress are reduced by 10% thanks to the Fit-tubular Step's frame's unique upturned tail.
Most Cost-Effective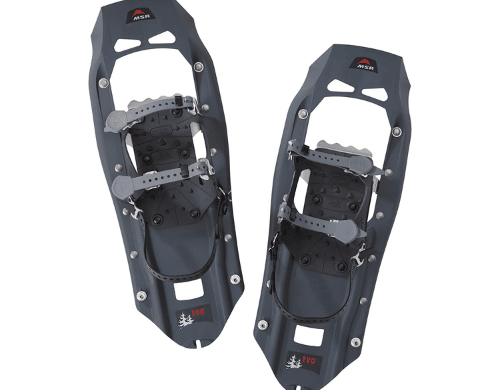 The MSR Evo Trail pair is a tough, affordable option that can withstand a lot of wear.
The aluminum bow frame is strong, light and simple to adjust. This snowshoe spreads your weight over a large surface area to help prevent post-holing. It's made of durable material for maximum performance in winter conditions.
Thanks to the robust hard plastic decking, firm toe crampons, and steel side rails, the rubber bindings of the MSR Evo Trail are simple to put on and remain pliable even when tested in frigid temperatures.
Everything We Recommend
Best Pick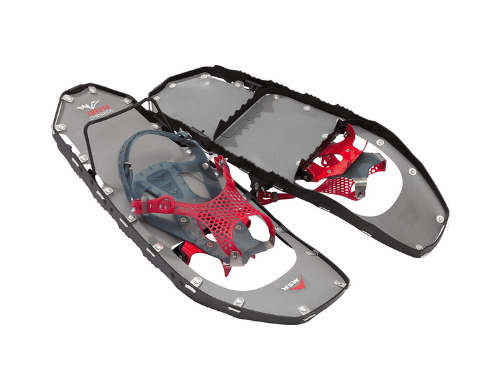 Designed to strike the best possible balance between mobility, stability, and comfort.
Runner Up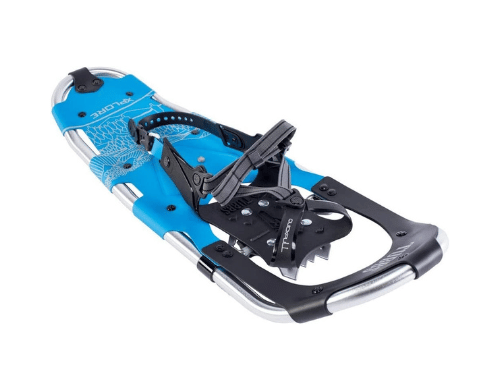 A top-of-the-line, lightweight snowshoe that will take you as far as you want to go.
Most Cost-Effective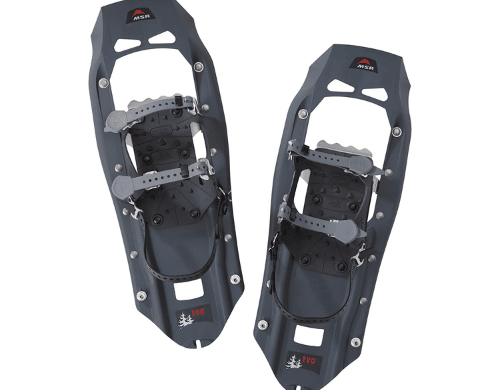 The MSR Evo Trail pair is a tough, affordable option that can withstand a lot of wear.
Who This Is For
The winter is a beautiful season that spreads a blanket of serenity across everything, but walking in the snow could be a bit of a problem, and for parents who are worried about their kids or teenagers' safety, the slippery ice or the fluffy snow doesn't ease your worries. However, with the availability of the right snowshoes, your confidence is restored. We recommend snowshoes for anyone who lives in a region that snows.
For those in places where the snow is heavy, mobility might be a problem, and depending on the depth of snow, movement can be anything from slow to frustrating. Therefore, we also recommend snowshoes as necessary footwear for those who seek to make snow navigation easier.
Snowshoes vs Crampons vs Microspikes
We have received several questions from people torn between what kind of footwear would go well with the snow. Most of them conflicted on which footgear to choose and why. So, we decided to clear that up too. While snowshoes, crampons, and microspikes are all designed for snow walking, these shoes are made with different intents.
Microspikes (ice cleats) have an elastic rubber frame and may be worn with any type of shoe. They are ideal for snow, ice, and moderately graded paths that are packed or have patches of ice and are a good alternative for winter traction unless you're tackling mountains, glacial terrain, or severe slippery situations.
If microspikes aren't appropriate for the terrain, crampons are an alternative. Crampons are more suitable for steeper, icier terrain, such as glacier hiking and even vertical ice climbing, due to their stronger burst and grip.
Unlike the others, snowshoes are built for deep snow, where other footwear would sink. They allow you to float by distributing your weight evenly across the surface of the snow. Many snowshoes also include crampons to keep you upright in icy weather. When going for long hikes or looking for multipurpose footwear for the snow, you should definitely consider snowshoes.
Do I Really Need Snowshoes?
Most individuals prefer to stay at home during the winter, while others prefer to explore, but venturing out may be necessary for some. Snowshoes are required for walking at higher elevations when the snow is deeper.
Although some people generally prefer them, snowshoes aren't required until there are at least six inches of snow on the ground. In areas with deep snow, crampons and microspikes will not save you from sinking into the fluff. Snowshoes, on the other hand, aid in the prevention of post-holing by compacting the snow and distributing your weight over a larger area.
Why You Should Trust Us
To ensure that we could provide the best reviews, we conducted research into snowshoes that covered not only the shoes but also what people thought about them. Though there was no research or a general survey with a definite answer, we were able to gather data from sites like snowshoe magazine which, combined with customer reviews, economic, and market data were enough to help us analyze trends and arrive at the conclusions we applied to this review.
How We Picked
Type of Terrain They Can Handle
There's a shoe for every type of snow, whether it's packed, fluffy, deep, or ice. When you consider the slope of the trail you're on, things become much more complicated. Since fluffy snow doesn't last long and deep fluffy snow is tough to walk through, we chose pairs that could be worn on a range of terrain.
Length
Extra shoe length is unnecessary because bearing weight on your feet is taxing. Longer, wider snowshoes are preferred for hiking through fresh powder, while shorter, narrower types are better suited for trudging on packed snow. Length is also related to the wearer's weight. Longer shoes help heavy hikers float more easily.
Material
The most significant factor is the material of the spikes. Aluminum and plastic are the least durable snowshoe materials, whereas nylon and steel are the best. The best snowshoes have steel spikes and the rails are composed of metal (though not always), since shoes with steel rails and spikes underfoot are typically more durable. Steel, as is customary, comes at a cost in terms of weight.
Price
We made the price a factor in this review because not everyone operates on the same budget, and we wanted to ensure that we covered everyone, however tight the budget might be. This means that we have gone through the pains of searching out the best snowshoe at the least expensive price, and so you can get perfect quality at an affordable cost.
Durability
Why buy a snowshoe that will be damaged before the next winter? Our expert guide explored several snowshoes to make sure that the materials from which these shoes were built were those that allowed the footwear to endure years of strenuous activity without losing its edge. We made sure that the teeth, the frames, and the straps of these shoes were made of durable material that would last several winters and accompany you on many long hikes.
Type of Boot Attachment System
Straps that can endure the repeated pulling on the shoe from your boot is what you need. Plastic straps, ratchets, or buckles are the most common methods of attaching a snowshoe to your footwear. The straps, however, their material, and how long they last are all important things that ensure the snowshoe's durability and comfort.
Traction & Climbing Features
Snowshoes pack several features, and these range from toe crampons to the tail, binding systems, toe fillings, braking bars, side rails, heel lifts, and teeth. The specificity of these features was another important factor that we considered before picking out the best snowshoes.
Care and Maintenance
The winter is finally coming to an end and you are considering hanging up your shoes for the off-season until next winter. Just like every other piece of gear, your snowshoes will last with good care and maintenance, and the best time to think about hanging up your shoes, even if you won't use them anymore for the season, is on the last day of winter.
How To Clean
Cleaning your snowshoes is quite easy. To begin, wipe down all surfaces with a clean, dry rag. This will clean the shoes' surfaces of large particles of debris and sand. Be gentle to avoid scratching your shoes with larger pebbles that may become lodged in the shoe. After that, scrub the shoes using a rag dampened with warm water and a little detergent. Make sure to clean the deck with a moist towel. After that, dab any remaining water with a dry towel and hang your shoes to dry.
When And How To Store
As we mentioned previously, the best time to store your snowshoes is on the last day of winter. The best place to store your snowshoes will be in a cool part of the house without moisture. Most of the time, aluminum and plastic snowshoes are safe if they are not exposed to water. When storing your shoes, make sure to protect them from wet storage conditions that can cause corrosion to metal pieces such as cleats, hinges, and rivets that attach the decking to the frame.
How To Apply Varnish
For those with older and more traditional wooden snowshoes, maintenance demands more than cleaning and hanging. After the season, when you're ready to store your shoes. Sand the snowshoe frames using 120 grit paper, and then sand the rawhide on both sides. After sanding the snowshoes, use a natural bristle brush to apply spar varnish. Two layers of varnish, one on each side, with a 24-hour drying time in between. Don't forget to use a high-quality varnish that protects against water and ultraviolet radiation.
How To Check For Damage
The end of winter is an excellent opportunity to thoroughly inspect your snowshoes to ensure that they have not been damaged. To begin, inspect the frame and decking to ensure that there are no major structural concerns, such as huge dents or rips. If the damage is more severe than regular wear and tear, repairs or replacement may be required. Examine the straps and bindings as well. Check that your binding mechanism is still operational. This is an ideal time to loosen your snowshoe bindings before storing them. Inspecting the crampons will also help ensure that they are still in good shape. Tightness should be verified on all screws and bolts, and if you see visible structural damage, you should contact the manufacturer or a sports retailer before you use them again.