The Best Smart Leak Detector of 2023
In the event of a water leak, these smart leak detectors will send you local and remote alerts. Get them Now!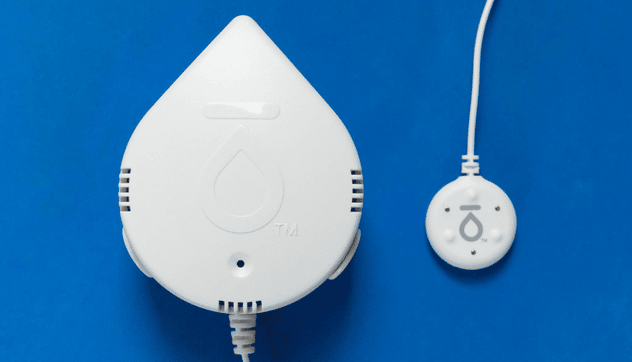 Water damage is a serious problem that may necessitate changing the flooring, repairing the walls, and replacing the carpets. However, the invention of the smart leak detector has made everyone's life considerably easier. By sending you real-time alerts about a water leak, you'll be able to fix the problem quickly and avoid incurring extra plumbing costs.
You may argue that the smart leak detector is not necessary since leaks don't happen frequently or because you are likely to catch a leak in its early stages. While this is partly true, you may not get the chance to do so if you are on vacation or away from home for a few days. As such, smart leak detectors are essential nifty devices that will end up saving you thousands of dollars in repairs.
How We Picked
Placement

Smart leak detectors should be placed wherever there is a potential risk of water flooding, but the most important placements are the basement, bathrooms, water heater, kitchen sink, and laundry room.

Alarm Volume

Smart leak detectors have different alarm volumes, but a decent estimate for the volume your detector should have is around 80 dB. It is advised to choose a detector with a louder alarm.

WiFi Connectivity and Range

These smart leak detectors use Wi-Fi to transmit notifications and perform a few other functions. They must be positioned within the Wi-Fi range in order to function effectively, so make sure you buy one with a broader range.

Cost-Effectiveness

The price of smart leak detectors varies greatly. Depending on the features they offer, you can find one for anywhere from $50 to over $500.
Our Top Picks
Best Pick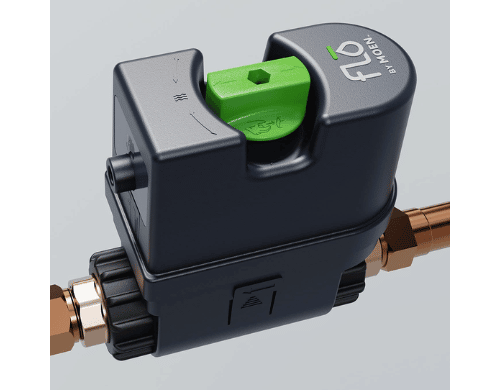 Monitoring your water supply has never been this easy. Enjoy all the features and much more with this one.
The Flo by Moen is a smart water monitor that tracks water use throughout your house, checks for leaks in your plumbing, and offers instant shutoff security against water damage. It encourages you to save water and offers many other useful features.
Monitor your whole house's water supply from the comfort of your phone!
Runner Up
This helps find moisture and leaks in pipes and prevent damage before it's too late.
The Phyn Smart Water Sensor is designed very elegantly and is built to be extremely efficient. As soon as it detects a leak, it will alert you so that you can shut the valve off. It also offers great features such as monitoring humidity and temperature levels.
Tired of frequent plumbing problems? This one will solve all your problems at once!
Most cost-effective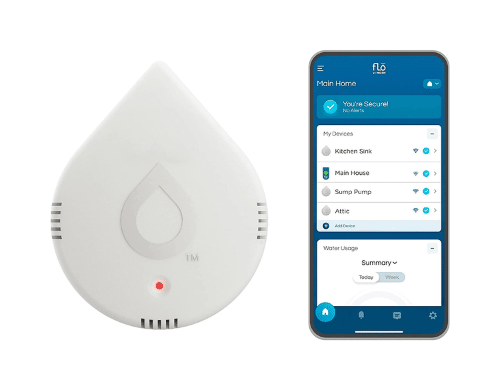 You don't need to spend a huge sum. This will get the job done and give you peace of mind.
The Flo by Moen Smart Water Detector is one of the best smart water leak detectors on the market. It is very budget-friendly and has a lot of features included to make sure you never have to face plumbing problems ever again.
Don't want to waste any more water? Don't miss a drop with this one!
Everything We Recommend
Best Pick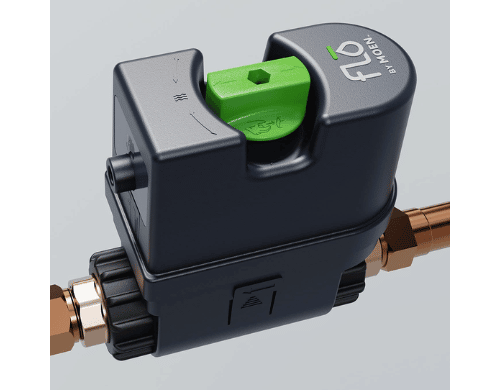 Monitoring your water supply has never been this easy. Enjoy all the features and much more with this one.
$458.29
Runner Up
This helps find moisture and leaks in pipes and prevent damage before it's too late.
$29.00
Most cost-effective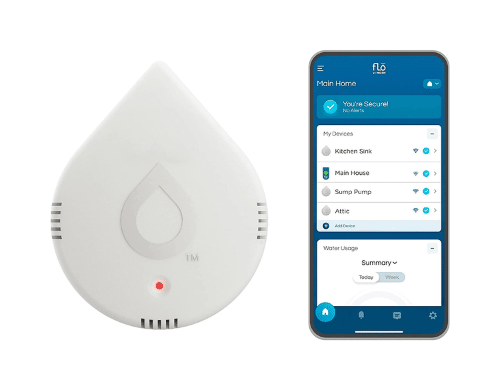 You don't need to spend a huge sum. This will get the job done and give you peace of mind.
$47.29
Who This Is For
In many homes, water damage is a prevalent problem. In fact, some statistics claim that it is both the second most frequent and second most expensive type of property damage. Most people have probably experienced a water leak at some point in their lives, and fixing one is definitely difficult. The causes of these leaks might range from ancient roofs to leaking water heaters, but it is critical to detect them before it is too late. A smart water leak detector is used for this. It is intended for anyone who lives in a house or apartment and wants to avoid plumbing issues.
What is a smart leak detector?
Smart water leak detectors have the ability to detect water, which helps stop floods or excess moisture that may be caused by broken pipes or other appliances. Smart water leak detectors are battery-operated discs or tiny square boxes that are relatively simple to install and made to rest on the floor where leaks may occur, including but not limited to, right underneath a refrigerator, sink, toilet, or washing machine.
They often include built-in Bluetooth or Wi-Fi radios to connect to your phone, as well as two or more metal sensor terminals that are in touch with the floor. When the terminals come into contact with water, the sensor activates; normally, only a few drops are sufficient. The device then triggers an alarm and sends a push notification, email, or both to your phone. Make sure to opt for a sensor that offers an alarm that is audible from everywhere in your house and that is sufficiently loud. To avoid severe damage, some systems can even automatically close valves.
Are leak detectors worth it?
The short answer is yes. Without a doubt, leak detectors are worthwhile. Consider it as a small investment that will help you save considerably more in the long run. Water damage repairs are expensive. You may end up paying far more than you expected. It costs a fortune to replace the carpets, walls, and flooring. However, by warning you in advance if there are any leaks in the house, this leak detector can easily help you save a lot of money. If you are willing to invest a little more, then you can even get one that automatically shuts off valves in case you are unable to do it yourself.
Different types of leak detectors
There are three different kinds of water leak detectors: flow meters, printed and cable sensors, and flood sensors. They all vary just a little bit in one way or another.
The typical form of a flood sensor is a little puck or block, about the size of your palm, with one or more probes connected. They have advantages such as simple designs, ease of deployment, and the ability to run on regular home batteries. The device also contains a loud alarm that sounds when the probes come into contact with water to warn you of any leaks. The major drawback of these is that they need to be strategically placed so that any water leaks will reach their probes. They won't pick up leaks in areas with insulation or materials like drywall that can soak up a lot of water.
Printed sensors and sensor wires are designed to detect moisture as soon as it appears. The form factor of printed sensors is thin and flexible, and they frequently use adhesives to enable simple installation in any size or shape. Although less flexible, sensor cables accomplish the same thing. As their name implies, they allow you to cable-install various sensors in challenging locations. One important consideration is that sensors like these are made to function as a component of a smart building system, replete with a local network and a server that records data so facilities management may digitally monitor the facility.
The flow meter sensor detects the flow rate and water pressure as indirect indicators of water leakage. The advantage of flowmeters is that they may be installed within your plumbing system and warn you of changes, particularly those involving pipes or equipment in walls. If a critical threshold is reached, many models can also automatically shut off the water supply. The main drawback is that while a flowmeter can alert you to a problem and prevent it from getting worse, it is unable to pinpoint its location or detect leaks that may be occurring outside the structure due to weather or external flooding.
Why You Should Trust Us
Unfortunately, a lot of products are falsely advertised online. Few of these products live up to the hype, despite the fact that the majority of them seem intriguing. Due to this, it is challenging to buy products like durable smart leak detectors. The selection of smart leak detectors below is based on our thorough market research, reading through dozens of reviews, assessing each product's functionality, and studying general user feedback. Buying these will not let you down because they are the best options.
How We Picked
Each item we choose has undergone detailed research. Before shortlisting them, every aspect of a smart leak detector was taken into account.
The placement of the smart leak detector is very important. You should pay close attention to location because if it's not done correctly, flooding problems could still arise. The most important location for the leak detector is the basement. Flooding is typically most likely to occur in basements. If you do have a basement, then you should definitely place a leak detector there. Similarly, because bathrooms have a lot of plumbing, these detectors should be put below the toilet, beneath the sink, or in a corner near the bathtub. Other places include the kitchen, the laundry area, and water heaters, especially if they have outdated tanks.
In addition to receiving alerts and push messages, having an alarm linked to the leak detector is essential. An alarm with an alarm volume of 80 dB would be sufficient, but it is advised to get one with an alarm volume of at least 100 dB so that it can be heard throughout the entire house. Nearly all of the leak detectors we select feature an alarm that is at least 100 dB loud.
Considering that smart water leak detectors connect directly to your Wi-Fi router or a hub, be sure that the area where you are placing them has a strong signal. Each of the tested devices has a strong Wi-Fi connection and a good range. Some even integrate with well-known smart-home systems like Google Assistant, Apple HomeKit, and Amazon Alexa. Keep in mind that they require internet access in order to notify you of any breaches or issues. They will only function as local alerts if your internet goes down.
There are certain high-end systems that allow you to install a water monitoring device with an automatic shut-off feature, allowing any leak detection to turn off your water supply. However, these systems typically cost a lot of money and require professional installation.
There are several different price points for smart water leak detectors. You can find one for less than $50 as well as one for more than $200. It depends on your goal. If you don't require any fancy features, a less expensive model will do. More expensive models typically incorporate numerous functions, such as automatic valve shutting. To help you pick one that fits your budget, we have included a range of rates.
Care and Maintenance
To prevent water damage in your house, ensure that the smart water leak detector is placed correctly. You can see the instructions in the manual for more information. If your device is to be installed by a professional, then do contact them. Otherwise, you may face problems in the future. After installing the detector, do a test run and make sure that the alarm volume is loud enough to be heard from anywhere in the house. Refer to the manual again to see instructions for Wi-Fi connectivity. Once your device is connected to Wi-Fi, check if the notifications and alerts are working.