The Best Smart Displays for 2023
Enjoy a smarter experience with a better display.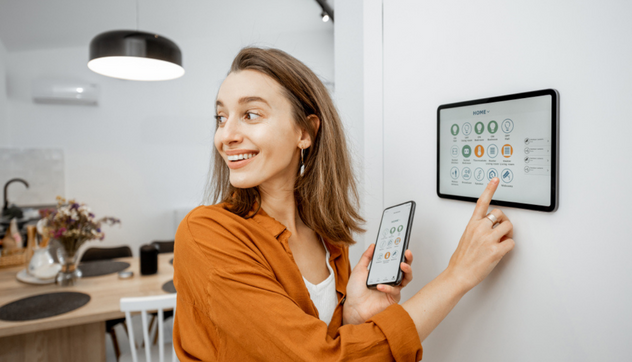 Due to the inclusion of virtual assistants in the majority of modern devices, it doesn't sound strange at all these days to see someone speaking to their device and carrying out tasks using only their voice. Technology has, without doubt, made life easier and, of course, more interesting. A virtual assistant would offer you vital and better experiences with a smart display. Just like speakers, a smart display affords you the chance to be able to stream movies, TV shows, and videos as well as make video calls on its screen, with, of course, a better resolution.
You can also check the weather, set alarms, and also connect to your other smart devices. Your questions and everything you need to know about owning a smart display are all thoroughly explained in this article.
How We Picked
Touch Calibrated

Before choosing your smart display device, it's essential to consider if it's touch calibrated. No one will want a smart display without a screen calibration.


Sound Quality

Smart displays are meant to replace your mobile devices without a depreciation in quality. The sound quality of a smart display should be as that of a mobile device, if not even better.


Connectivity and Compatibility

Smart Displays are made to give you a better and smarter experience in using your devices, you must therefore be sure the smart display you are choosing can effectively connect with your mobile device and is perfectly compatible with it.


Cost-Effectiveness

In choosing your Smart Display, it's important to note how cost effective it is. No one wants to get a device without an effective and affordable pricing.

Who This Is For
The products advertised here are for everyone that desires to enjoy the comfort that comes with using a smart assistant while having a wide view of activities done on one's device. Having a smart display for anyone at such a time like this would not only make a great choice but will also make life easier to live as well as a sweeter experience whilst working or handling chores.
We've carefully picked the best smart displays for you to ensure that you have the best recommendations as to the choice of smart display you make.
Is a Smart Display worth it?
A smart display is a very fantastic device to have especially at times like this where you get to use a lot of smart devices with different connections. Having a smart display gives your home this smart portrayal seeing you don't have to be with your phone before you get things done.
A smart display has an unbelievable variety of smart features and gives you a very sensational experience in using your device. Even if you have a fixed budget, you can opt-in for a low-cost smart display. Getting a smart display is certainly worth the cost.
What can I do with a Smart Display?
A Smart display campaign can automatically find new and existing customers, set the right bids, and create engaging ads that adapt to any screen or ad space across the web and apps. Smart displays can act as hubs for your smart home devices, like security cameras and bulbs, so you can control everything with your voice and quickly call up video feeds. Smart displays can act as hubs for your smart home devices, like security cameras and bulbs, so you can control everything with your voice and quickly call up video feeds. And because they're made to be displayed. A big advantage is an ability to see and hear recipes when you're getting your hands dirty in the kitchen to avoid operating your phone with wet, oily, and greasy fingers. Anything a smart speaker can do, a smart display can do better. The screens and cameras (on some models) are a step above a cheap speaker or expensive tablet.
Do Smart Displays only work with Google Assistant or Amazon Alexa?
Most smart displays use Google Assistant or Amazon Alexa. While Lenovo and JBL have both made smart displays in the past for Google Assistant, the majority are made by Google (and Amazon for Alexa). Smart displays like the Lenovo Smart Display are not Android tablets but have Google Assistant built-in, which means you can ask it to do things with your voice as the primary input method. Devices like Samsung use the Bixby which can be set up when you receive your Smart Monitor, or later on from the Settings menu. for Samsung. The majority of smart displays work with Google Assistant and Amazon Alexa but not all, there are a few exceptions.
Why You Should Trust Us
We have carefully picked the best Smart Displays just for you with your best interest always at the back of our minds. We've looked out for effectiveness, size, connection strength, compatibility, and cost-effectiveness in our selected products all just for you
How We Picked
We remain committed to giving you the best reviews when it comes to you making your choices. We usually will search through various products and check through their distinct features and why they might be the best fit for you. We took our time to analyze our choices based on past customers' experiences and their reviews on their use and choice of Smart displays.
We examined and evaluated our picks based on the following features:
Size
The size of the Smart displays we tested was a particular feature we looked for. The size of a smart display conveys the quality of other general features like its screen resolution etc. So, we evaluated strongly on sizes.
Picture Quality
The picture quality of the Smart Displays we tested was a major ground for our test and evaluation. A smart display with a bad picture quality is going to make a bad choice as one of the main functions of a smart display is to give a good and clear projection on its screen.
Audio Quality
A smart display shouldn't only give a clean and clearer display, but also sounds of great audio quality, so we put the audio quality of the products we tested into consideration.
Touch Calibrated
The smart display is controlled through its screen by integrated screen response technology. So, we checked out the calibrations of the smart displays we tested.
Durability
It's pointless to get a device, no matter how great it is and it doesn't last for long and carry out its job well enough. We looked out for the durability of the products we tested.
Easy to Clean
There's no excuse one should give for having whatever device he uses dirty. Devices should be kept clean always, but to make this easier, we've also checked out for ease in the cleaning of the products that we picked.
Connection Strength
Smart displays are all connected to a device and their functionality depends on the same connection. Most of the smart devices we tested use wifi connection and we ensured to check their connection ability and strength.
Compatibility
Some devices can be very selective with their connection, so we also picked based on how compatible our picks get with most devices. We ensured our picks are those that can be used with almost all, if not all devices
Number of Devices able to Connect
The number of devices that can be connected to the smart display is a factor we also put into consideration during our selection.
Price vs Quality
We were on the lookout for the best smart displays that get the job done and yet kept taps on their prices, we want to pick products that are very effective and can be gotten at the best rate possible.
Hence, we have our selections based on each product's features just to ensure that we come up with the best Smart displays just for you and that whatever product that we recommend to you will serve its desired purpose
Care and Maintenance
How to set up
We've not only picked the best Smart displays for you, but we've also ensured that they are very easy to install. So, upon purchasing a Smart display, setting it up and starting your digital experience isn't going to be any difficult.
Once you put it on,(don't forget to fully charge before first use), you can navigate the settings and setup process through the touch calibration. If you have any issues at all, you can go through the user manual that comes with the device.
Connecting other devices
The point of owning a Smart display is to be able to connect your devices with it to give you a sweet experience. Most smart displays use a WiFi connection, so you can connect your smart display to your devices easily and freely.
Checking limitations of connection strength
To check for limitations of connection strength, you can navigate under Settings, Wi-Fi, or Network menu.You then can tap on the wifi network you're connected to. There you can see the signal strength.
Cleaning the screen
You shouldn't use your device with a dust and dirty clean. It's very easy to clean. You must turn off your device and unplug it first, and then you can remove the dust and dirt with a dry microfiber cloth. To erase prints and smudges, you can use a cloth touched with a little isopropyl alcohol, but do not use bleaches. Wipe the glass surface and corners, and ensure you do not let excess moisture get in the ports.