The Best Small Printer for 2023
Need a small printer that does the trick for your home office? Look no further.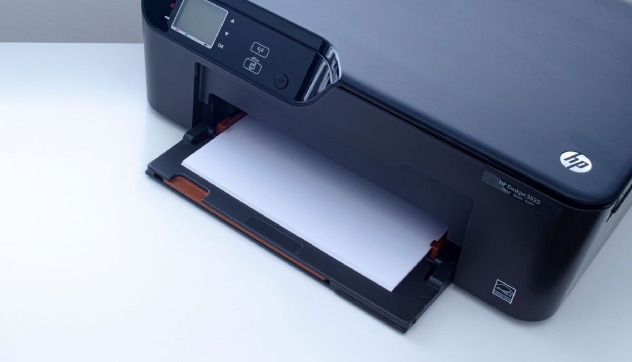 Printers have become an almost indispensable daily gadget in today's world of information. Its benefits span from the printing of documents in various forms, colors, and fonts, to other advanced services like copying, faxing, or scanning. Small printers offer all these at your convenience without making your space look like a printing press. So if you are on the lookout for an excellent compact printer that will save you a whole lot of space but still come with amazing features, look no further.
Printers come in various types and brands and vary in size, speed, sophistication, and cost. As such getting one perfect moderately sized printer might be confusing considering the myriad of small printers available in the market. For this reason, we have taken time to research and singled out the top small printers that just might be optimal for you.
How We Picked
Space and Paper Size

Getting a printer that can work with different paper sizes and is compact enough to not crowd your office is very important. Different types of print tasks may require different paper sizes, as such, it is necessary to get a printer that suits various paper types. Also, one that offers ample space needed for the machine to perform its basic functions and operate to its full capacity is necessary to avoid financial risk or logistical headaches.



Print Quality

A good printer is measured by its ability to mimic the number of pixels or the resolution of the source document or image.

Many factors may affect the print quality, however, the main factor to consider is the printer's DPI (Dots per inch), and it is important to consider this because it indicates how accurately a printer can replicate the pixels of a source image.


Ink Usage and Cost

Few things irritate consumers more than the high price of printer ink and the unceasing need to replace ink cartridges. When choosing your small printer, it is important to go for one that will offer amazing print quality with low ink usage and cost. Consequently, We selected those printers that feature high-capacity ink cartridges and those that take a long time before needing to replace them.


Cost-Effectiveness

Small printers may seem inexpensive upfront but getting to examine their operating cost, in the long run, tends to prove otherwise. In considering the Cost-Effectiveness of our picks we factored in the initial outlay as well as their running cost because you must choose a printer that will serve you for a long time but not deplete your income in the long run.


Our Top Picks
Best Pick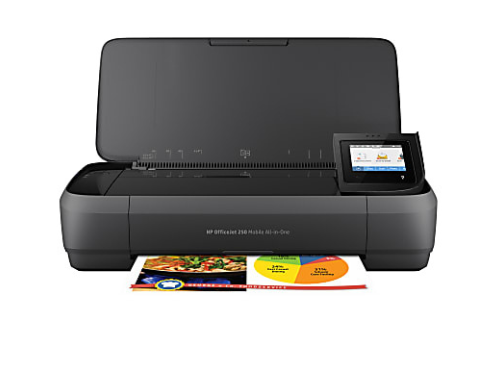 You can quickly print, scan, and copy from nearly anywhere with this portable all-in-one.
HP concentrates on keeping this sweet printer's size down without compromising print quality.


The All-in-one portable printer offers both wireless and mobile printing, including scan and copy features. It comes with a long-lasting battery capable of pretty fast charge, Bluetooth and WiFi connectivity, and a 10-page automatic document feeder and color touchscreen. It is uniquely small and suitable for your office, car, or backpack for travel use.


Runner Up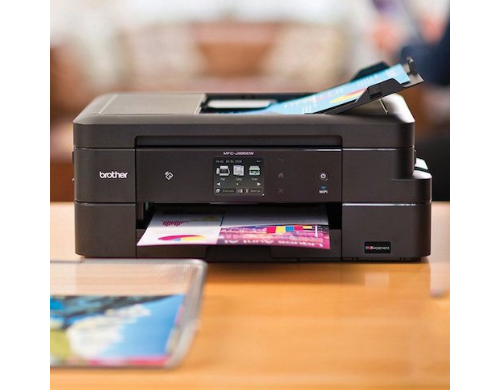 This super-efficient printer yields thousands of pages from its high-capacity ink cartridges.
Brother offers a solid choice for a compact printer with high standard a resolution


This fantastic ink-efficient printer comes with standard High-capacity ink capacity cartridges. It is adequately packed with features suitable for large office use or even home business. It features duplex printing, Wireless printing from mobile devices, a sweet 100 sheet paper capacity as well as a 2.7" touchscreen display that makes navigating the powerful features infused in the MFC J985DW effortless.
Most Cost-Effective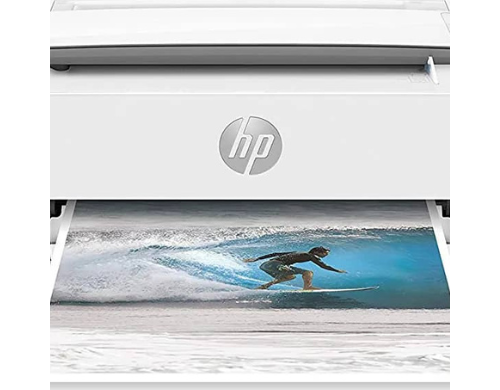 Another portable all-in-one printer from HP is well-designed to fit your space and budget.
HP promises a very lightweight and affordable printer with sharp and clean printed text.


You can do all the printing, scanning, and copying you want with this super affordable printing device. What's more? You can easily do all these through the wireless/Wi-Fi direct printing of the HP Deskjet 3755 features through your mobile device.

Additionally, the HP instant ink is designed to help you save up to 50% on ink and never run out.

Everything We Recommend
Best Pick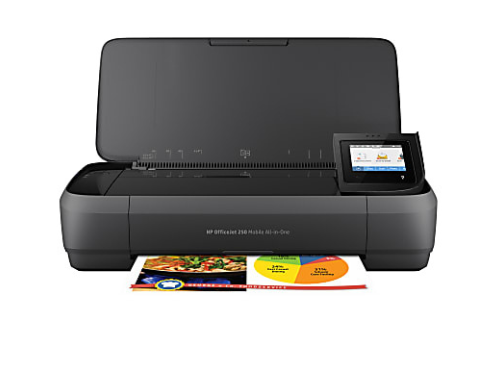 You can quickly print, scan, and copy from nearly anywhere with this portable all-in-one.
$489.94
Runner Up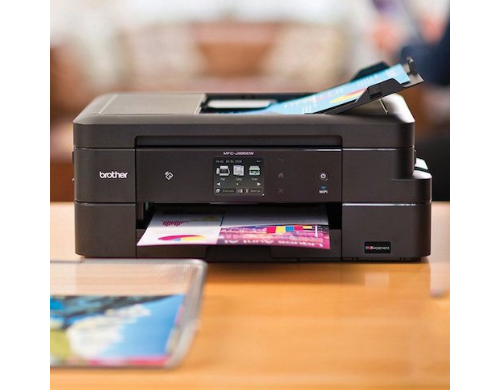 This super-efficient printer yields thousands of pages from its high-capacity ink cartridges.
$660.75
Most Cost-Effective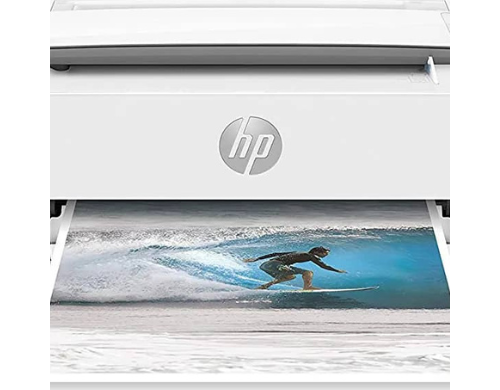 Another portable all-in-one printer from HP is well-designed to fit your space and budget.
Who This Is For
The products advertised here are for both officers and home users, who want a small printer to save their office/home space without sacrificing functionality, quality, and time. All the printers featured here are suitable for desk purposes in the office and home and are simply designed, easy to set up, and do not require professional help to operate. 
Does printer size affect print quality?
Print quality refers to the appearance of the finished product and is usually evaluated in terms of Dots per Inch (DPI). other factors include the driver of the printer and the ink or toner used, The printer driver transforms the source image into a set of instructions for the printer to follow, which determines where it places each dot on the page and what color to use. With these factors in place, you will get high-quality prints no matter what printer you own.
What size paper does my printer need?
Printing paper comes in a variety of different sizes, ranging from postcards to large format printing sizes. It's best to choose a paper size that will best fit the dimensions of the document or image you usually print. The standard size of regular printing paper is letter size paper (8.5×11 inches). It is also the size used for a wide range of standard documents, including magazines, catalogs, letters, and forms.
Can I use any paper type in my printer? 
Inkjet and laser printers usually don't require specific papers. You can print using any office copy paper. However, For the best print quality, it is ideal to print with paper designed for your printer and the print job type. 
Why You Should Trust Us
Many printers out there lack the qualities and portability users usually want from their printers. Such printers are designed without due consideration of the user's taste and values, as such, we have researched different types of printers available and have found the best printers that are durable and offer the best value for your money.
How We Picked
Having a good small printer can come in handy in a number of ways, from printing a last-minute document for a meeting, to running a business on the go, their importance cannot be understated and you can be sure that we looked out for the best small printers that will outperform basic tasks without you having to search around for additional devices.
Nobody wants second-best anything, so to get the ideal small printer for you, we scoured over previous customer experiences with all types of small printers, taking into cognizance the most compact small printer that offered them great versatility, top-notch print quality, extended warranties, low noise, easy maintenance, low running cost, and even additional features like wireless printing and scanning of documents.
Among our picks, you will find small printers that are durable, sizable yet compact with enough room above and underneath for loading paper and printing out. For the most part, we scoured through many websites and streamlined our picks to small printers that look great and will fit into the center or side of your home or office desk, and from the reviews we read, we discovered that people even prefer to spend up for a high-level quality small printer and use mainly for documents and image printing, so if you need a high-resolution printer that goes beyond the black and white printing to add colored printing features, you may have to spend up.
For better quality and other features such as WiFi, Bluetooth, and wired connections that allow you to print different devices, including your smartphone at your convenience, you may also need to spend above average, but we have to don't the job of searching thousands of products with excellent reviews that come with these features at a lower cost and have included them for you.
Care and Maintenance
To care for your printer, begin by using it more frequently. This is especially true because printers left alone for a long period begin to malfunction when the delicate parts get coated with dust and break down. Take caution when replacing or removing your ink cartridges and always get the right ink for your printer to save cost and avoid clogged ink nozzles. 
Keep your printer clean and dust free by wiping it through with a damp cloth that has been wetted with alcohol at regular intervals. Lastly, follow your printer