The Best Slow Cookers for 2022
Whether you want to prepare a hearty stew, tender meat, or a pot of soup, there's a cooker that fits the bill.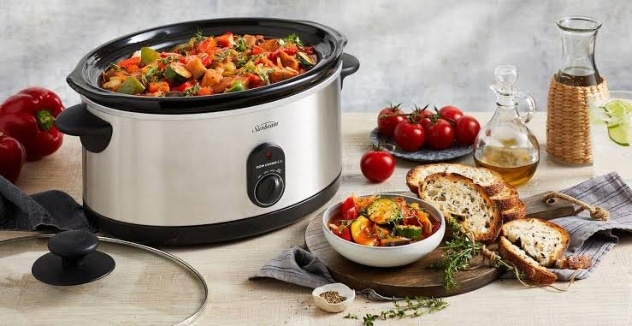 The respite of getting home to a hot, steamy meal is a precious luxury that makes life easier, and that's why you need a slow cooker. With these hands-off appliances, you don't have to stand over the pan and stir because your slow cooker puts out even heat and food doesn't get hot enough to start getting stuck.
The best slow cooker can help you get the most out of inexpensive cuts of meat because cooking at low temperatures for a long time softens the meat and enhances its flavor.
A slow cooker is also more economical as it consumes less energy than a traditional electric oven. They offer healthier, lower-fat cooking and often retain more nutrients than other methods such as baking, boiling, or frying.
Slow cookers are generally simple and easy to use and they usually consist of a few components, most of which are ready-to-use. Some models meet different criteria and have additional features such as an automatic timer, while some high-tech models are equipped with sous vide settings and special ingredient presets to cook food as efficiently as possible.
Due to different designs and technologies, slow cookers have different prices, which is why we have reviewed and selected the best, most durable, easy-to-use, and cost-effective slow cooker just for you.
How We Picked
Consistency of cooking

The low and constant temperature helps to retain moisture while cooking in the slow cooker. Therefore, the best slow cookers are the ones that have a moderate cooking consistency and do not evaporate or thicken the liquid.

Size/Capacity

Slow cookers are made in different sizes ranging from 1.5 to 8 quarts and everything in between. The ultra-compact models are ideal for simply reheating small items such as party sauces. The right size will depend on the number of people you are cooking for, so we chose different sizes and capacities of crock pots.


Material

We selected slow cookers made from ceramic material because they are dishwasher-safe and have a non-stick surface, so you don't have to worry about wear and tear over time or seeping into your food. We also opt for slow cookers with a glass lid so you can see what's going on inside without removing the lid.

Cost-Effectiveness

There are many cool features available on different models of slow cookers. The slowest cooking can be done with the simplest model. Therefore, we only picked slow cookers that are actually worth the price.

Our Top Picks
Best Pick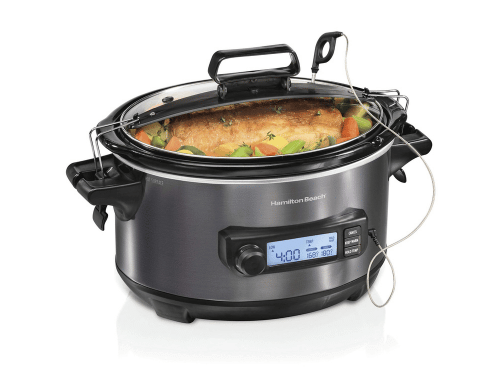 Six-quart capacity with an attractive stainless steel housing
It has a digital display and presets for common meals — especially for beginners.
Temp Tracker is an excellent choice for someone looking for a slow cooker that has a locking lid. It is designed to lock in both the flavor and nutrients of the food being cooked, which is great for someone who wants to cook healthy meals. This slow cooker is also very simple to use and program, so you can create ready-to-go meals in just minutes.
Runner Up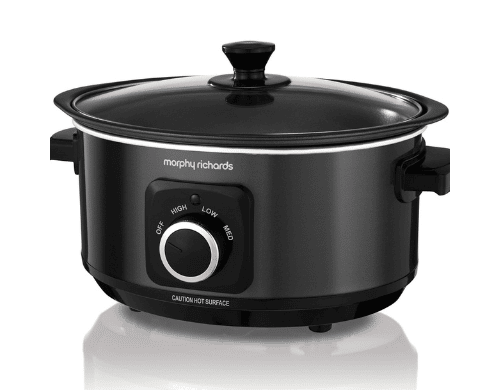 Made with durable and lightweight materials, this pick is definitely of the best value.
Featuring a non-stick interior, this slow cooker makes it much easier to clean up after cooking.
The Morphy Richards Sear and Stew slow cooker is a premium slow cooker that includes a removable pot so you can sear and stew meat and vegetables directly in the cooker before slow cooking. This cooker is also pretty attractive, meaning that it can double as a serving bowl.

Most Cost-Effective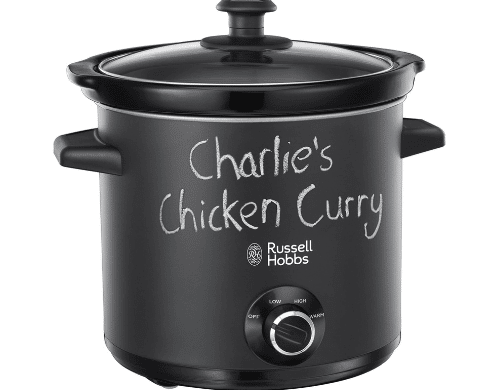 Most affordable slow cooker offering high value for its price
You can let everyone know what's cooking without from a mile ago thanks to the chalkboard.
The Russell Hobbs slow cooker is designed with a matte black finish that you can write on with chalk. Whether it's what's in the pot, what time dinner will be ready, an ingredient to add, or something a little more creative, it is up to you.
Everything We Recommend
Best Pick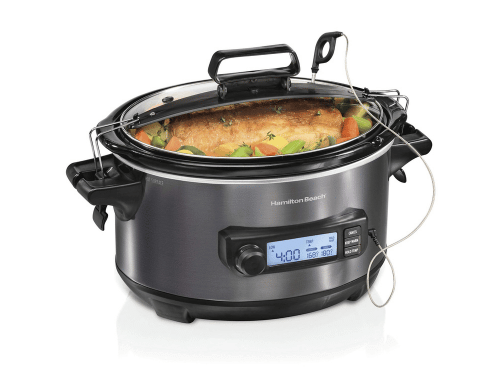 Six-quart capacity with an attractive stainless steel housing
$89.99
Runner Up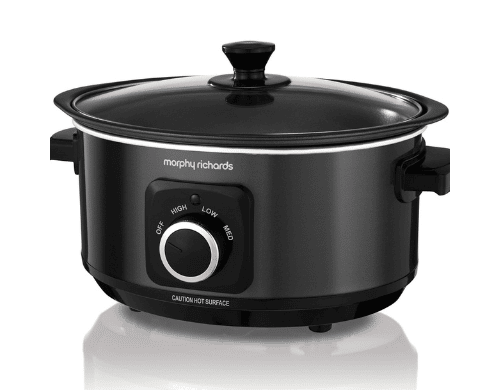 Made with durable and lightweight materials, this pick is definitely of the best value.
Most Cost-Effective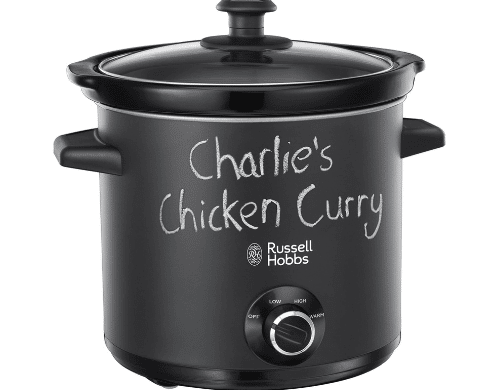 Most affordable slow cooker offering high value for its price
Who This Is For
The products reviewed are for anyone that needs to rush to work in the early morning and does not have time to cook before leaving. You can simply set up your slow cooker at night before going to bed and it would have prepared your meals before daybreak.
A slow cooker is also effective for those who do not have time to cook dinner. You can put all the ingredients in your crock pot in the morning and set it up for a flawless meal before lunch. Cooking for a long time will allow the food to absorb most of the flavor and also add flavor to the dish.
What Can You Cook In A Slow Cooker?
The slow cooker is great for cooking less expensive dishes like beef brisket, pork, lamb shoulder, and chicken thighs. You can also use less meat, as the slow cooker creates a meaty flavor that permeates the entire dish. But honestly, you can also cook anything in the slow cooker.
You're probably most familiar with slow cooker dishes, but you really can make anything in the slow cooker: pulled pork, yogurt, chicken broth, and chili peppers. Demonstrate creativity and experiment with your favorite recipes while following normal guidelines.
Are Slow Cookers Energy Efficient?
Slow cookers are energy efficient because the heating element uses very low currents and relies on caught-up heat to cook the food. Despite cooking for a long time, slow cookers use less electricity, which also means slow cookers are among the most energy-efficient appliances in the kitchen.
A slow cooker that runs for eight to nine hours uses about 1300 watts, much less than 2000 to the 5000-watt oven for 60 minutes of cooking at 350°F. They also reduce evaporation.
What Size Of Slow Cooker Should I Get?
Slow cookers come in many different shapes and sizes. Sizes range from 1.5 to 8 quarts and everything in between. An extra-small model from 1.5 to 2 quarts is ideal for the simple reheating of small dishes such as party dips.
If you're cooking for yourself or just for two, a 2 1/2 to 3 1/2 quart slow cooker can be quite large. It is ideal for small quantities of soups and stews. Many slow cooker recipes are written for 6-quart models and can be simply cut in half for that size.
If you want a little more room for leftovers or can cook for a few guests occasionally, a 3 1/2 to 4 1/2 liter crock pot is large enough for most medium-sized dishes
Why You Should Trust Us
There are lots of slow cookers advertised on the internet today, each one catering to a different amount of people and designed with different features and settings.
Due to the variation in brand, cook consistency, capabilities, technology, and price of these slow cookers, we have conducted in-depth research to choose quality, stylishly designed, healthful, and reasonably priced slow cookers just for you!
How We Picked
Slow cookers are usually quite simple machines with basic technology that is hundreds of years old. So, choosing the best from the wide and rigorous list in the market is not an easy task, but to make the process easier, we listed some important criteria to consider in a slow cooker.
Using these criteria, we searched every editorial review we could find, including those from Good Housekeeping, The Spruce, and The Kitchen. We've read over 65 top-rated model owners' reviews. We also looked at reviews of different types of slow cookers on Amazon.com.
We narrowed our review to the 6 to 7quart models, as they're large enough to feed a family of four with leftovers. The larger ones take up too much space and the smaller ones are not suitable for more than one or two people.
There are two popular types of slow cookers, one with a traditional look, and one that is portable or "travel-friendly" with a locking lid to minimize spills. If you plan to take your slow cooker with you to fairs or social events, you may want to opt for the portable rather than the standard model. Among our selection, you will find different styles, sizes, and finishes of slow cookers.
We reviewed models with locking lids and silicone gaskets to prevent spills when you're transporting your crock pot to the party to serve or reheat. We only choose durable, guaranteed slow cookers because in our research we found that almost all models had at least a few reviews complaining of serious problems like broken caps, chipped liners, or melted handles.
As a result, we think it's important to get a slow cooker with a good warranty, so we've chosen slow cookers with one to three-year warranties.
Ceramic pots retain heat better than metal pots and they distribute heat more evenly during cooking. We've read about several metal options, but their non-stick coating isn't ideal for high-temperature wear. Excessive heat can also accelerate the decomposition of this coating, reducing its effectiveness.
Therefore, we picked ceramic slow cookers except for our runner-up which is made with a non-stick metal). For just a little more money than you would spend on a basic manual crock pot, you can buy one with a programmable timer that automatically switches to reheat when it's done. So we have selected slow cookers with programmable timers for ease of use and also for perfect and automatic heat regulation.
A built-in thermometer allows you to check the temperature of roasts and other meats. You can always use your probe thermometer, but we think it would be handy to have a thermometer right on the stove. Our top pick, Hamilton Beach is the only brand we found that manufactures cookers with probe thermometers, which is one of the reasons it's our top pick.
The best slow cookers are easy to set up and use, and easy to clean. To compare models, we check the ease of assembling the parts and the clarity of the settings. We know you don't want a pot that's hard to clean, so we checked that the pan and lid are dishwasher safe and can be completely submerged in hot water to clean.
Some slow cookers have only one pot above the heater. The heat is not evenly distributed this way and you may need to stir the food more often to avoid burning, which is the opposite of why we love slow cookers, so we tested only slow cookers with elemental heat on the bottom or side of the base, allowing for more even heat distribution. We opted for a slow cooker with a great reheat function to keep food warm but not scorching hot for parties. It also allows you to return home with food still hot but not overcooked if you are away from home for longer than necessary.
In our research, we found that slow cooker prices range from $20 to $250 depending on size and features. We think you can buy a great pot for $50 to $80. Spend more and you get a branded model with a sleeker look but not much more. Therefore, we only choose cost-effective slow cookers.
Care and Maintenance
Your slow cooker may look clean, but if it's your first time using it in a while, you do need to scrub it. After all, that pumpkin black bean pepper probably wouldn't pair well with dust beetles. Remember to always clean the slow cooker after each use.
Always unplug the slow cooker before cleaning it. All of our picks (except for Morphy Richards) are made of ceramic and are therefore dishwasher safe. Place it on the bottom shelf of the dishwasher, away from cutlery.
For the one that is not dishwasher safe, remove it and wash it with warm soapy water, even if it is not removable, you can also do so. Wipe the outside with a damp cloth and dish soap mixture.
Don't forget to clean the base! Use a toothbrush to get into hard-to-reach areas and remove scrap from underneath the element. After cleaning, always make sure it is completely dry before plugging it back in.
Kitchen wares maintenance goes beyond cooking and cleaning, how you store it is also important and can extend the life of your appliances. Figuring out exactly where you'll be able to store your slow cooker when not in use is an important factor.
A slow cooker is something you'll want to keep in your cupboard or pantry when you're not cooking something in it. Make sure you don't put extra luggage on it or put it anywhere liquid could spill on it.
Slow cookers that are used often can become smelly due to food or grease residue left inside. Even small stains that go unnoticed can create a lot of odors due to the growth of odor-causing bacteria or mold. In addition to having an unpleasant smell, a dirty slow cooker is also unhealthy to your cooking.
You can deodorize your slow cooker and remove odor-causing stains by performing simple deep cleaning procedures. First, always remember to unplug the slow cooker before cleaning it. Besides normal cleaning procedures after use, you can also do this to prevent stains and odors in your slow cooker.
First, wet a clean sponge with warm water and wring out excess moisture. Apply one to two drops of dish detergent to the damp sponge, scrub the inside of the slow cooker with the sponge to remove any lingering odors. Rinse the sponge with warm water, wring it out, and wipe the inside of the slow cooker to remove any detergent.
Dry the inside of the slow cooker with a clean towel then sprinkle baking soda on the inner bottom of the slow cooker, place the slow cooker in a large plastic bag and seal the top of the bag. Leave the slow cooker in the plastic bag overnight to allow the baking soda absorb any lingering odors.
Remove the slow cooker from the plastic bag and dump the baking soda in the trash. Wipe the inside of the slow cooker with a damp sponge to remove baking soda residue, then dry with a clean kitchen towel and store in a suitable place.