The Best Showerheads for 2023
Replace your old showerhead with one of these truly glorious options for a more luxurious bathroom experience.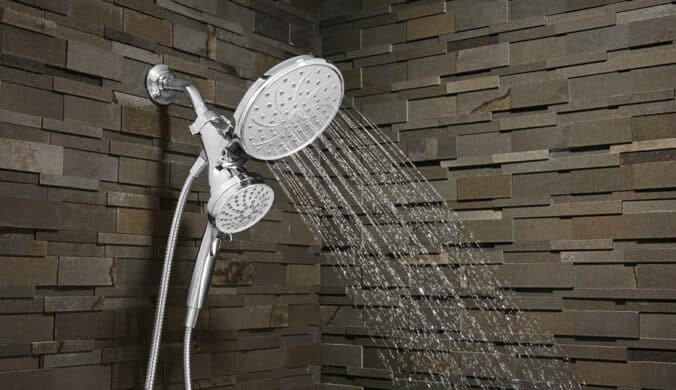 Many things can brighten your day and inspire you to do great things. The quality of your shower is one of the most important factors in determining how your day will go. A bad morning shower can irritate you, and you may end up transferring your rage to everyone who comes your way that day. A great shower in the morning will give you the boost you need to perform brilliantly throughout the day.
There are plenty of things you can do to improve your bathroom experience. The easiest and quickest of them all is installing a new showerhead. When it comes to choosing a showerhead, you have a lot of options. Besides the standard fixed head, there are also handheld and even ceiling-mounted models. Showerheads can also be classified according to their finish, which ranges from polished chrome, brushed nickel, oil-rubbed bronze, and stainless steel. A great shower entails many things such as excellent water pressure, a superb spray pattern, and impeccable build quality.
How We Picked
Flow Rate and Water Pressure

The difference between a great shower and a bad shower is the water pressure or the flow rate. If a showerhead gives you a trickling flow when you need a medium flow rate, frustration will set in. A good showerhead should offer you a few flow rate options.


Hose Length and Adjustability

A decent hose length is required for a handheld shower to avoid tangling or snapping. Furthermore, an adjustable showerhead allows you to shower from a variety of angles, which is useful if you are injured or want to target a specific area.


Materials

Showerheads are commonly made with plastic, stainless steel, or brass. If you use salty water or trying to cut costs, a plastic head is a great pick. That said, we made sure that we picked showerheads that are made with rust-resistant materials.


Cost-Effectiveness

We carefully selected showerheads that will give you more than what you are paying for - premium qualities for a decent amount of money. They are durable, high-quality, easy to install, and have different spray patterns.

Our Top Picks
Our Top Pick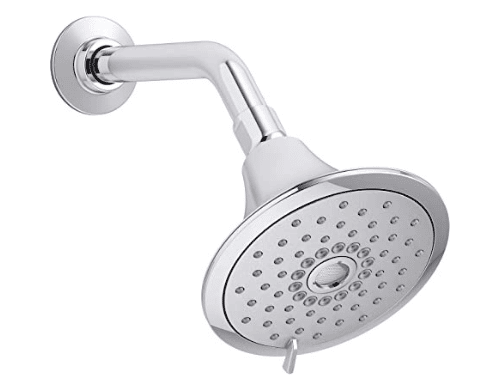 Kohler Forte Multifunction Showerhead is versatile and luxurious for anybody that wants comfort while showering.
Kohler Forte Multifunction Showerhead is the perfect showerhead that can give you the perfect energy and aura you need. This Forte showerhead delivers water at the perfect velocity. It is built with a technology that aerates every droplet coming out of it and thus makes them warmer, larger, and softer.

With multiple spray settings and effects on the skin, this choice is the best.

Our Runner-Up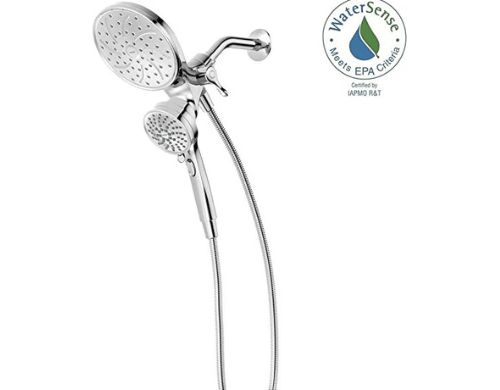 The Moen Attract Magnetix showerhead provides classic and exquisite comfort.
Moen Attract Magnetix 26008 is a top-rated showerhead that beats gently on the skin. It waters the skin via six spray settings that meet every showering need that you may want. It also features a flexible stainless steel hose that won't rust or get damaged easily.

A versatile showerhead with six spray settings and it deserves to be on this list.

Most Cost-Effective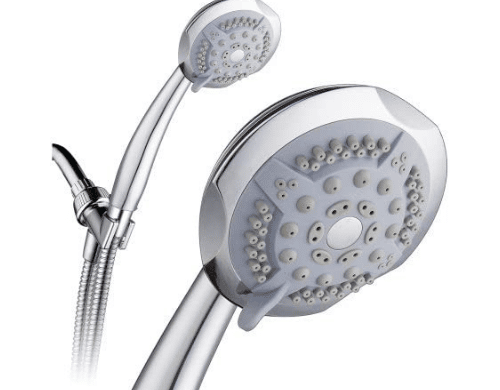 PowerSpa 5-setting Deluxe Showerhead makes sure soothing water lifts your spirit without spending much.
PowerSpa 5-Setting Deluxe Showerhead is highly versatile and can be used as an overhead or handheld shower. It is affordable and effective. It has five full-click settings that you can use to cool your body and refill your energy. Customer reviews showed that this deluxe showerhead does its job perfectly without much water.

Want to enjoy some comfort without splashing out? Look no further!

Everything We Recommend
Our Top Pick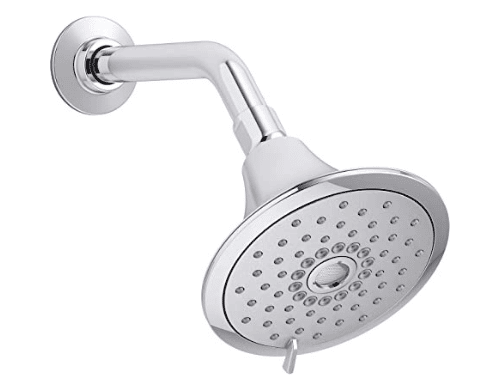 Kohler Forte Multifunction Showerhead is versatile and luxurious for anybody that wants comfort while showering.
$87.14
Our Runner-Up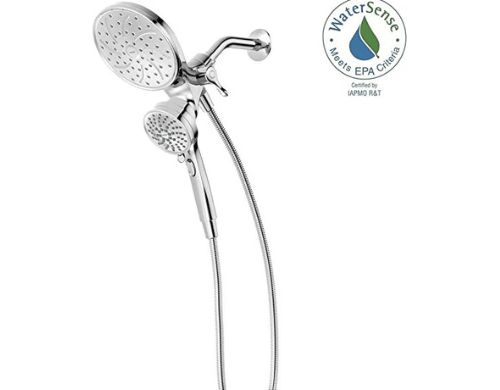 The Moen Attract Magnetix showerhead provides classic and exquisite comfort.
Most Cost-Effective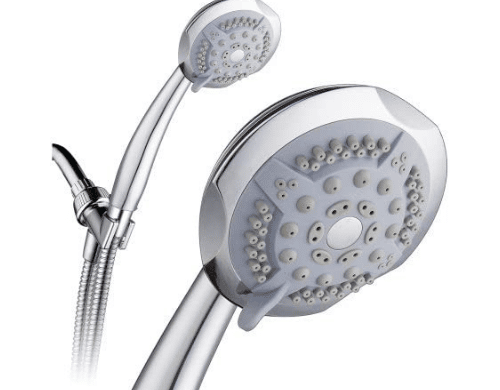 PowerSpa 5-setting Deluxe Showerhead makes sure soothing water lifts your spirit without spending much.
$24.83
Who This Is For
These showerheads are for people that want to enjoy some new sensations whenever they shower. These showerheads will transform the bathing experience of anyone that uses any of these listed showerheads. They provide excellent coverage and amazing spray patterns.
Different Types Of Showerheads
There are many showerheads out there and they have their advantages and disadvantages. We decided to classify all showerheads into nine categories: handheld showerhead, wall-mount showerhead, LED showerhead, rainfall showerhead, dual showerhead, shower panels, filtered showerhead, high-pressure showerhead, and low-flow showerhead. This classification is simple as anybody can easily relate and visualize it.
Can I Get A Water/Eco-efficient Showerhead?
Yes, you can get a water or eco-efficient showerhead for your bathroom but you need to make sure you are getting it for the right reasons. You need to make sure your current shower is fast enough to fill a two-liter container within 12 when it is running on full. If you have a large and fixed showerhead that you love, you shouldn't replace it with an eco-efficient showerhead because you won't enjoy the freedom the large showerhead offers. It is okay if you still want a water-saving showerhead.
Why You Should Trust Us
We know that you deserve amazing showers that will give you enough power and energy to kick-start your days and refresh your energy before going to bed at night. That's why we have decided to deploy all our tools to get you the best showerheads that can offer you soothing water that will make you cool.
How We Picked
To save you the nerve-wracking efforts of getting a top-level showerhead for yourself, we decided to do the painstaking hunt for you. During the hunt, we reviewed professional opinions and previous user experiences with many showerheads. Professional opinions from professional plumbers, product managers, hotel owners, and home agents set us on the right path. We reviewed many previous user experiences and reviews and made sure we get the best showerheads on the market.
We took some steps further so that we can give you premium showerheads. We considered the flow rate and water pressure of many showerheads. We picked the ones with excellent and multiple flow rates that give the sensation and relaxation of a luxurious pool in Santorini. We considered the hose length and made sure that they are perfect and adjustable with ease. The listed showerheads are made with high-quality materials that are durable and rust-resistant.
Don't worry about installation because we carefully searched for showerheads that are easy to install. The sizes of the heads are ideal for you to enjoy the wholesomeness of the shower. These showerheads have special features such as multiple spray patterns and speeds and nice control knobs to choose the flow rate and spray patterns that you want. You can control them to spray directly or scatter a little on you. Lastly, they are economical and highly effective.
Care and Maintenance
How To Install
It is recommended that you follow the manual's instructions. Most times, they are easy to understand even if you have never installed one. We have some basic steps that you can follow. The first thing is to remove the old showerhead. You can remove it by turning it anticlockwise until it comes off. Then clean the inside of the shower arm. Put in the new showerhead and turn clockwise until it stops moving. Make sure you put it in perfectly and it isn't leaking after installation.
Ensuring The Water Pressure Is Correct
If you noticed that your showerhead isn't gushing out water excellently, then something is wrong somewhere. You should try cleaning the showerhead by the process mentioned above. There are some showerheads such as Forte Multifunction Showerhead that you can clean by just running your fingers through the showerhead. You can check for kinks or clogs in the hose. Make sure the hose isn't twisted for water to move freely. Also, check for leaks as this will reduce the water pressure flowing out of the heads. If the problem persists, call a technician.
Dealing With Leaks
If your showerhead is leaking, then it means that the showerhead isn't tightly fitted. So make sure the showerhead is fitted properly. If it's the arm that is leaking, call a technician.
Preventing Hose Breakages
Make sure the hose is well placed. Most hose breakages occur due to mishandling of the hoses. So handle them with care and make sure they don't dangle aimlessly.
Cleaning Your Showerhead
Remove the showerhead and soak it in water. Then, wash with water mixed with soap and a brush. Some showerheads have amazing cleaning technology that you just need to rub your fingers on and they will be cleaned.
Checking For Limescale or Rust
It's advisable to regularly check your showerhead for rust or limestone. If you stay in an area with an abundance of hard water, your showerhead is likely to be clogged with limestone. Rust can act on your showerhead if the showerhead isn't made with high-quality material. Regular checking will let you know if these two substances are attacking your showerhead.
Putting a Filter On Your Showerhead
It is good to put a filter on your showerhead. Filters help to keep away chemicals, contaminants, and bacteria from your skin. Remove your showerheads with the instructions mentioned in 'How to install'. Attach the filter to the shower arm after cleaning the arm. Turn on the water to clean any inbound dirt that may have accumulated inside the filter. Put back your showerhead and check for leaks.