The Best Shoe Rack for 2023
Keep all of your shoes, and by extension, your entire house well organized with these practical shoe racks.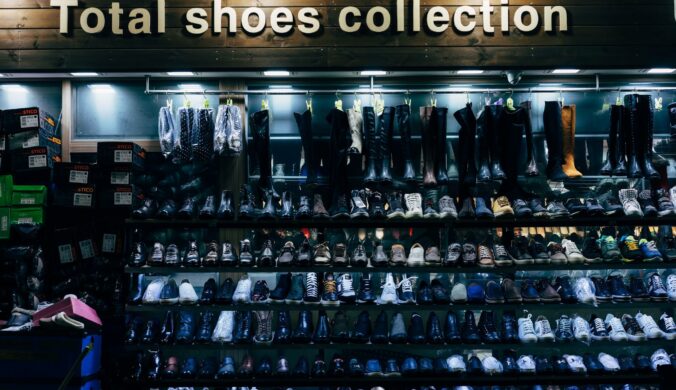 The first order of business once you return home is almost always to kick off your shoes and then slip into something more comfortable. However, if you are trying to run an organized house, you'd want to place your shoes on a rack.
If you don't want your house to be littered with your, your children's, your spouse's, or even your roommate's shoes, you need a shoe rack. Let's not even get started on space and all of its other advantages. This review takes care of your shoe rack needs and provides you with all of the best options as well as the most compelling reasons why any of them could be exactly what you need.
Our Top Picks
Our Top Pick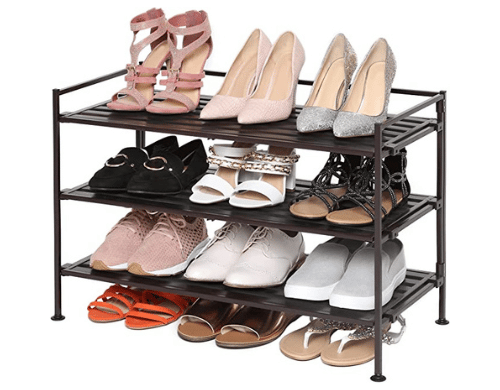 You can now organize up to 12 pairs of shoes; with 9 on shelves.
Our Runner-Up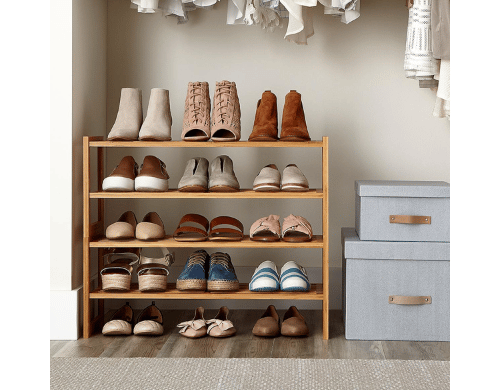 This 2-Tier stackable bamboo shoe shelf is everything it's stacked up to be.
Most Cost-Effective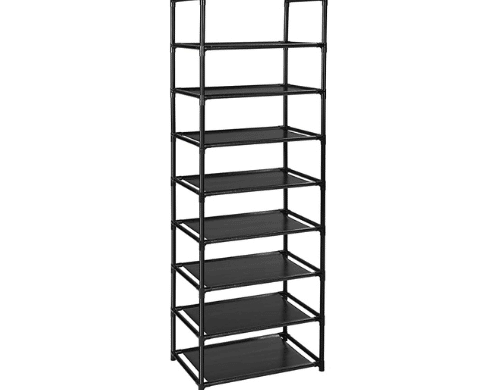 This affordable rack can be stacked or spread into various tiers to meet your storage needs.
$19.99
Who This Is For
If you don't have a place to store your shoes, it can be quite a nuisance. A shoe rack is designed to help store your shoes if you've got more than a pair. They are also built to ensure that your shoes are kept safe and in good condition. With the assistance of a shoe rack, you can keep track of all of your shoes and organize them the way you want in any part of the house you wish.
Benefits Of A Shoe Rack
At first, you might be okay keeping your shoes behind the door or just leaving them lying around. However, when it comes to cleaning and organizing the home, you discover that a shoe rack does a lot more than hold shoes.
First of all, it can be challenging to maintain a clean floor. This gets more complicated with a larger household with children and even pets. With everyone wearing shoes to several places, those used for activities such as gardening, school, or other busy activities will track in dirt, and this might be bad for pets or family members with allergies. Lifting shoes off the floor continually does not allow for efficient cleaning and leaves family members exposed. However, a shoe rack makes it easy to store shoes safely while keeping the house clean and making cleaning efficient.
To ensure that your shoes remain in pristine condition throughout time, you will need to preserve them properly. Keeping wet shoes in an unorganized closet can lead to the growth of mold and the release of offensive odors. You will require a shoe rack to maintain the highest level of quality for your collection of footwear.
Shoe racks are also organizers and make it easy to arrange your collection of shoes. Therefore, you always know where your shoes are and which ones are on which shelf on your rack.
Why You Should Trust Us
Before making our selection, we went through an extensive list of customer reviews and expert opinions on the various variables of our selection: material, open/closed, style, capacity, dimensions, and quality. After weighing all the information, we eliminated overly expensive products and made our pick based on our factors within a certain cost range.
How We Picked
Capacity
Even though it would appear to be obvious, the majority of shoe racks will state how many pairs of shoes they can store. That is because you need to know how much space you have to calculate how much more room you will have in the future, as well as whether or not your current collection will fit into the space. After our research and surveys, we found that most people preferred shoe racks that had expandable capacity. So we made our selection based on an average count or range to choose from and expand within the case that you decide to gather more than your rack can carry.
Size and Weight
When selecting furniture, size is one of the most important factors to consider. To be able to acquire new furniture, you must have adequate space in your home. There are numerous sizes of shoe racks, which is excellent news for you. To start, determine where you will place the rack. Typically, shoe racks are mounted along the walls of a corridor or a bedroom. We followed the specified guidelines and measured the size of the wall along which the rack will sit to obtain the correct size. However, not all wall sizes are included in this measurement. Ideally, the rack should take up no more than a third of the wall space. It was with this knowledge that we proceeded to make our selection. We also considered the weight of the shoe rack. Lighter racks may be moved easily across rooms and even transported easily, while heavier ones may take up more space and can be more tasking even when it comes to cleaning. So we tried to hang the outcome of the weight on other factors like quality materials and durability.
Dimensions
Having access to a larger amount of storage space is never a negative thing. Even while a larger shoe rack will answer the problem of where to put all of your shoes, it will take up more space. Therefore, although knowing the measurements of a room can be helpful, it can be difficult to visualize anything fitting into the space. Because of this, we ranked our selections based on how easy or challenging the dimensions were when pitted against other factors and made sure that our picks were not at the worst inconveniencing.
Number of Slots/Open or Closed
When making our pick, we considered the structure of the shoe rack and how many shoes it could hold. The number of slots links directly to the size and capacity of a shoe rack, which means that if it does not contain all your shoes, there might be a need to buy another. Also, while most people prefer closed shoe racks (or cabinets & cubbies), others prefer open racks. This divide in preferences played a part in our pick, and after several reviews of our own, we concluded that open shoe racks were preferable when it came to how many extra shoes they could manage.
Material
Considering that shoes are one of the dirtiest items in your home, we selected shoe racks that can be cleaned quickly and easily. Fabric shoe racks are more difficult to maintain and clean compared to ones constructed of metal or wood. On the other hand, a metal shoe rack might not be the best choice for the aesthetic of your home. If this is the case, a bamboo shoe rack or a shoe rack made of plastic may be the ideal option because these materials generally work well with a broad variety of styles of furniture and color schemes. With several options covering these variables, you have various options to choose from among our picks.
Price vs Quality
Our picks does not provide you with either option. Our rigorous process eliminated very expensive options to provide only the best quality at the right cost. Not all of our picks might share the same budget, but they sure offer guaranteed quality for their price.
Style/Design
Although style and design were not our primary considerations, each rack's styling and finish did play a role in our decision-making process. We believe that most people use a shoe rack in a space where elegance isn't a priority, but some individuals also desire a rack that looks good outside. So we selected the shoe rack based on the quality of its material and how that fit its design.
Strength & Durability
Strength in a shoe rack is a result of its stability. There is nothing as frustrating as owning a shoe rack that collapses every time a door bangs. The stability of a shoe rack determines how many shoes the rack can carry without wobbling and how long it will last. With long-term goals in our mind, as any customer would, we selected the shoe racks that were considered both stable and durable and could manage a lot of pressure without any structural problems.
How We Picked
Capacity and Size

You do not want something that will inconvenience you by taking up unnecessary space. Besides, a good rack should be able to hold most or all of your shoes. After all, it will be best to buy one rack that can hold everything rather than two that cramp up your space.

Number of Slots

The number of available slots is closely related to the capacity of the rack. Large slots can sometimes save you up to 50% more space, and the more shoes you have, the more slots you may require.

Material

For a long time, wood has been a popular material for shoe racks. However, the popularity of foldable fabric racks and plastic racks has recently increased. While wooden racks are relatively durable, plastic and fabric alternatives offer greater versatility. However, we chose racks based on their strength and durability.

Cost-Effectiveness

A shoe rack shouldn't dig deep into your income. We, therefore, ensured that our selections were classy enough to not make you look cheap and not expensive enough to make you grumpy after the purchase.
Care and Maintenance
So, how do you take care of the place that takes care of your shoes? Well, it's not that hard. Shoe racks are designed to hold both clean and dirty shoes without breathing space. This means that they are very easy to clean and maintain.
Setting Up & Ensuring Stability
Going through our selection, you must have observed that all shoe racks come differently, and this means that they will need different methods of assembling. For those with joints and screws, it would be best to read through the manual before starting to assemble them, as missing a screw or key could result in a wobbling rack, which would not be the fault of the manufacturer.
For other types that snap into place or have connecting joints that can be used to hold parts of the rack together, it would be best to check first for a manual, and if there is none, then each item should be used in the places they would fit. For stability, some racks are designed to stand alone, while others are made to lean on walls. For those that can carry only a few shoes before they wobble, especially those made of plastic, it would be best to place them beside a wall, while others that are sturdier may be allowed to stand on their own.
Cleaning & Placement
When you clean your rack, make sure to use the right equipment so it doesn't spoil. However, most racks are tough, and cleaning would not be an issue. Bad odors, on the other hand, might be a problem. Fortunately, you can eliminate unpleasant odors from your shoe racks by using vinegar and water. You can also add lemon juice or scented oils to the cleaning solution to give it a better scent. It is recommended that you carry out this task each time you clean the house or get ready to purchase new footwear. When it comes to placement, it is advisable to place your shoe rack so that it faces west or southwest in the living room or most other rooms. If you have to keep it at the entrance to a room, put it outside the door, not close to the door inside the room or in a corridor.
Sources and Research