The Best Sewing Machines for 2023
Design and make your own clothes with the best sewing machines.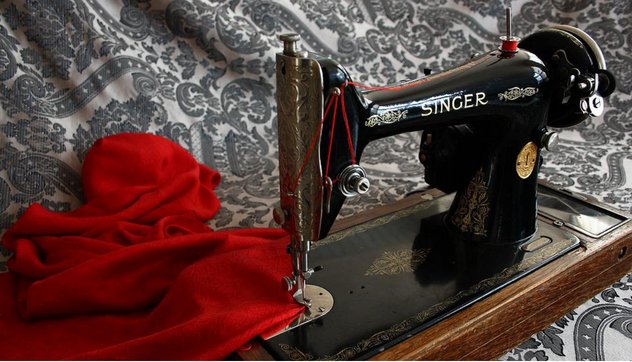 Sewing machines have been present in homes for decades and almost everyone remembers their mothers and grandmothers sewing their clothes, making alterations, or making home textiles. Although they were forgotten for a few years, they have made a strong comeback and this time, men and women alike appreciate them and use them to make their own clothes. This is due to the sustainable fashion consumption habits that more and more consumers are considering, the fact that more people have access to high-quality sewing machines at an affordable price, and the possibility of consulting free tutorials on the Internet.
All these factors have attracted many people to sewing, and it is only natural that they would want to invest in a new sewing machine. In the market, there are a huge number of possibilities to equip our workshop or our home with a sewing machine, but which one should you buy? What criteria should we follow to avoid making a mistake in our investment? Don't worry, here are some of the best models you can buy, from the best of them all to the best value for money, and even if none of them meet your expectations, you can always use our research and buying criteria to make your own choice.
How We Picked
Stitch quality

This is a fundamental aspect. No one likes to have their clothes unraveled or torn. A good sewing machine should be able to offer both a wide variety of stitches and excellent stitch quality.


Size

We must consider the available space when choosing our sewing machine. At the same time, the size of the machine will depend on the different types of stitches it can perform and its power, so it is important to pick models that meet both our space and functionality requirements.


Noise

As for noise, this was not a big problem in years past, nowadays, it is a fundamental aspect, especially if you live in an apartment. Sewing machines can be noisy, so it is critical to verify that the decibels generated by the sewing machine do not exceed the allowed limits.


Price

Sewing machines can have exorbitant prices, which is why we must select models that offer excellent quality and long life. This way we will recover our investment in both manufactured garments and repaired garments.

Who This Is For
In the past, sewing machines were a woman's thing, limited to creating family clothing or repairing various garments and little else. With the passing of time and the inclusion of women in working life, sewing machines were forgotten and were limited to grandmothers and professional seamstresses. Nowadays, the taste for sewing machines and their demand has suffered an increase because we have all become aware of the impact that the manufacture of garments has.
From labor exploitation and extreme pollution, the manufacture of the garments we use today is fraught with many negative consequences for the planet and society in general. To this, we must also add the fact that it is no longer a secret that sizes have become smaller over time, and shopping, even if you are at a healthy and comfortable weight for you, can become a real mind-wrenching torture.
This has led many people to take up the challenge of making their own clothes. We may not have the time to fill our closets, but it is possible to make some custom-made garments that look glamorous and perfect, save money with it, contribute to the environment, reduce our consumption of sweatshop products, and of course, enjoy a hobby that not only distracts us but also nourishes our brain, keeps us active and perhaps even earn some money if we manage to sell our creations.
If the topics mentioned below concern you, you want to contribute with the necessary changes to create a better world, or you want to develop a new hobby, a sewing machine is for you and you can choose among the models that we present. You can also be guided by our research to choose a model according to your needs. This is also very valid if you intend to buy one to establish a small business, advance in your sewing classes, or are looking for a sewing machine to surprise someone special.
Mechanical vs. Electrical
Nowadays, all sewing machines are electric. However, there is a difference between mechanical sewing machines and electronic sewing machines. The former is much simpler and cheaper, while the electronic models can be a bit more complex and expensive, but they have functionalities that can make our work easier.
It is possible to distinguish a mechanical machine from an electronic one by the stitch selector, as well as the controls to regulate the width and length of the stitch if any, since in mechanical equipment they are analogical. They are usually rotary controls, although, in models of the '70s and '80s, they can also be levers that move horizontally or vertically. In an electronic model, these functions are regulated through buttons and often have a screen that helps us to visualize the selected variables.
The main thing to know is that an electronic machine will always have better sewing quality than a mechanical one. The stitches are electronically controlled, and the motor is much finer and more precise. Another advantage of these is that you can always regulate the stitch width and length, even in economic models. In the mechanical ones, you can only control these variables in more expensive models.
The electronic ones also have more variety of stitches, especially decorative stitches, and have the desired scallop stitch that the mechanical ones cannot perform.
Regarding accessories, we can say that both models usually come with a good number of accessories, enough to start sewing, and usually, you will not need to invest in others.
Another big difference lies in the way of making the buttonholes of each type of equipment. Electronic machines do them in one go, while mechanical machines do them in one go or four goes. If you make many buttonholes, you should choose a model that makes them at one time, as it makes the task easier.
Despite all their benefits, electronic sewing machines are typically more expensive, but with better quality than mechanical ones. Your choice should depend on the use you will give it, if this will be very sporadic, and you do not want a wide variety of functions, you can pick a mechanical model. On the other hand, if the use will be more frequent, you want better quality in the sewing, and you are looking for a great variety of functions, the most recommended will be an electronic machine.
Is It Worth Splurging On?
Sewing machines do not stand out for being particularly economical, and if you find a model too cheap it is best to be suspicious, so yes, it is worth splurging on in these cases, since, in general, the most expensive models usually come from well-known brands, with extended warranties, excellent customer service, authorized repair shops and availability of spare parts.
It is always advisable to choose well-known brands that respond to breakdowns or the need for spare parts and constantly look for the best quality that your budget can offer. Fortunately, the best-known brands typically have equipment for all budgets, so you can limit your choices to the functions you want to have, the accessories, and the type of machine to pick.
Why You Should Trust Us
We know that investing in a sewing machine can be difficult, it is not an inexpensive piece of equipment, and you would like to make a safe investment that will pay for itself over time. That's why we have taken on the task of picking models of known quality and durability, from brands recognized for their excellence, quality, and availability of spare parts when they are needed.
We research from product quality to durability, ease of use, and value for money to choose only the best sewing machines and find the ones you require.
With us, you can be sure to pick only the best sewing machine for you, as we provide you with the most up-to-date and accurate information on sewing machines. We also research the performance of the equipment, as well as the comments of users who have already tested and even used them for months.
How We Picked
When picking the best sewing machines of 2022 we considered a series of factors that define both their quality and the experience you will have with them as a user.
Stitch Quality
It is a fundamental factor, a machine that makes low-quality stitches does not fulfill its function at all because they will end up unpicking, they will have a reduced useful life, or worse, they will damage the fabric and with it, our work. Most of today's sewing machines provide excellent stitch quality, but it is still necessary to evaluate this aspect when choosing one. The stitches must be firm, according to the chosen style, neat and, of course, maintain the indicated distance.
Embroidery Capabilities
For embroidery, it is best to pick a machine designed for this purpose, as it will allow us to work with a more professional finish and will offer us a higher number of functions and finishes. In this case, embroidery capabilities are not a very sought-after feature in sewing machines, especially those for beginners. However, it is a function that some sewing machines have and that can be appreciated over time, especially if you want to perform simple jobs.
Specialized Features
Specialized features of a sewing machine include embroidery capability and the types of stitches available. Stitch types can vary greatly from one sewing machine to another. The most basic sewing machines allow simple stitches, such as straight stitch or zigzag stitch, which are ideal for people with little experience or simple jobs. More sophisticated machines offer more professional stitches such as the invisible stitch, a reinforced straight stitch, or artistic stitches.
You should also pick a sewing machine with a needle threader. This is a function that our grandmothers would surely appreciate. It is a system that introduces the thread through the eye of the needle smoothly and quickly.
Another highly requested function in a sewing machine is quilting, a type of stitch that allows us to sew on three layers of fabric so that the outer layer has a print or decoration that we will highlight with the stitching. It is an ideal type of stitching to let your imagination run wild and create very comfortable quilts. Additional features or parts that a good sewing machine should have included a length and width adjustment system, a speed controller, a presser foot, and a table to work comfortably.
Size + Weight
As we previously mentioned, the size of a sewing machine is a feature that we must evaluate depending on the space we have available in our home and the frequency of use. If you are going to use it infrequently, the most advisable would be a compact sewing machine, easy to store and use. On the contrary, if you will use it often, and you have a lot of space, the ideal would be to buy a fixed sewing machine, with an illuminated work surface or even a piece of furniture to accompany the sewing machine.
Regarding weight, even if you prefer a lightweight machine, we recommend you stay away from models that weigh less than 11 pounds. This may mean that their components are of low quality. Furthermore, such a light machine might not be stable and move while you are sewing, which will make the task difficult or damage the final finish.
Design
The design of a sewing machine should generally be robust, especially if you plan to use it frequently. However, there are models for beginners with a more delicate and stylish design that are just as sturdy. The design should also allow you to work with freedom, such as an extensive needle-to-arm workspace that helps you work with different fabric thicknesses and manipulate them comfortably.
Power
In general, the motor power of a sewing machine should be no less than 70 W. Otherwise, it will almost certainly not be suitable for sewing on thick fabrics such as denim. Of course, you will have to assess what you want this device for. If it is for a small and simple task, lower power may be sufficient. However, it is always better if the machine offers more possibilities for the future.
Noise
Sewing machines generate a noise level of 60 dB, similar to a normal conversation. You must verify that your equipment does not generate more noise than is allowed in your residential complex or does not affect your family members.
If you are going to use your sewing machine frequently, it is recommended that you use noise-canceling headphones. After all, the noise level generated by some of them is close to the levels that the C.D.C. (Centers for Disease Control and Prevention) deems safe for your ears.
You can also control the noise level of your equipment by making sure that it is balanced, and properly maintained, and that the sewing table is properly balanced. If for some reason your sewing machine is not balanced or emits a little more noise than usual, you can use a sewing machine anti-noise and vibration pad, it will reduce the noise level and vibration efficiently.
Ease of use
If you have some basic knowledge, you will be able to use the sewing machines we have chosen for our list with ease. Most sewing machines follow the same principle of operation and using them is simple, the complexity is given by the number of stitches they are capable of doing and what you plan to sew. If you are a beginner, it is advisable to pick a model with a limited number of stitches and with very intuitive functions that facilitate your work, such as a needle threader and a screen that allows you to confirm the variables you have selected for your sewing.
Price
There are very basic sewing machines with functions ideal for beginners who barely know how they work, and other much more professional or high-end sewing machines that incorporate a multitude of functions for experienced users. This affects the price of the machines, which can range from as little as $90 or $100 to as much as $1,000 for the most advanced equipment. Remember to invest in a good brand-name machine with features that allow you to expand your knowledge and skills, this way you will get the most out of your investment and won't be forced to buy another model when you need to make other types of garments.
Durability
Our grandmothers' sewing machines were so durable that many survive until now, especially those with an entirely mechanical design and powered by the movement of a foot pedal. There is no reason why a current model should not be as resistant and durable if it is from a renowned brand such as Singer or Brother, so it is advisable to choose a sewing machine not only considering the functions you need today, but also those you will need in the future if you plan to expand your sewing knowledge.
Warranty
Warranty is a fundamental feature when buying any equipment, and sewing machines are no exception. Reputable brands usually offer an excellent warranty and great customer service, so with them, you can be sure of the quality and lifespan of your equipment. However, if you plan to pick other brands, pick those that offer at least 10 years of warranty, as the most recognized brands offer up to 25 years and free phone and technical support for the lifetime of the equipment.
Care and maintenance
How to keep clean – remove dust, lint, etc
It is recommended that you refer to the user's manual when cleaning the sewing machine, including the removal of dust and any lint build-up.
Fabric debris, threads, and dust accumulate on the machine, even on the inside. The more you sew, the more debris accumulates and harms thread tension and sewing results. Cleaning should be done more frequently when embroidering, as the machine runs at a higher speed for a longer time.
Therefore, it is advisable to clean and lubricate the machine at the end of one project or before starting the next. If a project lasts several weeks, you should also clean and lubricate the machine during that time.
The ideal would be to make a calendar or schedule of hours of use, as this way you will know when to intervene for maintenance. The recommended usage time before maintenance is indicated in the user's manual. Once you have reached the hours indicated, it is time to put into practice the steps indicated in the manual.
To this, you must add the general care that your sewing machine should receive: Always cover the machine when you are not going to use it. This way you make sure that dust from the air does not get into the mechanism or that unfortunate stains fall on the machine. Keeping it out of sunlight is also a great idea. Make sure you use the right thread and needle for the fabric you are sewing, don't try to sew fabrics that are impossible for your machine. That is, there are fabrics that because of their thickness or composition are not suitable for sewing with a home machine, they could damage parts of the mechanism that are difficult to repair. Also, you need to plug your machine into a safe power source and unplug it whenever you are not using it. Before you start sewing, check the bobbin compartment. Occasionally, you may find lint that can cause problems while you are sewing.
What tools will you need to clean your sewing machine?
You would need the instruction manual, a small brush, tweezers, a large upholstery needle or any sharp metal tool, a small cloth for cleaning, small pieces of paper to clean any corner, a screwdriver, and a tubular brush or a narrow piece of cloth.
Tip: we recommend you not to use compressed air brushes, they will only push the dust further into the machine. We also advise you to perform the cleaning tasks in a well-lit area with enough space for disassembly. Experts also recommend changing the needle after 15 hours of use, but once a month may be a good time to change it.
Cleaning steps:
Turn the machine off and unplug it.

Remove the faucet and unplug the foot pedal from the machine.

Remove the needle.

Always make sure you remember where everything goes. For the first few times, we recommend taking pictures of where everything was before, so you can be sure to place it properly when it is clean.

Clean the entire sewing machine of lint and dust with the tools we mentioned before. From the inside out and if you have a vacuum cleaner, don't hesitate to use it for loose dirt.

Use the brush to remove dust, the upholstery needle to remove lint, the bits of paper for the tightest spaces, the cloth to clean the surface, the tweezers to pick up the lint and loose threads left inside, and the tubular cleaner for the internal spaces between the dial and the threader.
How to oil and how often
Lubricating oil should be applied after each cleaning. The first thing you should do is consult your instruction manual to check what the manufacturer recommends in this regard and check if the accessories include lubricating oil. If the manual indicates that you should not use oil to lubricate the machine, it will be better to follow the recommendation. If not, or if you feel that your machine works better with it, use a quality sewing machine oil.
A little oil on certain parts of the sewing machine will prevent many problems later. Do not use too much, just a little drop will be enough. Put it on the bottom of the shuttle and then turn the hand wheel so that the oil spreads everywhere. Do not lubricate anywhere else unless the manual instructs you to do so.
After lubricating, it is advisable to sew pieces of fabric to be discarded until no oil stains come out. This way you will avoid damaging your projects.
After cleaning and lubricating, you can wipe the outside of the sewing machine with a new cloth. Now you must assemble the machine, you can help yourself with the manual or with the pictures you took while cleaning.
Once you have finished assembling the machine, turn the hand needle and make sure that everything is working properly. Plug it back in, and sew a piece of fabric to check that the tension and pressure are correct. If not, adjust the necessary pieces until you get what you need.
Where and how to display
It is recommended that you place your sewing machine in a well-lit place, but away from the sun's rays. It is best to use artificial lighting or place the sewing machine in such a way that the sun's rays do not come into contact with the equipment, but provide sufficient illumination to work.
The table should be firm and well-balanced so that your equipment will not vibrate or emit annoying noises. The floor where the table is located should also be flat. If you need to, you can use special tablecloths for sewing machines. These will reduce any imbalance in the noise level, and even protect the life of the equipment.
Where and how to store
When your sewing machine is not in use, it is advisable to protect it with a specially designed sewing machine cover. Among the benefits of these covers, we can highlight:
Preventing it from getting dusty, keeping our machine clean and free of mechanical failures due to dirt.

It facilitates transport.

As most of them are padded, they prevent knocks.

It is a method of keeping dangerous elements away from children or pets.

Helps keep our sewing supplies tidy. 
If you need to store your sewing machine while you are not using it, it is advisable to protect it with the cover before taking it to the closet or the place where you want to store it. The storage space should be clean and dry, as any moisture could damage it.
How often to get it serviced
Even if you clean and oil your sewing machine at the times indicated in the manual, it is necessary to have it serviced. It is recommended that you do this once a year so that it will receive thorough maintenance and any required repairs before a serious failure occurs.
This is why it is important to choose equipment that belongs to a recognized brand or that offers services close to your home.
In case of needle jam
This is a frustrating and dangerous problem. It usually happens because you are trying to sew a thicker-than-normal fabric with a thin needle. This causes the needle to bend and break. It can also happen because you have not positioned the needle correctly or the presser foot is giving difficulties. The solution is simple:
Replace it with a new one.

Verify that you are using the correct needle for the type of fabric.

See that the needle is not broken or bent.

Every time you change the stitch or presser foot, you should check that the stitch width and length are correct. Consult the manual of your sewing machine whenever you have doubts.
If none of this helps, it is probably a mechanical timing issue. This will require repair by an expert.
Needle jamming is one of the most common concerns, and occurs when the needle is bent or tangled in the bobbin case. In this case, you should see if the needle is bent, if so, it needs to be replaced, the parts in the bobbin area should be positioned correctly, and you need to check that the needle does not hit any of the parts, such as the presser foot. If none of this works, as the last test, disassemble everything and reassemble it correctly.
Another problem involving the needles is the jamming or winding of the thread in the bobbin case or bottom of the sewing machine. This issue could be the result of using low-quality thread, poor bobbin winding, unraveling of the bobbin, unwieldy fabrics, or incorrect thread tension. Check all of these causes and solve them if the machine continues to present issues. If it's still not working, take a break and try again a few hours later. Disassemble the bobbin case and remove any thread wound inside the machine.