The Best Rug Pad for 2023
A dependable rug pad keeps rugs in place and prevents accidental slips.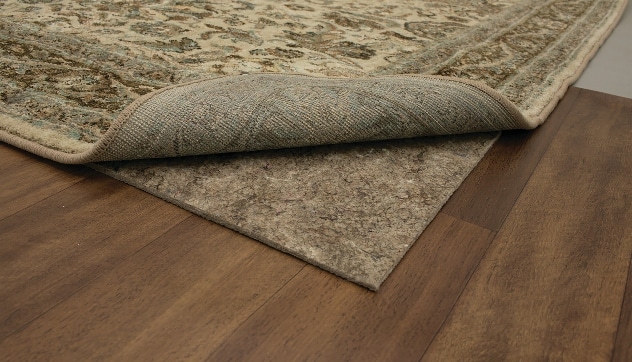 The most important part of any rag rug is the pad. Without a sturdy base to hold the rug, your carpet will begin to slip and slide around. You may even see extra wear on the bottom of your rug, forcing you to replace it at an earlier time than expected.
A good quality pad will prevent this from happening as well as prolong the life of your rug by ensuring that it doesn't get nicked or cut up at all.
Luckily, several types of rag rug pads solve these problems and ensure your rugs stay in place.
How We Picked
Durability

The durability of a rug pad is dependent on the material and area of use. If you plan to use the pad in an area with a lot of foot traffic, make sure that it's super sturdy and durable.


Protection of the Floor and the Rug

The primary role of a rug pad is to hold your rug in place, minimizing damage to the rug and the floor. Rug pads made with rubber or felt offer excellent grip and protection by extension.



Thickness/Cushioning

A proper rug pad should be 1/4 to 1/16 inch thick, but thicker ones can be 1/2 inch thick. A rug pad should be thick enough to provide adequate cushioning and maintain the functionality of the rug while also providing adequate protection.



Cost-Effectiveness

You shouldn't have to break the bank to get a quality rug pad. As such, a good rug pad should be affordable but still offer great protection.


Our Top Picks
Best Pick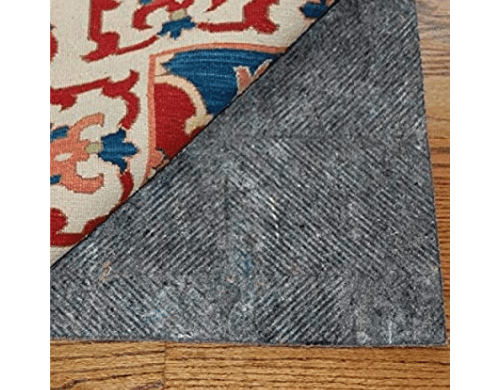 Provides a natural felt feel, extra grip, and long-lasting protection.
The Durahold Plus non-slip rug pad is the best option in terms of extra grip.
Durahold Plus is one of the best rug pad options for all types of hardwood and hard flooring. It is made of felt and 100% natural rubber, with a proprietary needle-punched, felt construction that reduces odors even when damp and prevents decomposition and shredding.

Because of the thermally set ridges on the upper surface in the unique pattern of chevrons running in many directions, the pad can more effectively grasp the rug.
Runner Up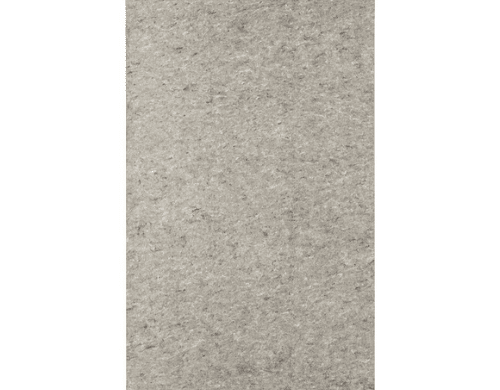 Extra softness and comfort.
Long-lasting protection for your carpets and floors.


The ¼-inch Comfort Cushion Rug Pad from Mohawk Home does a great job of safeguarding your area rug as well as the flooring below. It achieves this by striking a balance between long-lasting defense and cushioned comfort. This long-lasting rug pad has mixed felt fibers and no latex backing. It also has additional cushioning for your rug's underfoot comfort.
Most Cost-Effective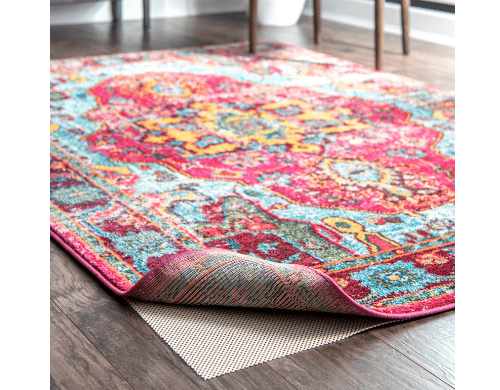 Quality non-slip rug pad.
Offers a resilient rug pad with exceptional grip strength and great features.
The Better Homes & Gardens rug pad is designed for protection, both for your floors and feet. This rectangular non-slip rug pad comes in a variety of sizes and is constructed from sturdy PVC-coated polyester material.

This rug pad is also easily trimmable to precisely fit the dimensions of your current flooring. It has cushioning characteristics built into the design as well, for enhanced comfort.

Everything We Recommend
Best Pick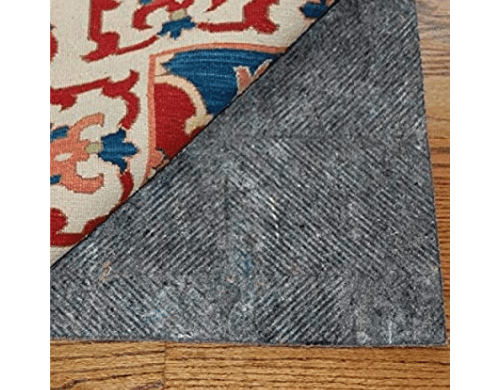 Provides a natural felt feel, extra grip, and long-lasting protection.
$53.50 ($3.57 / Sq Ft)
Runner Up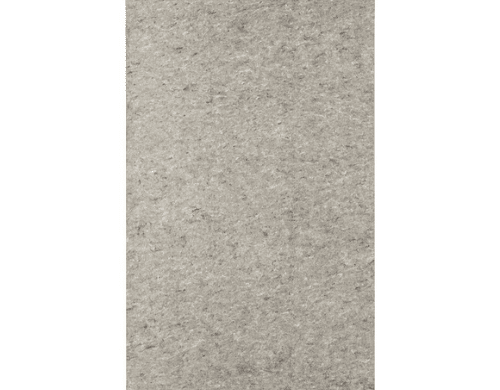 Extra softness and comfort.
$29.74 ($0.85 / Sq Ft)
Most Cost-Effective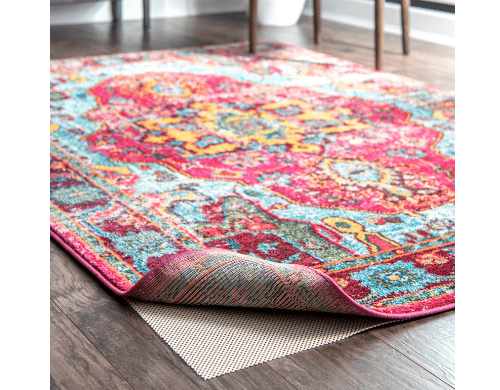 Quality non-slip rug pad.
Who This Is For
If you own a rug or carpet of any kind of flooring, you'll find rug pads useful in your home. Laying your cherished rug straight on the floor might be dangerous for both the rug's longevity and the safety of the occupants in your home.
This is why we advise purchasing rug pads, to preserve the integrity of your floor and increase comfort and safety for your feet.
What is a rug pad?
A rug pad is a sheet of material positioned beneath floor rugs (typically between the floor and the rug) to give a firm basis for rugs and help them stay in place.
It is often produced from rubber for wood or tiled floors or PVC for carpet flooring. Rug pads are particularly helpful for holding down floor rugs that are installed on various kinds of floors.
Benefits of a rug pad
Rug pads are used to maximize the use of your rug while offering several advantages linked to the protection of rugs, as well as flooring.
The benefits of a rug pad include improving ventilation, shielding the rug and floor from harm, stabilizing the rug to prevent slippage and bunching, and padding the floor, among several others.
Rug pads help the rug last longer in addition to putting a layer of protection between the rug and the floor. The rug pad's slightly sticky covering holds the fibers together when you vacuum, which is something area rugs require frequently to stay clean.
Additionally, rug pads lessen friction and extend the lifespan of your carpeting. Without a rug pad, wear and tear from rubbing up against the floor when cleaning the rug will be visible. Your floor won't have to take the brunt of the wear because your rug won't slide around when you use a rug pad.
It is extremely essential to purchase a rug pad in addition to a new rug or even one to use with your existing rug if your home accommodates pets and vibrant children.
Rug pads perform even more; they increase a room's insulation, which h is quite helpful during the winter.
Additionally, cleaning challenging spots is simple thanks to the rug pad's function as a buffer between the floor and the rug. Rug pads also help to prevent bunching or gathering, which could cause long-term harm to your handcrafted rugs.
Grip-only vs. padded
Rug pads come in three varieties: grip-only, grip-plus-cushion, and cushion-only. A grip-only rug pad is the best option to purchase for your outdoor carpets because it won't absorb any wetness.
The grip-only rug pad keeps a modest profile when used in high-traffic areas or for rugs that extend under doors.
Conversely, padded rug pads are ideal for rooms that kids frequently visit in the house. They are also perfect for rooms like study rooms because they reduce noise. The grip plus cushion rug pad is what you get if you combine the best features of both of these types of rug pads.
Depending on your needs and preferences, you'd need to decide on whether a grip-only or padded rug pad works best for you.
Why You Should Trust Us
Deciding on a good rug pad is not an easy task, especially considering all the options on the market.
We understand how overwhelming this is, and so we conducted in-depth research, first to establish the criteria used in determining quality rug pads, and finally to understand which of the rug pads in the market satisfy these criteria sufficiently.
We consulted expert reports on the performance of popular rug pad brands, and we also took online user reviews into account to assess the testimonies of people who have already purchased them.
How We Picked
We took our time examining several options to discover which rug pads are the best on the market.
We evaluated each rug pad's construction quality, slip-prevention, cushioning, durability, and performance in professional testing, as well as its overall worth when comparing its cost to the features it provided.
Durability
A quality rug pad ought to last for several years. Many should easily survive the 10- or 20-year guarantees that some offer. According to experts, the pads should outlast your carpeting so that they may be readily cut down and reused repeatedly.
Protection of carpet and flooring
Rugs should also offer cushioning and protection to the carpet or floor in your home, in addition to enhancing a room's aesthetic appeal and tying its décor pieces together.
For this reason, we recommended options that were thick enough and made of high-quality materials to protect your furniture from damaging the floor.
Thickness/Cushioning Underfoot
Thickness is important when looking for a rug pad that gives extra padding. A good rug pad should be thick enough to provide the utmost comfort under your feet as well as protect your floor from furniture scraping.
Ideally, you should pick a rug pad that is between ⅛ and ¼ of an inch thick as a general rule of thumb, with a thinner pad being preferable for high usage areas and a thicker pad that is better for bigger, heavier carpets.
However, a lot of this choice will come down to personal taste, so it's also okay to go larger or smaller.
In general, it's better to stay under ½ an inch thick. We kept these dimensions in mind when recommending rug pad options so that you get a rug pad that is thick enough to provide sufficient cushioning.
Price vs quality
Buying a quality rug pad doesn't have to leave a hole in your wallet. This is why we suggested options that are affordable and offer great value at the same time.
Non-slip material
A quality rug pad should maintain a tight grip on your rug and the floor while providing firm but supportive cushioning. Since the majority of consumers purchase rug pads to keep their carpets in place, we made sure to recommend rug pads made from non-slip material as a result.
Soundproofing
Quality rug pads should also be able to properly soundproof your home. This is especially important in homes with kids who like to run around often.
There won't be as many stomping noises if the rug pad you choose is sufficiently thick and absorbs sounds well enough for comfort. We made sure to keep this in mind when recommending our top picks for you.
Material
Certain types of flooring work better with certain sorts of materials. Rubber grips the rug and holds it in place while providing additional padding. Felt is ideal for rugs or carpets anchored by furniture because it doesn't provide much grip.
Experts concur that rubber-backed felt outperforms other pad types because the rubber backing performs excellently at gripping the floor and avoiding slips while the felt provides softness underfoot.
Care and Maintenance
Where to place a rug pad
Your rug or carpet should ideally be placed directly in the center of the space where your rug or carpet will be installed. Simply decide on the appropriate spot, then set the pad down in the space you've chosen. Many people consider their rug to be the focal point of their room, so it's essential to properly install the pad the first time.
If you're installing a new rug, you must place it directly on the rug pad's surface. The instructions on the rug pad you selected should specify which side of the rug pad goes up or down, so simply refer to it if you are confused.
How to secure a rug pad
Securing a rug pad is necessary to make sure it stays put exactly where you want it to be. As such, you should attach the corners of the rug pad to one side of a double-sided tape, then apply the tape's opposite side to the rug's back.
Even further security can be added by using carpet tape to anchor the corners of the rug pad directly to the floor. This will prevent slipping as much as possible.
Do you need to clean/wash rug pads?
Rug pads typically don't require much upkeep.
Pay attention to the cleaning recommendations on your rug pad in particular. The instructions that come with your rug pad will provide you with the most accurate advice on how to maintain the rug pad's appearance and functionality. Also, note that not all messes on your rug pad will need to be thoroughly cleaned. You could simply spot clean any affected spots instead to maintain the pad's tidy appearance.
Although generally speaking, it's a good idea to go to the pad with the vacuum once every few months or thereabouts and smooth out any edges since they occasionally curl with time. Also, if your rug pad happens to smell or look off, you can always wash it quickly in the washing machine using the mild cycle.
The majority of rug pads are manageable in size and may be dried outside in the open air with the help of a fresh breeze and direct sunlight.
Where and how to store a rug pad when not in use
We advise rolling up your rug pad with the rubber side facing in along the shortest edge and storing it somewhere cool and dry. Make sure to keep it in a place where no harm from moisture will come to it.