The Best Roasting Pan for 2023
Roast big chunks of meat and poultry like an expert with these roasting pans and win hearts!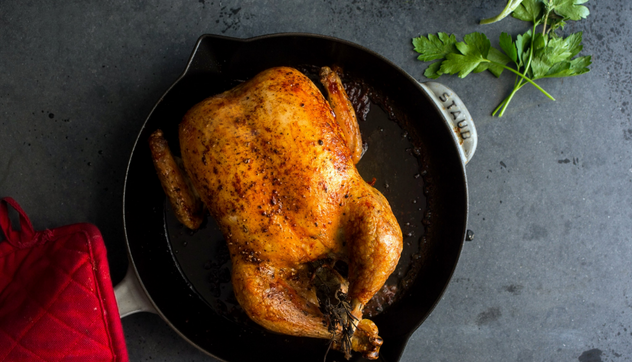 Cooking, and roasting, in particular, involves deliciousness, feelings, appreciation, and, most importantly, the work and love you put into preparing a delectable meal. A roasting pan, which is an excellent choice for enhancing the overall flavor of the dish, is one of several pieces of equipment required in preparing a hearty meal. From grilling to slow roasting, you can easily do wonders by using roasting pans and a little creativity. We have put together a useful list of roasting pans just for you. You can pick and order one from the list that is both useful and precious and best suits your needs.
How We Picked
Material

Stainless steel, aluminum, stoneware, or cast iron are the most common materials used to manufacture roasting pans. Each of these materials has benefits and drawbacks. Therefore, it's crucial to choose a pan that will work for you. The pan must be resilient and distribute heat equally.


Size

A good roasting pan should accommodate your roast while still leaving roughly five centimeters all around. A small pan will not adequately dry the roast but will soak up the fluids. We have included various sizes to meet various cooking requirements.


Performance

Size and material both have a significant impact on how well your pan performs. Cast iron pans perform slightly differently from stainless steel and stoneware ones. As a result, we were eager to include different models so you could pick your favorite.


Cost-Effective

Although roasting pans are not cheap, you can find one that is incredibly affordable and yet does the job properly. We chose pans that performed well and were reasonably priced.

Our Top Picks
Best Pick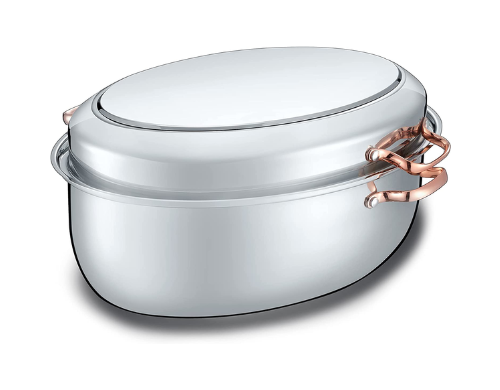 Despite being on the pricey side, this is a dependable and sturdy roasting pan.
Concord is a premium stainless steel roasting pan ideal for keeping up with big kitchens. It has beautiful copper handles and is large enough to roast a whole turkey perfectly. Its stainless steel and even-heating technology make it very suitable for searing or frying. It also comes with a lid that can double as a griddle.
It's great overall and allows you to make a plethora of dishes. You can roast anything perfectly, be it a turkey or a duck.


Runner Up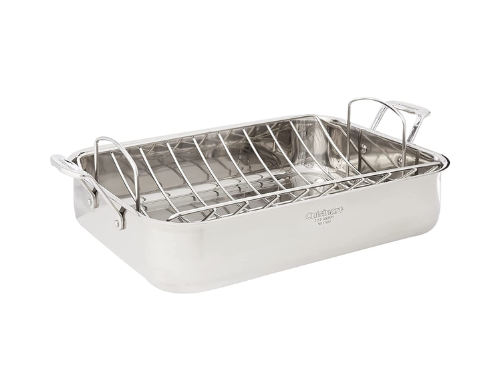 This efficient roaster pan is big enough to roast a whole turkey or big chunks of meat.
Cuisinart is here to assist you on Thanksgiving or any other celebration! This effective stainless steel roasting pan includes a rack that helps separate your meat or root vegetables from unwanted fat and juices. You can also use this pan for cooking, baking, frying, searing, and steaming. Additionally, this roasting pan comes with a lifetime warranty and is well within budget.
This roasting pan comes at a decent price. It is perfect for roasting a turkey or cooking meals for a feast.


Most cost-effective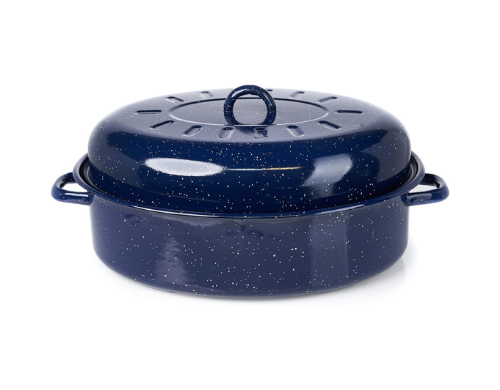 This solid steel roasting pan can be used over an induction cooktop or put in the oven to roast anything nicely.
Made with love and care, this Imusa Roaster is perfect for roasting turkey or chicken. Its effective heating system results in quick cooking, and its true blue shade will add charm to your kitchen. Its 18-inch capacity makes it ideal for cooking anything, from ribs to pork.
Roast, bake, cook, simmer, sear, or fry, and keep your meals delicious without stretching your budget.


Everything We Recommend
Best Pick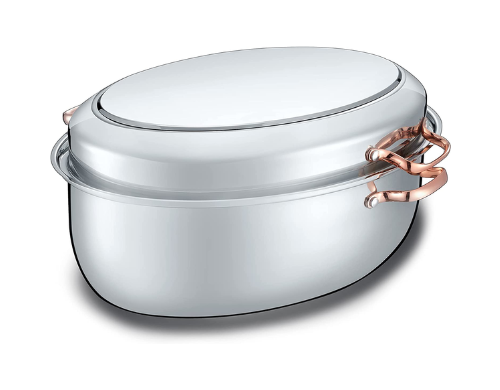 Despite being on the pricey side, this is a dependable and sturdy roasting pan.
$139.98
Runner Up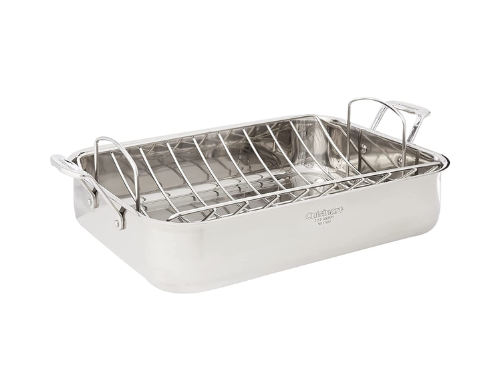 This efficient roaster pan is big enough to roast a whole turkey or big chunks of meat.
$71.99
Most cost-effective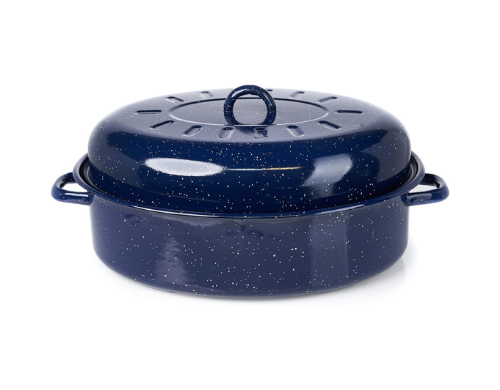 This solid steel roasting pan can be used over an induction cooktop or put in the oven to roast anything nicely.
$29.99
Who This Is For
These roasting pans are ideal if you love to pamper your friends and family with a delectable meal. These perfect tools roast the turkey equally from all sides. Your family and friends will fall in love with these pans! Above all, these pans are an all-in-one cooking, baking, and roasting instrument you need to craft delicious delicacies and will prove to be prime for enhancing your cooking skills and efficiency.
V racks vs. flat racks
Racks have been designed to offer proper heating to the food item you are roasting and prevent burning. Both the racks offer similar things, namely proper heat distribution and the removal of extra fats. However, if you need to roast a turkey, a giant bird, or something that covers a larger area, you should go for a flat rack. A flat rack is also ideal for roasting or baking vegetables, chicken, and potatoes. Alternatively, if you require a simple roaster that is usually used to roast a turkey or similar item, then go for a V-rack roaster that will hold the bird in one place and provide an absolute char and flavor.
In a nutshell, both racks are convenient for roasting and heating. A flat rack, on the other hand, can cover both the roast and the vegetables and has a larger surface area.
Is it worth splurging on
We would suggest you pick up a roasting pan from the list now! Why? It not only roasts but also allows you to prepare a plethora of delectable dishes with a single roasting pan. From baking and roasting to frying and searing, you can do everything in one place. Cook up a savory feast crafted with love and passion for your loved ones.
Why You Should Trust Us
We are here to help you out. How? By advising you on the best products according to your budget and requirements. Our team of experts works hard to find the best roasting pans, especially for you. We are very keen on the product's features and vulnerabilities, the value offered, and above all, the overall price. We must say that it is not easy for us to search and find the best and most-effective roasting pans that will offer a complete package of flavor, effectiveness, and value for money. Yet, we are here with a list that will justify our unbiased advice, our solid review, and your smart purchase decision.
How We Picked
Finding all the good features in one package was pretty challenging for us. We ensure to assist you with the best advice and make way for an ideal roasting pan for your next feast. Let's start with our evaluation. Firstly, the material of these roasting pans is very durable and good for even heating and proper cooking or roasting; we found these pans 100% justified against even roasting. Secondly, the size, on the other hand, depends on your preference. However, all of the pans listed here are different in size, but overall, the size is ideal for roasting a turkey or chicken perfectly.
Lastly, the material of these pans will affect the price and quality. All the options offer a good material and are lightweight enough to be carried easily. The handles have been designed to offer a strong grip, but you need to grab them using an oven mat for safety. Our top three performers are efficient for oven or induction top cooking, you can use both methods to roast or cook using these.
We picked up these pans based on their shape and design as well. Whether it is oval, round, or rectangular, all of these are great for a delicious Thanksgiving feast. Finally, our listed roasting pans will offer you a complete package at very supportive prices.
Care and maintenance
Maintaining a roasting pan is easy and does not require any special procedures. You can clean a roasting pan just by washing it with dish soap. Be sure to dry the device completely and wipe it with a damp cloth for longer life.
You can store a roasting pan in any place that is free from moisture and any type of harmful chemical. A perfect place would be a kitchen cabinet or a store.
If, in any case, you encounter any sort of bad odor or smell emanating from your roasting pan, then just wash the pan with a quality chemical-free dishwashing soap. You can also use a water and vinegar solution to remove and clean tough stains and bad odors.