The Best Projector in 2023
Breathe life and color into your favorite movies with these top projectors.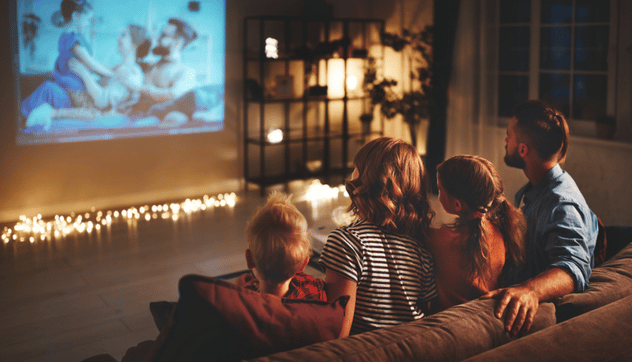 If you want to enjoy your favorite movies or play games with your family and friends on a big screen, all you need is a projector. Going to the movies may not be your best option, especially if you want to spend a nice quiet evening with them. Besides regular business and classroom applications, these are just a few of the reasons why a projector is a wise investment,
When it comes to this cinematic world, there's the problem of choice. You don't want to end up with a projector designed for slide presentations at home or spend too much on one with too many features that you may never use.
These complications can mount up into overwhelming confusion. We've put together a list of the top projectors, along with the best uses for each, to make things simpler for you.
How We Picked
Quality of Picture

Resolution and contrast ratio are the most important determinants of image quality. A decent projector should have an image resolution of 720p, 1080p, or 4K. A good contrast ratio results in images that clearly distinguish between brighter and darker colors. We only looked at projectors with higher resolutions and contrast ratios for better image quality.


Light Brightness and Adjustability

The brightness of a projector is determined by the amount of light in the room. For spaces with little ambient light, you'll need at least 1,500 lumens and 2,500 lumens for naturally bright spaces. Since the brightness of rooms varies, having a projector with adjustable brightness levels is beneficial.


Easy to Use/Tripod/Stability

A stable projector stand, tripod or otherwise, is essential for ease of projection. If you intend to use the projector in different rooms or locations, we recommend an adjustable tripod stand for convenience.


Cost-Effectiveness

Projectors are generally costly, but you don't have to spend a fortune on the most recent models. We weighed the costs and sifted through numerous products before settling on high-quality, well-priced options.

Who This Is For
The use of projectors extends beyond business meetings and slide presentations. Projectors can be used for a wide variety of artistic purposes that go beyond just watching movies. These can include playing games on a larger screen, painting murals on walls, decorating, or even projecting art onto walls. A projector is for anyone who wants something bigger than a TV or prefers a more versatile viewing option.
Best sizes of projector depending on intended use
While a larger screen is always preferable, projector screens can be up to 100 times larger than a standard TV, posing unique problems that smaller screens can't match. You should probably choose the largest projection screen that will fit on your wall because the price difference between a 100-inch and a 120-inch screen is usually small. Size is important, but there are a few additional considerations to keep in mind. The maximum possible screen size begins with the size of the room.
Taking into account the human eye's peripheral vision is essential for determining the correct viewing distance. The Society of Motion Picture and Television Engineers (SMPTE) advises a viewing distance of at least 30 degrees, whereas THX suggests 40 degrees for a better cinematic experience. Multiply the screen's diagonal by 1.2 for a cinematic viewing distance, or 1.6 for a more typical one, and you'll have your answer. THX recommends sitting 144 inches, or 3.65 meters, from a 120-inch projection screen, whereas three meters are ideal for a 100-inch screen.
Lumens and light projecting
The brightness of a projector or other comparable device is measured in lumens. Projectors for the home often require a particular number of lumens to function well, especially when used in brightly lit areas or near windows. In a home theater setup, a minimum brightness of 1,000 lumens is needed to provide a quality projection. If you want a high-quality image, you'll need a lot of lumens. However, if portability and cost are more important to you than image quality, a lesser-priced projector with a lower lumen count may be just as acceptable.
Why You Should Trust Us
We evaluated each projector by watching a variety of media in a variety of environments, from dark theaters to brightly lit screening rooms, and from still photographs to the most visually intense blockbuster films. Each model's results in several categories were recorded. We took every specification (how easy it is to operate, brightness, and contrast ratio) into account before making a selection.
How We Picked
Quality of picture
We recommend full HD quality (1920 x 1080) for budget projectors if you intend to stream TV episodes, movies, or videos. If the resolution is lower, the image on your screen will not be as sharp and distinct. However, this may not be a problem if you're projecting workplace presentations or don't require such high image quality.
Contrast ratio
The contrast of an image is determined by how many black and white pixels there are in comparison to those. It's helpful to have a high contrast ratio to complement the bright lighting. Whites will be whiter and blacks will be blacker with a higher contrast ratio. A high lumen rating on a projector is useless if the image quality suffers from a subpar contrast ratio. In a dimly lit space, a contrast ratio of 1,500:1 is adequate, while 2,000:1 or greater is ideal.
Light brightness/contrast
Light output is the measure of how bright a projector can make a picture, even in a dark room. A projector with a poor light output will produce a muddy, soft image. To be sure the projector can deliver bright visuals, take a look at its ANSI lumens rating. How much light the projector can produce is indicated by this number. If you're looking for a projector for your home theater, you should know that anything with an ANSI Lumen rating of 1,000 or higher will provide more than enough light. This is because the need for more or fewer lumens can be affected by factors such as room size, screen size/distance, and ambient room light.
Light adjustability
Inexpensive projectors often use UHP or metal halide lights. These burn out after a certain amount of time and lose their initial brilliance. Therefore, they must be regularly replaced. Many LED light sources are maintenance-free and can be used for the duration of the projector's life. However, many LED projectors are not as bright as their lamp-based counterparts. On the other hand, a laser projector's tremendous brightness, superb contrast, and long lifespan are like having two types of projectors in one.
Focus adjustability
The lens shift and optical zoom features of a projector allow the screen to be moved up, down, left, and right without compromising image quality or the need to manually relocate the device. However, know that the more budget-friendly the projector is, the fewer features it will have.
Easy to use
Stress-free use and setup was a feature we considered when rounding up the capabilities of the projector. We considered their setup instructions and the time they needed for setup, along with how convenient the process was, before settling for our picks.
Tripod/stand/stability
Stability is also an important factor to consider when shopping for a projector. The ability of the device to be stable on its stand or tripod was something that we considered. Some projectors offer tripods, while others do better on a flat surface, and some more portable options even have foldable legs.
Size and weight
The width, length, and breadth of the devices we considered were relevant criteria due to the fact that, combined, they could affect the overall portability of the projector.
Portability
Projector portability is an important factor to think about. Are you looking for a projector that can fit in a bag or one that is so light that you can carry it from room to room, or even outside for a movie night? For convenience when away from an electrical socket, think about getting a portable projector that runs on a rechargeable battery. Having the ability to change the projection angle without having to lug around a separate tripod is a good addition.
Durability
We checked the producers of the projectors and how long their products lasted according to user reviews so that we could project the durability of the equipment. After that, we were certain as to the quality of the products and how long they might last.
Power
The system through which your projector is powered was an important feature that we also considered. Most of the projectors we went through came with rechargeable batteries that served as a backup in case of a power outage, so you could continue using the device uninterrupted.
Battery Life and charging speed
We considered how fast it took the batteries to charge and how long they could last with the projectors' features all actively engaged. We tested how many hours they could stand and how fast they charged when the battery was low to ensure that they could be relied upon for stable use.
HDMI cable
Unless you plan to connect through a wired or wireless network, almost all modern projectors have at least one HDMI connector, the preferred choice for video sources and many laptops. The VGA (analog) connector is still widely available on projectors and is used by many modern computers and video sources. However, few modern PCs provide VGA output ports. Verify if the projector's HDMI version is compatible with the image sources you plan to use by checking to see if the version numbers match, or by checking with the manufacturer to see if the projector supports the features you intend to use.
Connectivity options
To hook up a projector to a video source, the inputs on both devices must be compatible. Still, if you have the option, go with a digital link rather than an analog one. Wi-Fi is available on a wide variety of devices, either natively or via a USB or HDMI wireless dongle that comes with the device or can be purchased separately. Many allow you to show content straight from a memory stick or a USB drive.
Additional features
To get a good picture from a projector, you need to know its "throw ratio," or how far away from the screen it has to be. The throw ratio, also known as the throw distance, is an objective measurement that cannot be affected by the projector's brightness or image quality in any way. It's possible, for instance, for two 4K projectors to have the same lumen count but extremely different throw ratios. Short-throw projectors may create a 100-inch image at a distance of just 4 or 5 feet from the projector, whereas standard, or long-throw, projectors require at least 6 feet. Typically, a projector's throw ratio will be listed somewhere in the product description or manual.
Remote controlled: It is not the 90s where you have to stand up to change discs or roll plates when a scene has to be changed. With convenience in mind, we considered if the options we picked came with a remote control that could be used to adjust the projector settings to meet your needs.
Sound sync: The built-in speaker found in the majority of portable projectors is a handy addition. In any case, remember that you might need to link an additional audio source, like an outside speaker, for enhanced sound quality. Find a projector with an audio jack if you wish to use headphones with it.
Care and Maintenance
Setting up
The owner's manual is your best friend when it comes to home theater projectors. Among the many helpful pieces of information, it contains is the throw distance for your projector. Determine the size of the projected image you desire using the instructions in the user handbook. Your projector's optimal placement can be determined once you have calculated the throw distance.
After that, it's time to put up your monitor. If you're going to project at home, we recommend investing in a screen. This is the only way to fully experience the range of colors and sharpness that modern projectors offer. Your projector's manual will also specify how high from the ground or ceiling it should be placed for optimal image quality.
When the screen is up, you can switch on the projector and start aligning the images using the screen as a reference (the manual will come in handy again at this point). Connect the projector when you're ready and activate its settings. The projector should allow you to enter information about its location so that it can begin displaying images in the correct direction. In addition, settings can include test patterns to be employed in the configuration process.
Focusing
After adjusting the projector's settings to precisely aim the image, you must now focus on it. Here, you'll need to learn how to use the zoom and focus features of your home projector. A sharp image results from finding the zoom and focus controls.
Ratio
If your projector has a ratio adjustment feature, use the cinema-standard 16:9 aspect ratio for the best viewing experience. There could be other options, but you can test them at your leisure. When that's done, you may want to go back into the settings to tweak the brightness, contrast, sharpness, and so on until everything is to your liking.
Ensuring the projector is stable
You should make sure that your projector is mounted properly before use, either on the floor, on the tripod, on a flat surface like a table, or the ceiling. You should also ensure that it is not shaky and is very stable before you get comfortable with the device.
How to clean a projector
Although your projector doesn't require much upkeep, it will function better if you keep it clean. However, the projector's light is the only component that should ever be taken out of the device for cleaning.
Cleaning lenses – Any time dust or dirt appears on the lens, wipe it clean. If there is dust on the lens, you can blow it away using a can of compressed air. Lens-cleaning paper or a soft cloth dampened with lens cleaner can be used to gently wipe the lens surface in the case of dirt or smudges.
Dusting vents – If the projector's filter or vents become clogged with dust, or if a notification instructs you to do so, you can clean them. To start, power down the projector and remove the cord. To remove the air filter, insert your finger into the groove on top of the cover and pull. Take the projector's air filter out of the device. Next, remove any lingering dust from the air filter by vacuuming the tab-facing side. After that, reinstall the air filter in the projector and shut it back down after you're finished.
Preventing cord damage
Ensure that your projector cord does not stay lying on the ground where it can be continually stepped on or tripped over, as this might lead to the cord snapping loose and causing dysfunction in the device. Always make sure to roll it up and keep it safely out of kids' and pets' reach to prevent it from being gnawed on.
Avoid liquids near the projector
Liquids are not friendly to electrical equipment, and a tiny mishap can lead to permanent damage or burnout. Therefore, always ensure that you do not take any liquids close to the projector or carelessly leave any lying around.